In case you haven't heard, video is the thing these days. In fact, YouTube has evolved into the second largest search engine on the planet—and for good reason!
Video is the single most engaging type of content that exists. It adds tremendous value to many different areas of life, from education and social causes to entertainment and business.
Are you thinking about creating video content, or do you already create your own videos? There are various ways you can sell videos online.
But you don't have to rely on advertising and sponsorship in order to make money with video content. You can sell videos online to members only—and it can be extremely lucrative.
For example, running a private video membership site allows you to:
Monetize video content you're already creating
Increase community engagement around your own interests
Build a foundation for expanding your business with related products and services
Interested? Let's talk about how to sell videos online, set up a paywall, and restrict your video content to members only.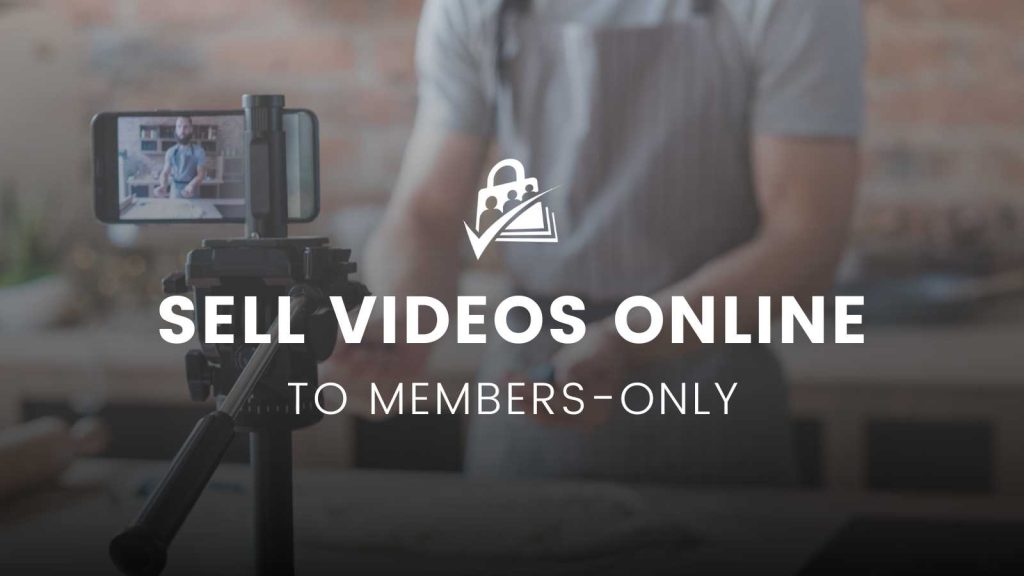 What is a Paywall?
A paywall is a method of restricting access to content on a website by requiring users to pay a fee. Paywalling video content is a way for content creators to earn money for the videos they produce.
Different Types of Paywalls
There are two primary types of paywalls:
Hard paywalls restrict access to all content on a website unless the user pays a fee. This type is typically used by websites that offer high-quality, exclusive content that is only available to paying customers.
Soft paywalls allow users to access some content for free, but require them to pay for premium content or features. This type is often used by subscription-based websites that offer a mix of free and paid content.
Because a soft paywall is less restrictive than a hard paywall, it can be a good option if you want to offer some content for free, while still generating revenue from paid content or subscriptions.
Two common types of soft paywalls include:
Metered paywalls allow users to access a certain number of videos or pieces of content for free before requiring them to pay. This is useful for websites that want to give users a taste of their content before asking them to pay for more. To accomplish this, you can use tools like the Limit Post Views Add On for Paid Memberships Pro.
Freemium paywalls offer some content for free, but require users to pay for premium content or features. This type of paywall is often used by subscription-based websites that offer a mix of free and paid content.
Ultimately, the type of paywall you choose will depend on your business model, the type of content you offer, and your goals for generating revenue from your website.
Why You Should Use WordPress to Sell Videos Online
WordPress is a popular platform for building websites because it is user-friendly, versatile, and easily customizable. Let's talk about why WordPress is the best choice for creating a membership site with paywalled video content:
You own the land your business is built on. At Paid Memberships Pro, we emphasize the importance of retaining ownership of your business and content. With WordPress, you are not at the mercy of the content restriction capabilities, technical performance, and price increases of another platform.
It offers maximum flexibility and scalability. Some hosted platforms come with more limitations and restrictions when it comes to growing and customizing your membership business. WordPress is an open-source platform, which means that anyone can access the underlying code and modify it to suit their needs, and it offers a wide range of plugins and integrations. This makes WordPress highly customizable and allows users to create a wide range of different types of websites, including sites for paywalled video content.
WordPress has a huge community. As a widely-used platform, there is a large community of WordPress developers and users who can provide support and assistance if you need help with your site. Plus, there are many free plugins and themes, as well as tutorials, guides, and other resources available to help you learn how to use WordPress as well as manage and protect your content.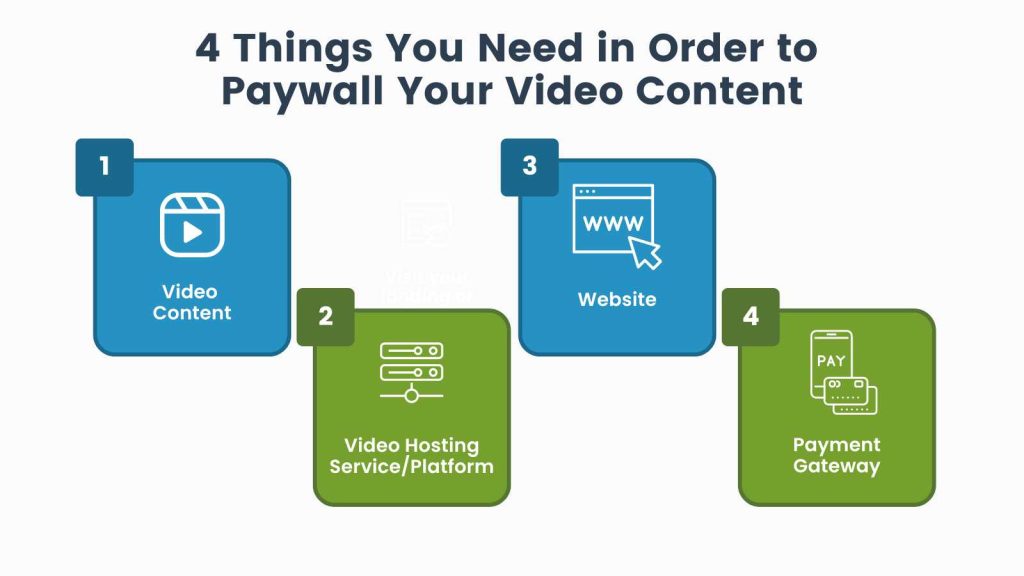 How to Set Up a Paywall to Sell Videos Online
Whether video is just a component of your business or you want to set up a new video content business, there are a few basic steps for implementing a paywall. Here are the key decisions and requirements for a WordPress-based website that wants to sell videos online:
1. Choose a Membership Business Model for Your Video Content
The business model you use for your video content business will coincide with the type of paywall you've chosen. Here are a few different options to illustrate:
On-Demand Video Library. An on-demand video library is a collection of videos that are available to be watched at any time. On-demand video libraries are often offered by streaming services, such as Netflix and Hulu, and allow users to watch a wide variety of movies, television shows, and other video content on their own schedule.

With an on-demand video library, you can offer access to exclusive members-only content for a monthly or yearly fee. You can also implement tiered membership levels, charge one-time fees for specific content or add ons, or use a combination of all of these strategies.

Drip Feed Video Content. Drip feed videos are videos that are released over time, rather than all at once. This approach is often used by content creators who want to maintain their audience's interest by releasing new content on a regular schedule.

For example, a content creator might release a new episode of a television show or a new video in a series on a weekly or monthly basis. This allows viewers to look forward to new content on a regular basis and keeps them engaged with the content.

Drip feed videos can be used in a variety of ways, including in YouTube series, online courses, and other types of video content. They can be an effective way to build an audience and keep them interested in your content over time.

Drip feed video content is often part of a membership with a monthly or yearly fee and works particularly well if you want to sell access to your online courses while guiding students through your video content at a specific pace.

Online Video Store. An online video store is a website or platform where users can purchase videos to watch for a one-time fee. This typically covers a wide range of content that users can choose from, including movies, shows, and documentaries. Online courses (especially micro courses) are also particularly well-suited to the online video store model.

Some online video stores offer additional features, like recommendations based on user viewing habits and the ability to create and manage watchlists.

You can sell access to single video purchases or a collection of videos without an expiration or for a fixed period (similar to a rental). You can also sell a membership with a certain number of video access credits, for example.

The main difference between an on-demand video library and an online video store is that the latter allows one-time purchases, although you can also combine strategies. Platforms like Udemy and Coursera are great examples of online video marketplaces that allow one-time purchases as well as monthly or annual memberships.

Running an online video store or marketplace is ultimately a convenient way for content creators and distributors to reach a wider audience and generate revenue from their work.
2. Choose a Video Hosting Platform and Integrate it with Your Website
Web hosts are not designed to handle the demands of video hosting and streaming. So, we don't recommend hosting your videos directly on your web hosting account. This is particularly true for entry-level or basic web hosting packages.
Hosting videos on your site can slow it down and cause videos to buffer slowly, making for a poor user experience. If you have more than a few videos to host, it is best to use a dedicated video hosting service instead.
There are several common ways to protect the video content on your membership site:
Using YouTube to Host Your Members-Only Videos
One of the key benefits of using YouTube to host your videos is that it is free and easy to use. In addition, YouTube has a massive audience of viewers, which can help to increase the reach of your content and potentially attract new members to your site.
By leveraging the platform's popularity and user base, you can make your videos more widely available and accessible to a larger audience. Check out our post Build a Video Membership Site With Free Video Hosting On YouTube to learn more about adding members-only YouTube videos to your WordPress membership site.
Using Vimeo to Host Your Members-Only Videos
Vimeo is a video hosting service that provides a secure and effective way to add members-only video to your membership site. With Vimeo, you can easily embed and display videos on your site, and restrict access to the source files of your video content.
This allows you to protect your videos from unauthorized sharing or copying, and ensure that they are only available to your members via your approved domain name. By using Vimeo's domain-level privacy settings, you can easily restrict access to your videos and keep them safe and secure.
Learn more in our post How to Restrict Videos With Vimeo and Paid Memberships Pro.
Self-Hosting Your Members-Only Videos Using Amazon s3
Amazon S3 is a reliable and scalable solution for hosting and streaming video content, and can be a good option for those who want to self-host their videos. With this option, you'll need to protect the source video file either by:
Locking down files in your WordPress media library using Paid Memberships Pro (if hosted in the same instance as your WordPress site), or
Using a domain restriction for the source you host the video on. This means that the video itself can only be played on your domain.
We talk more about these methods in our post How to Host Video on Amazon s3 for Members Only. Remember that with either method, you'll need to embed the videos you want to show your logged-in members onto your WordPress site using either the embed code for each, or using another plugin like Presto Player.
Using Presto Player and Bunny.net to Host Your Members-Only Videos
Using Presto Player in combination with Bunny.net to host your members-only videos is a secure and user-friendly option. To do this, you will need to upload your content to Bunny.net and use the Presto Player plugin for WordPress to embed your videos.
This method keeps your videos securely hosted on Bunny.net while only accessible to logged-in members on your site.
3. Choose the Best Payment Gateway for Your Needs
In order to accept payments from your members, you'll need to set up a payment gateway.
There are many payment gateways that can be used for selling videos online. The best one for you will depend on your specific needs and preferences. Some popular options for payment gateways include Stripe and PayPal.
Stripe is a popular payment gateway that offers a range of features and tools for selling online. It is easy to integrate with many different eCommerce platforms and offers a simple checkout process for customers.
PayPal is another popular option for payment gateways and it offers a range of features and tools for online sellers. This includes the ability to accept payments from a variety of sources like credit cards, debit cards, and PayPal accounts.
Carefully consider your options based on your specific needs and preferences when choosing the right payment gateway for your business. If you don't have one already, create an account with your chosen payment gateway and integrate it with your website.
We offer documentation on setting up both Stripe and PayPal with Paid Memberships Pro.
5. Set Your Membership Prices
In our post How to Price a Membership Site, we discuss a variety of factors that go into membership pricing. However, there are two primary considerations that will guide this decision:
The value that your content provides. This includes factors like length and production quality of your videos, and whether or not your content is unique, life-changing, or in-demand.
The amount that your audience is willing to pay. This depends on demographics as well as the competitive landscape around your niche.
Researching the prices of video content memberships that are similar to yours will help inform your decision.
Additionally, you could consider offering different pricing tiers, with each tier offering a different level of access to your content. This helps you appeal to a wider range of customers and ensures that your pricing is attractive to your audience.
Ultimately, the best approach depends on your content and your target audience. It may be worth experimenting with different pricing strategies to find the one that works best for you.
6. Test Your Paywall
It's important to carefully configure your paywall and payment gateway to ensure that they are set up properly. You want to make sure that you can accept payments and that only paying members have access to your videos.
Before you take your video content membership live, test your paywall to make sure everything is working as intended.
For more guidance, check out these posts:
7. Promote Your Paywalled Video Content
There are several ways you can promote your paywalled video content to help drive subscriptions and increase your revenue. Here are a few suggestions:
Offer a free trial or sample: One way to promote paywalled content is to offer potential subscribers a free trial or sample of your content. This can help give people a taste of what they can expect from your membership and encourage them to sign up for a subscription. For example, you could display a short excerpt of your premium video, prompting site visitors to click through and sign up for your membership in order to watch the full video.
Create engaging marketing materials: Develop compelling marketing materials, such as video snippets, images, and blog posts that showcase the value of your content and why people should subscribe. Share these materials on your website and social media channels to reach a wider audience.
Use targeted advertising: Reach potential subscribers who are interested in the type of content you offer. For example, you can do this by using social media advertising to target users who have shown an interest in similar content in the past.
Collaborate with influencers: If there are influencers with a large following in your niche, ask them to promote your paywalled videos to their audience in exchange for some kind of benefit. This could be a free subscription or another incentive like an affiliate discount or influencer fee.
Offer incentives and discounts: Consider offering incentives and discounts to encourage people to sign up for a subscription. For example, you could offer a discount to first-time subscribers or offer access to exclusive content or other perks.
All of these strategies can help you sell videos online—whether you want to enhance an existing business or create an entirely new stream of income for yourself.
Conclusion
Overall, implementing a paywall for your content is a great way to sell videos online and earn money for your hard work. Carefully consider the type of paywall, payment gateway, and pricing, and to promote your content effectively to attract subscribers.
Ready to paywall your own members-only content and sell videos online? Download Paid Memberships Pro for free and get access to a complete set of tools that will help you make recurring revenue from your videos.