The Presto Player plugin for WordPress makes it quick and easy to embed videos in your website. But where do you host your video files to get the most optimized streaming speed and protected video source files?
In this guide, we cover how to use Paid Memberships Pro, Presto Player, and Bunny.net, a low-cost video hosting service, to create a members-only video library.
Keep reading to learn how these three tools enable faster streaming and rich media analytics, with the built-in content protection to control who can see your videos.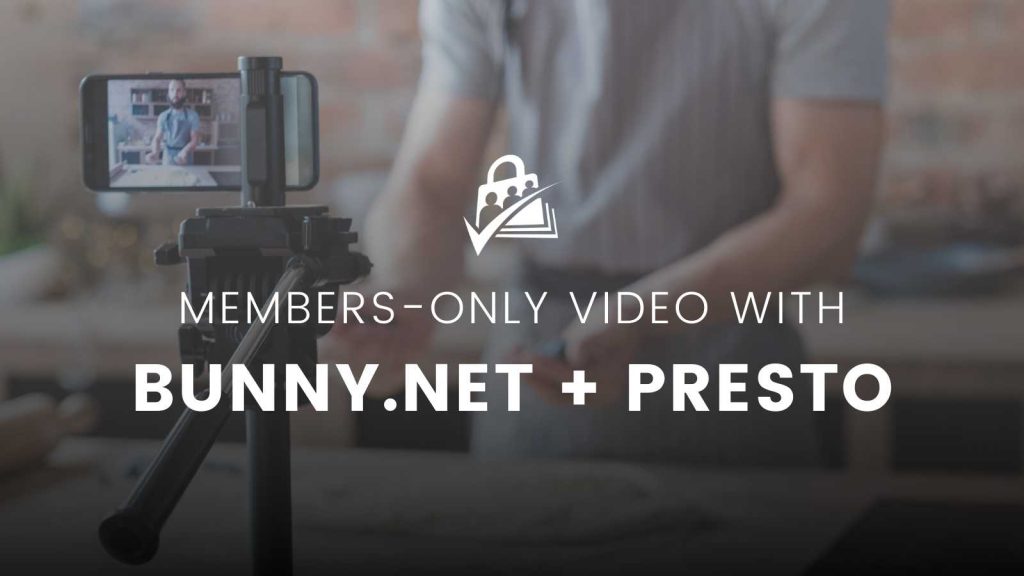 How Bunny.net Provides Secure Membership Videos
Bunny.net is a premium content delivery network (CDN) that stores your video content externally (outside your WordPress site) without sacrificing streaming speeds. For membership sites, Bunny.net can also host private videos, which protects videos from downloads and streams on any unapproved domain.
Your Bunny.net Private Video Library safely stores all of your uploaded videos. Private videos can only be accessed through your Bunny.net account or an approved domain, giving you complete control over where your videos can be viewed.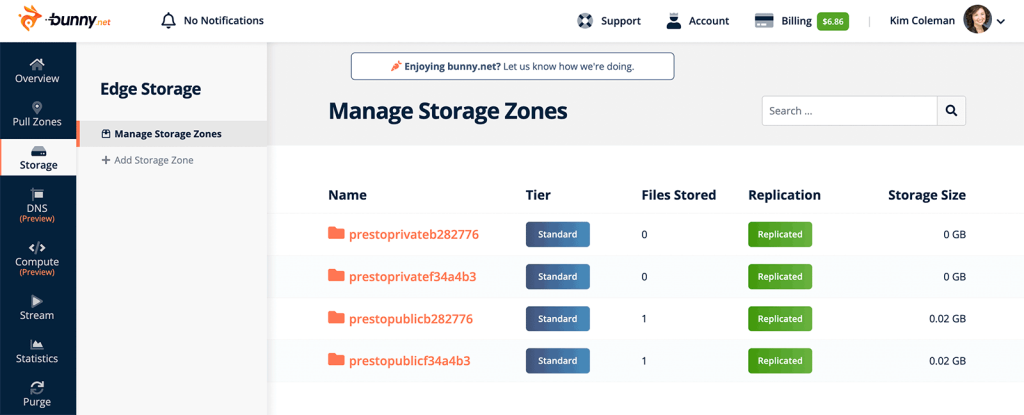 What You'll Need to Upload Members-Only Videos
For this guide, restricting access to members-only videos requires three separate tools:
Start by installing Paid Memberships Pro in your WordPress site. You can follow our initial setup guide here.
Create an account at Bunny.net and choose a data plan that will suit you best.
Install and activate the Presto Player plugin in your WordPress site. Note: You will also need the Presto Player Pro plugin in order to add the Presto Bunny.net Video block.
Once these three steps are complete, you can now start uploading and embedding private video in your membership site.
How to Restrict Access to Bunny.net Videos with Paid Memberships Pro
Paid Memberships Pro allows you to set your content visibility based on the membership level of your user. In this guide, we demonstrate how to use the Membership Required block to protect who can view your videos. You can also protect access to the post, page, or post category using any of PMPro's content protection features.
First, insert the Membership Required block in your page or post.
Set the section visibility using block settings. Choose the membership levels that can view this content.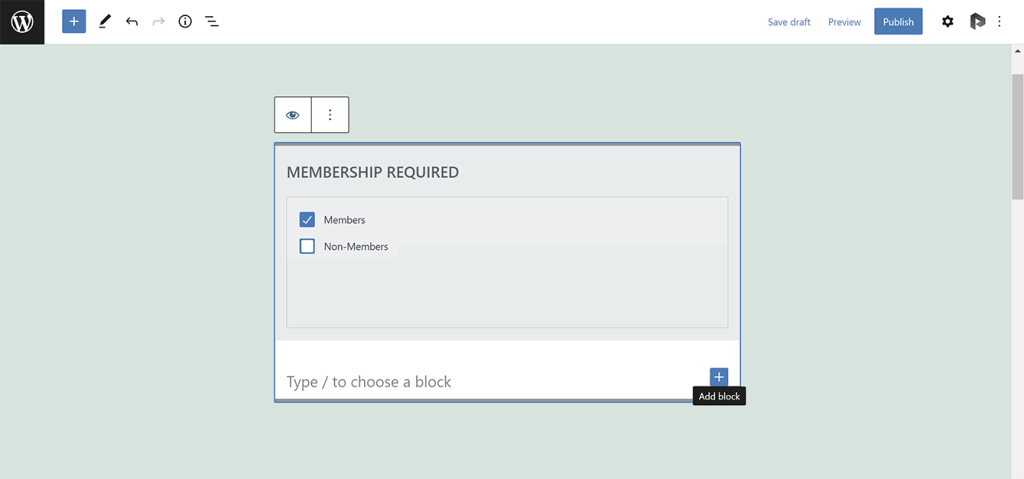 Click the Add Block "+" within the Membership Required block section and insert the Presto Bunny.net Video block.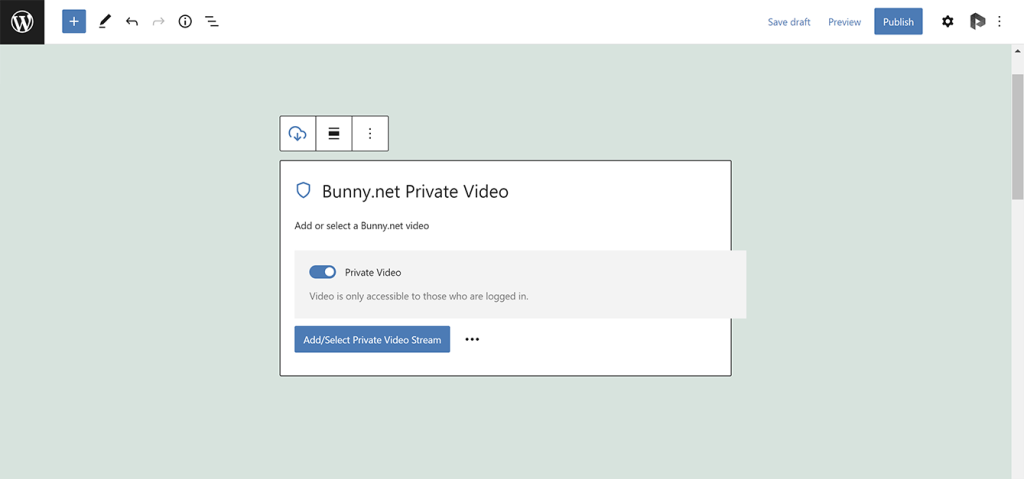 For the first private video you embed, you must enter your Bunny.net API key to connect Presto Player to your Bunny.net account. See this guide for more instructions on how to authenticate Bunny.net with Presto Player.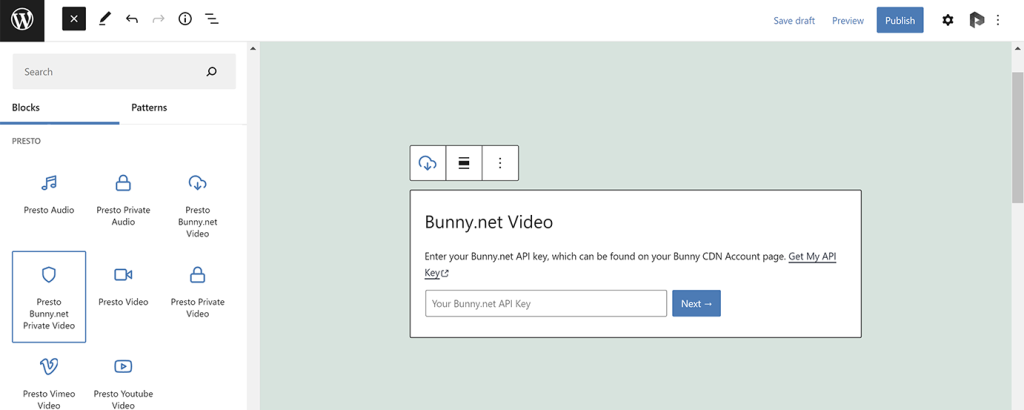 Select a video to upload to Bunny.net or choose an existing video in your library.

If you upload a new video, we recommend switching the block setting to "Private." This ensures the video is uploaded to your Bunny.net Private Video Library, giving you the maximum amount of control over who can view your members-only content.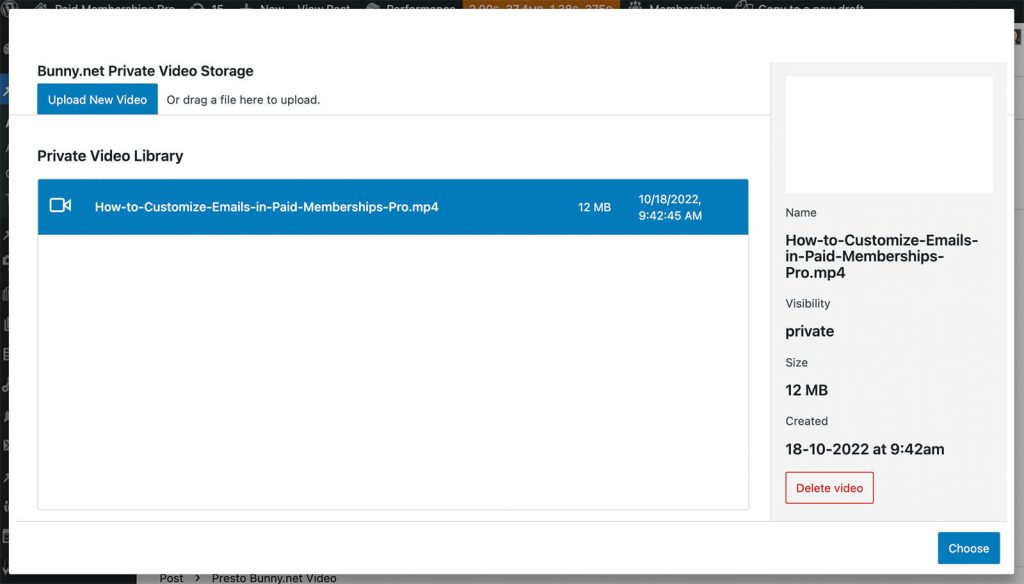 That's it. You've just added a private video that only members can see. The Presto Bunny.net Video block is nested within the Membership Required block and protected from non-members.
Bunny.net ensures your videos will only be viewable to users on your site, while Paid Memberships Pro lets you choose which videos require a membership to watch.
Just remember: Even though your videos are protected, piracy can happen to anyone.
Although it's rare, users can technically screen record and share your videos if they really want to.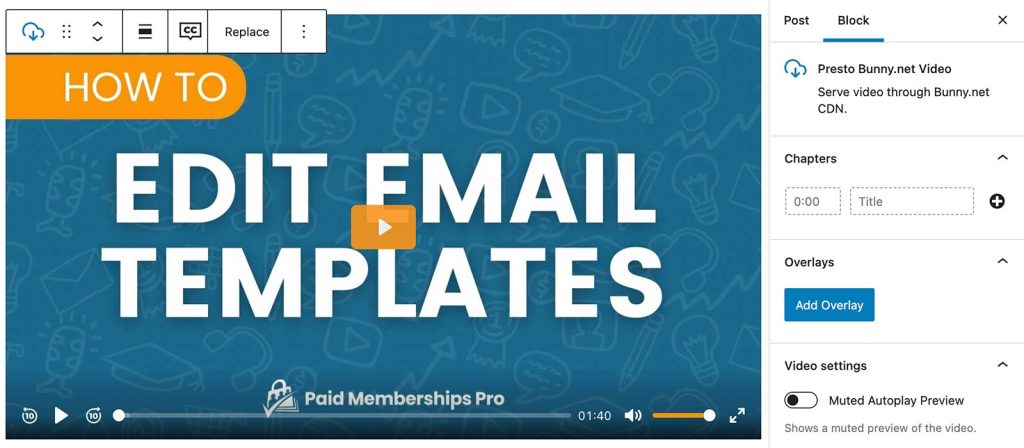 You can now (optionally) customize the embedded video using block settings. For example, you can add a Poster Image which is the default thumbnail shown for the embedded video player.
Comparing Private Video Tools
There are several ways you can protect and share videos with members only. Here's a quick comparison on our most recommend methods with the cost, video security, and ease of use.
| Service | Cost | Video Security | Ease of Use |
| --- | --- | --- | --- |
| YouTube | Free | Low. Unlisted video URLs can be shared. | Very easy to embed videos. No analytics. |
| Amazon s3 | < $10/mo. for high-volume | High. Private video cannot be accessed directly. | More complex setup with limited analytics. Requires upload to Amazon s3 and third-party media player. |
| Bunny.net + Presto Player Pro | < $5/mo. for high-volume (see streaming fees) + pro plugin ($99/yr.) | High. Private video cannot be accessed directly. | Fairly straightforward after initial setup. Simple analytics. |
| Vimeo | $20/mo. and up | High. Private video cannot be accessed directly. | Easy to embed videos. Use Vimeography to create a video library. Advanced analytics. |