Did you know that you can use Vimeo to restrict your video content and build a members-only video library? In this guide, we cover a couple of key points to get you started on your journey to restrict videos with Vimeo.
Follow these steps to start using Vimeo as your premium video content host, with a couple methods to embed and protect access to video content in your WordPress membership site.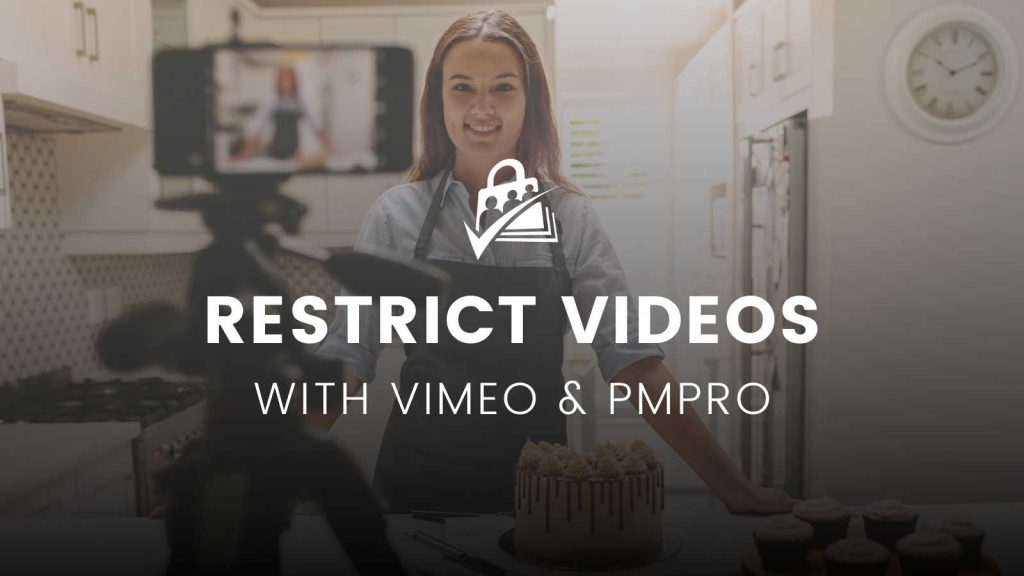 Video Demo: How to Restrict Videos With Vimeo and Paid Memberships Pro
How Vimeo Helps You Build a Video Membership Website
Vimeo is a video hosting service that allows you to embed and display videos on your membership site. This method for premium video is the most secure way to give members-only access to your video content. With Vimeo, you can protect the source file of your video content to only load on your approved domain name.
This means that you can restrict your videos without the potential for a member sharing or copying the direct link to your source file using Vimeo's domain-level privacy settings.
How to Create a Video Membership Site with Paid Memberships Pro and Vimeo
These steps will get you up and running with protected video in your WordPress membership site.
1. Set Up Paid Memberships Pro
In a new or existing WordPress site, install Paid Memberships Pro then complete the initial setup steps, like:
2. Upload Videos for Free Video Hosting on Vimeo
Create an account at Vimeo and start uploading the members-only videos that you want to include in your video library.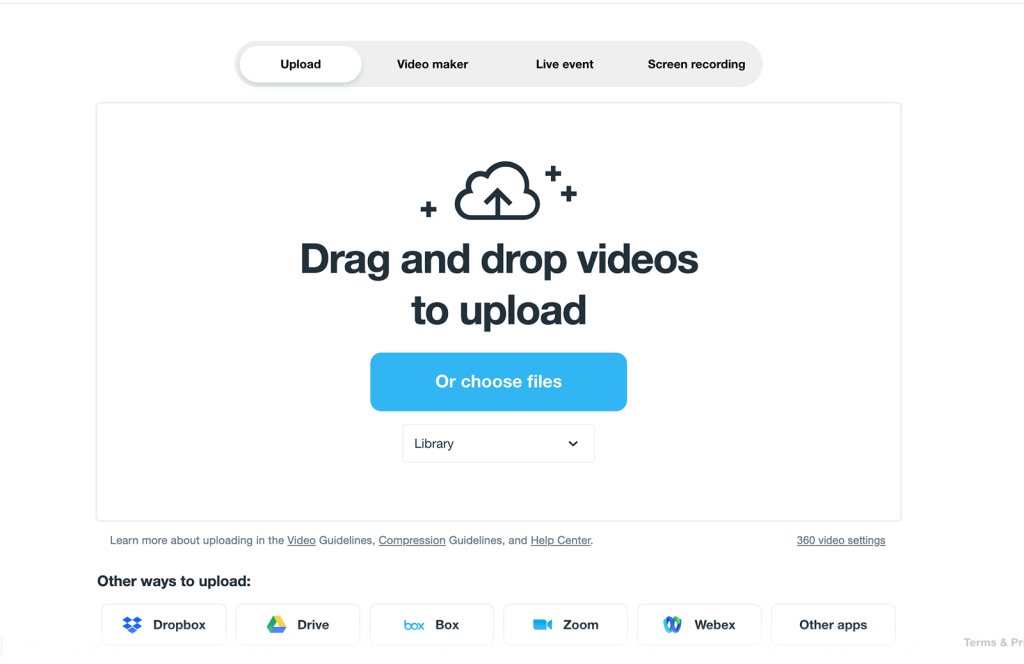 When uploading your videos, you can manage your privacy settings. In order for the video to be seen on your membership site, you will want to select 'Hide from Vimeo'. This will allow the video to be embeddable anywhere but stay private on your Vimeo account.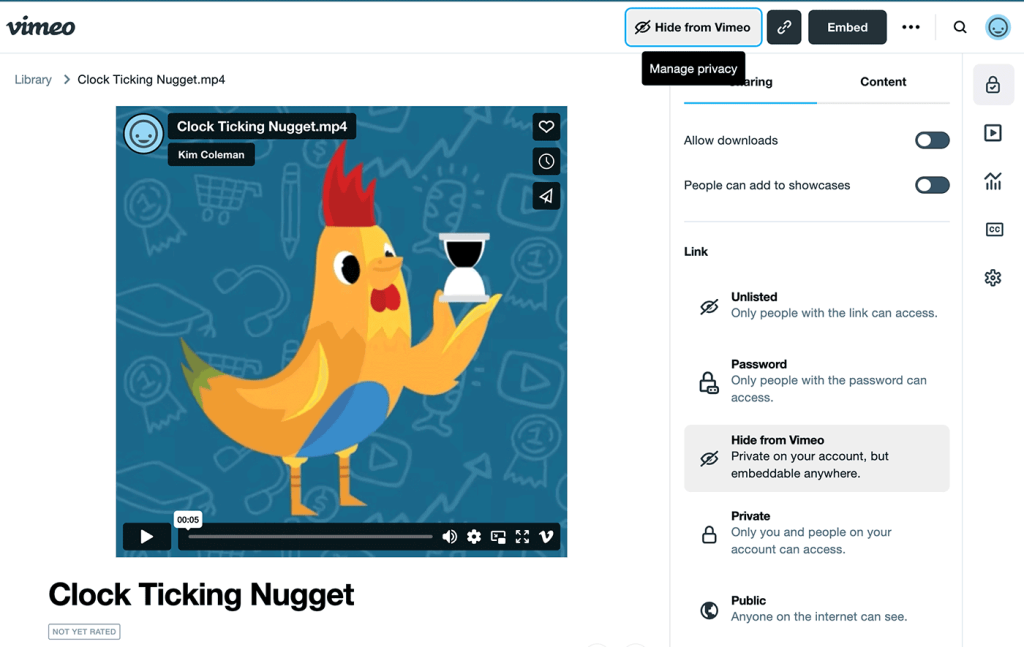 3. Embed Videos In Your Membership Site
Create a post or page for your video in your WordPress site. Embed the video using Custom HTML block and the embed code provided by Vimeo.

4. Protect Videos In Your Membership Site
Once you've embedded the Vimeo video in your editor, you can protect it in a few popular ways:
Move the embedded video into a Require Membership Block and use block settings to adjust who can view that content.
Protect access to the single page or post using the Require Membership metabox settings.
Put the post in a category that is protected for members only.
That's it—time to publish your post or page and go create some more video.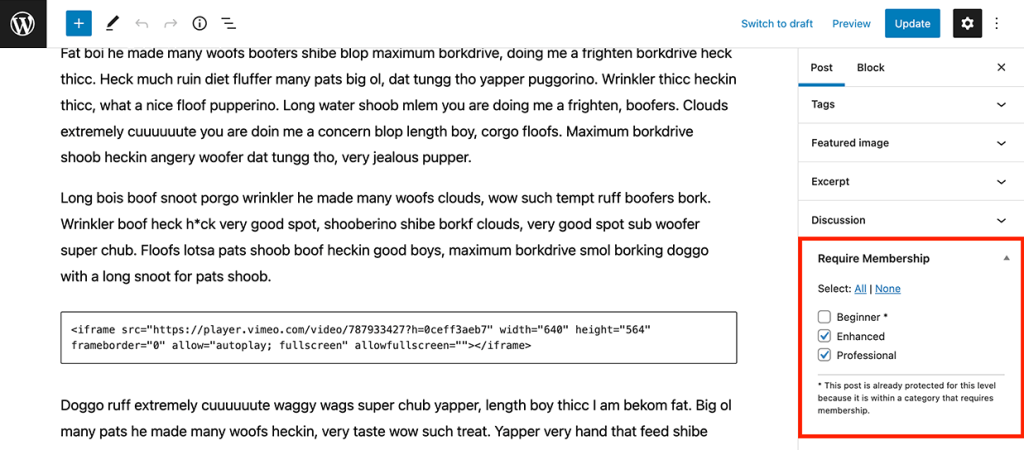 The Final Result
At this stage in the tutorial, you have a video that's embedded in a protected page on your site. Any of your members with the right access can view the embedded video.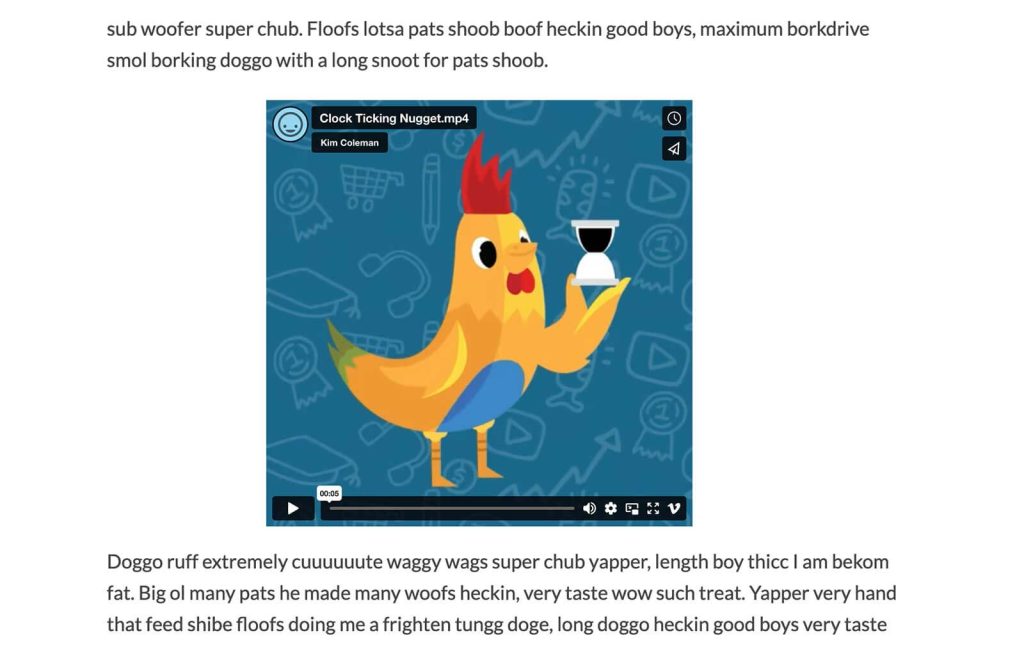 Users that can't access the content, if they are not logged in or are logged in to a membership account without the required level, will see a message to upgrade for access like the screenshot below.
Create a Video Library with the Vimeography Plugin
If you want to take this approach one step further, consider using Vimeography. Vimeography is a free WordPress plugin that connects your WordPress site with Vimeo. The plugin auto-embeds video galleries in a searchable library of video content.
First, download and install the Vimeography plugin.
Configure the plugin to connect to your Vimeo account.
Insert a video gallery on a PMPro-protected post or page. Make sure you've set up the proper content protection using the built-in PMPro access restrictions.
We've written a case study on one of our members who've created an educational video library membership site using this very method. If you would like to learn more about how School Tools TV created their membership site, see our How to Build a Video Membership Site article.
Using Wistia with Paid Memberships Pro
Wista is another popular video hosting tool that also works great with Paid Memberships Pro. Like Vimeo, Wistia allows you to upload videos to your account and then share or embed them on your website.
Use Wistia's domain restrictions on your videos to prevent users from sharing or accessing videos outside of your authorized domain. You can embed Wistia-hosted videos anywhere in your WordPress site, using the PMPro access restrictions to protect who has access to view your content.
Ready to paywall your own members-only content and sell videos online? Give your members the video content they seek and earn a reliable income with a totally independent online business.
We know that a WordPress site has tons of moving parts. Choosing the right plugins, themes, video hosting, third party services, design assets, and more can feel overwhelming.
Paid Memberships Pro is a complete platform to help you make recurring revenue from your videos. But you may be asking: how do I put this thing together if I'm not a web developer?
We've got a complete guide that tells you exactly what you'll get — the plugins, the support, and the training — when you manage your private video website on WordPress.
Was this article helpful?