Did you know that you can use Vimeo to restrict your video content and build a members-only video library? In this guide, we cover a couple of key points to get you started on your journey to restrict videos with Vimeo.
Follow these steps to start using Vimeo as your premium video content host, with a couple methods to embed and protect access to video content in your WordPress membership site.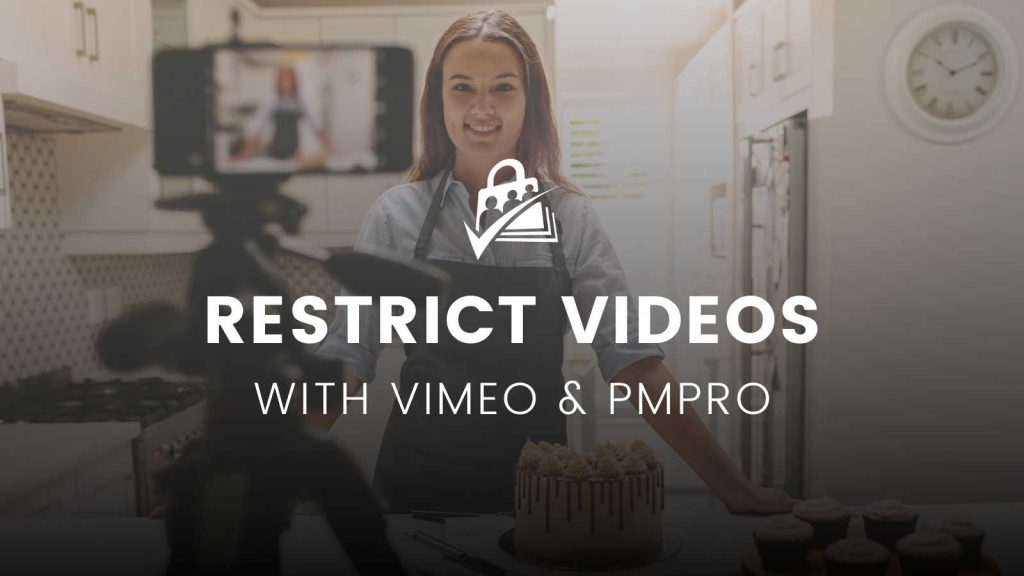 Video Demo: How to Restrict Videos With Vimeo and Paid Memberships Pro
How Vimeo Helps You Build a Video Membership Website
Vimeo is a video hosting service that allows you to embed and display videos on your membership site. This method for premium video is the most secure way to give members-only access to your video content. With Vimeo, you can protect the source file of your video content to only load on your approved domain name.
This means that you can restrict your videos without the potential for a member sharing or copying the direct link to your source file using Vimeo's domain-level privacy settings.
How to Create a Video Membership Site with Paid Memberships Pro and Vimeo
These steps will get you up and running with protected video in your WordPress membership site.
First, install Paid Memberships Pro on your WordPress website. You can use our initial setup guide here on this site or download the complete setup steps (PDF).
Next, create an account at Vimeo and start uploading the members-only videos that you want to include in your video library.
Finally, create a post or page for your video in your WordPress site. Embed the video using the embed code provided by Vimeo. Once the content is in your WordPress site, you can use Paid Memberships Pro to restrict access to the content. Only members with the required level of access will be able to watch your video.
When users visit your video library they will be greeted with a login/register message encouraging them to either sign up for a membership level or if they are already a member, login to see your videos.
Create a Video Library with the Vimeography Plugin
If you want to take this approach one step further, consider using Vimeography. Vimeography is a free WordPress plugin that connects your WordPress site with Vimeo. The plugin auto-embeds video galleries in a searchable library of video content.
First, download and install the Vimeography plugin.
Configure the plugin to connect to your Vimeo account.
Insert a video gallery on a PMPro-protected post or page. Make sure you've set up the proper content protection using the built-in PMPro access restrictions.
We've written a case study on one of our members who've created an educational video library membership site using this very method. If you would like to learn more about how School Tools TV created their membership site, see our How to Build a Video Membership Site article.
Using Wistia with Paid Memberships Pro
Wista is another popular video hosting tool that also works great with Paid Memberships Pro. Like Vimeo, Wistia allows you to upload videos to your account and then share or embed them on your website.
Use Wistia's domain restrictions on your videos to prevent users from sharing or accessing videos outside of your authorized domain. You can embed Wistia-hosted videos anywhere in your WordPress site, using the PMPro access restrictions to protect who has access to view your content.
More Members-Only Video Methods for Paid Memberships Pro
We have three other guides on members-only video. These guides cover alternative methods to embed videos in your WordPress membership site, including:
Comparing Private Video Tools
There are several ways you can protect and share videos with members only. Here's a quick comparison on our most recommend methods with the cost, video security, and ease of use.
| Service | Cost | Video Security | Ease of Use |
| --- | --- | --- | --- |
| YouTube | Free | Low. Unlisted video URLs can be shared. | Very easy to embed videos. No analytics. |
| Amazon s3 | < $10/mo. for high-volume | High. Private video cannot be accessed directly. | More complex setup with limited analytics. Requires upload to Amazon s3 and third-party media player. |
| Bunny.net + Presto Player Pro | < $5/mo. for high-volume (see streaming fees) + pro plugin ($99/yr.) | High. Private video cannot be accessed directly. | Fairly straightforward after initial setup. Simple analytics. |
| Vimeo | $20/mo. and up | High. Private video cannot be accessed directly. | Easy to embed videos. Use Vimeography to create a video library. Advanced analytics. |