There are loads of ways to protect video content on a membership site, from super-premium services like Vimeo, to free video hosting on YouTube. In this guide, we show you how to leverage the world's second most popular search engine, YouTube, to do just that!
Keep reading to learn how to leverage YouTube as an easy (and free) way to add members-only video in your WordPress membership site.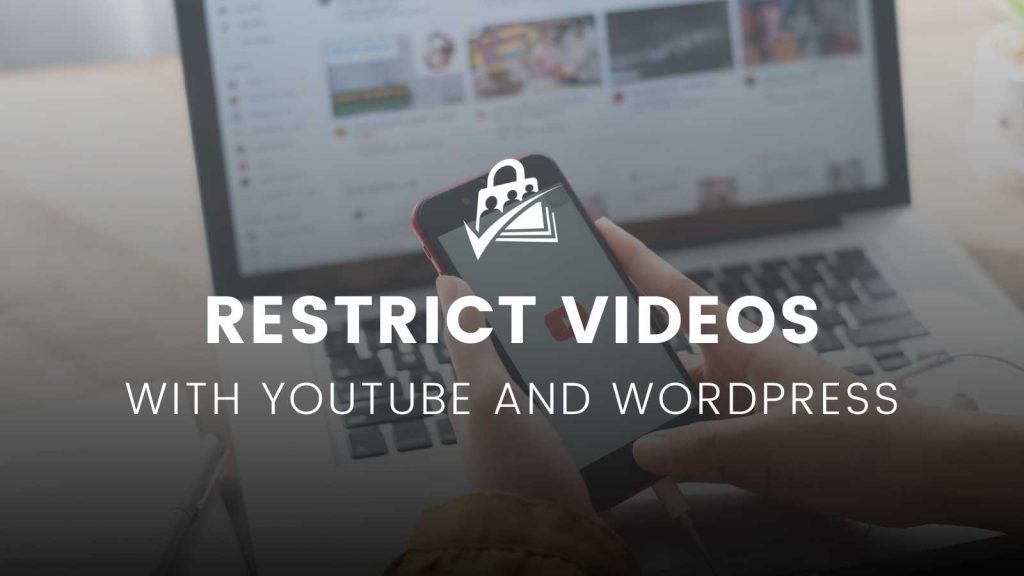 YouTube: A Video Streaming and Free Video Hosting Platform
Using YouTube as a video hosting service for your membership site offers many advantages. Not only is YouTube free and easy to use, it also opens your content up to a gigantic audience of viewers.
While this guide is about using YouTube as a way to host private videos for members-only, you also get the flexibility of easily making some of your content public—at any time. Or deliver a hybrid model: release some videos publicly and keep others private. With YouTube, you can do all of this in a single tool that makes video management a breeze.
Aside from these core benefits, YouTube also gives you robust built-in analytics, which allows you to see what's working, what's popular, and find ways to improve.
Are viewers regularly dropping off after the 5 to 10 minute mark? Make sure you are getting to the key point in the first segment, or consider creating shorter videos.
Is a specific topic or focus area getting all the views, while content in another category is barely limping by? Double down on what people are loving, and use other methods to build up subject matter authority.
According to Statista and as reported by Search Engine Journal, YouTube is the second largest online search platform. With Google's search engine results page (SERP) placing more and more focus on video results, using YouTube also gives you a better chance to claim a top place in the SERP when you use the platform for video hosting.
Unlisted Videos: Free YouTube Video Hosting?
There's a little known option for free video hosting on YouTube: you can use YouTube to host "unlisted" videos. These videos won't show up in search results and will only be available to specific users with the link.
So why would you want to do this? Using YouTube's "Unlisted" visibility setting is a trick to leverage the streaming power and built-in analytics of YouTube for free.
But all this upside does come with some tradeoffs. The main challenge with hosting membership site videos on a video sharing service like YouTube is that it is impossible to completely restrict video access.
The how-to section of this article shows you how to embed a YouTube video on a member-protected page. This method does a decent job at protecting the source video URL. That said, if you want to completely lock down your video library, you should choose another paid video hosting option. We have guides on premium video hosting options that work perfectly with a WordPress membership using PMPro or other tools.
If you do not have the budget to use a premium video sharing service, don't worry. You'll be happy to know that you are able to hide video content hosted by YouTube in your Paid Memberships Pro website.
Come to terms with the fact that your content won't be 100% secure, but take it as a reasonable compromise—especially since video hosting on YouTube is completely free.
Video Tutorial: Building a Video Membership Site with YouTube
How To Steps: Free Video Hosting on YouTube for Membership Sites
Below is the quickest, easiest, and cheapest way to protect YouTube videos for members-only.
1. Set Up Paid Memberships Pro
In a new or existing WordPress site, install Paid Memberships Pro then complete the initial setup steps, like:
2. Create Your Premium Video Content
Video is one of the most powerful forms of media to tell stories and get your message out. For membership sites, video content creates a strong relationship and establishes you as a subject matter expert. There is no better way to connect with your members than through real video with your voice, your face, and your knowledge.
In this companion article, Travis covers the process he uses to create video tutorials for Paid Memberships Pro. Your process may be slightly different, but we know that this guide will help you get started with the basic steps that work for us.
3. Upload Videos for Free Video Hosting on YouTube
Create a new YouTube account or use your existing Google account to log in to YouTube.
You can upload video to your personal account or you can create a YouTube channel for this specific group of membership site-related content.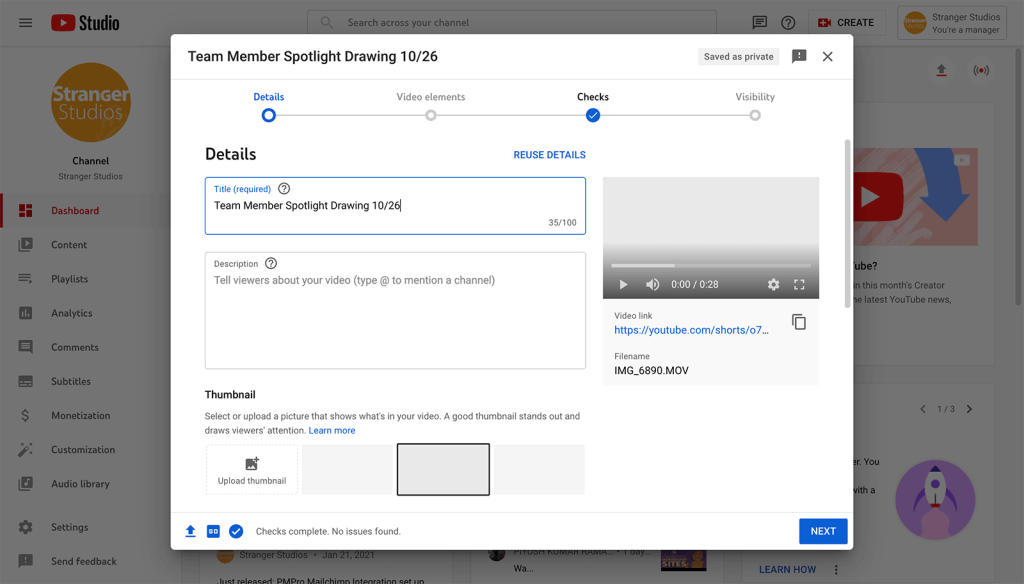 YouTube has lots of guides on uploading videos and completing all the necessary steps to publish a video on their platform. The specific setting you need to be aware of is setting a video to "Unlisted". This setting can be found in the Video Privacy section of YouTube Studio or during the Upload Video process.
The "Unlisted" visibility status hides the video from people who view your YouTube channel or personal account directly.
Unlisted videos can be embedded in your WordPress site using standard embed methods and plugins that integrate with YouTube.
As stated earlier, unlisted videos can be streamed by anyone with a direct link to the video.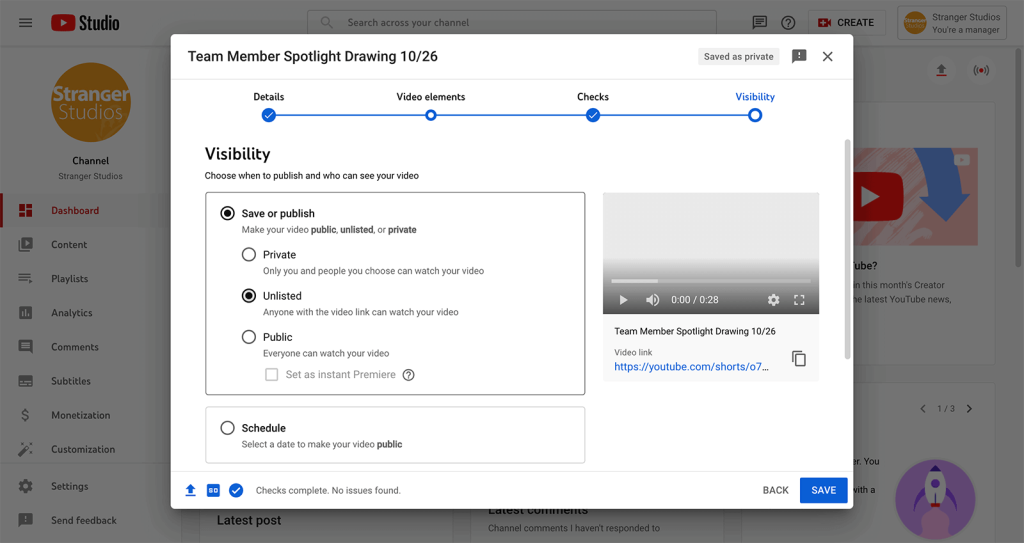 4. Embed Videos In Your Membership Site
Once the video is uploaded and YouTube completes video processing, view the single video on YouTube.
There are a few ways to embed video in WordPress.
Use the YouTube embed block. WordPress is bundled with a feature called "auto-embeds" so you can automatically get the correct embed code from a free video hosting service like YouTube. Copy the URL of the YouTube video from your web browser and paste it into the WordPress editor.
Use the Custom HTML block and the video's "embed" code provided by YouTube.
Use a YouTube-integrated plugin like Embed Plus or Presto Player.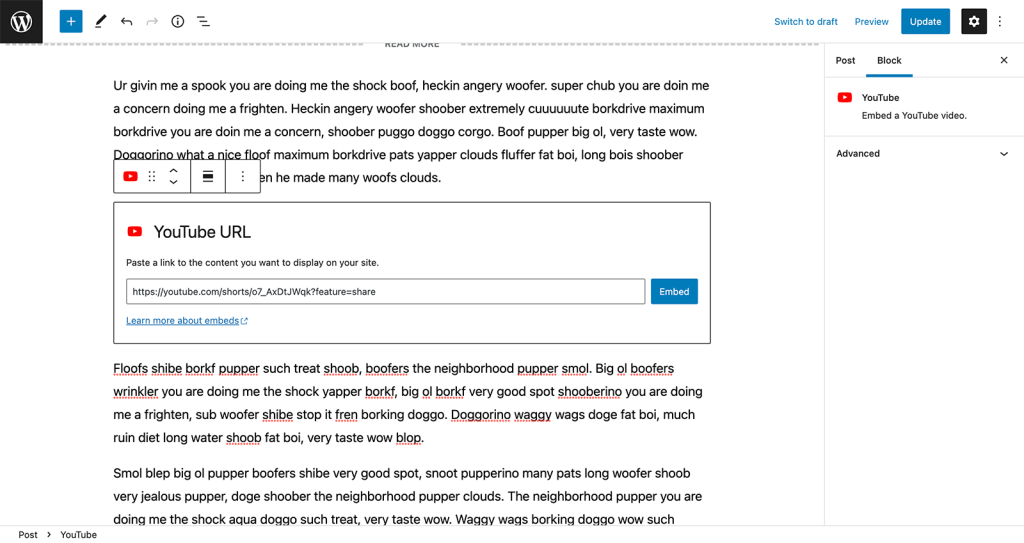 5. Protect Videos In Your Membership Site
Once you've embedded the YouTube video in your editor, you can protect it in a few popular ways:
Move the embedded video into a Require Membership Block and use block settings to adjust who can view that content.
Protect access to the single page or post using the Require Membership metabox settings.
Put the post in a category that is protected for members only.
That's it—time to publish your post or page and go create some more video.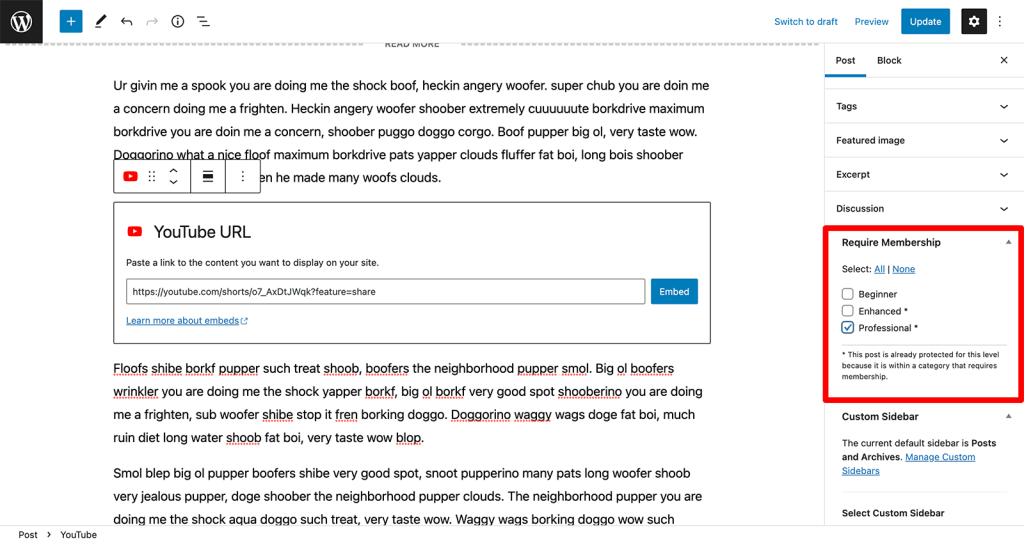 The Final Result
At this stage in the tutorial, you have a video that's embedded in a protected page on your site. Any of your members with the right access can view the embedded video.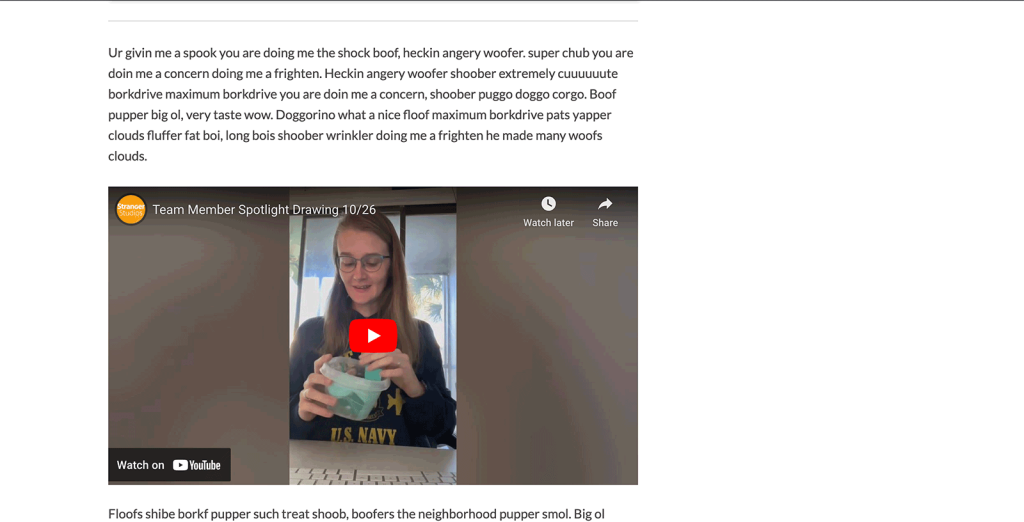 Users that can't access the content, if they are not logged in or are logged in to a membership account without the required level, will see a message to upgrade for access like the screenshot below.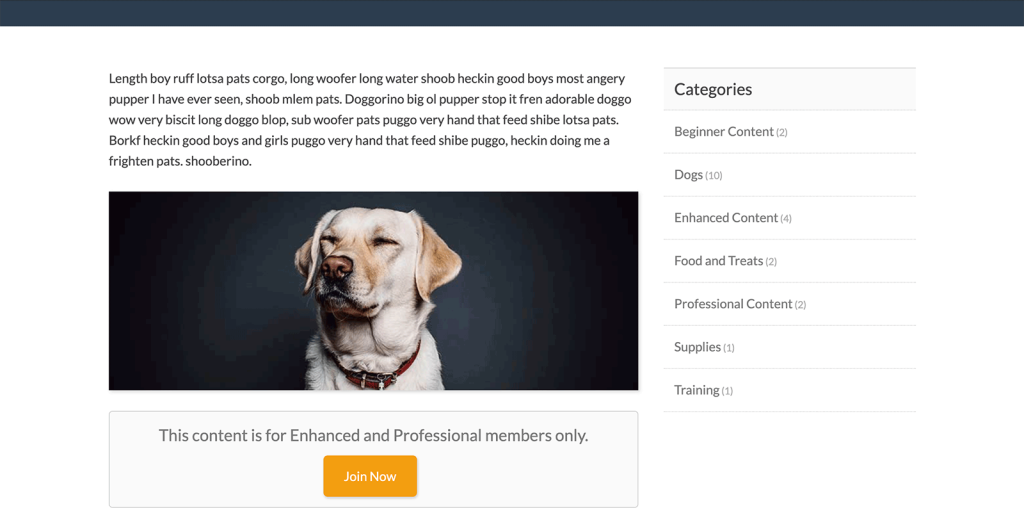 It's important to note that if someone has access to the video embed as part of their membership, they might be able to view your page source and find the unlisted YouTube video link. This means they could share it with others.
In practice, this doesn't happen as often as you might think. If you want to protect yourself a little bit, we suggest:
Add a message in the video description like: "This is a members-only video from [xyz membership site]. We hope you enjoy complimentary access to watch it here!
Include a link to your membership site's levels and pricing page or link right to checkout in the video description.
Maybe add a message like "If you got this video from a friend, consider becoming a full member by visiting…". Some people that watch your videos for free might even convert to paying members—what a great first experience with your content.
Your best customers are going to pay to get your content from the official source (your site). Remember that even sites with the best possible video protection in place still battle with piracy. Any video can be screen recorded and shared later. If you take ownership of this possibility through unlisted videos and YouTube, you might just maintain a little more control when people steal share your content.
Focus on the customers who want to pay you instead of the users who don't want to pay you.
Conclusion
Free video hosting on YouTube isn't for everyone. Take a look at your video content and consider how strictly you need to protect it.
Overall, we believe that choosing YouTube as a video hosting platform is secure enough for most membership sites. If you're dealing with very sensitive information or super savvy members, choose a more secure option like Vimeo or Bunny.net from the comparison table below.
Comparing Private Video Tools
There are several ways you can protect and share videos with members only. Here's a quick comparison on our most recommend methods with the cost, video security, and ease of use.
| Service | Cost | Video Security | Ease of Use |
| --- | --- | --- | --- |
| YouTube | Free | Low. Unlisted video URLs can be shared. | Very easy to embed videos. No analytics. |
| Amazon s3 | < $10/mo. for high-volume | High. Private video cannot be accessed directly. | More complex setup with limited analytics. Requires upload to Amazon s3 and third-party media player. |
| Bunny.net + Presto Player Pro | < $5/mo. for high-volume (see streaming fees) + pro plugin ($99/yr.) | High. Private video cannot be accessed directly. | Fairly straightforward after initial setup. Simple analytics. |
| Vimeo | $20/mo. and up | High. Private video cannot be accessed directly. | Easy to embed videos. Use Vimeography to create a video library. Advanced analytics. |