Our members often ask us for more information on the best ways to restrict or hide video content on their membership site. Since there are a variety of ways you can do this with Paid Memberships Pro we decided to write a few guides outlining a few of the more popular methods to lock down videos for members only. In this guide, we will discuss how to restrict videos with YouTube for your membership site.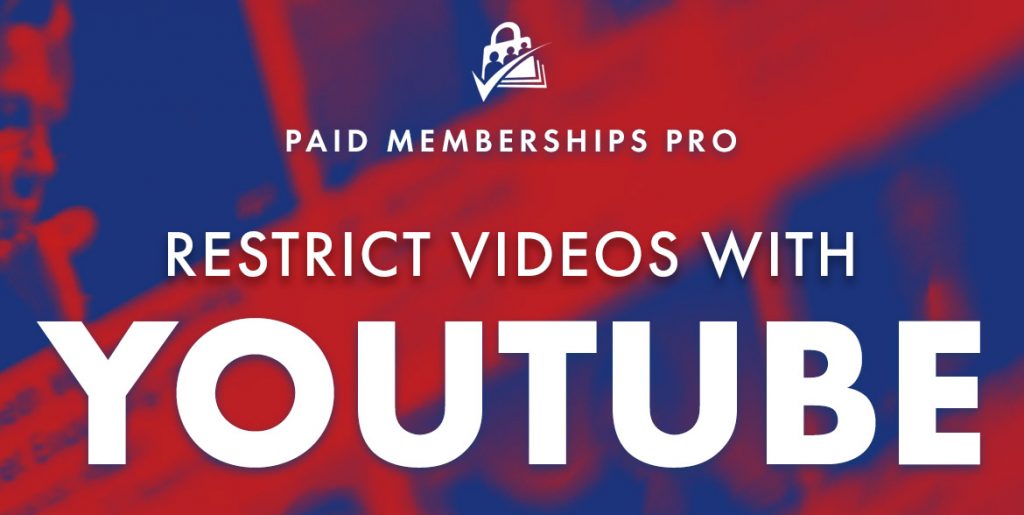 Moving over to YouTube
For a number of years, we used AWS to host our PMPro videos. We have since moved our entire video library over to YouTube. We wanted to better understand how people watched and used our videos (analytics) and since most of our videos are tutorials or marketing related, we felt that having it out on YouTube gave us a better chance of them to be found by those looking for a membership solution.
---
Using a Video Sharing Platform
Using a video sharing service such as Youtube offers some of the following advantages; it's free, easy to use, you have the ability to reach more people. By the way, did you know that YouTube is the internet's 2nd largest search engine after Google?
Hosting your video on YouTube means that potential customers searching there may stumble upon your public videos. You can also host "unlisted" videos. These videos won't show up in search results and will only be available to specific users.
Using YouTubes "Unlisted" visibility setting is how we will build a video library for our members. The challenge with hosting membership site videos on a video sharing service like YouTube is that it is harder to restrict these videos entirely. You can do a fairly decent job with it but if you want to completely lock down your video library, you're going to need to get really clever or fork out some money for premium options that are available.
---
Limited Video Restriction
One of the main annoyances we see with some of our members is that they expect Paid Memberships Pro to lock down video content from video sharing platforms that are not designed to lock down content.
If you choose a platform that you don't fully control or one that doesn't offer restriction features, your options will naturally be more limited.
---
How to Restrict Videos with YouTube.
If you do not have the budget to use a premium video sharing service don't worry. You'll be happy to know that you are able to hide video content on your Paid Memberships Pro website. You might just need to come to terms with the fact that your content won't be 100% "watertight", but this might be a reasonable compromise. Especially, since this video restriction method is free.
Below is the quickest, easiest and cheapest way to (partially) lockdown your videos for members-only.
Set up a Paid Memberships Pro WordPress Website.
Create a membership level.
Start creating your membership video content.
Sign up for a YouTube account.
Upload your video content to YouTube.
Fill in the necessary details of your video while it uploads
Set the visibility status of your video to "Unlisted". This will hide your video from people who view your video sharing account. And will only display the video to someone who has a direct link to the video or to someone viewing the video as an embedded video on your site.
Once the video is uploaded. Click the share video button. Look for the embedded video option. Copy the code provided.
Paste the video embedded code into the webpage of your membership site.
Restrict the entire page or just the video by using one of these Paid Memberships Pro Content Control methods. Namely, the meta box method, shortcode or block method.
---
The Result
This will lock down your videos pretty nicely. But it is worth noting that if someone has access to your membership, they will be able to view the video and obtain the original link to the video and potentially share it with others.
In practice, this is usually not as bad as people imagine. If you include links to your checkout in the video description and even mention something like "If you got this video from a friend, considering becoming a full member by visiting…" people viewing your video for free might even convert to paying members.
Your best customers are going to pay to get your content from the official source on your site. Even if you have the best possible protection on your videos, they can still be recorded and shared on torrent sites or in private. The kind of users who seek out your videos through these were not likely to become paying members anyway. We often say, focus on the customers who want to pay you instead of the users who don't want to pay you.
Conclusion
Depending on how strict you want or need to be will depend on whether or not this method will work for you. For the most part, this is enough for most membership sites, but if you are dealing with very sensitive information or technically savvy members, this could pose a problem.
We will be posting a few other methods about this topic in the upcoming weeks. Check back here for future updates on this topic.