Instructional video can be a key component of any membership website, so I thought this would be a great opportunity to share my experience creating setup tutorials and video content about our Add Ons. I hope you can use the step-by-step guide below to make more powerful videos for your membership site.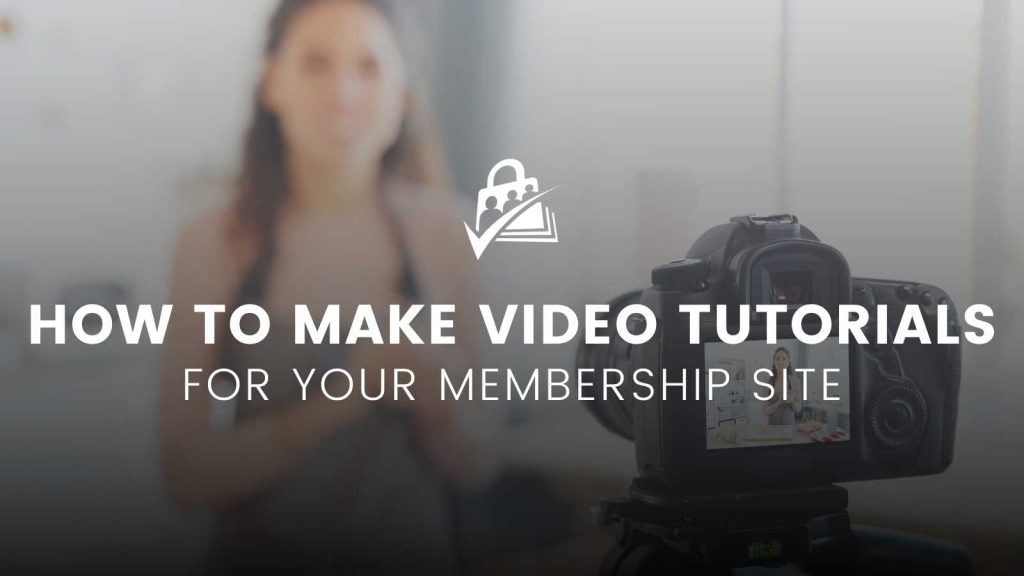 Video Communicates Your Message Quickly and Effectively
Video is one of the most powerful forms of media used in today's time to tell stories or get your message 'out there'. After Google, people turn to YouTube to find answers to their search queries. Video is here to stay and some say that it will only get more and more important as we head off into the future of this ever-increasing 'digital age'.
In this article, I cover my entire video making process. You may find when making your own videos that your process differs slightly. This is totally fine and you should embrace the process that works best for you.
Watch an Example of our Screencast Video Tutorials
Quick-Start Video Making Points
Below are some quick points, aimed at those who just need some tips to get going on their video making. Below these quick points, you will find a more detailed blog elaborating each point.
The (Simplified) Process:
Idea/Conceptualize – Write down an idea for a video, make a list of some of the main points of the video that you want to communicate to your audience.
Research – Once you have a general idea for your video, you want to go and research your topic. While researching, be sure to jot down notes that are important to highlight in the video
Dry Run – Similar to the research phase, try to do a dummy or test run of your video from start to finish. Take notes of anything you may want to include in the video.
Script (1st draft) – Take your idea and start writing a script. Draw a line down the middle of the page. On the one side write down what you expect to see on the video, and on the other side write the actual words that will be said while that portion of the video is playing.
Record video – This can depend largely on the type of video you are creating. In the case of a tutorial screencast style video, you want to record your screen using a program like OBS Studio, ScreenFlow, or Camtasia. For a review of 2018's best Free Screen recording software click here.
Edit Video – Using a video editing software (I use Adobe Premiere) add your video and start trimming all the unnecessary pieces of the clip, or mistakes. Try to keep videos as short and concise as possible.
Script (Final Draft) – Now that you have the video portion done, read your script and watch it alongside your video. Make any relevant changes to your script. Like your edited video, keep your script short and to the point.
Record Audio – Find the quietest room in your office or home, grab your script, and start reading out your script as clearly as possible. Don't be afraid to take more than one take on this. If you are confident enough, avoid this step and record the audio while recording the video by talking your way through the video recording session. Avoid using filler words like "um" or "like" while recording.
Edit Audio – Add your audio file to your video editing program. Trim off all the mistakes, pauses and unnecessary audio clips and align the audio with the video, making sure the audio and video match together.
Add Extras – If you have any graphics, animations intros, background music – add this in now.
Export Video – Export your video with the relevant settings. Here is a video that I used to see which are best for my videos.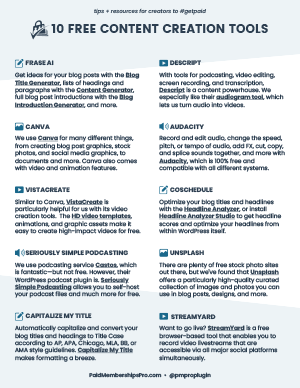 DOWNLOAD 10 FREE CONTENT CREATION TOOLS NOW
Looking to start creating graphics, videos, and voice content for your membership site? This cheatsheet shares the top 10 free tools we use to create rich media at PMPro. Use these tools to create rich media content like PDFs, commercials, audiograms, blogs, social graphics, and more.
Software Recommendations
Hardware Recommendations
Before getting started – The most important factor of all!
Photo by Jeff Hopper on Unsplash
Before diving deep into how to make videos for your Membership Sites, I want to make one thing clear: The most important factor to making videos (or anything that we want to make but have little knowledge about) is to just get started.
Anything worth doing is not easy and it is often the case that we see a metaphorical mountain in front of us when trying something new. In the case of making videos, it is easy for one to get caught up on little things that just stall us from actually sitting down to make a video. Don't get stuck thinking that you can't make videos because:
"I don't have the proper gear."
"I can't make videos, I did not go to film school."
"I don't know how."
Just get started. One step at a time. Use the power of Google and YouTube to hack your way to your first video. If it is anything like mine, it will probably be average – at best. But hey! Now that you have something out there, you can improve on it. Learn from it. Doing something (even if it is average) is better than doing nothing at all. So grab your smartphone and "Just get started".
Step 1 – Idea and Conceptualization
This step is the very first step of the video making process but it is an important one. If you already have an idea or goal for a video, great! If not, don't worry. This step is designed to help you find or craft an idea that you can use in the making of your next video.
For me, it is relatively simple in that I have a set of Add Ons or documentation pages that I need to make videos for. Once done with the one, I move on to the next. This step can be as elaborate or minimal as you need it to be. I would encourage you to be bold and really hack your idea out in this step, but don't get stuck here. If you feel like there is not more to do here then needed, time to move on. We still have got a lot of work to do.
If you have an idea of what video you want to make:
Write your idea down on a piece of paper or use something like Google Docs or Dropbox Paper
Explore your idea by brain dumping and sketching out a storyboard.
Write out a very quick overview of your idea. Include all the key bits of information that you want to bring across in your video.
This step will help you to avoid forgetting or leaving out anything crucial that you want to appear in your video. It may be hard to believe, but it is really common to come to the end of your video making process and realize you forgot to include a crucial scene of your video.
If you don't already have an idea for your video, try doing one of the following:
Brain Dump all of the possibilities you can think of. Be sure to write any and all ideas; the right one will stick.
Use Google, YouTube, and other social media platforms for ideas and inspiration.
Check your competitors' websites to see what they are doing for their audience. Use this for inspiration and not to 'steal' ideas.
Step 2 – Research
Once you have your idea and the general concept of your video written down, it is a good idea to research the topic of your video. Research can open up more ideas and information that you can use in your video. For example, when I am making an Add On video, I will go and read the documentation over to make sure I don't leave out any vital details about the Add On. After that, I will search through our blogs and forum topics to see if I can find any useful information that can provide something extra to those who watch the video.
Use the internet to research your topic. Search forums, documentation, and videos to get as much information as you need to make a quality video. You may find new sources of useful information, analogies and other relevant information that you can include in your video. This is also a great way to open your mind on how to communicate your topic in a different and potentially better way to what you initially thought.

Photo by Kaitlyn Baker on Unsplash
Step 3 – Dry/Test Run
At this stage, you should have a solid foundation of research and conceptualization of your video. Now it is time to do a dry run. In my opinion, this step still falls under the 'preparation phase' of the video making process. The idea here is to play out the exact video in a very rough, unrehearsed way. This is because sometimes the idea on paper doesn't translate well practically. By trying your idea out first, you may realize missing information or a better way to communicate a particular message to your audience.
When making an Add-On Video, I will start up my local development environment (I use Local by Flywheel – recommended), log in to my Paid Memberships Pro test site, and literally go from the start to the end of installing and configuring the Add-On. I will generally make notes along the way, test all the features of the Add-On, refer back to the frontend to see what effect any particular setting it had on my site, and make sure I didn't miss anything. Depending on the complexity of the Add On, I may do multiple dry runs so that I can get confident of what I need to do and where I need to navigate while recording my screen for the actual video.
Step 4 – Writing a Script
In this step, I take all the notes that I made in the first three steps and start writing up the first draft of my script for the video. There is a general format to follow when writing a script and that usually comprises of simply dividing your page into two parts. On the left side of your page, you write down roughly what will be happening on the screen and on the right-hand side, the text/audio that will be displayed at the same time the scene you described on the left side of the page is displaying. When writing your script keep in mind the dry run(s) you did; try to play it out in your head and put the scenes together verbally on the script.
Step 5 – Record Video
After having a decent script together it is time to go ahead and start recording your video. To record my onscreen videos I use the built-in software of my MacBook Pro – Quicktime Player but I have heard good things about Screenflow and I have previously used OBS(Free) with good results.
Take your script and, keeping your dry runs in mind, start recording your screen with your screen recording software. Don't panic. If you make a mistake or do something incorrectly, you can just re-do that specific action or section (not the entire video) and edit out the mistakes. When recording your screen now, you will basically do the same sequence as your dry runs but this time you will try to do it as smoothly as possible.
Video Recording Tips
Make sure your mouse cursor is always easily visible.
Set the 'click indicator' to 'on' of your video recording software.
Do not hastily go through the process of your video. Move at around 70% of your normal speed (you can always speed the video up later).
If you make a mistake, no need to re-record the shot. Move a step back and do the sequence again. Edit out the mistake later.
Turn all devices into Airplane mode, and silence all distractions and notifications that can pop up during filming.
Step 6 – Edit Video
This may seem a little counterintuitive to jump right into editing the video after recording the video, but hear me out. In this step, you have the chance to put the content section of your video together, edit out all of the mistakes, speed up or slow down sections that are moving too quickly or too slowly, and get the video to a point where you are satisfied with.
The reason I do this is that I find it easier to finalize the script. This gives you a pretty good idea of your audio to video ratio. This is important because (extreme example coming up) let's say you have an edited video that has a total length of 30 seconds but your script has over 5000 words in it. Chances are you are going to need to record a 'little' more video to cover everything you want to say. By having an almost complete video that is edited, I can record some B-roll footage in an event of me having too much to say and too little to show, or I can cut down on my very lengthy script and focus on keeping the script concise (this is almost always a good thing to do).
Step 7 – Finalize Script
Now I sit in front of my edited video and I read my script out loud to see if what I am saying matches with the video on the screen. I also see the timing as to whether I may need to cut out an unimportant sentence or two… or if I need to elaborate a little more on an onscreen sequence.
Once finalized, feel free to play the edited video and read out the script from the beginning to see how it compares with the pace of the video. No need to get it 'spot on' but the closer to the video pace the better. If you need to record some more B-Roll video sequences, do this now and add it to your edited video to see how your script compares.
Step 8 – Record Audio
Before starting, make sure you set up in the quietest room in your house (many uses a walk-in clothing closet), turn all devices that can make a sound off, including the sound on your laptop. With your script in front of you and your microphone set up (glass of water close by) start reading out your script aloud in a moderately paced and appropriate tone (this will depend on your business and audience). Try to keep your tone away from being too monotone. If possible, try to stand straight up when reading your script and feel free to 'speak with your hands' – this helps with the tone of your voice.
If you make a mistake, stop and pick it up from the last sentence you were happy with. You can edit out any mistakes later. This can be quite a nerve-wracking experience at first, but you get used to it the more you do it.
If you are confident enough, another option is to record your screen along with your sound at the same time, just like many Youtubers and tutorial makers do when recording a screencast. This is a great way to minimize editing and double recording. For me, I usually make a lot of mistakes and have this nasty habit of uttering the words "um" and "ahh" every few sentences when trying to multitask or record, so I have opted for a longer, more edited approach. 🙂
Step 9 – Edit Video with Audio
At this point, you should have an initially edited video and an audio file ready to go. Import your audio clip into your video editing software, and now pair up the audio file with the video. Cut out pieces of the audio file that need to be cut, slow down or speed up the video if you need to get a bit more video to meet the length of any of your sentences.
Once done, watch the video from start to finish to make sure everything is paired up and timed well.
Step 10 – Added Extras
Add in any extras to your video (if necessary) like background music, graphics, subtitles, intro animations or posters etc. Once you have added in any extras, make sure to watch your video over again to make sure everything still lines up nicely.
Step 11 – Export Video
Once your video is ready to go, Export your video with the relevant settings. I used this video as a guideline to export my video, but based on your needs you may need something else. When your video is exported, you may want to compress your video. I use Handbrake(free) an amazing video compressor that has reduced the size of my videos drastically without losing video quality.
Conclusion
To close, I would like to encourage you to get out there and make some videos. This guide is packed with a lot of information but is intended to be more of a guide that you can refer to rather than being a 'set in stone' process of making videos.
In fact, I took a process from another YouTuber and the more I made videos the more I tweaked the process to suit my style and way of working. If you are feeling overwhelmed, take heart. You are not alone and every single content creator sat in the very same seat you are in now, feeling the exact same way.
Trav's quick-fire, last-minute tips:
For your first video, try to make a quick, rough test video. This video needs to be unpolished and quickly made. Now that you have completed a video, make another, try to make this one a little better than the last one. Repeat process.
Get started with what you have. You may not enjoy making videos so don't invest in gear until you are certain you will use it and it will provide value to your content creation endeavors.
YouTube and Google are your friends. Don't know how to fade a video to black? Do an internet search for it!
Use online services (again) to buy music, graphics, animations for your videos. Learning how to do something from scratch is great. But some skills will require major time investment where you could spend $5 to get it done right now.
Ready to paywall your own members-only content and sell videos online? Give your members the video content they seek and earn a reliable income with a totally independent online business.
We know that a WordPress site has tons of moving parts. Choosing the right plugins, themes, video hosting, third party services, design assets, and more can feel overwhelming.
Paid Memberships Pro is a complete platform to help you make recurring revenue from your videos. But you may be asking: how do I put this thing together if I'm not a web developer?
We've got a complete guide that tells you exactly what you'll get — the plugins, the support, and the training — when you manage your private video website on WordPress.
Was this article helpful?