Recruitment becomes a breeze when you know how to attract new members to an association. Creating a strategy to encourage new signups certainly requires some work, but with the right tools and methods, it pays off.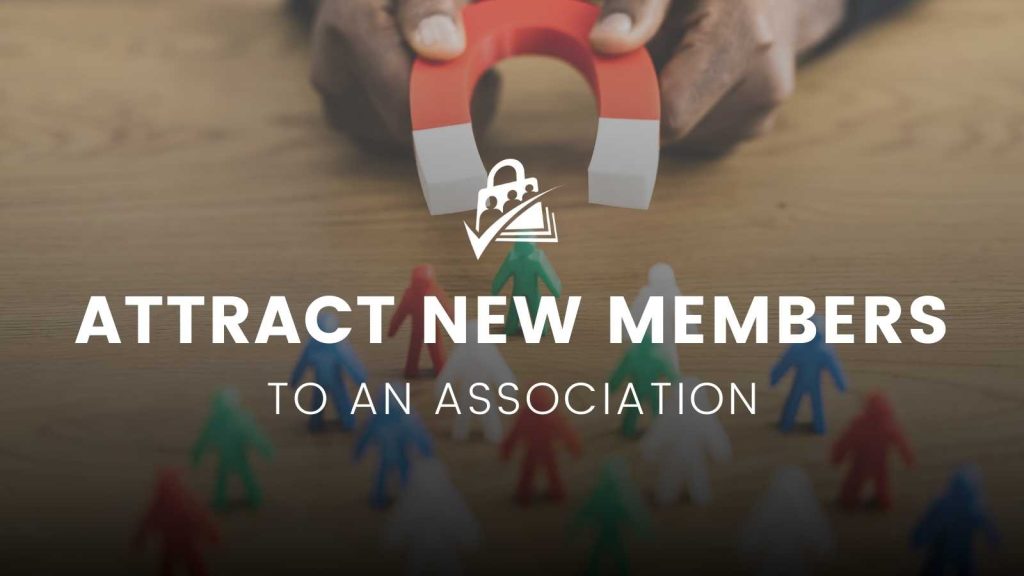 Preparing Your Association for Growth
Before targeting potential new members for your association, make sure you're ready for them. Here are some steps to ensure your association is ready for growth.
Clearly define the value of membership. Can you share in one sentence the value the membership provides? Don't make it complicated; Instead, create a solid elevator pitch that clearly and succinctly explains what your association can offer prospective members.
Outline your membership life cycle. Make it clear to potential members what their membership will actually look like. Include key benefits, pathways for different members, and define exactly how the association can help them achieve their goals.
Understand common objections. Some potential members will have objections to joining your association. Whether they feel like they don't have the time, they can't afford it, or they have some other concern, be ready to address these objections in your marketing and in conversation.
Leverage technology to improve UX. Make it as easy as possible to navigate your association website and remove any obstacles that may prevent potential members from purchasing a membership. When you manage your association on WordPress, site speed is crucial for conversions. People will click away if a sales page takes too long to load.
Determine your recruitment strategy. Think about the type of members you want to target and how you'll reach them. Define who your ideal association members are, where they hang out, and create a list of methods you want to use to attract them.
Allocate necessary resources. It takes time, money, and people to run a successful recruitment campaign. Make sure you have what you need for it to run smoothly.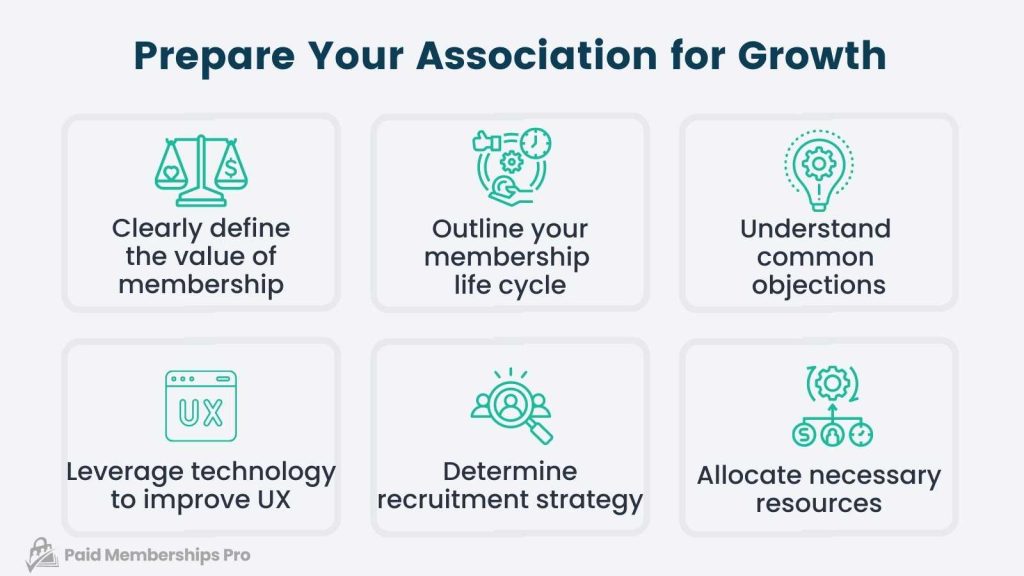 How to Attract New Members to an Association
Once you've prepared your association for growth, it's time to grow your member base. The following tips will help you attract new members.
Offer Value First
Memberships are all about value. The average person isn't going to sign up and pay a membership fee if they aren't getting something out of it. So it's crucial to find ways to illustrate your association's value to potential members to get them to sign up.
Create a lead magnet like a free eBook or PDF download with tips to help your ideal member solve a problem or reach a goal. Lead magnets are a great way to get people to sign up for your email list in particular—and once they're on your email list, subscribers are warm leads that are more likely to purchase a membership.
You can also entice potential members with a free trial to give them a taste of what your membership is like. At Paid Memberships Pro, we use the freemium model ourselves, which means our core plugin is 100% free to use. Then, depending on their needs, members can easily upgrade to one of several paid premium plans if they want access to support and updates.
Communicate Consistently and Clearly
Your potential members get bombarded by messages on social media and in their email inboxes on a daily basis. With all of that content coming at them, it can be difficult for them to see your messages—especially if you don't consistently share information about your association.
Make sure you're sharing content in social media posts, emails, and blog posts that conveys the true value of your association.
Don't forget to include calls to action in your communications, either. Don't be shy when it comes to telling your members what you'd like them to do. Whether you want them to click a link to learn more or sign up, clearly state that in your content, and don't leave the next steps to chance.
Form Strategic Collaborations
Partner with businesses, organizations, or individuals with audiences adjacent to or overlapping with yours. Stay away from competitors.
Focus on building mutually beneficial relationships where you share each other's services or offerings. Remember to make sure you're forming collaborations with organizations that fit your mission and target audience.
Your association likely has a cause in common with another organization, and you can develop a relationship that will help both organizations reach more people.
Make Joining Easy
The easier it is to join your association, the more likely someone is to do it. Remove as many barriers as possible.
Creating a seamless user experience and an easy checkout with as few clicks as possible if you want to prevent people from starting the signup process and abandoning it halfway.
For some members, cost may be an issue. Consider offering tiered memberships and giving cheaper options with fewer perks. These options will expand your association's accessibility to more people—and eventually, when they experience the value, they will upgrade.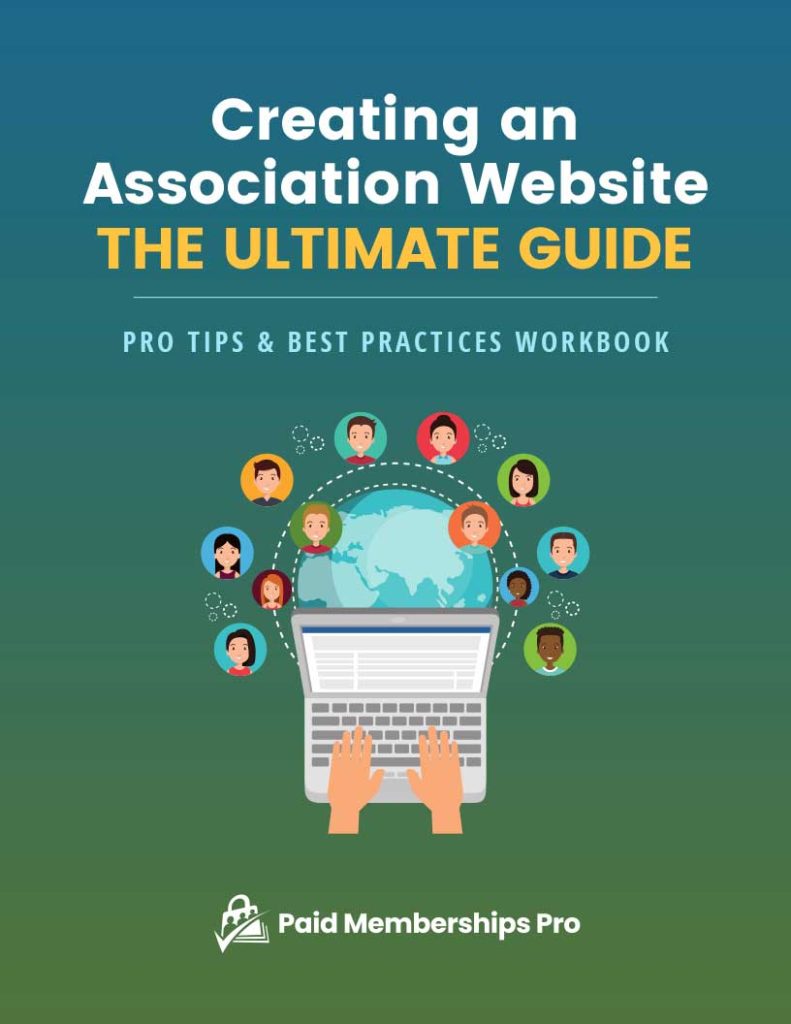 ASSOCIATION PLANNING WORKBOOK: DOWNLOAD NOW
Download the companion workbook to plan your online association. It's packed with 11 worksheets to help you narrow in on your association goals, structure, approval or community policies, marketing process and more.
Keys to Attracting New Members
When it comes to how to attract new members to an association, there are some key methods that are particularly effective.
Show Up Where They Are
Where does your ideal member spend their time? If they're part of a specific industry or they engage in a certain pastime, chances are you'll be able to find them at events.
Show up at meetups and workshops targeted toward your ideal member, and start shaking hands. Meeting people in person is a great way to share information about your association in a way that is more personal and direct than social media ads or email.
And when people associate a person with an organization, they feel more connected than they would otherwise, which may entice them to sign up.
Invite Them to Contribute Meaningfully
Chances are your members are passionate about something and would love the opportunity to advocate for those things on behalf of the association.
Creating an opportunity for your members to give back or volunteer their time can be a great way to get them interested in joining an association.
These contributions will also act as a way to spread awareness of the association, which will also attract more members.
Get Personal
No one wants to join an association that doesn't enable them to build connections with other members.
Create opportunities for personalized interactions between your members. These opportunities could include things like mentorship or small cohorts within the association.
Allowing your members to interact more with one another will help them create personal relationships within the association. It's also attractive to potential members who are looking to build relationships around their interests.
Modernize Your Member Experience
Now more than ever, tech tools make it easier for your members to connect. So, make sure all members can access important information about their membership on your association website.
Whether they want to pay dues or update their profile, ensure they have the means to do so.
Also, use video call software like Zoom to make meetings easier and to enable as many members as possible to attend.
Proven Recruitment Ideas
Now that you're ready to attract new members to your association, it's time to do some recruiting. Knowing what methods to try can be challenging, but these proven recruitment ideas will help you achieve your membership goals.
Recruiting methods to consider:
Host virtual events. Virtual events are easier for members to attend since they don't have to travel or rearrange their schedules to join. Use a virtual event platform with a live chat function and breakout rooms to get the most engagement from your recruiting event.
Offer incentives. Members are more likely to join if there are some incentives. Consider partnering with other businesses to offer your members exclusive discounts or discounted rates for relevant conferences.
Create a referral program. Consider offering members a discounted membership rate, or even a free membership if they refer a certain number of new members.
Have an affiliate program. Like a referral program, an affiliate program encourages members to recruit new members. But instead of offering discounts, affiliates are paid. So for every member an affiliate recruits, they receive a commission.
Promote member testimonies. Many people simply want to see what others think of a program before they commit. Encourage current members to share testimonials and use those in your marketing materials.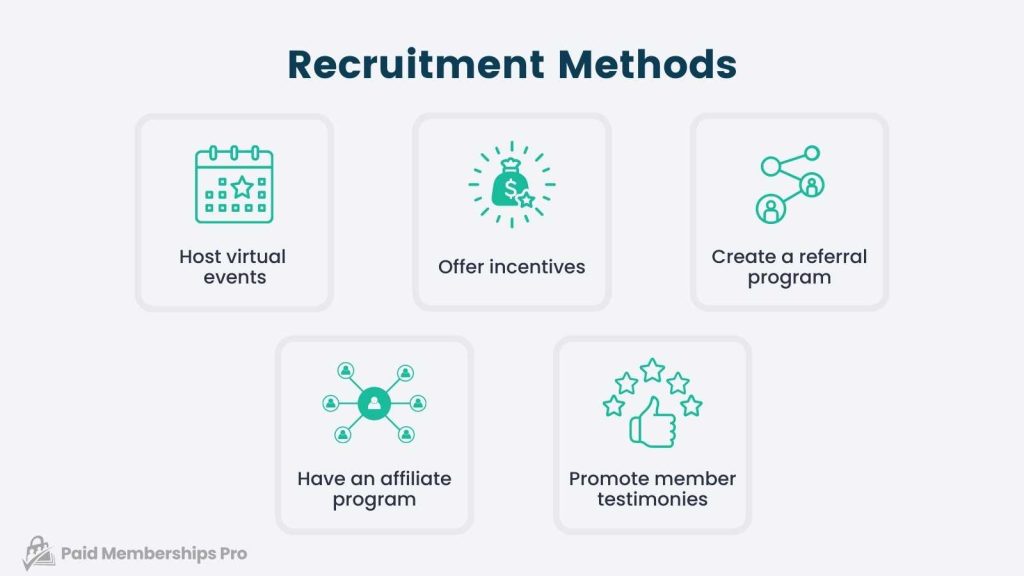 Ready to Attract New Members?
We know that a WordPress site has tons of moving parts. You have other options, like an "all in one" solution that feels simpler, even if the price tag is significantly higher than an open source platform like Paid Memberships Pro.
Paid Memberships Pro is a WordPress association plugin with features to help you manage the content your members see, communicate with your members, provide payment options, access administrative data, and upgrade the member experience.
We've got a complete guide that tells you exactly what you'll get — the plugins, the support, and the training — when you manage your association on WordPress.
Was this article helpful?