Regardless of your affiliation or area of interest, you can create your own association online. In fact, people running association websites represent our largest user base here at Paid Memberships Pro. 🤝
Seven out of every 10 adults belong to at least one association.

Empire State Society of Association Executives
For professionals and enthusiasts alike, being a part of an association can be extremely beneficial. From continued education and helpful resources to the ability to connect with like minds and industry experts, associations help individuals and communities thrive in their chosen areas of interest.
Running an association enables you to empower people within a niche community.
It's also a great way to:
Monetize your niche expertise and/or organizational skills
Increase community engagement around your own interests
Build a foundation for expanding your business with related products and services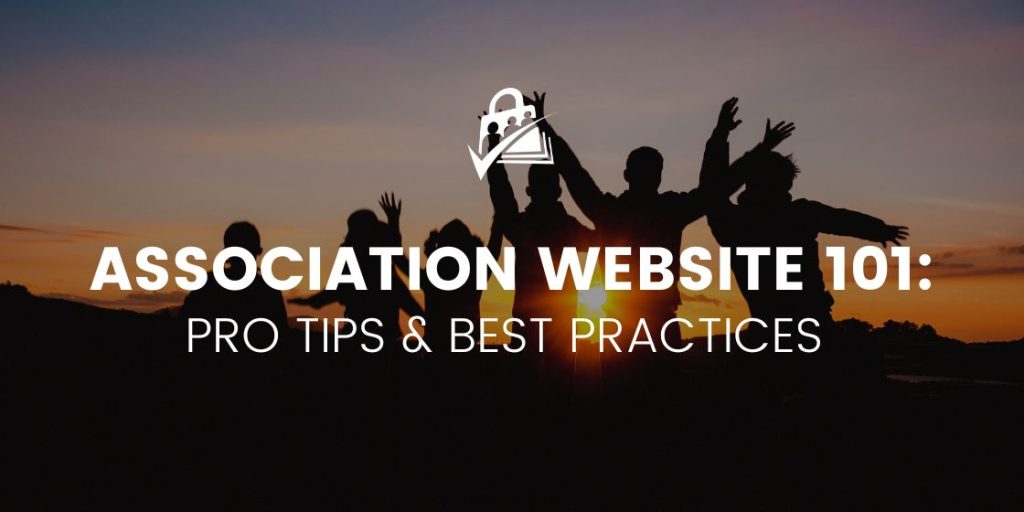 Associations can be simple, or they can form the main infrastructure for growing movements and missions. Ultimately, associations can be powerful forces for self-development, career development, community, business—or just good old-fashioned fun.
If you're thinking about building your own association website, you might have questions like:
Why is it important to build a website for my association?
What kind of software do I need?
Will a website increase my association revenue?
What is Association Management Software (AMS) and should I use it?
How do I collect monthly dues?
In this guide, we will answer these questions and more to help you get started with building an association website—so you can start earning income by selling memberships that serve a niche community.
Let's get started.
What is an Association?
A Quick Word of Caution ⚠️
Before you start your association website, it's important to understand the legal definition of an association. In certain places—like the United States—associations are required by law to meet this definition.
Legally, an association is:
a group of people who have come together for a specific purpose.
Check our post about the legal requirements for starting an association to learn more about how to make sure you're staying on the right side of the law.
Moving On…
In this post, we will use the term association to refer to the groups defined above—more specifically, formally-organized groups that represent a niche community.
For example, there is a general community of people who are interested in ornithology, the study of birds. There is also the Colorado Field Ornithologists, a formal association of people within that same community.
Many associations are organized by region (city, state, or country, for example). Often, they provide information and access to contacts, directories, and event listings. Sometimes, they may even include community-oriented elements such as chat features and discussion forums.
However, some associations are focused exclusively on providing things like professional resources or industry-related news.
Types of Associations
There are a variety of other different terms used to describe groups of people that converge around a common interest.
These include:
Affiliations
Alliances
Clubs
Coalitions
Cooperatives
Corporations
Federations
Fraternities and Sororities
Guilds
Leagues
Organizations
Trusts
Unions
Different types of associations have slightly different needs and purposes, but the basic components are the same.
Why You Should Build an Association Website
While many associations are successfully managed offline, online is even better. Direct mail and word-of-mouth marketing is extremely time-consuming, slow, and cumbersome for both the people managing an association and those joining it.
Some association owners even manually check whether their members have paid dues or not. What a pain!
If you want to create your own association or take your existing association online, you're in a unique position to take advantage of the old-school status quo. It's time to modernize.
Modern Ways
Today's consumer prefers businesses that are modern and technologically up-to-date. So, a robust association website that provides a simple, effortless experience is one of the best tools available for attracting and retaining association members.
Individuals and small business owners join associations precisely because they want access to exclusive benefits and services. So, it follows that the benefits and services that associations offer should be in line with current trends and ways of life.
With so much of modern life being online, it has become nearly impossible for businesses of any kind to be competitive without participating. Online communities have gone from being a bonus to being a must-have.
It's About Survival
In addition to being simply the way of modern times, it's also true that the COVID-19 pandemic pushed many businesses into internet territory. Associations, just like all businesses, have had to "go digital" in order to survive.
After all, association operations are heavily dependent on communications, member interaction, and events.
The Key Benefit of Building (or Moving) Your Association Online: Automation
When it comes to association management, many things that once were burdensome manual processes can now be fully automated. These include:
Processing paper applications. Online applications are efficient and the new standard.
Calling members to encourage renewals. Automated email sequences replace this process entirely.
Collecting dues by cash or check. Recurring payments can be done entirely online and are easy to set up with different payment processors.
Automating these processes can free up an extraordinary amount of time and resources required to do them manually.
Plus, a paper-free experience with a seamless membership registration process and an easy-to-navigate directory and library of resources is a winning combination for member retention. These factors ultimately play a significant role in how enjoyable it is for members to interact with your association from start to finish.
Associations that offer good online experiences can:
Attract and retain more members
Grow faster, with a broader reach
Be more adaptable to future technology changes and developments
Take advantage of a variety of tools and resources that are not available offline
Combine online and offline experiences for greater impact and value
Ultimately, achieve their goals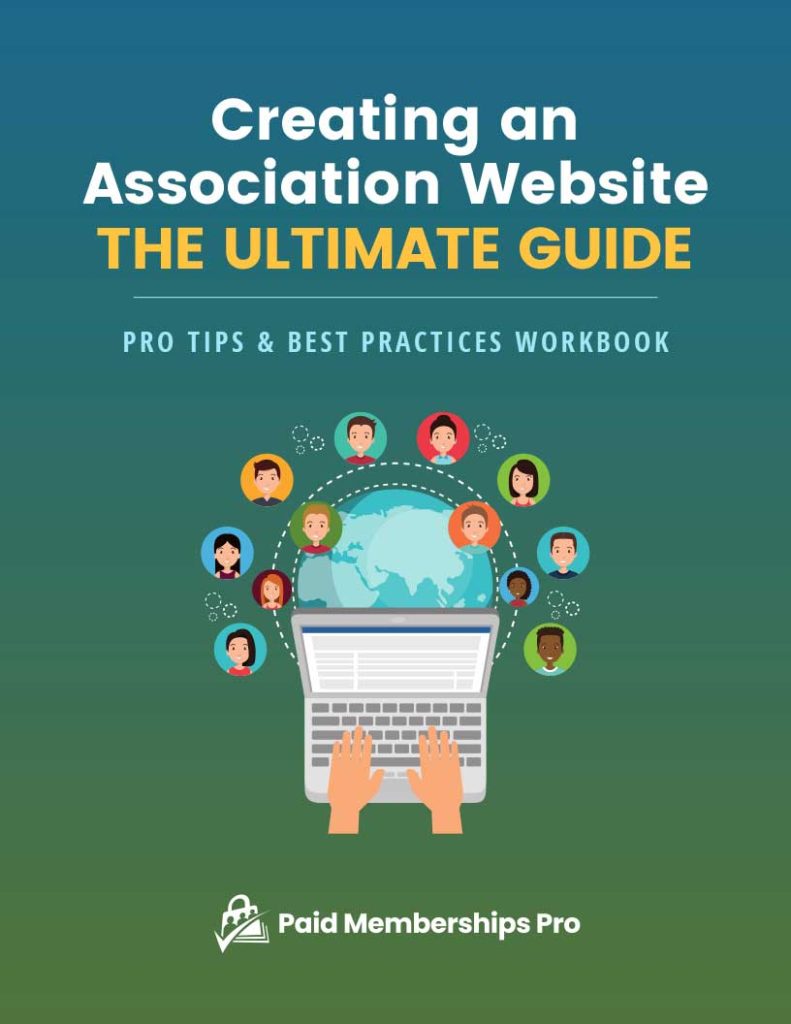 ASSOCIATION PLANNING WORKBOOK: DOWNLOAD NOW
Download the companion workbook to plan your online association. It's packed with 11 worksheets to help you narrow in on your association goals, structure, approval or community policies, marketing process and more.
Does Running a Website for Your Association Increase Revenue?
Revenue generation is a commercial activity—like it or not. It is also essential for the health and welfare of any Association; simply put, an organization cannot exist without revenue.

–European Society of Association Executives
Many associations are mission-focused; They don't think about profit the way a business thinks about profit.
However, associations still need to make money to achieve their goals.
Creating a website can help an association reach these goals by:
Attracting new members
Increasing engagement with current members
Making fundraising simpler, easier, and more effective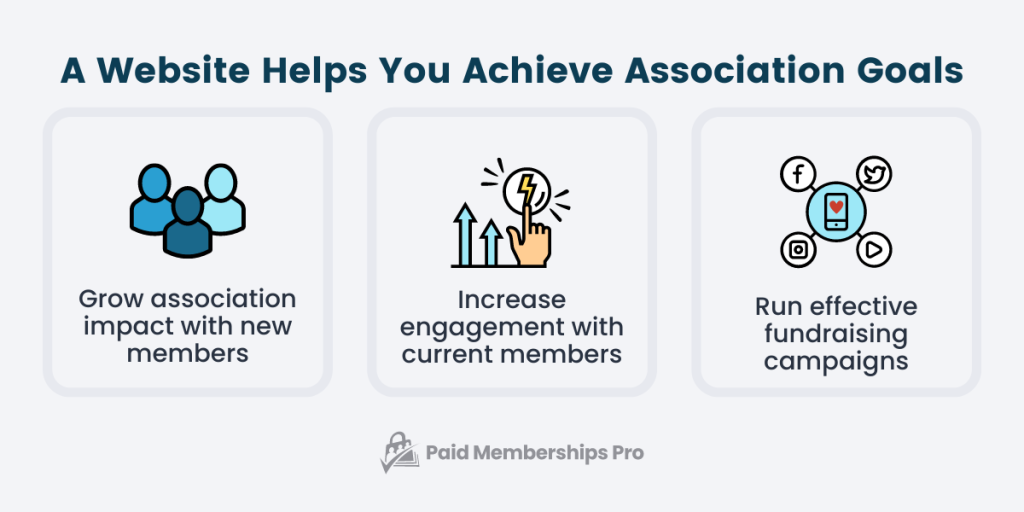 What Does it Cost to Set Up an Association Website?
Setting up an association website doesn't have to break the bank. In fact, it can be achieved with a very minimal budget.
Let's look at an example of a low-budget, but highly effective setup:
| Website Component | Cost |
| --- | --- |
| WordPress | FREE |
| Website Hosting | $120–300 / year ($10–25 monthly) |
| Payment Processing | 2.9% + $0.30 on each credit card transaction |
| Paid Memberships Pro | FREE (Premium plans start at $247 / year) |
| Total | $120 / year + payment processing fees |
With such robust free tools like WordPress and Paid Memberships Pro, you can run your association as a very lean business, spending less than a few hundred dollars per year. Compare this to AMS and CRM platforms, which can easily cost a minimum of several thousand dollars per year—plus increasing fees as your association grows.
PMPro's free plan is perfect if you want to get your association website up and running with minimal investment. You can easily upgrade later if you need additional features.
Still curious about all of your options? In the next section, we'll break it all down for you.
The Best Tools for Building an Association Website
Starting an association is one thing; Managing it is another. Associations are multi-faceted ventures, and you need to have a good set of tools in order to "keep it all together."
While websites make it possible for associations to achieve new heights in the modern world, they also come with technical demands. Choosing the right set of online tools will help you bring your association vision to life.
Let's look at three options for building an association website:
Association Management Software (AMS)
Customer Relationship Management (CRM)
WordPress + Membership Software
Of course, there are pros and cons that go along with each of these options. Let's explore them.
Association Management Software (AMS)
Association Management Software (AMS) is a tool designed specifically to help people create and manage associations. From contact details to preferences and member history, AMS solutions can help you maintain your association data in a single place (instead of switching between different lists and spreadsheets, for example).
Here are 10 key features that the best AMS solutions offer:
Analytics and reporting tools
Calendar and events management system
Content restriction: The ability to limit access to content based on membership level or other criteria
Email, newsletter, and other mass communication tools
Discussion boards, forums, or private chat groups for member interaction
Member database and management
Online payment processing
Recruitment tools for attracting new members
Subscription management and dues collection
Website builder or a CMS with site-building tools
Depending on the size and scope of your organization, you may or may not need to use an AMS. So, how do you decide?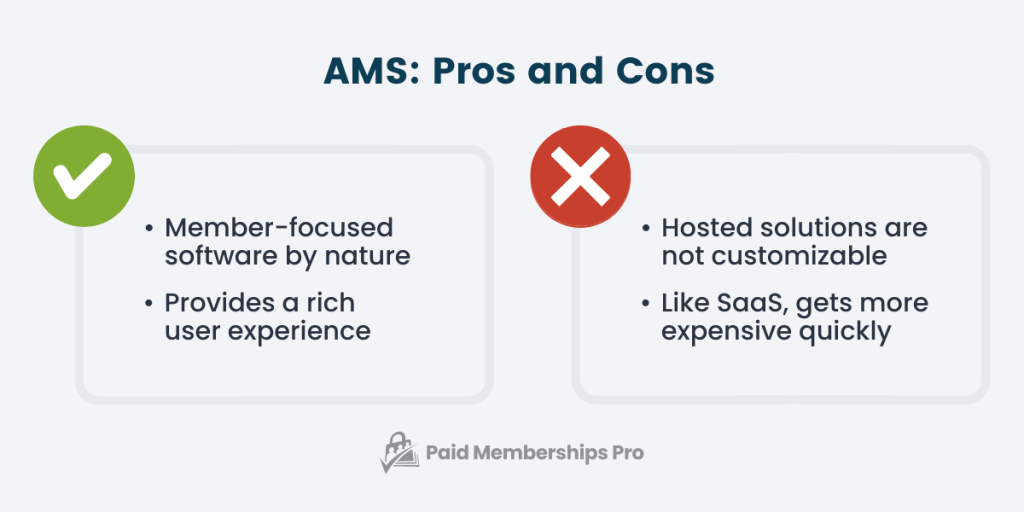 Pros
An AMS is, by nature, member-focused. Good AMS solutions allow members to:
Access member-only content
Create and update their user account and profile
Interact with other members
Manage their memberships, upgrade, or downgrade
View directories and event calendars
Make payments or donations
Order related products and services
Cons
While an AMS is an all-in-one solution, it still might not meet the needs of certain associations. Here are two big reasons why:
AMS solutions are generally hosted, which means they are not extendible. This can lock you into continuing to use it, even if your association outgrows the AMS or ends up requiring additional functionalities. In fact, there may be an adjustment you want to make to your association website that's not even possible with an AMS.
AMS solutions—like many SaaS platforms—can get expensive very quickly. Here's a graph to illustrate the difference in yearly costs between AMS and other options:
Customer Relationship Management (CRM)
Many businesses and organizations use customer relationship management (CRM) software to stay in constant communication with their audience. This helps them turn leads into customers, and nurture relationships with existing customers.
While CRMs are not designed specifically for associations, they can be used for that purpose.
A good CRM will provide:
Robust contact management, with a single place to access and manage all data that is relevant to each lead or member
Convenient marketing automations
Analytics and insights about specific contacts and their behavior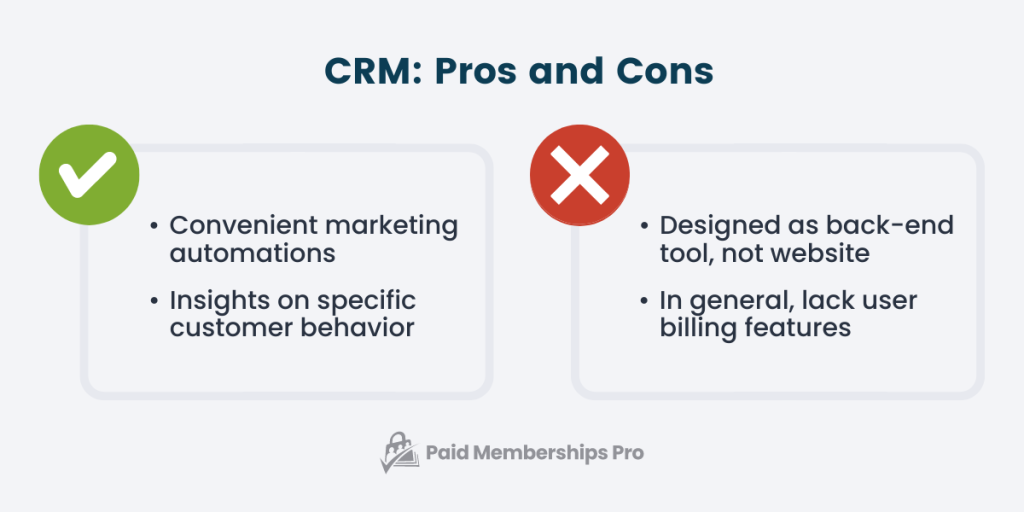 Pros
It's very easy to market to and manage contacts with a CRM. You can usually tag your users according to various criteria, and then send them email sequences and other targeted communications.
Cons
CRMs are usually set up to be a "back end tool", which means they rarely offer a website (front end). So, you'll likely have to build a separate website alongside your CRM in order to get the same functionality as an AMS or the combination of WordPress and a membership plugin.
Also, CRMs typically don't come with any kind of billing system, so managing the financial aspect of your association could turn out to be a nightmare.
WordPress + a Membership Plugin
At Paid Memberships Pro, we think that memberships and associations make the perfect couple—for three main reasons:
Memberships are based on a model of recurring payments. So are associations, which typically collect monthly or yearly dues.
Associations and memberships are both centered around niche communities of people. They share the same goals: member engagement and success.
The features that associations need can be found in the best membership software. Membership infrastructure and features are, by nature, compatible with the requirements of an association.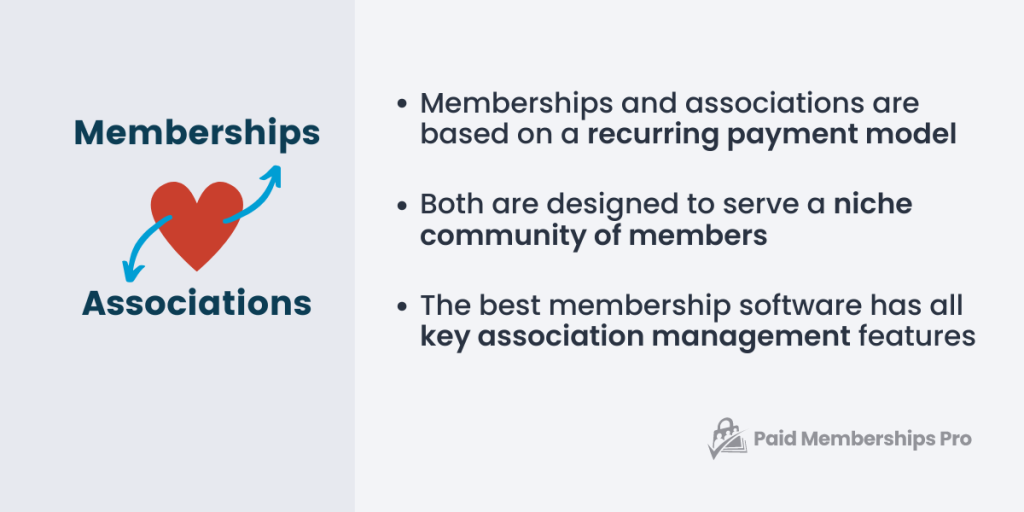 WordPress is one of the most versatile and flexible platforms for any kind of website, supporting over 40% of all websites on the internet! With limitless power of customization as well as a huge community of dedicated developers, tools, and services, it's a great choice for building an association website.
At Paid Memberships Pro, we always say, "Own the land your business is built on." WordPress allows you to do exactly that.
Pros
Not only does using WordPress alongside a membership plugin let you retain ownership of your association website; You can also build and run it for a fraction of the cost of both AMS and CRM solutions.
This means you can:
Get your association website up and running on a budget
Change and customize the features on your site as needed over time
For example, Paid Memberships Pro gives you all of the fundamental tools you need to bring your association membership site to life.
With our free plan you can:
Collect monthly or annual dues with built-in email automation & reminders
Create member-only content and courses
Build registration forms and user profiles with custom fields
Integrate a members-only forum (Slack, Discord, BuddyBoss, BBPress, etc.)
If you're bootstrapping your association website, this is a great option. Plus, PMPro goes hand-in-hand with many other technologies, giving you maximum flexibility without the limitations of a hosted platform.
If you need additional features like the ability to approve memberships, add a member directory, or creating membership maps, you can upgrade to a premium plan—and still pay less than the cost of many AMS and CRM solutions.
We migrated away from expensive SaaS products and settled on PMPro as our membership tool. As an association of more than 4,000 members, we wanted an elegant solution that would allow us to restrict content, manage memberships, and integrate with a variety of other WordPress plugins for Events, CRM, and LMS. The migration was easy and doing custom dev has been smooth and seamless.

—Greg Robins, BeautyCouncil
Cons
Using WordPress with a membership plugin is not an all-in-one solution. If you are going for a rich user experience alone, you don't need any flexibility or customization, or budget is not a consideration for you, you might prefer an AMS or CRM.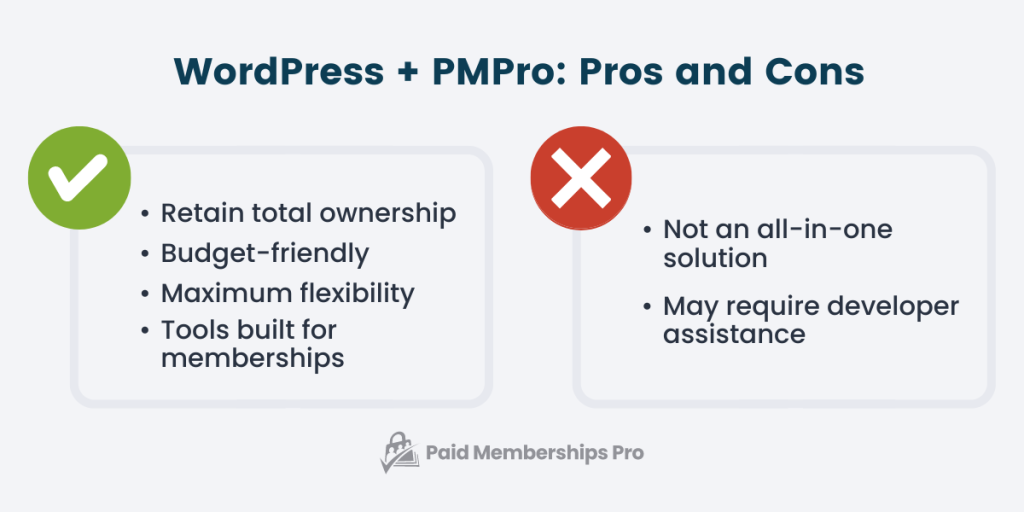 Most Important Factors to Consider
Optimize the things that work best for you. Regardless of what other associations do, or what you think you should be doing, choose the tools that work best for you, your team, and the goals of your association.
Consider your long-term goals. If you think you'll need to make changes down the line, it may be better to choose flexibility and customization over a more streamlined solution. You can always move to an AMS later, but can you move from an AMS easily? Maybe not.
Decide what's appropriate for your level of proficiency with technology. AMS and CRM options can be helpful if you want to run an association website, but you're not so tech savvy.
Get clear on what features and infrastructure you need. What are the tools and capabilities that are most important to your specific association? This should be a major part of your decision.
Think about scalability. What good is growing your association if you can't scale it? If you use an AMS to build your association, you can end up locked in, paying fees on a per-member basis. This leaves money on the table and disappoints prospective members. Many AMS platforms charge you more as you bring in more members, which means you lose increasing amounts of revenue as you grow.
No matter which option you choose, the right association management technology will allow you to spend your time building relationships and serving members—not dealing with cumbersome technology or confusing settings.
Paid Memberships Pro and Popular AMS Comparison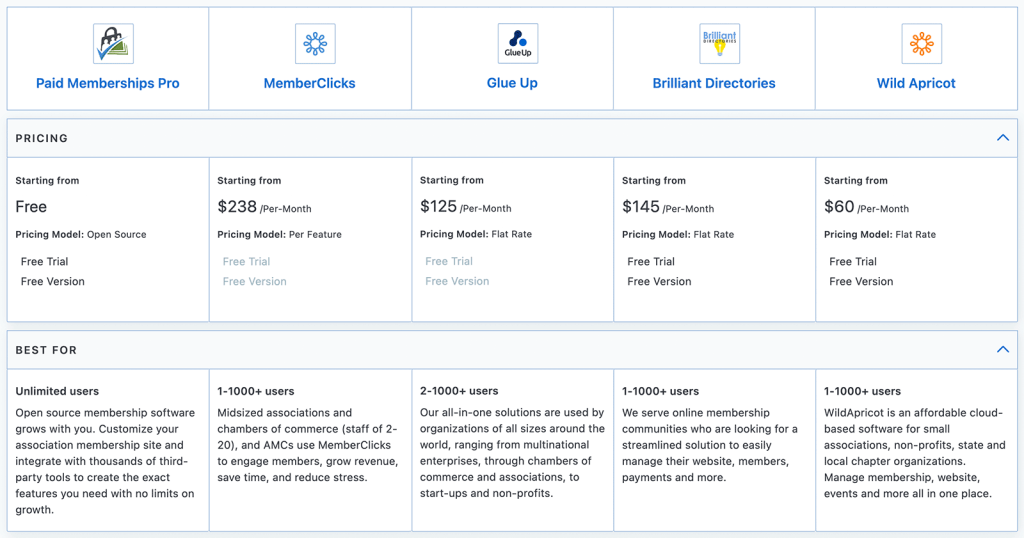 Pricing Your Association Memberships
If you're going to sell memberships to your association website, you'll need to have a membership pricing structure in place. But figuring out what to charge can be challenging.
Here are a few questions to help you decide how to price your association memberships:
Is your association a for-profit or nonprofit venture?
What is your target demographic and what are they willing to pay?
What is your competition like, and what are they charging?
What degree of value are you offering to prospective members?
Do you have different audience segments that you want to appeal to?
Membership Structure
Once you have a basic understanding of who you're appealing to, what they are willing to pay, and your competition, you can settle on a structure for your association membership site.
Let's look at three common types of association memberships:
Individual memberships: Membership access for a single person
Group memberships: Membership access for a number of people
Corporate memberships: Membership access given to an entire organization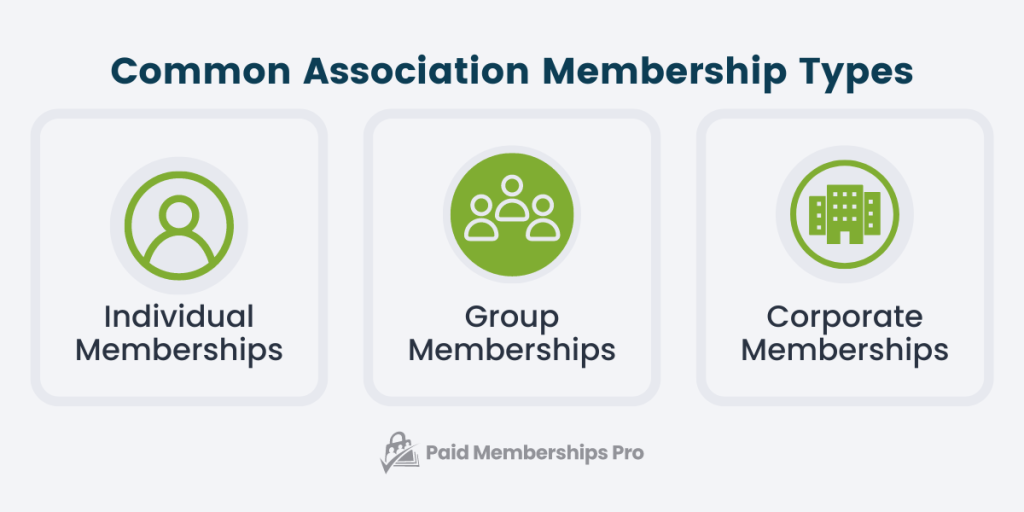 You might decide to offer one, two, or all three of these membership types. Consider using tiered pricing if you want to add variety to your membership offerings, appeal to different groups, and grow your association website.
Some Important Association Pricing Tips
If you are just now moving association payments and dues online, then now is the best time to consider increasing or changing your pricing.
Instead of complicating your pricing, aim to simplify it. For example, instead of charging $35/month for a base membership and $45 or $65/month with additions, figure out the average monthly cost that will result in the same revenue in the end.
Don't forget to add 10-20% more for inflation. Really, when was the last time you updated your pricing?
Creating and Publishing Association Website Content
Once you've decided which tools you're going to use to build your association website, it's time to figure out the content you're going to create.
If you already run an offline association, great! You probably have plenty of materials that you can turn into digital content, repurpose, or duplicate in alternate content formats.
If you're starting a new association, check out the following list of content types that associations commonly utilize.
Common Content Types
Educational Content
Online courses
Literacy programs
Test preparation guides
Practice exercises
Tests and quizzes
Creative assets
Professional Content
Industry resources

Standards and guidelines
Reports

Certification materials

Requirement lists
Practice materials
Interest-Based Content
Topical eBooks
PDF lists and guides (i.e. birdwatching lists)
Listings
Job listings
Private event listings
Personal listings
Directories
There are a few main reasons why an association website will display a directory:
To bring people together and facilitate communication
To promote members (and their qualifications) to the public
You might want to display directories of contacts, experts, personnel, or staff, for example. You might also want to display a directory of your members for affiliation, selection, or vetting purposes.
With a PMPro Plus plan, you can display complete and customizable member directories—public, private, or both. For example, you might decide to publish limited contact details to the public, and reserve access to the full details to paying members.
You can also group members according to category, level, or other criteria, and customize the fields displayed in both group and single views.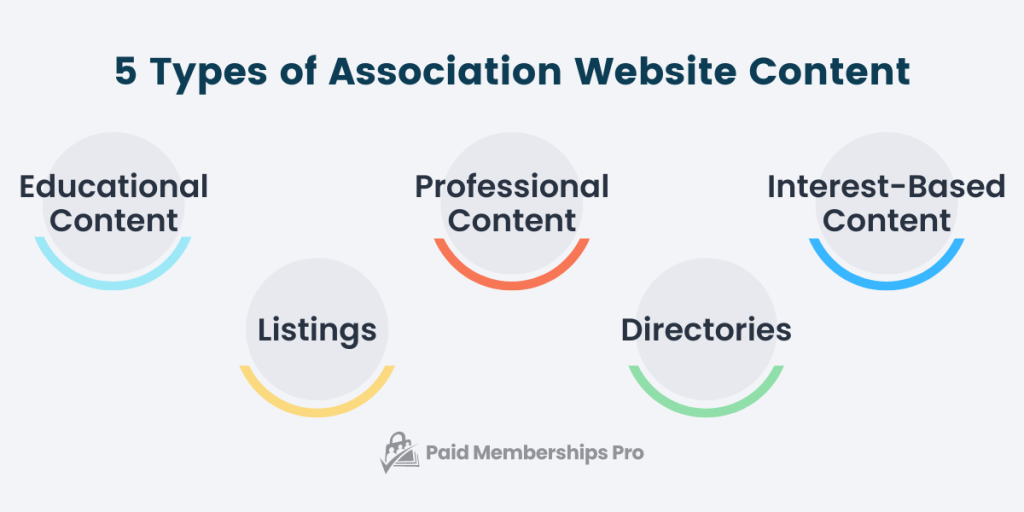 Restricting Your Content
Because associations are exclusive by nature, restricting content to members only is a fundamental element of running an association website. Exclusive content gives people a reason to actually join your association.
This is another reason why membership software is effective for associations; It's built on the concept of restricting content to members who pay on a recurring basis.
You can restrict your content based on a lot of different factors, such as:
Achievement or completed content
Content type (pages, posts, videos, etc.)
Join date
Member category or group
Membership level
Premium Content
Just like with any membership site, association websites thrive on long-term loyalty—member retention. And this loyalty heavily depends on the relationship each member has with your association.
To strengthen relationships with your members, you should focus on helping them achieve their goals. Most of the time, extremely active members are looking for ways to become as involved with your association as possible.
So, why not give them additional benefits by offering premium content? This allows you to please them while boosting your revenue at the same time.
Access to premium content is usually sold by offering different membership tiers. Members who want basic access can still have it, while your most active members can pay extra to get additional exclusive benefits.
Premium content can include things like:
Private discussion group access
Exclusive in-person or online events
One-to-one coaching or consultation
Downloadable goods such as exclusive guides, contact lists, or courses
Revenue Tips and Strategies
If you're intimidated by taking your association online, or you're not sure how to start generating revenue, never fear. Here are a few modern revenue strategies to help your association website stay competitive:
Diversify your content formats. Give people new and interesting ways to consume your content. If you write PDF guides, try recording an audio version—or vice versa. Video content is always a highly-engaging choice.
Emphasize engagement and retention. The goal is to keep people engaged with your content and loyal to your association over time. To accomplish this, consider adding more engaging components to your association website, like:

A chat feature, discussion forums, or private groups
Gamification elements, such as badges, leaderboards, points and rewards, and other competitive elements
An onboarding email sequence that:

Welcomes members
Clarifies the benefits they are receiving
Helps them navigate and make the most of your content

Upsell related products and services, like:

Courses
Downloadable materials like workbooks, checklists, guides, and other high-demand information
Exclusive membership upgrade deals
One-to-one coaching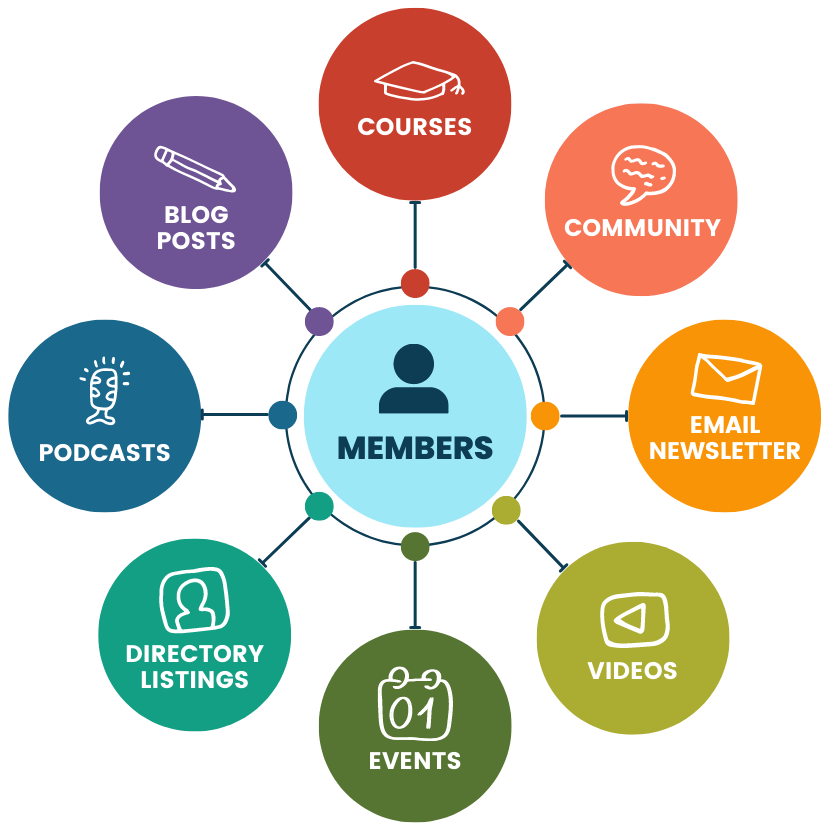 Paid Memberships Pro is Association Management Software built for WordPress
The right association management technology fits perfectly, so your time can be spent building relationships and serving members.
With robust free tools like WordPress and PMPro, you can run your association as a very lean business, spending less than a few hundred dollars per year.
Managing Your Association Website
Collecting Dues
The last thing you want is to have to chase your association members for money. But the reality is that people are busy, and it's easy for them to forget to pay dues or renew their memberships.
Here are a few more pro tips to make collecting association dues easier:
Make the renewal process as quick and painless as possible. Reducing friction helps convert sales of all kinds, but this is especially important when it comes to retaining association members every month. Automatic renewals are ideal.
Help members get the most out of your association. If they feel like they're receiving a lot of value, they'll be more likely to renew without question when the time comes.
Offer incentives for long-term loyalty, like rewards, badges, or access to exclusive deals.
Good membership software can be particularly helpful for collecting dues. For example, Paid Memberships Pro offers the ability to track a user's membership period and automatically send an email notification before the renewal fee is due.
Community and Member Management
"A sense of community coordination is at the heart of the association profession." —American Society of Association Executives (ASAE)
Associations can't exist without members; People are at the heart of all associations. This is why so much emphasis is placed on member recruitment and retention.
Member Approval: Controlling Who Joins Your Association
Often, an association will have requirements that a person must meet in order to join. This can include things like:
Affiliations
Certifications
Competency, level of proficiency, or skill
Residency requirements (for locale-based chapters)
Other prerequisites or proof of interest/niche participation
In order to make sure members meet the requirements of your association, you'll need to have some kind of membership approval process in place.
Many associations have some form of advisory board or committee, with dedicated personnel for managing different aspects of the organization—including things like member approval.
The Approval Process for Membership Add On for Paid Memberships Pro is a seamless solution that gives membership site administrators the ability to approve or deny members.
Moderating Your Online Community
Members-only forums and other social features are great ways to nurture communication within your association—but they usually require some oversight. Therefore, it's important to establish a set of community rules and guidelines, and figure out how you're going to enforce them.
Remember that moderating your online community should be consistent and fair across the board. If members sense favoritism, carelessness, or in some cases, excessive moderation, they may lose interest in engaging with your community features.
How to Market Your Association Website
Utilize Social Media
Fortunately, some of the most effective tools for marketing an association website are free and readily available—and social media is the name of the game.
Knowledge-sharing social media platforms like Quora and Facebook groups are particularly helpful. Both allow you to interact with people in niche communities, discuss interest-based topics, and share your expertise in a way that builds authority and brings people to your association.
Emphasize Exclusive Events
Everyone loves exclusivity, and association events are often the perfect example of this. Sometimes, association members pay dues just for the events alone!
Don't be afraid to show off the best of your in-person and online events. Videos, photos, and testimonials from these events can go a long way toward creating desire and enticing prospective members to join.
Leverage the Power of Partnerships
Being that associations are niche organizations, there are plenty of adjacent businesses, influencers, speakers, and personalities that can make great partnerships. The best part? Most of them aren't direct competitors, so it's easy to create a win-win situation.
Other associations can make great partnerships, too. They can even combine forces with your association, and everyone achieves their goals together. This is especially effective when it comes to sponsoring in-person events, for example.
Utilizing partnerships to access adjacent audiences helps you expand your marketing reach and attract new members.
Don't Forget Email
Email remains a tried-and-true classic when it comes to marketing any kind of business. Offering a niche newsletter is one great way to get people to sign up for your email list.
From there, you have a direct line to prospective members who are already pre-qualified for your association.
Paid Memberships Pro integrates with all major email marketing systems, including:
When it comes to email marketing, it's crucial to segment your audience based on things like demographics, budget, past donations, interests, and level of engagement. This helps to ensure that your marketing messages are as relevant (and appealing) as possible.
Combine Different Marketing Channels
It's likely that your prospective association members consume content in different ways. You can cover these different bases with your marketing for maximum impact.
For example, you might design a multi-channel marketing campaign where you:
Engage your audience with video on platforms like YouTube and TikTok
Share stories and visually interesting posts on Instagram
Develop connections in Facebook groups
Start conversations on Twitter
Offer your knowledge and expertise on Quora
Sponsor in-person events
Tie it all together with marketing emails
Ready to Start Your Own Association Website?
Hopefully this post has been helpful in highlighting the most important aspects of setting up and running an association website. Now, take your knowledge and put it to use!
We know that a WordPress site has tons of moving parts. You have other options, like an "all in one" solution that feels simpler, even if the price tag is significantly higher than an open source platform like Paid Memberships Pro.
Paid Memberships Pro is a WordPress association plugin with features to help you manage the content your members see, communicate with your members, provide payment options, access administrative data, and upgrade the member experience.
We've got a complete guide that tells you exactly what you'll get — the plugins, the support, and the training — when you manage your association on WordPress.
Was this article helpful?