Today, more and more associations are moving member management to an online platform. They want to accept digital payments and provide enhanced member benefits like online events, articles, courses, and more. To achieve these goals, associations should consider using Association Management Software (AMS).
This article will explore the benefits of AMS, how AMS differs from CRM tools, and the key features of a powerful AMS.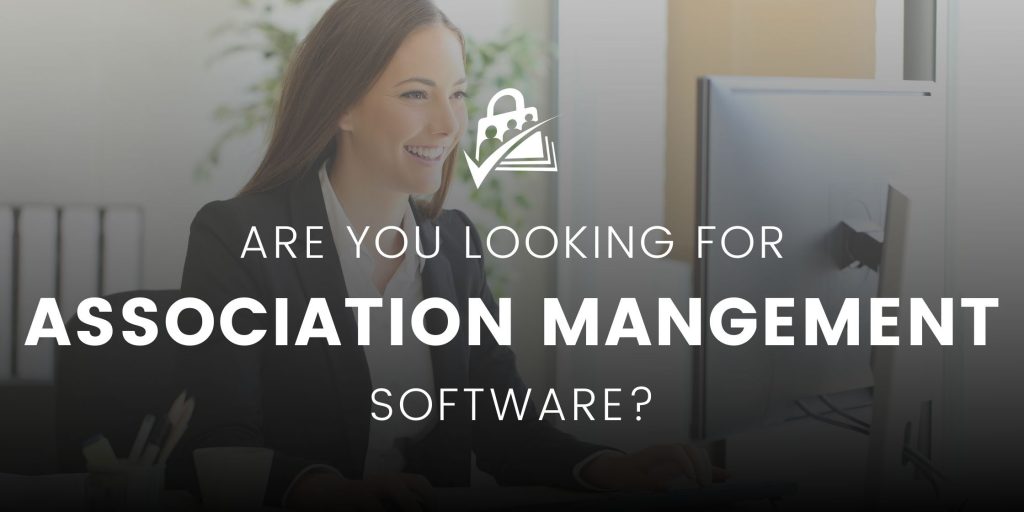 What is Association Management Software?
The days of using email lists and several spreadsheets to manage associations are long gone. Modern Association Management Software helps improve efficiency while providing plenty of useful features for businesses all over the world.
So, what is an AMS? How does an AMS database differ from a Customer Relationship Management (CRM) database? And, can an AMS really meet all the needs of your association?
Association Management Software is a powerful tool for companies and individuals that run trade associations, non-profit organizations, and any membership organization. The software helps you build and maintain a single database of accurate member information, including their contact details, preferences, and membership history.
AMS solutions are a single storage place for all your data.
This means you no longer need to switch between multiple lists or spreadsheets as you manage membership information. Instead, all your data is in one convenient place for easy management.
In addition to the data management features, most AMS also serve as an entire membership system that allows for registration, renewal, upgrades/downgrades, as well as subscription payments. Think of an AMS as an all-in-one management tool typically including an association website builder, online contact database, communications system (email), finance and payment system, and event management platform. The goal? To strengthen member connections and provide instant access to important account and membership-related updates.
---
What features should you look for in your AMS?
Most association management platforms offer a similar suite of features and tools. Many are focused on data management and efficiency. While some solutions have features designed for a specific niche, a standard set of elements you will find in most AMS choices include:
A robust member database: Accurate real-time data is the heart and soul of membership management applications
Association website CMS: Site-building tools with "plug and play" functionality.
Member management features: Ability to add all types of details to member profiles.
Discussion boards: Allow members to communicate with each other and build a community.
Secure and restricted pages: Ability to "gate" or paywall content for those at different membership tiers.
Conference and event management: A full suite of tools to plan and manage association events.
Analytics and reporting: Analyze what is working well and what can be improved; highlight the features most used by your members.
Email and newsletter communication: Enable an easy way to send out mass communications.
Online payment processing: Collect payment accurately, on time, and efficiently.
New member recruiting: Support efforts to grow the membership base and maintain a healthy association.
Subscription and dues management: Bringing automation and reliability to this important function.
---
What is the difference between AMS and CRM databases?
While both an AMS and CRM system can be useful for collecting and storing data, the heart of their distinction is the reason why data is collected.
CRM systems are designed for administration, sales, and marketing teams to develop relationships with potential and active customers. The goal of these teams and how they approach customer relationships is often linked to increasing revenue and growing the business. These systems provide a general overview of what an organization has done concerning a customer.
An AMS serves the needs of your enrolled members. AMS solutions store data used in running associations, often performing the daily functions of your staff. Whereas traditional CRM tools are designed for your internal team, AMS solutions provide tools for both the member and your admin.
---
Why is an Association Management System Powerful?
The modules and features in an AMS make it an attractive option for groups and organizations. The software contains everything you need for staying organized, managing memberships, and running your association.
Apart from the practical benefits of different features and tools, AMS membership solutions offer an opportunity to work smart and leverage your data. Other benefits you stand to gain from this type of software include:
Efficient activity management: Keeping you organized and informed of association activities.
More accurate membership data: So all members are current and reachable to enable one-to-one or one-to-many type communications.
Improved communications tools: To stay in touch with members, making frequent and one-off communications with members much easier.
A member or self-service portal: This makes it easy for members to take control of their data, and it puts the members in charge, giving them a sense of autonomy and belonging.
---
Stay Mission-Focused
Searching for a new software solution is a big step for any association. AMS solutions provide your association with critical technology infrastructure to enhance the experience of members. It also takes care of some behind-the-scenes administrative actions, so your staff can attend to critical operational matters. But beyond all of this, it provides a feeling of community and social connection to all members and helps to deliver a positive, cohesive experience for all.
Earlier in this guide, we listed the common features present in most AMS. When comparing AMS membership options available in the marketplace, associations will find many hosted and "all in one tools". Pricing for hosted tools is most often based on association or member size and will include a one-time setup fee. If your association already has a WordPress site, consider using a WordPress membership plugin. A membership plugin, like Paid Memberships Pro, has all traditional AMS features, with endless customization, full data ownership and portability, and no increase in expenses as your association grows.
Can you use a WordPress membership plugin as an AMS?
There are many membership plugins out there that include some of the AMS features covered in this guide. See how Paid Memberships Pro can support your association's current and future AMS needs with the features list below: