If you want to grow your business and create a recurring source of income, starting a membership site is a great way to do it. But a membership site won't be successful if people can't find it.
So, how do you attract members and get them to subscribe to your site? With so much competition across the eCommerce landscape, it can be a challenge to cut through the noise.
This is why it's important to make your membership site (and your offer) unique and compelling. In this post, we'll talk about how to start a membership site that stands out.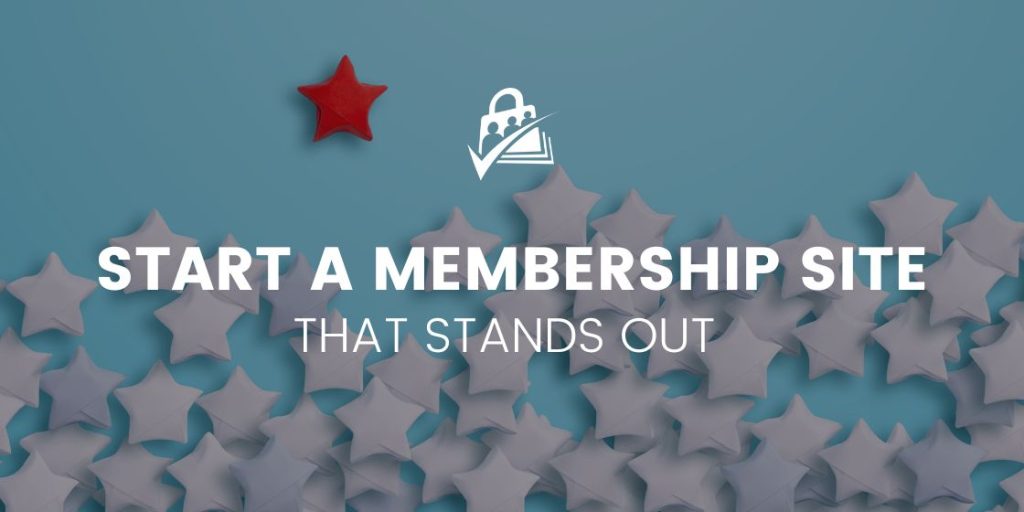 Why You Should Start a Membership Site
Membership websites are part of the growing subscription economy. From software and movie streaming to clothes and food, it seems there is a subscription option for just about everything.
Buyers enjoy the convenience of on-demand access or scheduled deliveries, while businesses enjoy a steady and reliable income stream.
Reasons to start a membership site include:
Building your industry authority. Educating your audience is one of the best ways to boost your credibility and establish your industry authority. Sharing your knowledge and expertise while helping others positions you as the go-to person (or brand) on a topic and gives you all kinds of leverage to grow your business.
Cultivating a community. A membership site can provide a space for people to interact and share their passion for a topic. This supportive environment and sense of community increases engagement and fosters long-term customer loyalty. It's especially effective for membership sites designed to help members achieve a goal or learn something new (fitness or educational sites, for example).
Adding recurring revenue. Membership sites offer businesses a predictable stream of income in comparison to one-off purchases, which can be highly variable. This reliable monthly revenue makes it easier to plan and proceed toward long-term business goals.
Boosting customer retention. People are more likely to make additional purchases from someone they know, as opposed to a total stranger. When they subscribe to your site, members essentially tell you that they intend to buy from you on a recurring basis. This business model automatically boosts customer retention.
Broadening your income. A membership site is an excellent place to upsell or cross-sell your other products and services. Member behaviors and feedback also give you ideas and inspiration for new products and services that you can sell.
How to Start a Membership Website
Now that we've covered why you'd want to start a membership site. Let's review how to do it.
Steps for starting a membership site:
1. Do your research
Find out as much as you can about your market, audience, and the competitors that you're up against. This will help you differentiate your membership offering and meet the needs of your target audience.
2. Validate your membership site idea
You don't want to build a complex and robust website without first testing your membership business idea. Remember to start simple; This allows you to test the feasibility of your idea before you invest a lot of your precious time and money.

If you're not sure where to start, check out our post How to Test Your Membership Business Idea with a Minimum Viable Product (MVP).
3. Set up your site and choose a membership plugin
When it's time to build your membership site, we recommend using WordPress because it offers:
Ease of use
A rich community of users, developers, tools, and information
Full ownership of your site
Limitless growth and customization
We also recommend taking some time to choosing the right membership plugin for your needs. There are many free membership plugins for WordPress that you can start with.
4. Define your membership offer
Determine what to include in your membership offerings and what pricing model you're going to use. Everything you're including in your membership should be clear, straightforward, and easy to understand.
5. Create your content
The success of membership site depends entirely on giving your audience some kind of benefit. This can come in many forms:
Blog posts and pages
Videos
Podcasts
Digital downloads
Coaching sessions
Webinars and live videos
Other resources or exclusive deals
How much is enough content? There's no one-size-fits-all answer. Whatever you decide to offer, members should see the value of their purchase when they log in for the first time.

If you want to offer online courses or a workout video library, you should create a foundation of content before launching your membership site. On the other hand, if you want to offer subscription coaching sessions or webinars, you may be able to launch with a release schedule and little-to-no existing content.
6. Set up payment options
Once you have your membership content figured out, you'll need a way to accept recurring membership payments. There are a variety of options available, but the most popular payment gateways include Stripe and PayPal.
Offering multiple payment options can increase your conversion rates, as different people have different payment preferences.
Note that some membership platforms actually charge additional fees on top of membership payments. This is just another reason why we recommend using WordPress, which doesn't charge any additional payment gateway fees.
7. Launch your site
Once you've tested your membership business idea and you have your site infrastructure and payment options set up, you're ready to launch! Consider adding some extra value to your initial offering or giving an exclusive discount to your first members to incentivize people to subscribe.
Remember that it takes time to build a solid member base. Persistence is key.
8. Spread the word
"If you build it, they will come" doesn't necessarily apply to every membership site. You'll need to make some dedicated marketing efforts if you want people to know about your site.
Content marketing is particularly effective when it comes to the membership model. For more ideas, check out our post Marketing Strategy Tips For Membership and Subscription Sites.
Test and adjust
Monitor your sales, engagement, and other vital membership key performance indicators (KPIs) to ensure you site is performing the way you want. Tweak your marketing, pricing, and offerings as needed.
Tips to Make Your Site Stand Out
Now that you know how to start your membership site, let's talk about how to make sure it attracts your audience and compels them to act. Consider these best practices:
Use consistent branding and messaging. Maintain a consistent brand voice and look across your website and social channels. Developing an easily identifiable brand style that your audience comes to associate with you helps your membership site stand out.
Craft unique membership tiers. Not everyone has the same budget, but membership tiers allow you to target different market segments and attract customers at different price points. Some membership sites miss this boat entirely, so you can get ahead of the game and distinguish yourself by creating unique and purposeful tiers.

Have fun with it, too. We wrote a post about how to name your membership levels that may be helpful if you're brainstorming.
Consider offering a free level. The key to converting visitors to members is removing friction from the registration process. A free trial membership or free membership level lets people try out your membership program before buying, reducing any risk to them and quelling their doubts. Remember: "Free" always stands out.
Bring in affiliates. Affiliates help you expand your reach much quicker than you could on your own. his is one of the best ways to get more eyes on your site. Consider launching an affiliate program where you pay a small commission to people who refer new members to your site.
Focus on the people. Members are what make the membership world turn. The most successful membership sites are built around community engagement; The more you encourage discussion and interaction among your members and get to know your audience, the better.
Go the extra mile with SEO. Deploy the latest SEO best practices to ensure your site ranks high in search results. Even some of the most successful membership sites neglect SEO, so getting it right can be a competitive advantage and increase your visibility.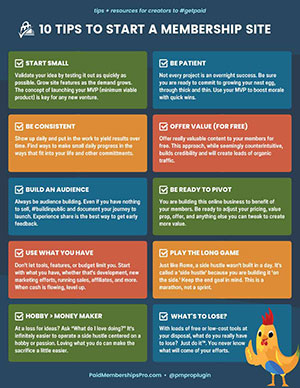 DOWNLOAD NOW
Get the 10 Tips to Start Your Membership Site guide + worksheet. Learn our simple process to refine ideas, avoid burnout, and deliver the right products to the right people.
Page two has a worksheet you should print (yes, actually print it!) and fill out this weekend. Keep the list handy when you work on your project.
FAQs about How to Start a Membership Site
How much do membership sites cost?
You can start a membership site for less than $100 a year. If you build your site with robust free tools like WordPress and Paid Memberships Pro, all you really need is a domain and a web hosting plan. Hosted membership solutions can be costly, however.
Is starting for free smart?
Free isn't always best. But starting for free is an excellent business decision if you're bootstrapping your membership business. You can test out your business idea with minimal risk and investment by reducing your costs as much as possible.
Which membership plugin is best for starting a membership site?
Paid Membership Pro is proud to offer the most complete membership plugin for WordPress—and it's 100% free. In fact, our free plan includes more features than many of our paid competitors.
With the Paid Memberships Pro free plan, you can easily launch and grow your membership business. You can always upgrade to one of our premium plans later if you need support, multiple site licenses, or you want to do things like:
Accept PayPal and credit cards at the checkout
Gift memberships
Drip feed your content
Get Started Today
The key to starting a membership website that stands out is to do your research. That way, you're better able to distinguish yourself from the competition and appeal to potential members.
Most importantly, understand your audience and what they want from a membership site. From there, you can create your content, build your site for launch, and fine-tune your strategies to make your membership site irresistible.
Paid Membership Pro makes building a membership site simple and affordable—even free! Sign up today and bring your membership business from an idea to reality.