Entrepreneurs and freelancers usually have plenty of ideas and expertise—but they're sometimes short on cash. 😅 If you relate to this, you've probably spent your fair share of time searching for tools that will get the job done with the least upfront costs.
Well, you can't get more cost-effective than free.
Fortunately, there are a lot of money-saving options if you're a WordPress user. So, we've put together this list to help you find the best free membership plugins for WordPress.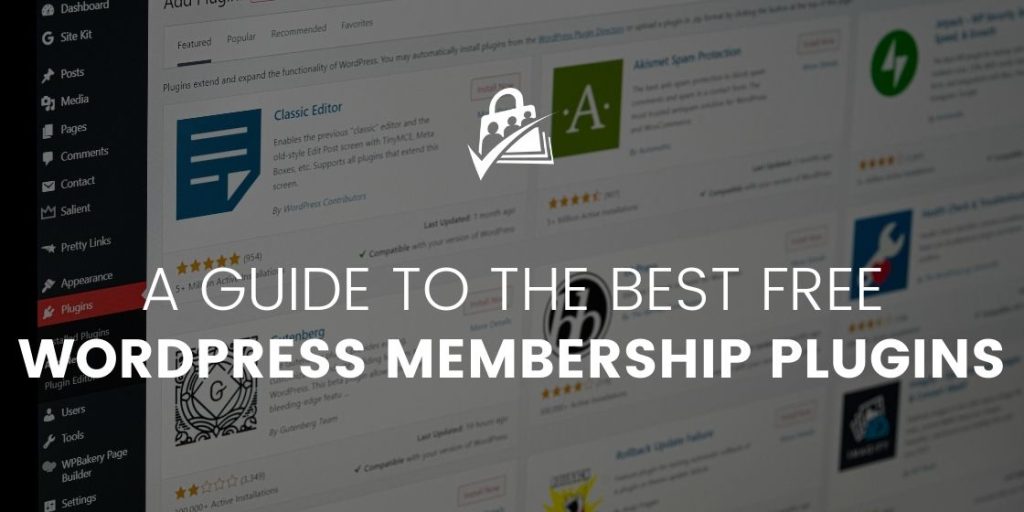 What is a Membership Plugin?
Running a membership site is a great way to generate steady, reliable income from your own content or services while serving your audience with the resources and information they need. But in order to do this, some software is required.
If you use WordPress to run your website, there are a variety of free plugins that can transform your site into a membership site—and give you the tools you need to manage memberships.
Choosing the right plugin is crucial in order to attract and retain paying members. But with so many options and features available, it can be challenging to know what's absolutely essential.
Don't worry! We've got you covered.
How To Choose a Membership Plugin for WordPress
Before you select a membership plugin, it's helpful to do some strategic planning. First, you'll want to get as clear as possible about the purpose and requirements of your membership site:
What's your endgame?
What functionalities are you looking for? For example:

A robust community-building tool
Flexible subscription options
The ability to leave one-time commissions

What additional third-party tools or services would you like to incorporate?
Your answers to these questions will help you hone in on the best WordPress membership plugin for you.
Offer a Premier User Experience
You want your members to enjoy and engage with your content without distractions. After all, cumbersome site navigation and restricted member capabilities can discourage some fans from regularly visiting your site.
Your site needs to be simple if you want your users to enjoy it. In fact, including only the features users really need—and nothing else—prevents confusion and technical issues.
Must-Have Features of a WordPress Membership Plugin
Think about what you're looking for in a membership plugin. Here are some features that we consider must-haves:
Member Management. You want a tool to help you manage your members. Some plugins are good for helping you gain new subscribers, while others are better for building community among your subscribers.

Regardless of which way you go, you'll want some help keeping track of members and how engaged they are.
Content Releases. Think about how you want to release content. Some creators post in batches, meaning they produce a lot of content at once.

Drip content features embedded in some membership plugins allow you to schedule content to slowly release over time. The rest stays hidden until you decide to make it public.
Payment Options. Flexible payment options are important for membership sites. Credit cards are now the standard, and methods like Apple Pay and Google Pay are becoming increasingly popular as eCommerce shifts more toward mobile use.

You should also decide if you want structured membership levels, or if you want to be able to customize and change membership options as needed.

Some plugins allow for a ton of flexibility with payments. Depending on your goals and audience, this can be highly beneficial for your membership site.
Integration with third-party services. Ideal features and functionalities vary widely depending on the type of membership site you want to create. Make sure to have a clear idea of what you want to offer, so you can choose a plugin that provides the appropriate third-party integrations.

For example, maybe you want to add gamification to your membership site, or allow users to purchase gift memberships.
Support. Once you have a platform that gives you all the features you need and want, check out the service package. What if you need help?

Is ongoing support available to help troubleshoot or make updates? Depending on your level of expertise, this could be an aspect you don't want to overlook.

You have a lot of things to consider, and the list of membership plugins is extensive. How do you even know where to look for these features? Below are our top picks to get you started.
Best Free Membership Plugins for WordPress
We've chosen these plugins because they offer the most essential features and can meet the needs of diverse types of membership sites. However, be sure to always consult your own membership site goals and requirements before settling on a plugin.
Paid Membership Pro
Paid Membership Pro is a robust open-source plugin that seamlessly integrates with any WordPress website. It's 100% free to get started, and offers annual membership packages that have all the features you need to create a truly standout membership site.
Paid Membership Pro's drip content feature "previews" what's on deck, so you can build excitement and momentum for your members. Plus, its flexible subscription pricing is the best on the market.
PMPro is one of the most powerful and customizable membership plugins available, so be ready to learn, explore, and fine-tune to your heart's desire if you choose this option.
S2 Member
S2Member comes with a content drip feature and supports popular third-party payment options. It's simple to install and is a good starting place for novice users. However, feature options are limited, and your needs might quickly outgrow its capabilities.
Ultimate Member
Ultimate Member is a fairly straightforward plugin for WordPress. It creates interactive online communities in an aesthetically pleasing way. Ultimate Member is free to install and offers paid add-ons to enhance your site further.
WP Members
WP Members is another free membership plugin that gets the job done. It enables some customization of membership pages and features a manual approval tool. WP Members is a great option for beginners who want to launch a membership site quickly.
Restrict User Access
A free plugin that has as many free essential features as paid ones, Restrict User Access allows you to customize access levels and has some built-in marketing features. It caters to creators who want to build drip content sites, and add-on features cost anywhere between $29 and $79.
Simple Membership Plugin
Simple Membership Plugin is aptly named. It's easy to install on WordPress and has a user-friendly interface. It accommodates unlimited subscribers who can join via packaged membership plans. But if you want something beyond the basics, this plugin requires coding.
Paid Member Subscriptions
If you're looking for a membership plugin with robust e-commerce capabilities, check out Paid Member Subscriptions. It also has extensive marketing tools to expand your reach. But to take full advantage of its features, you need to pay an annual fee, which varies based on your needs.
Still Want to Learn More?
You have a lot of options when it comes to free membership plugins. When choosing, it's best to keep your focus on the features that your members want and need.

Also consider about how you want to manage your memberships, release your content, deal with membership payments, and any third-party services you want to use. And, of course, think about whether or not you can get the support you need while using the plugin.
Still uncertain about what membership plugin is best for your WordPress site? Paid Membership Pro is a rock-solid choice that is also 100% free to use. Download Paid Memberships Pro today to start building your dream membership site.
Was this article helpful?