How you name your membership levels is one of the most important components for conversions on your membership on site.
Let's spend some time thinking about membership level names. We'll cover the classic membership site structures and provide examples for naming the membership levels or subscription options for each case. (And there's even a nifty "level name" playground that tests your name within various plugin-generated phrases.)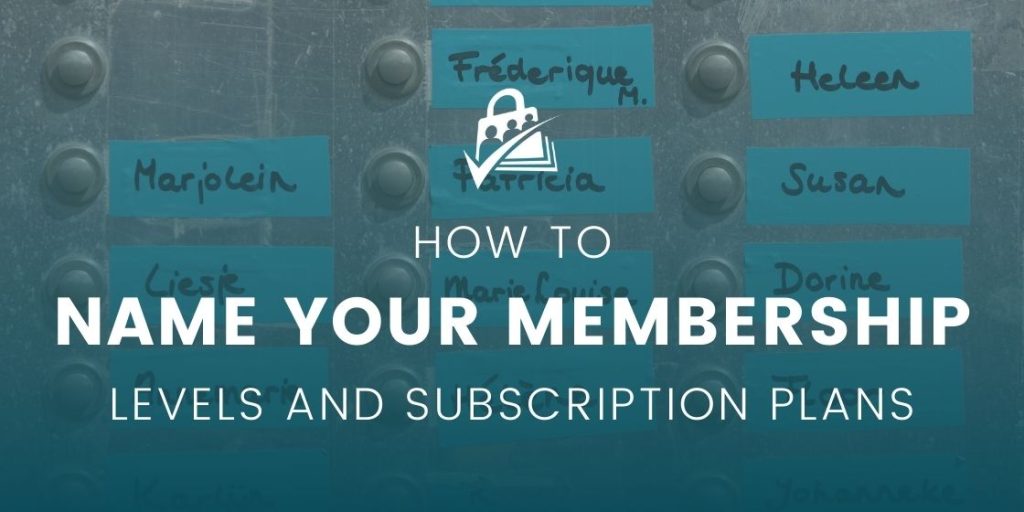 Evaluate Your Existing Membership Level Names
I work with thousands of membership sites and have seen a lack of clarity (and creativity) in this key area. The membership level name identifies what the member is receiving in exchange for their membership fee. In some cases, the name is a badge of pride for your members, turning them from the anonymous "visitor" to a member of the "in-crowd".
Putting all of this touchy-feely stuff aside, the level name is also used in various default "phrases" within your membership site system. You need to make sure your level name "reads well" within these phrases. I've created a simple tool at the end of this article that provides a litmus test for your level names within the key system phrases in Paid Memberships Pro.
Membership Site Structures Covered In This Guide
Webinar Replay: How to Name Your Membership Levels
Tiered/Hierarchical Levels
This flavor of membership site offers more (or fewer) features based on membership level. This is the structure of our own site here at Paid Memberships Pro. We offer a Free, Standard, Plus, and Builder level. These level names imply a tier (Builder being the highest membership option available). They also serve a dual purpose of identifying the target user for each plan.
Here are some level name ideas based on the "tier"
Tier 1
Basic
Beginner
Starter
Primary
Bronze
Baby Bear
Tier 2
Intermediate
Enhanced
Standard
Secondary
Gold
Papa Bear
Tier 3
Advanced
Ultimate
Extreme
Professional
Platinum
Mama Bear (just right!)
Price/Payment Term Structured Levels
Use this level naming structure when all membership levels offer the same package of features, but vary based on price or term. First, try to think of something clever based on your specific name, brand or site topic.
If your membership site was a sports team, what would you call your fans?
You can give membership an overall brand, such as "Trekkies", "Bronies", or "Cheeseheads". Then use your level names to clarify the price or payment term.
You may still have an idea of "tier" in this structure, such as a Foodie Box site that offers 3 Month, 6 Month, and Annual subscriptions, with the option to "add on" a dessert box. For this case, I'd suggest reading through my post on price-adjusting Register Helper fields to have a selection at checkout modify the level price. Easy as pie.
Here are some level name ideas based on the price/term
Daily *
Weekly
Monthly
Quarterly
Yearly
Annual
Per Annum
Bi-Weekly
Bi-Monthly
Semi-Annual
Half-Yearly
Perennial
Lifetime
Forever
Eternal
* Note that not all integrated gateways for Paid Memberships Pro offer "daily" subscriptions.
Content Vertical/Category-specific Levels
In this type of membership site, the membership levels differ not by features, but by type of content or "vertical". This is common in a stock or investing site, nationwide membership chapters site, or an online dating site where identifying the member's "interest" is handled via the membership level selected.
Here are some level name ideas based on the content vertical
Stock/Investing Sites: Technology Sector, Gas and Oil, Retail, Pharmaceuticals
Member Chapter Sites: Country Name, State Name, County Name
Online Dating Sites: Man Seeking Woman, Woman Seeking Man, Man Seeking Man, Woman Seeking Woman, etc.
User or Member-type Levels
This is a category of membership site where the member receives a different level/price/package based on the type of member they are. Check out our Sponsored/Group Members Add On if you have a membership level that offers parent/child account relationships.
Here are some level name ideas based on the user/member-type
Individual
Student
Parent
Family
Senior
Corporation
Volunteer
Teacher
Non-Profit
Military: Active Duty and Veterans
Content Delivery/Subscription Type Levels
For this type of membership site, the levels differ by how the content is received. It will make more sense after reading the level names below, but basically this case is used when the content is offered in various formats (online, print, email), and the selected level determines the members' preferred method(s) of content delivery.
For this case, you could use the same membership branding concepts covered in the Price/Payment Term Structured Levels section above, then use the level names to clarify content delivery.
Here are some level name ideas based on the type of content delivery
Online Only
Print Only
Online and Print
Email Newsletter
Sponsorship Level/Benefactor Tiers
If you're a non-profit organization, you most likely think about membership a bit differently than most other site types. In your case, membership level is actually sponsorship level, and you have a chance to get really creative in how you name your tiers.
A great approach to level naming is to pull ideas from the goals of your organization, your location, the group or cause you represent.
Instead of coming up with my own examples, I've compiled a few non-profits and their benefactor/membership tier names below:
The Franklin Institute's Benefactor Society
Pendulum Partners
Baldwin Circle
Celestial Circle
Ambassador Circle
Kite and Key Circle
Franklin Fellows
Inventors Circle
Colonial Williamsburg's Donor Societies
Duke of Gloucester Society
Capitol Society
Colonial Williamsburg Assembly
Colonial Williamsburg Burgesses
Colonial Williamsburg Associates
Raleigh Tavern Society
The Kimmel Center's Founders Circle
Partner
Benefactor
Artists Circle
Leadership Circle
Presidents Circle
Chairmans Circle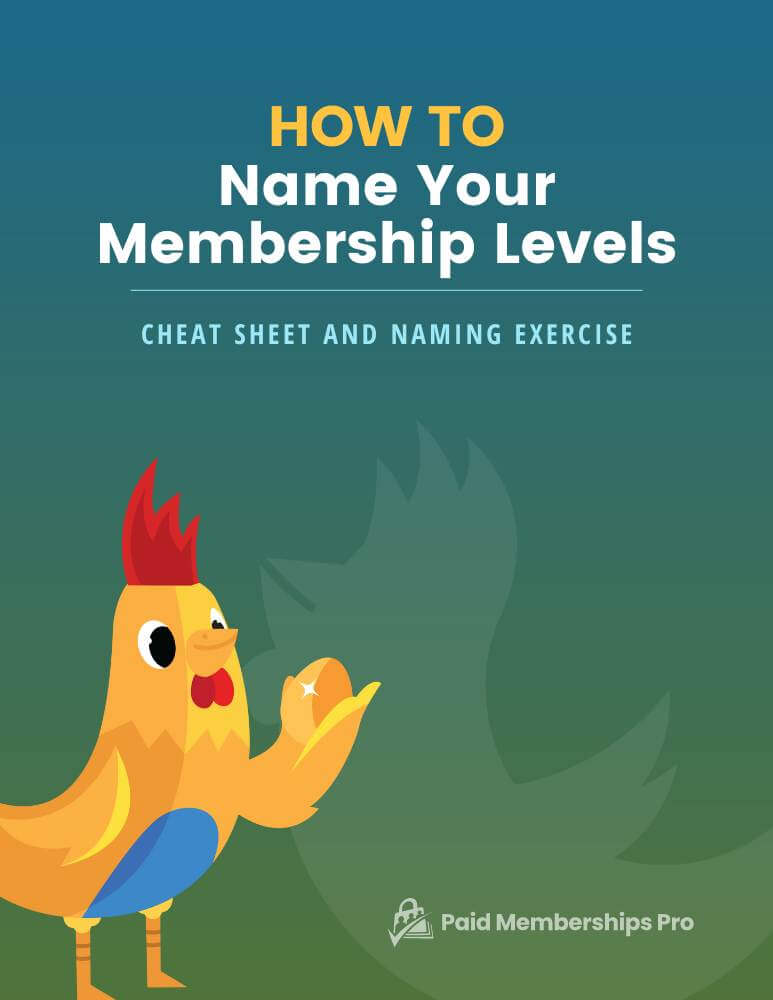 DOWNLOAD NOW
Grab the free cheat sheet and exercise book for how to name your membership levels. This guide and the companion naming exercises will help you understand the most common level naming structures and brainstorm your own site's level names.
Go Name Your Levels
I hope this post has given you some direction as you brainstorm level names for your new or existing membership site. If you run an existing membership site, you can still rename your membership levels. With Paid Memberships Pro you can simply update the level names under Memberships > Edit Level in the admin. Every member that currently has that membership level will automatically have their membership level name updated.
Test Your Membership Level Names
The Membership Level Names Playground below allows you to enter a desired membership level name and see how it will "read" within various plugin-generated phrases. These are the most common phrases your members will see, both on your site and in membership-related emails.
Test your level name against key phrases in Paid Memberships Pro.
Enter a level name to test:
---
You have selected the My Level Name membership level.
Shown on the membership checkout page.
---
Membership Level: My Level Name
Shown in most member communication emails and invoices.
---
Your My Level Name membership is now active.
Shown on the membership confirmation page.
If you have a level name that doesn't pass the litmus test, don't fret. Every phrase in Paid Memberships Pro can be "translated", and I'm not just talking about languages.
Our blog has several posts on renaming key terms within the plugin, such as this post about replacing the word "Membership" with "Subscription".
Depending on your membership site, you may need to use these methods or another approach. Users with a premium membership plan can reach out to our support team. We will help you work out any hiccups between your desired membership level name and the built in phrases of Paid Memberships Pro.
Do you already have your membership level names ready to go? Get your membership site up and running today with Paid Memberships Pro.