Wouldn't it be great if something you wanted just showed up, like magic? That's what it feels like with a subscription model. Your customers want what you have, and it appears in their inbox or on their doorstep each month.
There are a lot of benefits of a subscription model for both businesses and customers alike, including increased customer retention and being part of a community of like-minded people. Keep reading to learn just why a subscription model supercharges your business.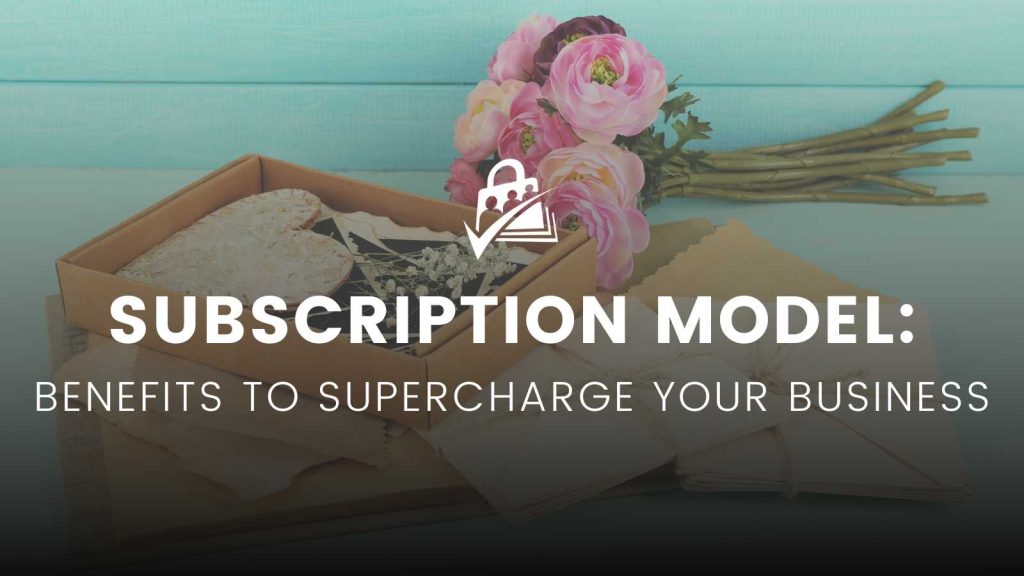 What is a Subscription Model?
A subscription model allows customers to make recurring payments in exchange for what you offer. Your customers then receive your products or services on a set schedule.
Customers can log in to renew their subscriptions or add additional products.
And if they no longer need your offer, they can cancel their subscriptions.
Subscription models are great for customers because instead of paying a large sum of money upfront, they have the option to pay a smaller amount each month to have access to your product or service.
Subscriptions are also great for business owners because they allow you to share special content or services with your subscribed community, which builds loyalty and trust in you. These customers are likely to tell their friends and family about your brand, creating leads for your business.
A subscription can work for a variety of businesses. The key is deciding on the right model for your business and designing something that people see as fairly priced and providing ongoing value to them.
Why Add a Subscription Model to Your Business?
There are many reasons why adding a subscription model to your business could be profitable. Here are some potential advantages to using a subscription model.
Consistent and Predictable Revenue
If you're selling products or services for a one-time cost, it can be difficult to predict the number of customers you'll have, especially since the people who already purchased won't necessarily return. But with a subscription, you have a much more accurate predictor of month-to-month income because you know how many subscribers you have.
This approach can also ensure that you aren't stocking more products than you need or putting a lot of marketing energy behind something that won't pay off.
And because you can predict your income better, you won't be blindsided by one bad sales month.
Increased Customer Retention
Marketing is challenging. It takes a lot of time, energy, and money. Those costs go up exponentially when you're focused on bringing in new customers. But subscriptions allow you to build longer-term relationships with customers who return every month.
This guaranteed return means you get to focus on the customers you have instead of on getting new ones.
Your customers will feel a connection to your brand that they can't get with a one-off purchase. Customers stick around when they feel like they're part of your brand.
Lower Cost in Acquisition
Because bringing in new customers can be expensive, it's more cost-effective to nurture customer relationships and keep returning customers.
You'll always want to bring in new customers, but with a subscription model, this won't have to be your sole focus.
By focusing your efforts on keeping customers around, you're building a loyal customer base who can help market by sharing their love of your brand.
And because a monthly subscription cost is often cheaper than a pay-once model, new customers are more likely to try your brand.
Targeted Marketing Opportunities
A subscription model gives you a continuous connection with your customers. It makes the customers feel like they're a part of your inner circle, and it makes it easier for you to share information with them.
Because you can readily communicate with them, it's easier to market to your customers. If you have products or services that complement your subscription offerings, you can easily market these to your subscribers.
And because the customer trusts you because of the relationship you've built, they're more likely to buy.
Growth Scalability
Subscription models are flexible, and they can grow with your business.
So while you may focus only on offering one particular service at the beginning of your subscription, you can add more as your business grows. For example, many people go from one-on-one coaching or services to a subscription model that helps them reach a wider audience. They also let you scale in-person services to a global audience with less effort on your part.
Subscriptions allow you to add tiers, which means you can offer more to your higher price subscribers.
And because members pay subscriptions monthly, you can always alter these tiers to suit your business, and your income needs better.
Build Brand Community
Subscription models thrive on customer relationships. When customers trust you, they stay loyal to your brand.
A subscription model allows you to build a highly-engaged community. In many subscriptions, those customers get the opportunity to interact. This community becomes the backbone of the subscription. When customers tell others about why they love your subscription, it's a huge selling point. It takes some of the effort to market the subscription off of you as the owner because you can let the community talk and interact with each other, becoming your salespeople.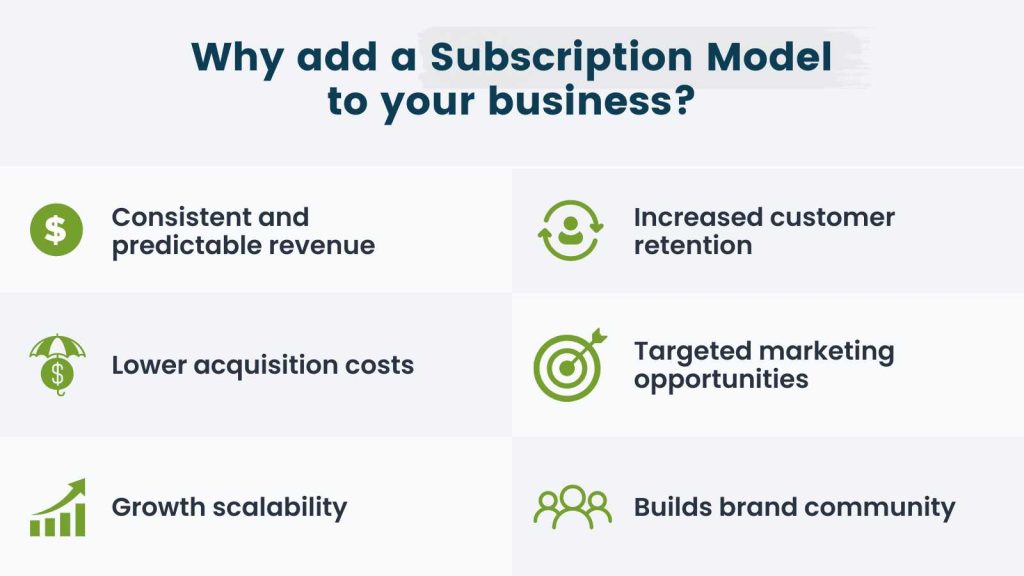 Video: 6 Major Benefits of Running a Membership Site
Benefits of a Subscription Model for Your Business
Businesses experience varying benefits from using a subscription model. Here are some benefits for different business types.
Associations and NPOs. An online subscription model allows associations and nonprofits to process paper applications, contact members to encourage renewals with automated emails, and take recurring payments online.
Blogs and news. Using a subscription for your blog or news website allows you to restrict certain content based on membership tiers.
Communities. A community subscription allows you to be seen as an industry leader because your subscribers will use your platform to discuss the industry. Plus, a community is a great place to market your other offers.
Courses and coaching. A course or coaching subscription allows you to restrict content to students based on what they enrolled in. You can also personalize student dashboards, giving them a unique experience in your course.
Directory and listings. If you create professional directories, the online subscription option allows you to keep your directory completely digital, which means you can update it in real-time without waiting until the next printing.
Paid newsletters. Using a subscription model for a paid newsletter allows you to share your content directly with your members, but also allows you to create different pricing tiers to offer more to higher paying subscribers.
Podcasting. Keeping your podcast limited to subscribers is a great way to monetize your content and build a loyal fan base around your expertise. Want to keep your podcast public? That works too. People with public podcasts can offer subscriptions for more in-depth, specific, or frequent content.
Video. Using a subscription model for video allows you to share your videos with a receptive audience and monetize your content your own way, without relying on ads or sponsorships.
How to Implement a Subscription Model for your Business
There are a lot of benefits of a subscription model, but before you implement a subscription for your business, there are some steps you need to take. Taking these steps will help you create an intentional, profitable subscription.
To implement a subscription model:
Determine goals. Know what you want from your subscription. Think about the type of subscriber you'd like, how much you'd like to earn, and what you want to cultivate within that subscription.
Map the member journey. Consider where your customers start and end with your subscription and how the subscription will transform them. Know how your content will help with this transformation and how you will add products and service offerings for varying membership levels to ease this transformation.
Develop offerings. Once you know what you want to offer, it's time to develop them. This step is labor intensive because it's where you'll begin creating the content for all your subscription tiers.
Set levels and pricing. Determine what content you'll give with each subscription tier and assign a price to each level. Make sure the value you're giving to each level aligns with the tiered pricing.
Select your plugin. Find a plugin that works with the subscription you've created. Paid Memberships Pro is free with more than 30 Add Ons and upgrades available, depending on your needs.
Test with current customers. Before you launch, test your membership with a batch of your current customers. Their feedback will help you refine your subscription into something your customers can't live without.
Refine and grow. Keep refining your membership to offer the best possible subscription to your customers. And if you need support when it comes to technical issues, Paid Memberships Pro has a team of experts ready to help you.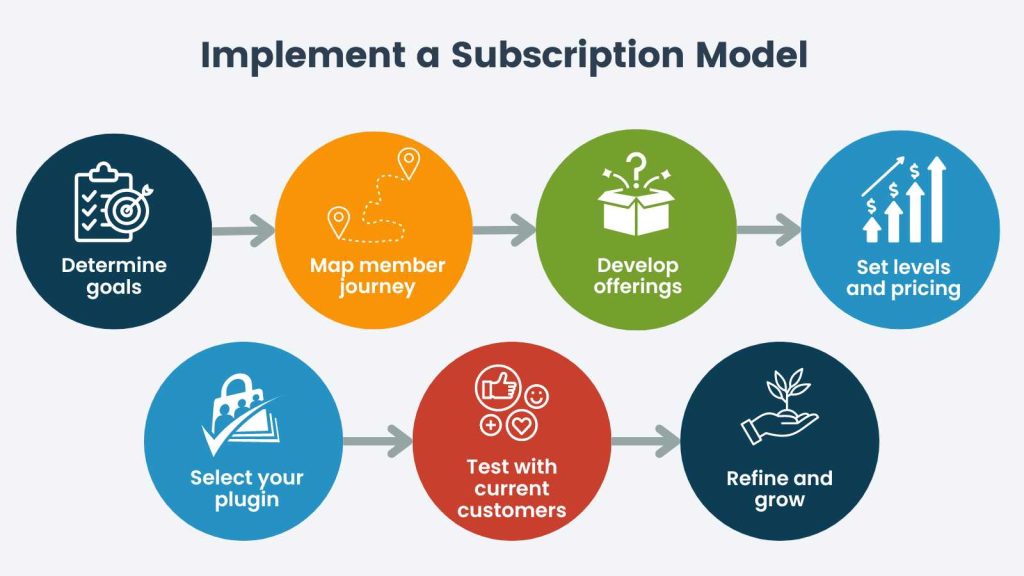 Are You Ready to Experience the Benefits of a Subscription Model?
Subscriptions put you in front of customers who regularly want your content, products, or services. They provide you with predictable income, allow you to build a community, help with word-of-mouth advertising, and result in less need for marketing to new customers. Paid Memberships Pro has pricing and plans to work with any subscription model. If you're ready to build your membership, sign up with Paid Memberships Pro today.
Was this article helpful?