The marketing team behind Paid Memberships Pro has a content strategy for our own audience and give our members continued, valuable, and important membership-business related content. This is reflected in the extensive knowledge base in our Documentation, Blog Posts and Webinars.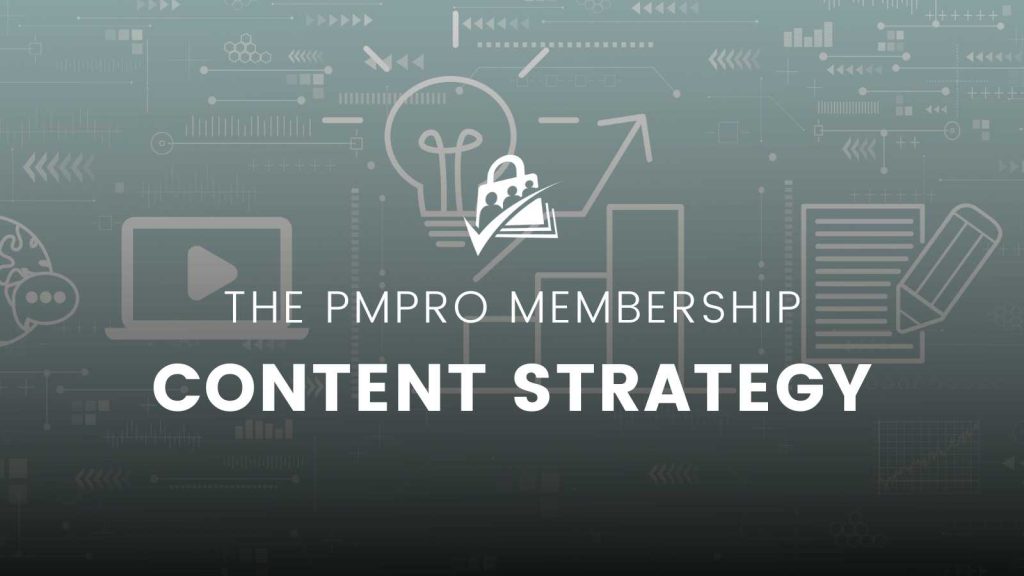 Complexity of Content
Our decision on what content to give to the public (free) vs. member-restricted (paid subscription) is largely based on the complexity of the content.
What is our "Free" Content?
The Paid Memberships Pro plugin is Free.
It includes Free set-up documentation, some Free Add Ons, Step-by-Step guidelines, Troubleshooting guidelines and Business articles.
We also offer a Free onboarding email series that provides nuggets of wisdom from the co-founders Jason and Kim Coleman.
One of our email marketing campaigns also offers a discount code to upgrade.
What is our "Paid" Content?
As you know, not everything can be free as we have to support our business, pay our employees and invest in the future growth of our WordPress plugin product.
The PMPro member-restricted content (need to pay to gain access) includes complex content like developer intensive Add Ons and specific custom features with Code Recipes.
The other main focus on value for money is to offer hands-on guidance and help. If a member has difficulty with setting up the plugin or has other third-party elements causing conflict we offer Support in a Member Support Area or Forum. Here the paying customer can receive hands-on guidance and help from qualified and experienced staff members that can troubleshoot and investigate errors on their sites with the members.
How We Leverage Social Media
We follow along with the main influencers in the WordPress community and keep ourselves updated on the latest trends in WordPress.
PMPro posts regularly on our preferred social platforms. We share important information or updates. This keeps the community engaged and that we listen when they speak up. Many members can reach us and we have a good turnover time to respond to their concerns.
Offering a Variety of Content Types
Seeing our team on a social platform, engaging with our members has been a game changer. We even got a better response from live-real-time webinars. These videos and tutorials are all available afterwards on our site and we can answer questions that the audience may have. YouTube has proved to be a wonderful platform to stream live videos and allows text engagement throughout the live webinar.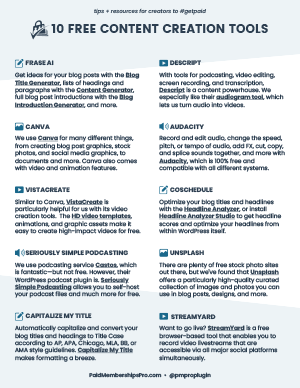 DOWNLOAD 10 FREE CONTENT CREATION TOOLS NOW
Looking to start creating graphics, videos, and voice content for your membership site? This cheatsheet shares the top 10 free tools we use to create rich media at PMPro. Use these tools to create rich media content like PDFs, commercials, audiograms, blogs, social graphics, and more.
Content That Improves the Product
Our support team provides golden nuggets of custom code recipes from the Member Support Area. These are usually developed during a normal day of work where a member has asked for a specific custom solution to their site. Many of these custom code recipes are converted to blog posts and get shared with the rest of our members. Some are only available to paying members and others we open to free as well.
Software in WordPress needs continued updates and improvements. We live up to this philosophy and have frequent updates to improve and fix reported bugs. This shows value to our members and that their websites matter to us. If they succeed, we succeed.
Paid Memberships Pro releases new content on a weekly basis. We keep lists of new blog post ideas, code recipes and documentation to write and share with our members. We strive to keep new content on our site concise and searchable.
New content gets shared with our audience in a weekly newsletter and on social media platforms.
Deeper Dive Into Our Content Strategy
During the years of working on content we have shared advice and tactics to our own members to help them improve their membership business. Here follows a list of a articles that is related to our marketing content strategy:
Want to read more about content marketing?
We have a series of articles on the topic of content marketing—and we followed our own advice in point 8 to"narrow it down" into a few distinct posts. Here is some continued reading for you to explore related to content marketing:
Was this article helpful?