If you are a business owner with a membership site to manage, it can be a challenge to produce consistently high quality content. And while time is always a limitation, not every piece of content you publish has to go viral.
In fact, quality content can stand the test of time and market your membership subscription site for years to come.
Understanding how quality content marketing can grow your business will help you determine goals for your content marketing strategies.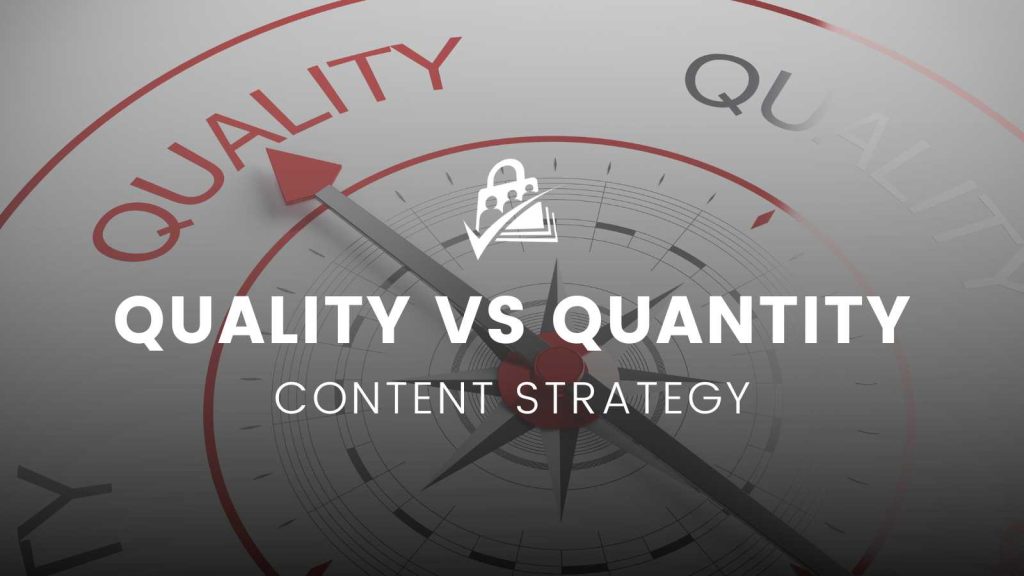 What is Content Marketing?
"Content Marketing is a type of marketing that involves the creation and sharing of online material (such as videos, blogs, and social media posts) that does not explicitly promote a brand but is intended to stimulate interest in its products or services."

Lexico
While brand marketing and advertising may focus on getting the sale, content marketing revolves around creating content that adds value to your niche community. This can ultimately drive the reader to purchase the content or product behind such valuable information.
The most effective content marketing strategies focus on practical and useful information that is both actionable and achievable.
Many businesses use these strategies to reach their audience, encourage engagement, and create communities of like-minded people. A good example of this is the Open Culture Blog by Buffer.
Why is Quality Content Important for a Membership Site?
If you sell a product or service through an online store, the sale process ends once the customer receives the purchase. Then, they may or may not come back to buy from you again.
With content marketing, however, there's a reason for customers to keep coming coming back to you over time, increasing the chances they'll buy from you once, multiple times, or pay a recurring membership fee. Quality content is a product in itself, and continuing to provide this content over time means continued engagement (and sales).
You can even use your content to create a value added service, boosting the value of your membership. For example, customers can get weight loss training programs from all kinds of different businesses or websites. But they might not necessarily get access to an online forum, webinars, or a community of customers using the same weight loss program.
How Quality Content Marketing Can Grow Your Membership Business
Effective content marketing can do more than just attract potential customers to your website through Google and other search engine results pages.
Good website content can help to:
Increase your brand awareness. When you share the answers to questions people are searching for, they begin to associate your brand with those topics.
Build your reputation. When you show your website is a credible source of information online, your content will rise to the top of search results. And potential customers will regard your brand more highly if you rank at the top.
Educate people on your products or services. A question gets readers to your site, but you educate them about your products and services as you answer it. Your audience gets the answer they want and learns more about what your brand offers.
Generate leads. When potential customers trust your content, they're more likely to purchase from you in the future. Include calls to action in your content that lead your customers to your newsletter or even your product or service pages.
Improve your website traffic. Your content will attract people searching the web. They'll click on your site to find the answers they need, which means your site will get more traffic and leads.
Build SEO value. The more quality content you create that answers questions people are searching for, the higher you'll rank with search engines. Over time, your content will consistently rank higher and your website's domain authority will rise.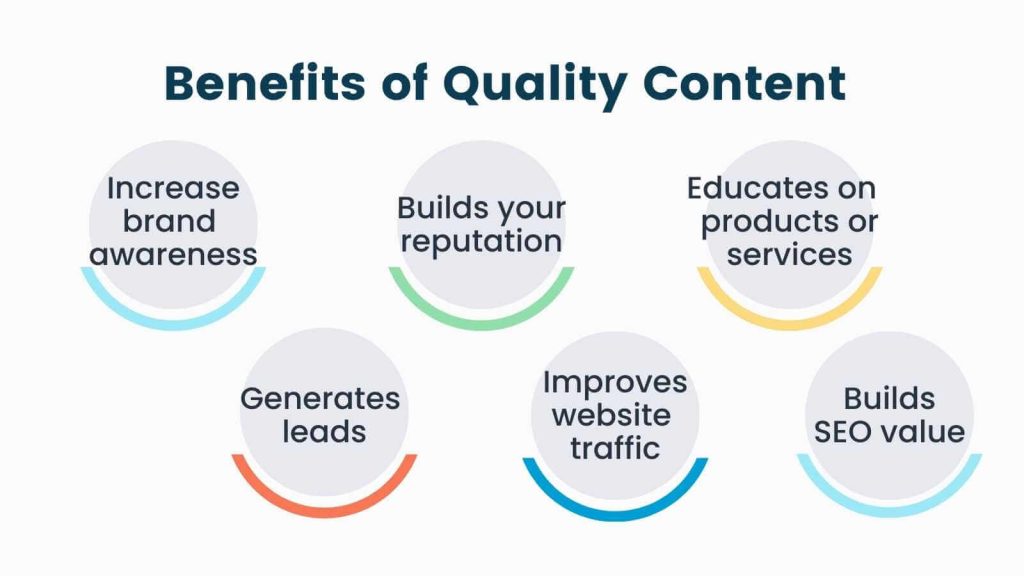 When Quantity is Better than Quality
Quality content is crucial to your website's value. But sometimes, focusing on quantity over quality in your content marketing strategy makes sense:
When you're just starting out. At the beginning, it's important to create a library of content if you want to build momentum. So, it's okay to write shorter posts in order to publish more posts, for example.
When batch creating content. This can serve as a defense against perfectionism; The volume of content creation and publication leaves little room for fixating on minor details. Instead of putting all your ideas into one post, focus on creating many posts around the same topic. Focusing on a single idea in each post can enhance the readability of your content.
When trying out a new content format. If you're just learning a new format like podcasting or video, focusing on quantity can help you learn new skills and improve faster. Plus, it will help you learn your process and establish a workflow.
If you're unsure of your specific niche. Creating a lot of diverse content can help you hone in on the best niche for your skills and expertise.
Once you have a good amount of content created, you can start interlinking your posts. This will give you even more SEO juice.
Remember: In order to publish content consistently, you might have to choose quantity over quality sometimes.
Following a strict publication schedule can mean producing posts that don't meet your ideal standards—but that's ok. As long as you publish when you said you were going to, your audience will come to view you as a reliable source of the information they seek.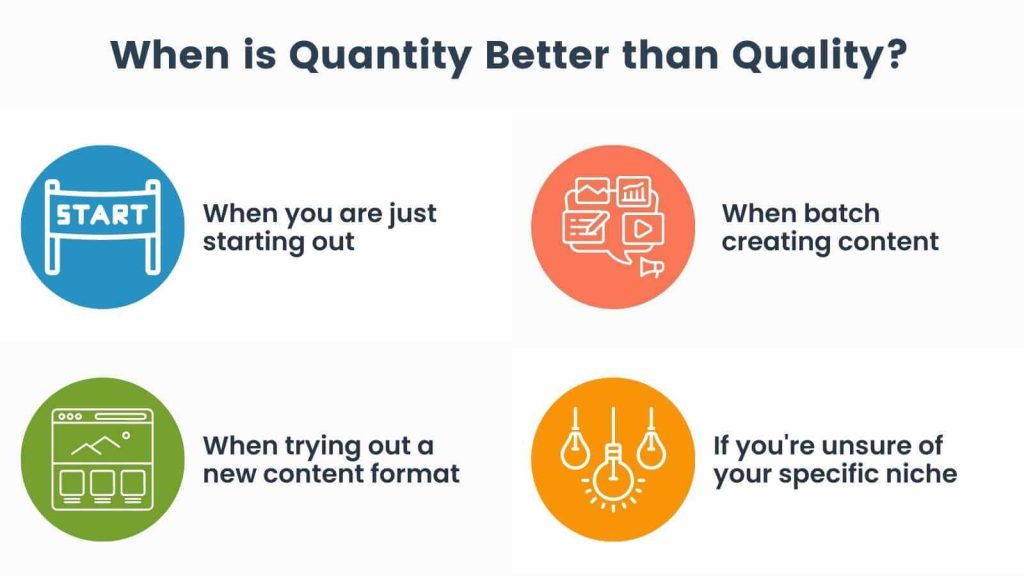 Essential Elements of Quality Content
So, how do you determine if a piece of content is quality? There are two important points to consider.
Quality content:
Helps a business stand out against competitors
Answers potential customers' questions
Evaluate your work with these two things in mind to figure out if what you're producing is quality content.
Relevance to the Audience
You're an expert at what you do and you could probably write a lot of content to share that expertise. But before you do that, take a second to consider your audience:
What do they need to know?
What problems are they trying to solve?
These two questions will help you create content that your audience is already searching for. And that will allow you to show off your expertise while making sure that search engines will serve your content to the right people.
Remember: Making content that is relevant to your audience is the cornerstone of all content marketing strategies.
Don't forget to conduct keyword research prior to creating your content. This will help you produce content that truly caters to the needs of your audience—and performs well for you.
A Word About Uniqueness and Originality
The internet is vast, and you can probably assume that every question you could answer is already answered somewhere online. But even if that's true, it doesn't mean you shouldn't create content around those questions, too.
Often, there's room for everyone. Even the most highly-saturated markets see new content created every day.
The truth is: The way you create content will do more to attract the right audience than simply answering questions. A unique and original brand voice will make your content stand out. Entertaining your audience can't hurt either.
What does this ultimately mean? Be yourself. Nobody can do that better than you.
Quality of Writing
You've probably forgotten many of the lessons you learned in English class, but that's OK. You can still write quality blog posts.
Grammar, punctuation, spelling, and vocabulary are all important, but don't stress if you make a mistake. Instead, focus on sharing your ideas freely and clearly, sharing them on a regular basis, and improving over time.
It takes time to write blog posts and edit them, so account for that in your expectations, and don't rush the process. Also consider asking someone else to review your content as well. This will help you publish the best quality posts possible.
Search Engine Optimization
Search engine optimization (SEO) is the secret sauce that helps your content reach your audience—and it all starts with doing some keyword research.
Keyword research is when you use SEO tools to find the phrases people are searching for. You can start by using tools like Google Trends to identify keywords that people are searching for, but don't have a lot of results.
Then, start creating content that targets those phrases.
A good SEO strategy takes time to develop, and it might not pay off immediately. However, it's one of the few marketing techniques that will continue to benefit your business (and revenue) for years.
10 Tips for Creating Quality Content Like a Pro
Creating content can be hard work. These 10 tips will help you create content that will make readers want to return for more:
1. Act now. Don't wait until you have the perfect blog post idea, or until you feel like you've mastered the art of writing. Take imperfect action right now. You can always make changes in the future.
2. Be authentic. Use your own unique voice and share your personality. Humanizing your content will help you build an audience that really connects with you.
3. Share your experience. Talking about your own experiences and personal stories can help establish you as an authority. People view your experience as evidence, which helps back up the claims in your content.
4. Focus on customer pain points. Share content that answers your audience's questions and helps them solve real-world problems. The more helpful your content is, the more likely people will return for more.
5. Brainstorm with others. Talk through your content ideas with others and listen to what they say. You can also look at competitor content and use that as a starting place for brainstorming.
6. Be solution-agnostic. Answer your audience's questions without recommending your specific system or product. You can mention your products or services, but don't make it seem like that's the only answer.
7. Narrow your ideas. The more you narrow your ideas, the more cohesive your posts will be. If your advice is too general, it may not be actionable or easily consumable for your audience. So, don't worry about covering everything in a single post.
8. Follow a set schedule. Sharing content on a regular schedule keeps your audience coming back to your site regularly—and this strengthens your relationship with them.
9. Create diverse types of content. Once you've mastered writing blog posts, try podcasts or videos. The more types of content you make, the more likely you are to attract potential customers with different content format preferences.
10. Follow SEO trends. Google regularly updates what they're looking for in high-ranking content. Understanding what Google wants will help you make your content better.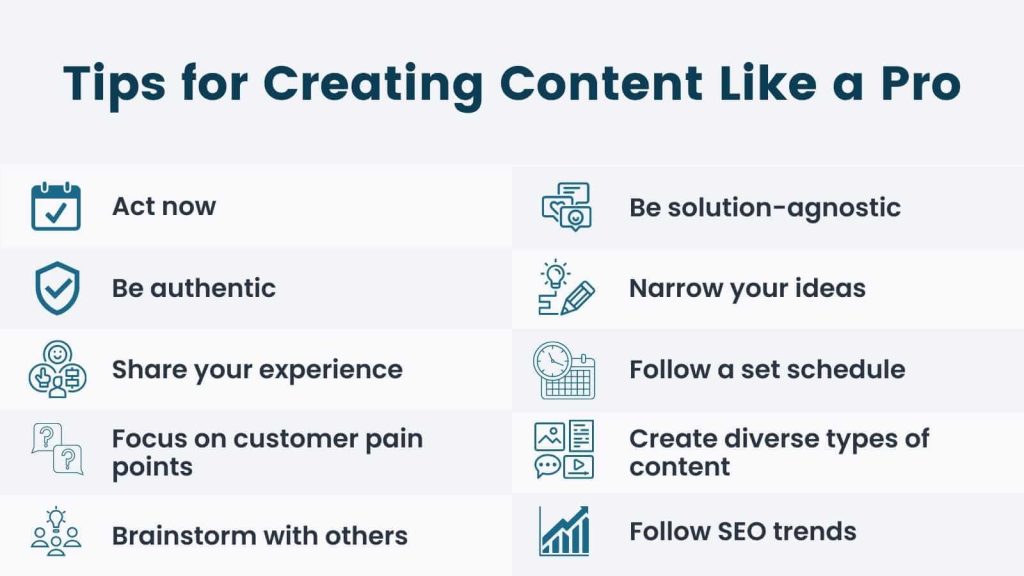 Content Marketing Strategies for Membership Subscription Sites
When planning your membership content, consider the unique ways you can market your site and build a member base. Consider the following strategies:
Make explainer videos. People enjoy learning from video, so creating explainer videos about what you do is a great way to answer customer questions. Plus, YouTube can seriously boost your SEO.
Create an affiliate program. Your existing members can be great sources of advertising with affiliate marketing. They share what they love about your membership program, and they get a commission in return.
Repurpose free content. Even though your membership will have some content behind a paywall, make sure some of your content is free. This brings in search traffic and introduces new audiences to your content.
Host online events. Build trust and credibility with your audience by hosting events like webinars, live Q&A sessions, interviews, and live chats.
Use social media retargeting. Social media ads can be set to retarget people—or bring visitors back to your signup page if they have visited it once before.
Integrate your tools. Take the hassle out of marketing by integrating your membership plugin with Add Ons that streamline the use of social media and email marketing tools. This saves time and energy that would otherwise be spent duplicating your work in different places.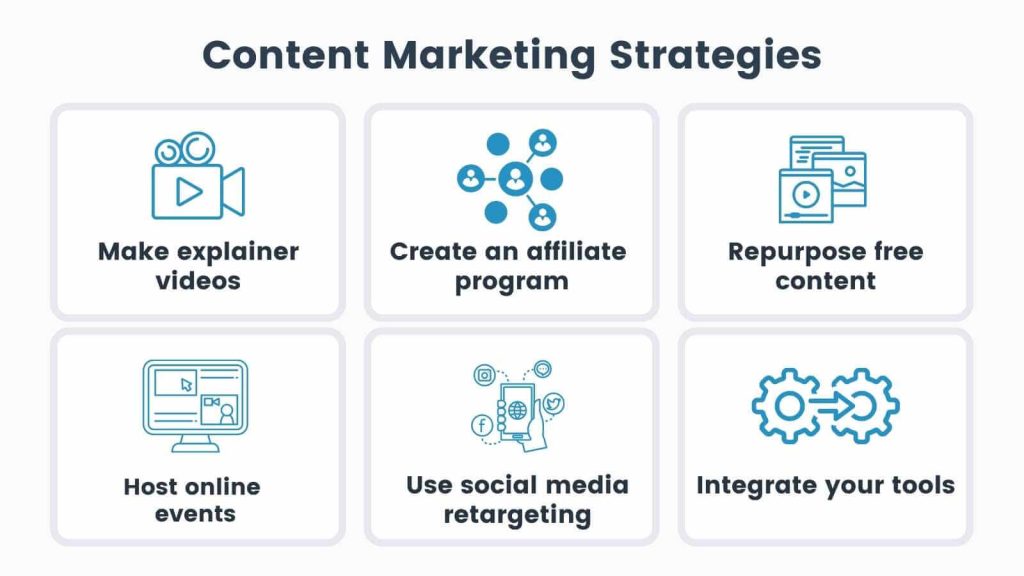 How to Create a Content Marketing Plan
In the end, any content creation strategy should follow a plan for maximum effectiveness. Creating a content marketing plan is as easy as following these steps:
Establish your objectives. Establish objectives and know what metrics to track in order to determine if you're reaching them. This approach will help you figure out if your plan is successful or if you need to make some changes.
Research your audience. Knowing what type of content your audience prefers and what platforms they use allows you to create a stronger plan to attract them.
Select your topics. You can't create content about everything, but you can create great content about a few things. Pick which topics you'll focus on for your content plan—and stick to them.
Generate valuable content. When you entertain your audience and answer their questions, you provide them with the content they value.
Release and promote your content. When you publish your content, share it on your social media profiles, in your newsletter, or through other promotional channels.
Review your content's performance. Monitor how your content is doing so that you know if you need to make any changes. If a piece of content does particularly well, it's a good sign that you need to make more content around that particular topic.
Identify changes to make. Pay attention to what your audience loves and what they don't seem to care about. Examine the days and times your audience seems to consume your content as well. This will help you figure out what you should change, if anything.
Adjust your content plan. Publish content when your audience is most engaged, and focus on the topics they love and respond to best.
Want to Learn More About Content Marketing for Your Membership Site?
Here's a list of our posts that talk about content marketing and related topics:
If you'd like to see how other membership sites are marketing their offerings, be sure to check out the PMPro customer showcase.
Ready to deploy these strategies on your own membership site? Download Paid Memberships Pro today and enhance your membership business with content marketing features that include custom post types, drip feeding, and more.
Was this article helpful?