Time is one of the biggest limitations a content creator faces when it comes to consistently releasing quality content. This short guide will help you take a step back and analyze your goals for content. How can you release content on the tight schedule your members demand without sacrificing standards for quality?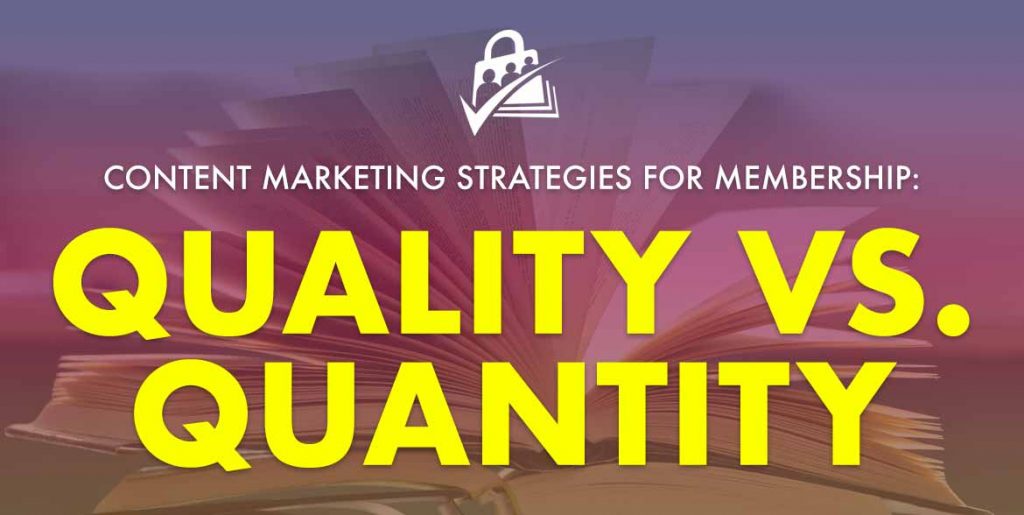 How to think about content quality vs. content quantity.
Not every piece you publish is going to be a revolutionary, but the beauty of delivering content in a digital format is that you can always go back and revise, revamp, and "reblog" anything you've written.
The points below will help you start to think about content creation like a pro. There is no reason to be stressed about content creation, no matter what stage your business is in. If you learn nothing else from this article, the biggest takeaway related to content creation is this: it gets easier and easier every time.
1. Get your Content Published.
In the early days, you should focus less on quality and more on publishing. Work on your writing skills as you go. You can easily wait around for perfection, but that builds a mountain out of the task and you are less likely to end up completing it.
---
2. Focus on Consistency.
Give your audience something to look forward to. Find a system that works for you and address what limitations you have. Perhaps you only have time to create content in the evenings or weekends. Go with what works best for you and try to be consistent with what your members can expect. There is nothing worse than having a customer question what they are actually paying for.
---
3. Act Now
Do not wait to have the perfect content. If you do not have the finished content or product yet and it is holding you back, why not share the process of developing a product or system? In the early days, we spent way more time on posts maybe because we had not formed our voice. It took time, but we now have a larger pool of community members contributing ideas, issues, and thoughts. It is surprising how much easier the content flows.
---
4. Create All Types of Content
Your content can and should be, of all types. If you do not have an audience yet, explore creating blog posts, starting a podcast, or publishing video content on different aspects of your business. This will help you see where the people interact the most, and help you see what type of content is the most enjoyable to create.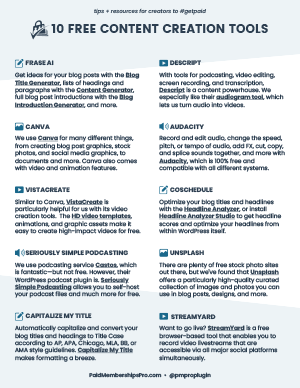 DOWNLOAD NOW
Looking to start creating graphics, videos, and voice content for your membership site? This cheatsheet shares the top 10 free tools we use to create rich media at PMPro. Use these tools to create rich media content like PDFs, commercials, audiograms, blogs, social graphics, and more.
---
5. Draw from Experience
Topics you are experienced in will be quicker and easier to create and distribute. Once you find out what drives more people to your site, you can create more content on that line. You really have no idea in the early stages what content your audience is going to connect with.
---
6. Be Authentic
Do not write about something you do not believe in yourself. Do not give advice you have not tested. If you do not know something, why not ask your members for feedback? For example, how can your business make their lives better OR what about your product do they really enjoy or avoid?
---
7. Brainstorm
The ability to generate quality ideas for content comes from experience. We found that brainstorming with other like-minded people or employees usually drives the content in the right direction.
---
8. Narrow it Down
Trying to squeeze many ideas into one topic can lead to a littered, hard to follow post. A good way to write quality without suffering quantity is to focus on one exact solution or story. You can write multiple articles that are in the same "topic area" and connect them for "continue reading". This approach has a two-fold benefit: it avoids the confusion of disconnected content in a single article AND helps you create more distinct posts on your site.
---
9. Be Solution-Neutral or Solution Agnostic.
One way to make sure your content adds value is to create solution-neutral content. This means that you are not hard-selling your product or membership, but rather addressing a broad need shared by many. It may seem counterintuitive to promote a message regardless of who gets paid for providing the solution. Trust me, we do this here at Paid Memberships Pro and some of our most popular blog content has a more general-purpose vibe.
---
10. Stay on Top of Search Trends
Keep an eye on search trends, specifically a rising usage of voice-to-text search. With the introduction of more and more assisted search devices, such as Google Home, Alexa, and even our own mobile phones, people are searching for content in a more conversational way. Your content marketing strategy is not an asset to you if you are not getting found by your prospects.
---
Want to read more about content marketing?
We have a series of articles on the topic of content marketing—and we followed our own advice in point 8 to"narrow it down" into a few distinct posts. Here is some continued reading for you to explore related to content marketing: