There are many ways to grow a membership site—one popular option many sites leverage is an affiliate program. Affiliate marketing programs reward referrers for any new member signups. Some programs even give a commission on recurring subscription payments received from long-term members.
How do you set up an affiliate program with Paid Memberships Pro? This article highlights the platforms that support affiliate programs for membership sites, including popular WordPress plugins like AffiliateWP or SliceWP.
Affiliate Platforms in this guide include the Lightweight Affiliate Tracking Add On, AffiliateWP, SliceWP, Affiliates Manager, WP Affiliate Platform, Post Affiliate Pro, and iDevAffiliate.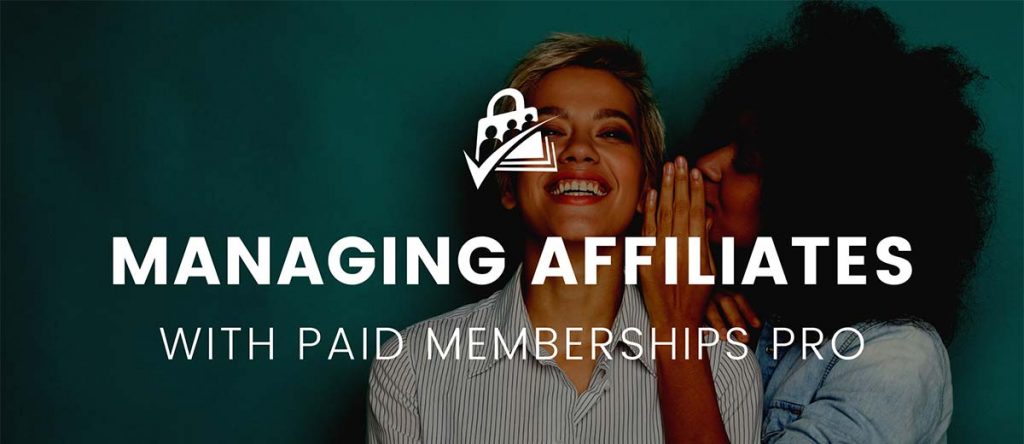 If your affiliate needs are basic, check out the Lightweight Affiliate Tracking Add On included in our premium memberships.
You can add Affiliates manually or automatically generate them as part of their membership level. While you must run your own reports and handle payments through another system, this plugin does handle the basics of tracking and awarding referral signups. Affiliates receive a unique link they can use to send users to your website. To round out your affiliate program, this plugin gives the affiliate access to view reports on their unique link.
View the Lightweight Affiliate Tracking Add On »
Other Affiliate Plugins for WordPress
If the native PMPro affiliate solution is not the right fit for your organization, check out this list of alternative affiliate platforms. These platforms offer integration with Paid Memberships Pro either natively or via a bridge plugin.
AffiliateWP is a fully featured affiliate platform that both tracks sales and offers ways to automatically send payments.
This premium plugin has built-in integration with Paid Memberships Pro. We recommend this plugin for most people who want to run affiliate programs with WordPress and Paid Memberships Pro.
Referrals will only be credited on the membership initial payment, and will not be created when subscription payments are recorded. Download the Recurring Referrals add-on to track referrals on recurring subscription payments.
SliceWP allows you to start an affiliate program for your WordPress store or membership site. You can easily manage everything directly in the WordPress admin.
SliceWP integrates with Paid Memberships Pro in a few ways:
Set a general commission rate for subscriptions;
Disable commission for a specific membership level;
Link Discount Codes in PMPro to your Affiliates.
SliceWP has a guide on recurring commissions with SliceWP and Paid Memberships Pro. Learn the benefits and drawbacks of paying commission on recurring payments and how to set up recurring commissions with SliceWP for a Paid Memberships Pro-powered site.
Post Affiliate Pro is software for tracking affiliate programs & networks. They offer a variety of features including many tracking methods, promotion materials, commission types, and reports.
Using this platform with Paid Memberships Pro requires the Post Affiliate Pro Integration Add On
Affiliates Manager helps you manage an affiliate marketing program. The plugin facilitates the affiliates recruitment, registration, login, management process. It tracks referrals and give commissions appropriately.
Affiliates Manager offers a PMPro integration plugin that you can download through WordPress.org. When members pay for membership on your site, this integration plugin checks to see if the member was referred to your site by an affiliate.
Using this platform with Paid Memberships Pro requires the Affiliates Manager Paid Memberships Pro Integration.
WP Affiliate Platform is a WordPress plugin for affiliate recruitment, management and tracking. This plugin lets you run your own affiliate campaign/program and allows you to reward (pay commission) your affiliates for referring sales.
Using this platform with Paid Memberships Pro requires the WP Affiliate Platform Integration Add On.
iDevAffiliate includes tracking for recurring commissions during the billing cycle and automatic completion of the commissioning process when the subscription is cancelled. The third-party platform offers native support for Paid Memberships Pro.
To recap…
There are a variety of options for managing affiliates with Paid Memberships Pro – it all just depends on your needs.
Whether you're looking for the most basic affiliate features or you want to create a fully-fledged affiliate program, the solutions listed in this post all integrate nicely with PMPro, allowing you to manage affiliates and run a robust membership website at the same time.
Already a PMPro user? Get the Lightweight Affiliate Tracking Add On plus dozens of other premium Add Ons by upgrading to a premium membership today.
Was this article helpful?