How it Works
This plugin adds a new section on the Membership Checkout form titled "European Union Residents VAT". The customer can select their EU country of residence from a drop-down box or enter their VAT number to avoid the tax. The entered VAT number is validated using the SOAP service provided through the European Commission [docs].
VAT rates are automatically calculated based on the constant rates defined in the plugin. The rates in our plugin are those currently listed by the European Commission [docs].
Installation
Make sure you have the Paid Memberships Pro plugin installed and activated.
Upload the 'pmpro-vat-tax' directory to the '/wp-content/plugins/' directory of your site.
Activate the plugin through the 'Plugins' menu in WordPress.
Add your "Seller Country" to the Payment Gateway page in the Memberships > Settings > Payment Gateway & SSL.
Automatically Detect the User's Location
We've recently added GeoIP support to this add on to automatically detect the user's country. You must install and activate the GeoIP Detect plugin in order to take advantage of this integration.
Screenshots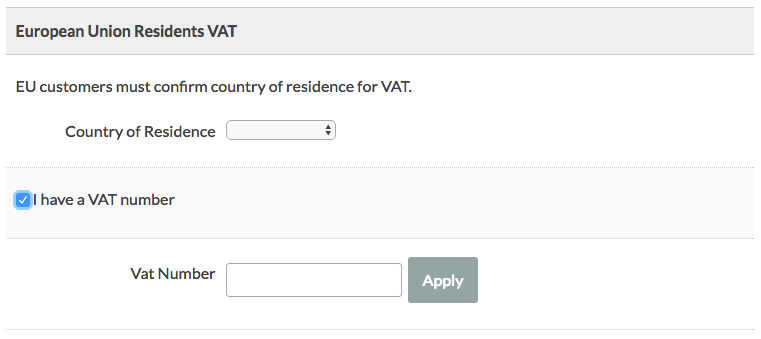 ---