What happens to digital assets when someone passes away? Often, not very much. Billions of dollars worth of unclaimed assets sit in bank accounts, insurance providers, and cryptocurrency wallets globally.
It's a growing issue. And the reason it occurs is often as simple as account owners not giving sufficient information to beneficiaries before their passing. If people don't know assets exist, claiming them is impossible.
DGLegacy aims to solve this problem. Here's how the digital inheritance startup used Paid Memberships Pro and our library of Add Ons to build a secure web platform.
DGLegacy is an Innovative Solution to a Modern Problem
The idea behind DGLegacy is simple. For a small monthly fee, users store information about their digital assets and assign a beneficiary to each one.
Once a user has uploaded their accounts, the company's Heartbeat protocol detects and verifies if something unforeseen happens to them. DGLegacy then alerts the people assigned to each asset in the vault.
The company's platform was almost ready to go live in 2020. But before it launched, the owner Peter Minev knew he needed a way to provide users with membership access. Instead of spending big on a costly custom-built solution, he searched for existing products that would complement his technology.
He was looking for a membership provider that was:
Secure: The sensitive nature of the content DGLegacy stores meant the provider needed to be secure.
Flexible: DGLegacy was a new company with changing needs. It needed a solution flexible enough to adapt as it grew.
Global: DGLegacy is a German company with global customers. It needed a way to process payments from platforms around the world.
Usable: DGLegacy has a wide customer base. It needed an intuitive membership platform all its customers could use.
After researching several platforms, Peter chose Paid Memberships Pro.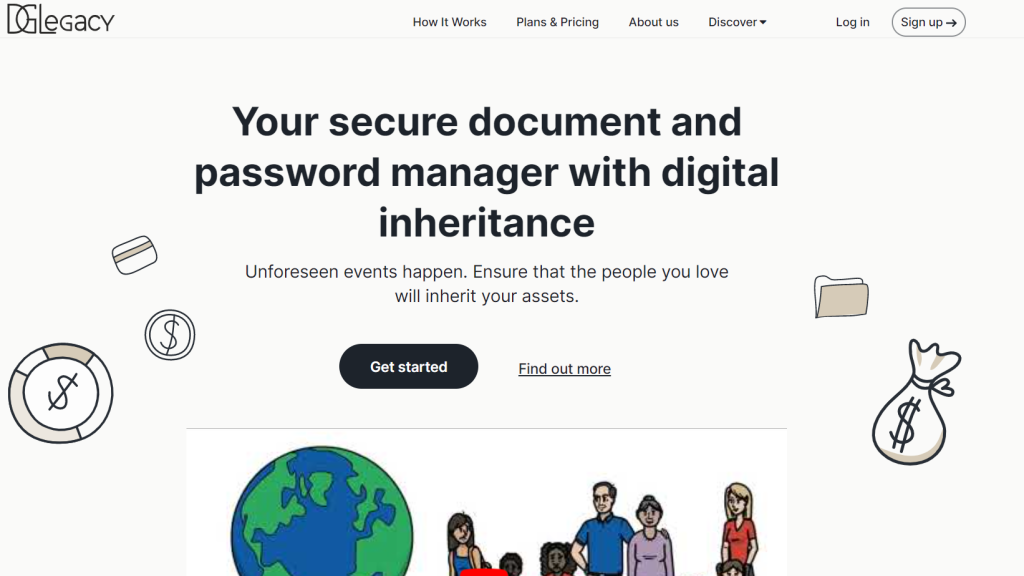 Add Ons Enabled DGLegacy to Create a Custom Platform
DGLegacy uses PMPro to offer three membership tiers, including a limited free plan to drive adoption. Users sign up on the DGLegacy homepage, where they can access the platform.
The company uses a custom built WordPress theme. Its developers were able to integrate PMPro within this build. Once up and running, the team could access all they needed through the WordPress Dashboard.
What really attracted Peter and his team to PMPro was the huge library of Add Ons. The extra functionality these tools bring enabled the company to solve challenges as they occurred.
"We were totally impressed by the additional Add Ons provided. Over and over again we've found that PMPro has the right Add On that completely solves our issue."

Peter Minev—DGLegacy founder
Peter highlighted several Add Ons that he found to be especially useful. These were:
Social Login: This Add On allows DGLegacy members to create accounts using their social media login details. This simplifies the account creation and login process, ensuring there are no barriers to use.
Subscription Delays: Software platforms often use free trials to drive adoption. Our Subscription Delays Add On lets DGLegacy create free trials by delaying payment for a predefined period after a user creates an account.
Lightweight Affiliate Tracking: Affiliate marketing is a powerful way to bring in new customers. DGLegacy uses our Lightweight Affiliate Tracking Add On to create programs that generate new users.
VAT: Removing VAT lets DGLegacy offer a lower price to members in some countries. Our VAT Add On automatically detects a user's location to help them avoid paying tax on their purchase.
Email Templates: We provide multiple email templates users can automate for different points in the customer journey. With our Email Templates Admin Editor Add On, DGLegacy can use and edit our library of templates to suit their needs.
The Team Was Impressed With PMPro's Security 🔒
The Add Ons attracted DGLegacy to PMPro. But as you'd expect from a company that deals with financial assets, it also had demanding security needs. Peter needed to be sure that the platform he chose had similar standards.
We're happy to say that our product surpassed his needs. Peter knew that we have a team of developers continually working on our product. This keeps it up to date and safe from threats.
Peter has used PMPro for around a year now. He said he has been impressed with our "serious focus on maintaining very high security."
Growing into a Leading Digital Inheritance Platform
DGLegacy has been live for around a year now. In that time, it has become a leading digital inheritance service.
PMPro has been there to support this growth and will continue to do so into the future. We offer unlimited users at no extra cost, and our extensive library of Add Ons ensures the team can add new features when needed.
DGLegacy is just one of the 100,000 plus businesses that are using PMPro to create membership platforms. Our customers include companies making everything from software platforms to news sites, online courses, social communities, and more.
To find out more about creating a membership website with Paid Memberships Pro, contact our team today.
Was this article helpful?