If you are charging for membership, you will need a Payment Gateway. If you don't have a payment gateway, click here for information on gateway options with Paid Memberships Pro.
---
Click the Payment Gateway & SSL Tab. (From the dashboard, go to Memberships and select Payment Settings)
Payment Gateway: Click the drop-down and select one of the payment options available. In the tutorial, we've chosen Stripe, which is free and quick to setup. Make sure to set up your account before you do this step.
Gateway Environment: Choose the test or live gateway. For the tutorial, we've selected Sandbox/Testing, but typically you want to set this to "Live".
Complete the fields for your chosen Gateway: For Stripe, enter your Stripe secret key and publishable key. Other payment methods will have different processes.
Sales Tax: For this example, we are not charging Sales Tax. Always check with your accountant or your state tax office to see if tax is required and the tax rate for your memberships. More Information: Non-US Taxes | VAT Tax.
SSL: An SSL certificate can be purchased and setup by your website hosting provider. If you are unsure, GoDaddy is a good SSL provider where you can get a cheap SSL to use no matter where your site is used. Learn more about setting up your SSL here.
SSL Seal Code: Display an image and link so users can validate your site's SSL Certificate validity on membership checkout. (Note: if your provider's seal graphic displays via a script tag, you must use custom code to display the seal.) This is different from the "SSL Certificate", which is the private key certificate that must be installed by your web host.
HTTPS Nuclear Option: If you have SSL Errors on your check out page, checking the HTTPS Nuclear Option will often fix them.
Note: You may see additional fields below, such as a webhook or a service url you might need to reference for your gateway.
Save Settings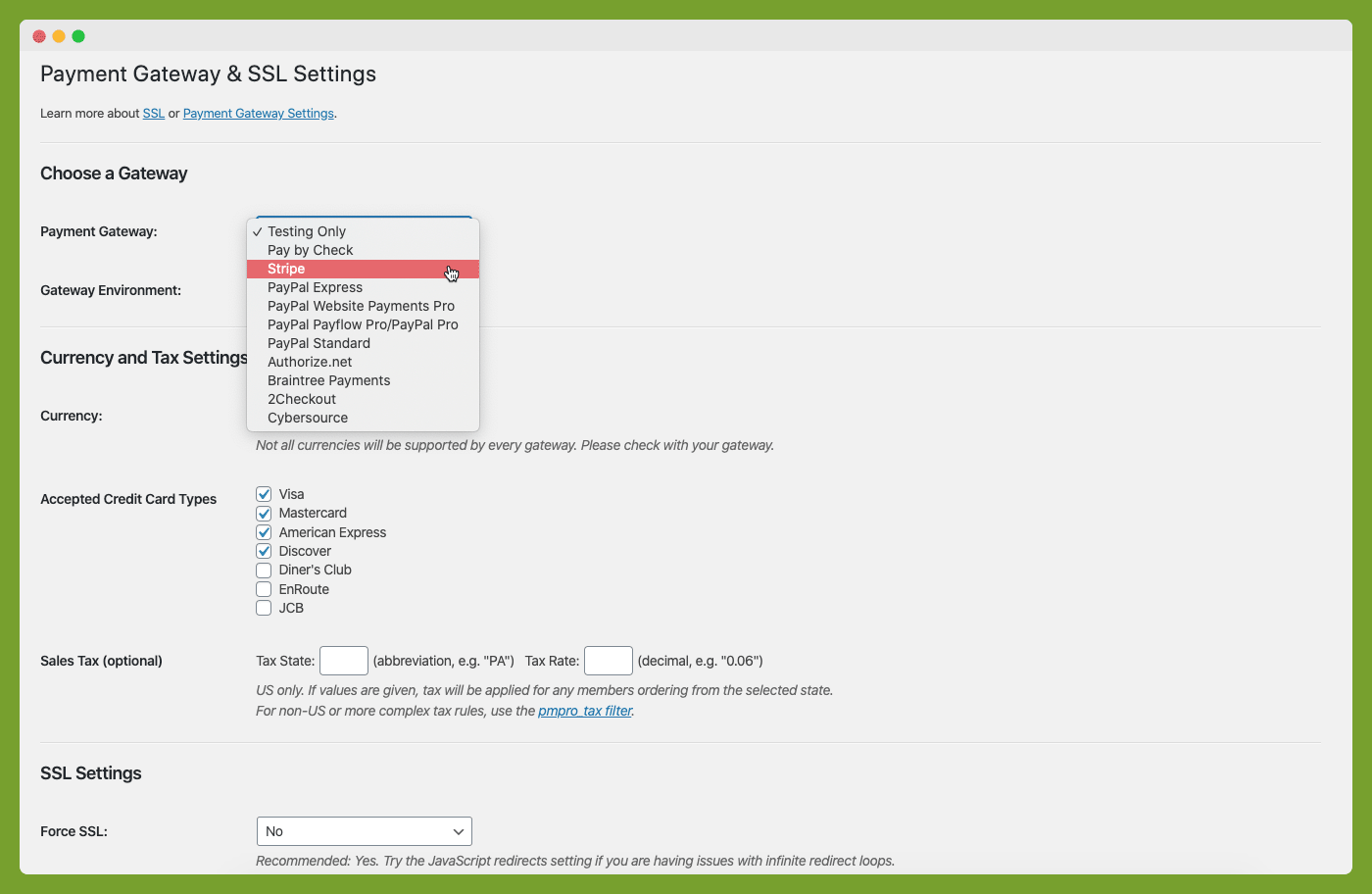 ---
Pay by Check
If you only offer check or offline payment, set your "Payment Gateway" to "Pay by Check".
Then, define the Pay by Check instructions for members during and after checkout (such as who to make checks payable to, where to mail payment, or how offline payment will be collected). This information is shown on the checkout, confirmation, and invoice pages, as well as included in the membership confirmation email.
---
Pay by Check "Option"
You can also offer "Pay by Check" as an option at checkout. See the add on documentation for more information on how to configure: