From time to time, a membership site may need to restrict a user's actions. In this guide, I break down three common requests to restrict members from interacting with your membership site.
If you come across any "problem" members in your business, these methods allow you to limit or completely disable their access on your site. We'll also cover how to lock a member's level indefinitely or for a specific required term.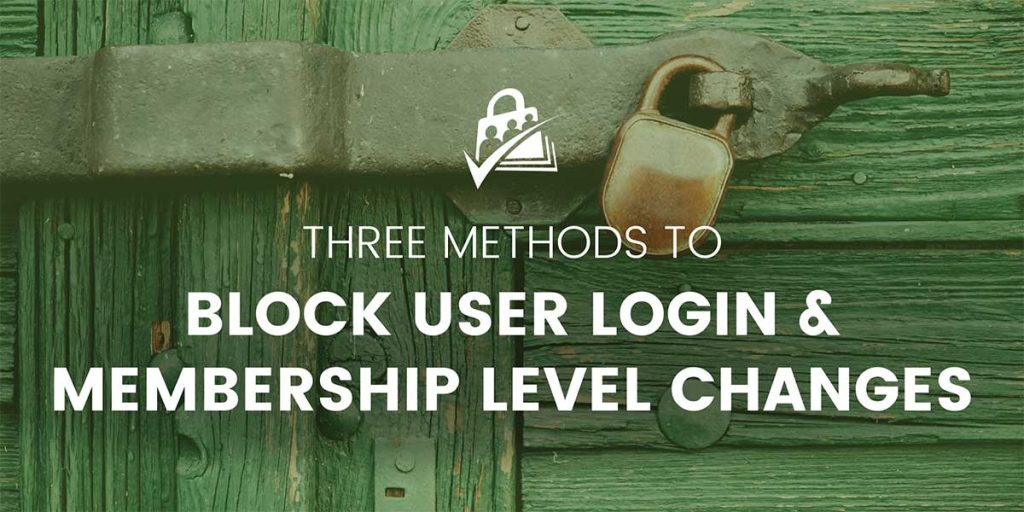 How to Disable and Block a User From Logging In
There may be a time you need to completely block a user from logging into your site. Whether from a failed or overdue payment, violation of community guidelines, or even as a way to temporarily pause a member's access, here are the top two free WordPress plugins that disable user login.
Note that these plugins only restrict login for the existing user account and will not prevent a problem customer from creating a new account with a different email address.
Disable User Login by Saint Systems
Disable User Login allows you to mark a user's account as "disabled"—which blocks the user from successfully logging in to your WordPress site. You can also bulk enable or disable users.
To disable a user, navigate to their profile under Users > Edit Profile.
Locate the "Disable User Account" checkbox.
Check the box to block the user from logging in.
Click "Update User" to save changes.
To bulk Disable/Enable User Accounts:
Select one or more user accounts.
Choose Enable or Disable from the bulk actions menu.
View Disable Users on WordPress.org »
DW Block User Account by Dangoweb
DW Block User Account also blocks users from logging in. When a user is blocked using this plugin, the user will be automatically logged out.
To block a user, navigate to "Users" in the WP Admin.
Edit the user you would like to block. Toggle the "User Account Status" to "Disabled".
In the WP admin > Users, the admin will see who is Enabled or Disabled. When the member attempts to login, they will see the default notice.
View DW Block User Account on WordPress.org »
One-Time Use Memberships/Trials
We cover how to limit a membership level to "one-time use" only in a previous post. Note that this won't prevent the same customer from creating a "new account" with a different email address.
When a member attempts to check out for the same "one-time" use level, they will see your custom message or the default message.
Read the tutorial on how to offer trial memberships that can only be used once »

Lock Membership Level Add On
There are a few cases where you may want to restrict a member from changing their level. One method we help members with via the forums is to not allow a "paying" member to check out for a free level.
Our Lock Membership Level Add On has the capability to lock a user's membership level or lock all members of a level for a specified term. This is especially important for membership sites that use installment pricing.
Members who have a locked level are redirected to a new page that displays a custom notice or the default message "An administrator has locked changes to your membership account".
View Lock Membership Level Add On Documentation »


Restrictions Protect the Quality of Your Membership Site
These restriction ideas only scratch the surface of the variety of ways a membership site owner may want to restrict certain login or level change actions on their membership site. Know that you as the site admin are responsible for maintaining a healthy and equitable membership community. These methods will help you in cases where you need to make a hard decision about a user based on their behavior, payment history, financial needs, and more.
If you came across this guide while looking for a tutorial on pausing membership, we have that too. Here are two guides on how to pause a user's membership payments or access to content.
If you have another requirement for restricting member login or level changes, our support team is available to help. Please open a ticket in our premium support area for the fastest, most experienced help.
Was this article helpful?