---
Disabling User Login
These methods are based on the locking the user's existing membership as tied to their account email address. It won't prevent a problem customer from creating a new account with a different email address.
This plugin allows you to mark a user's account as "disabled". To disable a user, navigate to their profile under Users > Edit Profile. There you will see a setting labeled "Disable User Account".
When the member attempts to login, they will see a notice that reads "Account Disabled". Simple!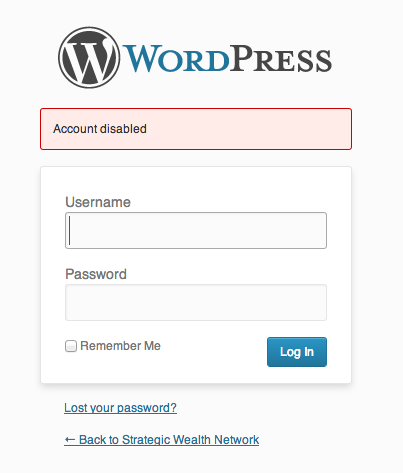 ---
Similar to Disable Users, this plugin allows you to block users with a variety of settings, including time frame. You can view a list of all blocked users, as well as write custom messages to your blocked users. If you need more advanced (complicated) options, this plugin may be the correct fit. I found the interface a bit difficult to navigate and prefer how Disable Users allows the setting directly in the "Edit Profile" page.
To block a user, navigate to the User Block admin area. Select the type of block you would like (by time, date or permanent), then locate the user account(s) you wish to block.
When the member attempts to login, they will see the default notice or your custom message as entered in the dashboard.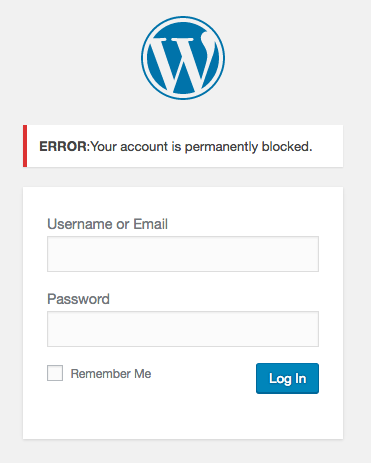 ---
One-Time Use Memberships/Trials
We covered how to limit a membership level to "one-time use" only in a previous post. Note that this won't prevent the same customer from creating a "new account" with a different email address.
When a member attempts to check out for the same "one-time" use level, they will see your custom message or the default message:

View the Tutorial
---
Lock Membership Level Add On
There are a few cases where you may want to restrict a member from changing their level. One method we help members with via the forums is to not allow a "paying" member to check out for a free level.
Our Lock Membership Level Add On has the capability to lock a user's membership level or lock all members of a level for a specified term (for required installments).
Members who have a locked level will be redirected to a new page that displays a custom notice or the default message "An administrator has locked changes to your membership account".
View the Lock Membership Level Add On