My team and I were fortunate enough to attend one of the largest and most anticipated WordPress events this year: WordCamp Europe 2019.
In this article, I will highlight some of our experiences at WCEU and what it meant to me and the Paid Memberships Pro team.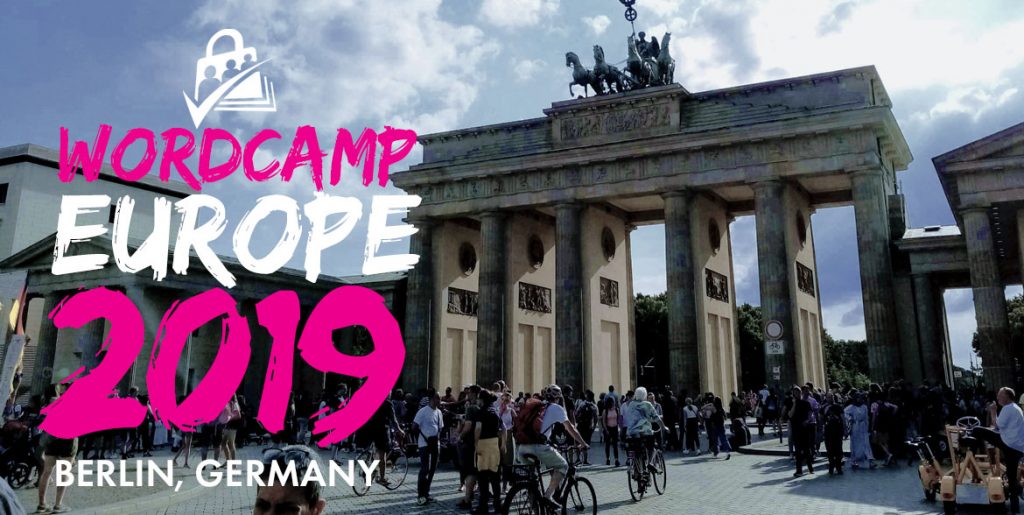 What is WordCamp?
Simply put, a WordCamp is an organized event or conference where WordPress enthusiasts, users, and developers come together. It is a great place to meet new people or catch up with friends. There is usually a set schedule spanning one or more days. Schedules differ from camp to camp, but commonly include talks, workshops, and presentations covering a broad range of topics. Sometimes there are even bonus tracks including wellness sessions, WP Cafes, a Happiness Bar for one-on-one technical support and core contribution sessions.
No matter the level of your technical ability there will be something for you to do and enjoy. Attending WordCamp has played an integral role in our team's personal development, the growth of this plugin, and our role in the WordPress community. I encourage you to find a local event near you by visiting WordCamp Central.
---
PMPro Team Talks at WordCamps
Several of our team members have given WordCamp talks. Jason Coleman recently gave a talk at WordCamp Lancaster. Read the overview of his talk here: A Wild JavaScript Appears: Understanding The Many Ways JS is Used with WordPress.
---
Meet Our Adventurous Team Members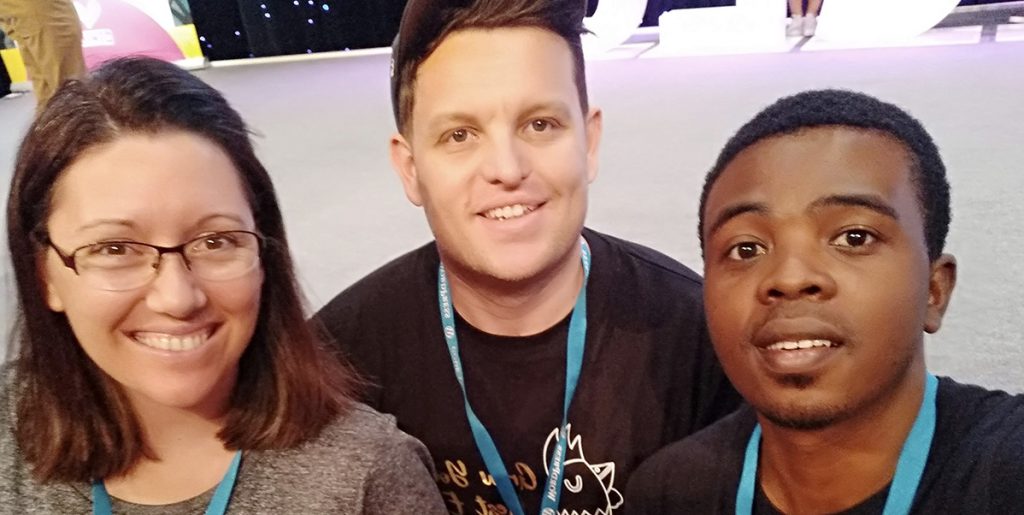 Three of our team members made the long journey to WCEU. After 15 hours of traveling from South Africa, the team arrived safe and sound to the Estrel Hotel in Berlin, Germany. We had some time before the conference to get in a bit of sightseeing and rest up before the official start of WordCamp Europe 2019.
---
Remarks from Samuel Femi: Technical Support
Overall, this trip was a whole new experience for me. It was my first time visiting Europe as well as attending WordCamp Europe. Hanging out with my team members, Travis and Ansie, was by far the best part of the trip. We got to talk a lot together face to face, which was a nice change from the usual digital communication that we are all used to.
I think that meeting with remote team members once in a while is a great way to connect and get to know each other a little better.
Walking the streets of Berlin, visiting iconic places, and chatting about our countries and cultures was really fun.
As it was my first time at a global conference of about 3000 attendees, I was excited to meet many different individuals. I met with WordPress enthusiasts from all parts of the globe – India, China, Greece, Germany, Uganda, Israel, and a few other countries. I got a chance to learn about their country and the WordPress community from where they are from.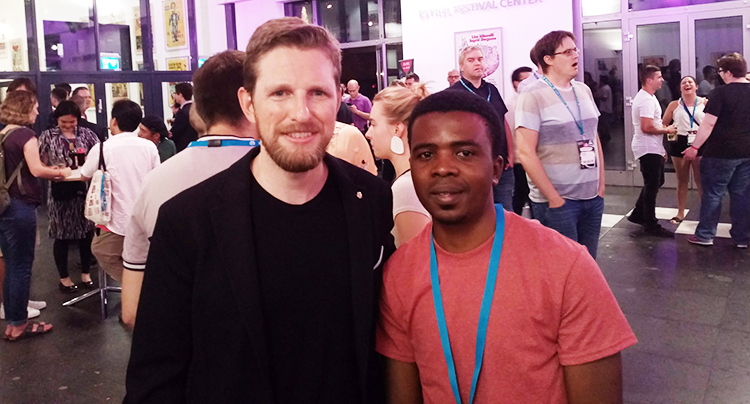 The workshops and talks at the conference were fantastic, especially "Working A World Apart: Navigating Remote Working Professional Relationships" by Dee Teal and "Pause, Think, Create" by Dennis Hodges. I was lucky enough to get to meet Matt Mullenweg for the first time. We had a quick chat and managed to grab a photo together – definitely a memorable experience. I am really looking forward to attending WCEU 2020 in Porto, Portugal next year.
---
Remarks from Ansie Lima: Customer Support, Marketing Associate
Going to Berlin and attending WordCamp Europe was so exciting. After 12 hours of traveling, we were welcomed by a beautiful city with so much character. Almost all of the buildings in the area of Berlin that we stayed in were decorated wall to wall with graffiti. Just like the beautifully decorated buildings, the people are diverse and colorful. Walking the streets with drinks in hand and tattoos defining each one individually. Berlin is an amazing city filled with character, history and friendly people.
Berlin or Bust
Staying at the Estrel Hotel didn't make me miss home very much. I had to really pace myself with the vast amount of tasty food during our buffet breakfasts. Every time I saw another person with the same WordCamp lanyard I would smile broadly to the lanyard-wearer because I knew that we were connected.
We had something in common, we both loved WordPress.
Being fairly new to the WordPress Community, I was skeptical to join in on Contributor Day. I had no idea what "little-old-me" could do to contribute to the mighty WordPress.  To my surprise, I was easily able to contribute by translating some plugins to English (South African) and my home language, Afrikaans. Everyone who contributed is truly an inspiration to me.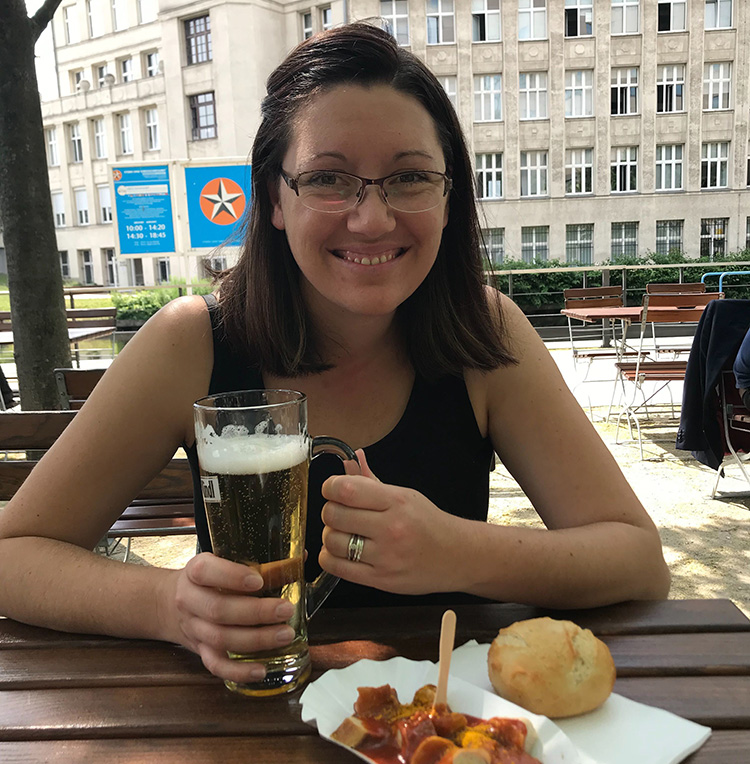 There was such great content on offer on the second day of WCEU. The speakers were so professional and the talks really exceeded my expectations. There were so many healthy food options to choose from during the lunch breaks which I was very happy about. The talks I attended like "The Art of Networking" by Francesca Marano and "Understanding What Makes a Website Landing Page Convert" by Rob Hope were fabulously presented. I really got a lot out of these talks. They made me excited to be a part of such a wonderful community.
---
Wellness at WCEU
WCEU introduced Wellness Sessions, including yoga, meditation, and mindfulness practices. Travis and I decided to put our flexibility to the test by trying a yoga class. This was a HUGE plus for me and I felt great afterward. Because of the long European summer days, we had many opportunities to see the breathtaking sights Berlin had to offer. We managed to find the 'best' authentic German schnitzel in town, explore the East Side Gallery – Berlin Wall, and gazed upon the magnificent Brandenburg Bridge. Not to mention Museum Island and the Jewish Memorial museum. All the stories and history that Berlin had to offer left me with a sense of awe.
Day 2 of WordCamp Europe
The second day of the conference was just as enjoyable as the first. There were such great talks like, "How to Get Things Done" by Judith Schröer, Why Marcel Bootsman walked more than 700km from the Netherlands to Berlin, and "Copywriting Tricks" by Fernando Tellado. Dee Teal from HumanMade entertained us with "Working a World Apart For Remote Workers", and Marieke van de Rakt educated us with "How To Engage Your Online Audience". What a treat it was to see all the volunteers together during the closing remarks of the conference and to experience the excitement for next WCEU 2020 which will be held in  Porto, Portugal next year, join us there!
We met amazing and inspirational people from all over the world that easily shared their experiences and made us feel welcome to visit them anytime in their home countries. What a wonderful trip that will stay with me for a long time.
BIG thank you to our Paid Memberships Pro team that made it possible for us to go. Not to mention, Travis & Samual Femi for keeping me company through this trip!
---
Remarks from Travis Lima, Marketing Lead
I have attended several WordCamps in the past but this was my first time attending WordCamp Europe. I had heard a lot of good things about the previous WCEU's and was delighted to able to attend the conference. It was a bonus to learn that the WordCamp would be hosted in Berlin, Germany.
I am an enormous fan of WordCamps. In fact, I owe my career and current position to these conferences.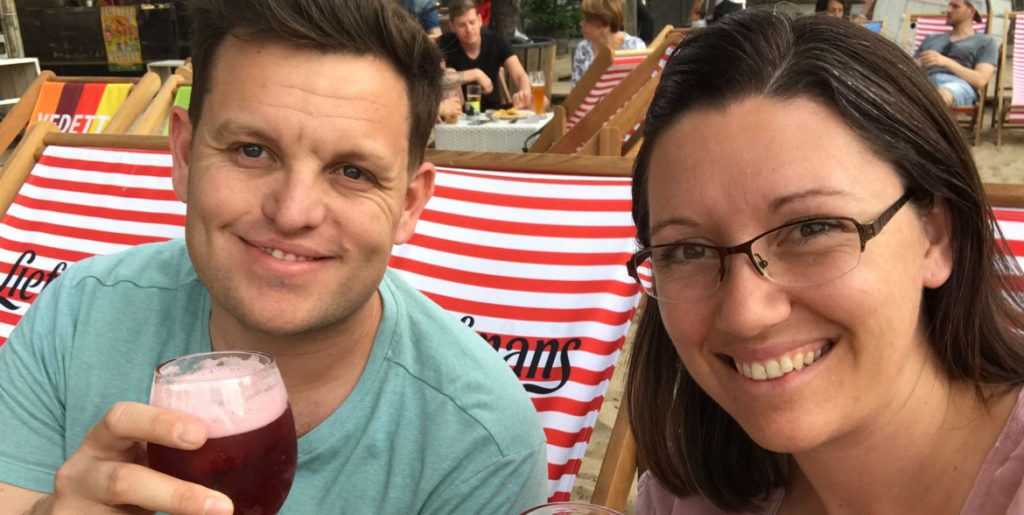 WordCamp Europe Here We Come
Because my best friend, my wife, works alongside me with Paid Memberships Pro, this event was an opportunity for us to tour the bustling streets of Berlin together – which was a no brainer! Aside from the breathtaking scenery, sense of history, flavourful food, and friendly locals, the conference in itself was the best I've attended. The talks and workshops were really on another level.
The organizational team did a great job making sure there was plenty of good content to absorb for any and all WordPress users, developers and business owners. There were many great extras, loads of flashy sponsors and new people to meet. WordCamp Europe did not disappoint, and I most certainly have my gaze set on Porto, Portugal for WordCamp 2020.
---
Top Tips for traveling to WordCamp Europe
Correct Documentation – Before traveling to your destination check whether a visa is required. This is especially true if you live outside Europe.


---

Google Maps – Download the area you will be visiting on your device. You will be able to navigate your way around town, even if you are offline.


---

Public Transport – Research the local transportation system. This is especially important if you are visiting a country that doesn't use your primary language.


---

Local Currency – Withdraw some of the local currency before your trip and look into the cost of food and tourist attractions beforehand.


---

Travel with Friends – It is always nice to share your new experiences with a buddy.


---

Take Snacks – Bring some snacks from home for those in-between meals. This can save you some money when feeling peckish.


---

Power Bank – Take a power bank that can keep your mobile devices charged during day trips.


---

Ask the Locals – They know all the best spots in town.


---

Go for a Walk – We stumbled across a lot of tourist milestones simply by heading to a popular area and exploring on foot.


---

Go on a Tour – Hop on a sightseeing tour bus. Self-guided tours can sometimes be stressful and tiresome.
---
Missed out on WordCamp Europe?
You can watch all of the tracks that were available during the conference. Head over to WordCamp Europe's YouTube channel or watch some of the tracks below:
WCEU 2019 – Day 1 – Track 1
---
WCEU 2019 – Day 2 – Track 1
---
Summary
I have always found WordCamps valuable to attend. To me, attending one of these conferences is one of the most important investments you can make. Whether you are just starting out on your WordPress journey or are a veteran developer, I would highly recommend attending next year's WordCamp Europe. The next one is a year away, which gives us all plenty of time to plan for the trip. If attending WCEU is completely out of the question, try to find a WordCamp near you – it's worth it! WordCamp Central maintains a list of all upcoming WordCamps by date and location.