The holidays are upon us and our lives are busier than ever. We scoured the internet and put together some of our favorite products & deals. We have a ton of technology suggestions, home office supplies, a few books, and some video games to relax.
These suggestions will support anyone who works from home or runs a business online.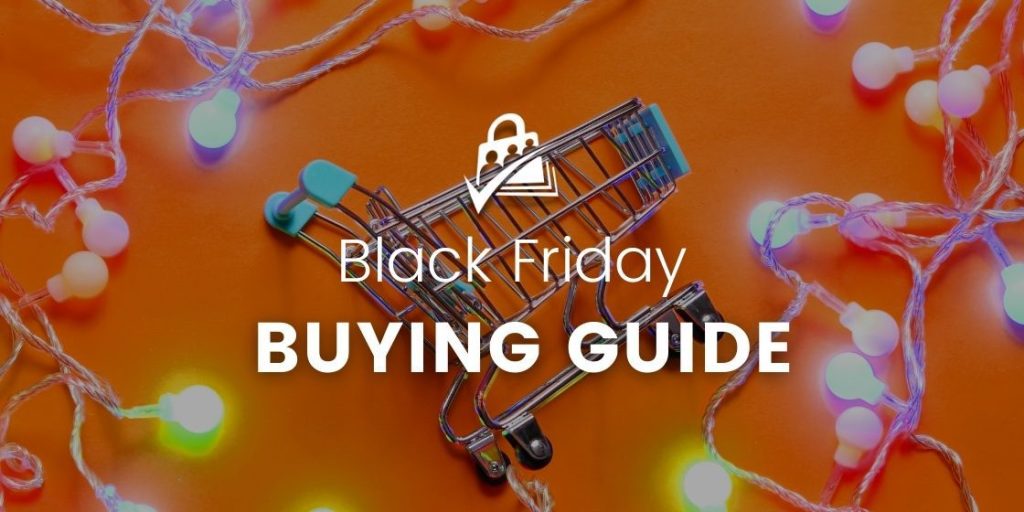 Technology
Software
If you're on our newsletter (and if not you should be 👇) you've already seen ConvertKit. It's a fantastic email marketing tool that has powerful and visual automation features.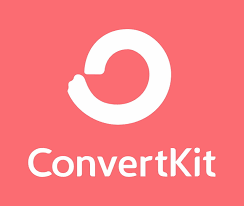 It's excellent for educating new users how to use your membership site and that entire sequence can be automated for easy member-onboarding.

ConvertKit is designed for people who already have some experience with email marketing. If you're brand new to email marketing we recommend Mailchimp. There are fewer settings which make it easier to get started.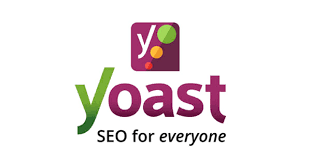 Most membership sites have public facing content. And what's great about public content is that it can surface organically in search engines like Google. And if you post enough content it can be a marketing strategy to grow your membership.
Yoast SEO helps you with this. There's a free version on WordPress.org that we recommend for just about any site. But there's also the premium version which has a few bonus features that are incredibly useful. I personally enjoy that Yoast SEO premium automatically creates 301 redirects when I delete a page and that's just one feature.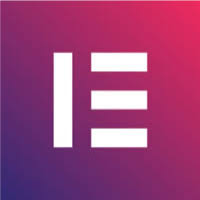 If you're using WordPress right now hopefully you've played with the new Gutenberg block editor. It's been out for a few years now and many plugins are creating blocks for Gutenberg which makes it easier & more powerful.
While we have these new blocks it's still not super easy to create a layout. That's what full page builders are for and Elementor is one of the best. If you want to create columns, tables, or landing pages page builders like Elementor are fantastic. You can save hours of manual coding and you don't have to write a line of code. It's all drag and drop.
PMPro even offers native support to protect content created via Elementor.
You can get started with their free version but we think after trying it you'll want to upgrade (especially with Black Friday pricing).
Liquid Web
A Mustang is cool right? What about a mustang that only goes 5 miles per hour (mph)? Less cool right?
Your website is the same thing. You can create the best content but if your website takes 10 seconds to load you can bet most people will abandon your site before it's done loading.
That's why we recommend good hosting. We're a big fan of Managed WordPress Hosting from Nexcess (a Liquid Web brand), who do an excellent job making sure your site is fast.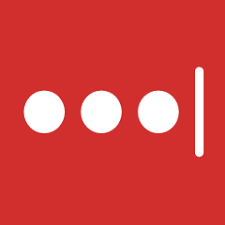 LastPass / OnePass 🔒
As a website owner you might be surprised how many accounts you need:
Payment gateway(s)
Newsletter services
Hosting
And a billion websites
And if you reuse your password one any site and that site gets hacked your other accounts are now vultnerable. It's no longer if a website gets hacked but when. That's why we strongly recommend password managers. There are two options:
They let you enter one password which unlocks your vault which can be used on all of your websites. They're much more secure than reusing passwords and will even alert you when one of your passwords is revealed on the dark web.
If-So Personalization
Once you start getting members on your site it can be helpful to write one piece of content and personalize it based on a number of factors including membership level, time of day, where people are coming from, and how many times they've seen your content.
They have a very generous free plan. The only minor drawback to it is that you're limited to 250 geo-location requests a month.
All of their plans are 35% off for Black Friday.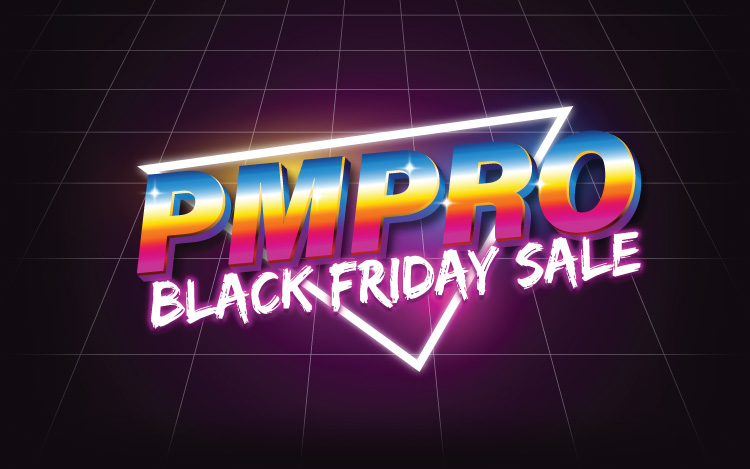 Paid Memberships Pro & Add Ons
We would be remiss to not mention our own Black Friday promotion. You can save $100 on a Plus membership over Black Friday.
And we have a few Add Ons created by our community we'd love to share with you:
Leave your email address to read a blog message
Misc Tech
Okay. We covered some software that's useful for membership site owners. Let's talk about tech that's not software. There's a lot of cool pieces of technology that make working from home or just your personal life easier.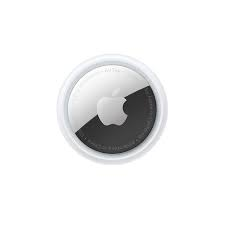 Apple AirTags are a small and simple way to track belongings that are important to you. You can easily hide an AirTag in your luggage when traveling ✈️, slide one onto your dog's collar or even use it to track your wallet if that tends to go missing.
My wife loses everything so I picked up a two-pack and one goes in her bag at all times.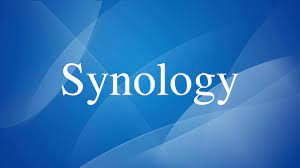 If you are looking for a way to keep your data backed up (and you always should!), consider Synology paired with hard drives. This is an excellent private cloud that you can use for personal or business.
Related: How to Set up a Data Backup Process for your WordPress Membership Site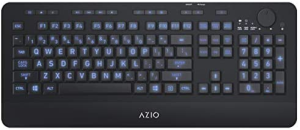 Azio KB510W Keyboard
If you are in the market for a new wireless keyboard, this may be the one for you. This keyboard has large print keys and a backlight for easy visibility.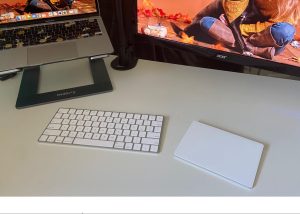 Or if you are an Apple person, the Magic Keyboard in combination with either the Magic Mouse or Trackpad can be excellent for your work space.
Sam uses both the keyboard and trackpad so her MacBook Air can be at an even level with her second monitor. And it keeps her desk pretty clean. 👌
Podcasting & Online Video
Maybe we're still jazzed from our partnership announcement with Castos but we're still super excited about podcasting and videos. Several team members have their own podcasts and it's a fantastic channel to market your business or enjoy your hobby. Jason & Kim talk business and Patrick talks board game design. Yes I'm a nerd. 👋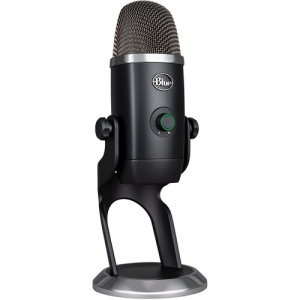 The fastest thing to make me stop listening to a podcast or video is bad audio. If I can't hear the speaker or if I hear them but it's also picking up every other sound in the background I'd rather find some other content.
Upgrade from the built-in microphone in your computer. Blue Yeti makes high quality product and this microphone in particular is excellent for podcasting.
You have the ability to fine tune your sound right on your desktop for easy control. And for a little fun, you can change the LED color on the microphone to match your brand.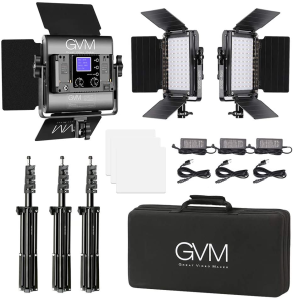 Is your lighting in your work space not the best for podcasting or video conferencing? Here is a solution for you. These lights are easy to set up with multiple settings to control exactly how you would like your lighting to be.
Business Books
Mistakes are just a fast way of learning is one of my favorite quotes. And it's very true in business. Try changing your pricing and see what happens. You'll learn a lot more than reading a white paper about pricing.
What I love about business books is that I can learn from other people's mistakes. If I even learn one or two items to not do they're worth it. These are some of my favorite business books: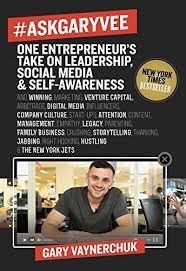 A lot of incredible advice from Gary Vee. The book bounces all over the place, it covers a ton of different social media channels, and is interesting because it connects business goals to social media.
The audio book 🎧 has a bunch of bonus content and some extra thoughts from Gary Vee so if you like Gary Vee you should listen to him read his own book and comment as he goes. 🌟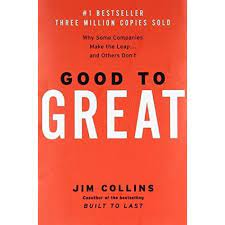 There are thousands of good companies. There are few great companies. This book dives into what the great companies are, how they define them, and most importantly what they do that makes them great.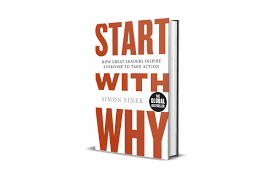 Perhaps you've seen Simon Sinek's Golden Circle TED Talk. He makes the case that starting with "why" is one of the best things you can do for your business. Be intentional and you'll often get farther than people who do things just because it makes money.
This is a classic book about entrepreneurship and it opened my eyes to some of the possibilities. Realize that you can be the bottleneck in your own business. Work smart instead of work hard. Membership businesses can be a business you can run on a few hours a week if you know how to outsource work and only work on the most important tasks.
Work from Home Favs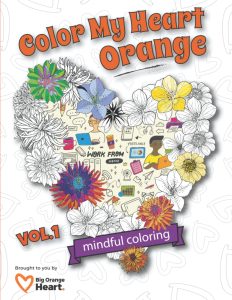 Available now through Amazon (Prime!), this all-ages coloring book provides a moment of mindfulness to the recipient while also supporting the wider mission of Big Orange Heart.
Big Orange Heart is a non-profit organization dedicated to delivering free mental health and wellbeing support to remote working communities. All profits go directly to the charity.
This gift is a true win-win.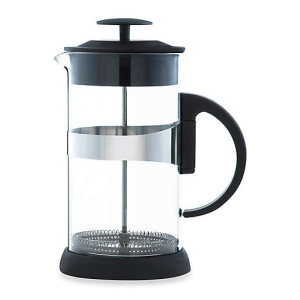 Ahhhh a fresh, hot cup of coffee perfectly brewed. I don't function without at least 1 cup of coffee. Most days I have 2-3. 🙈
A french press is the perfect way to prepare exactly however much coffee you would like without the hassle of using your full coffee maker. Or maybe you want a new fresher way to make your coffee. A french press is a great way to do that.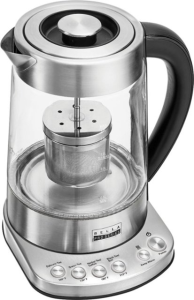 Not a coffee drinker? This electric kettle makes it easy to make a cup of tea.
And if you're a course creator I have a bonus suggestion. Throat Coat tea helps your voice when you're recording your voice all day.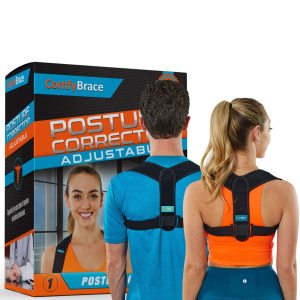 Comfy Brace Posture Corrector
Sitting at a desk all day can become painful for your back and bad for your posture. You can raise your screen to eye level which helps.
You can also use a posture corrector to remind you that shoulders shouldn't slump all the way forward.
If you want to improve your posture, this brace can be a comfortable way to do that.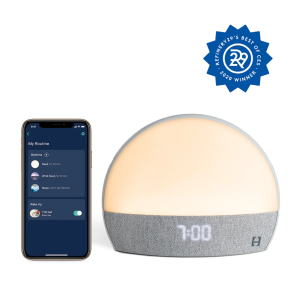 This alarm clock helps you naturally wake up by mimicking a sunrise. It can also help you go to sleep with white noise and mimicking a sunset.
I had one of these a few years ago and I loved it. I only got rid of it when I got a new home with an east facing window. If you are one of those people that need the sun and you don't have an east facing window a sunrise alarm clock is incredibly helpful.
Gaming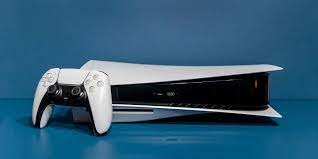 If you are a gamer, you usually always want the newest system out there. I know my partner does. PS5s are in high demand. So head over to the PlayStation site and signup to be able to purchase by Xmas.
The PS5 itself will likely be expensive depending on where you buy it from but at least for Black Friday PS5 games are 50% off. 🤑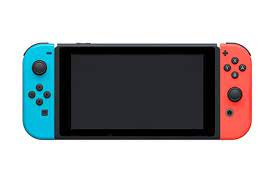 If you are like me, you may have played on the Nintendo Wii. The Switch is a HUGE upgrade to that! This hybrid game console is like no others and is excellent for a new kind of family fun!
A few of our favorite games are: Miitopia & Untitled Goose Game.
Wrap Up
We picked a few products from different categories that make us happy or more productive. If you have any other suggestions hit us up on Twitter and we'll share them.