A coaching membership site can be a great way to expand your offerings and bring in more income. Understanding the reasons for launching and the different coaching models can help you decide if a coaching membership site is right for your business.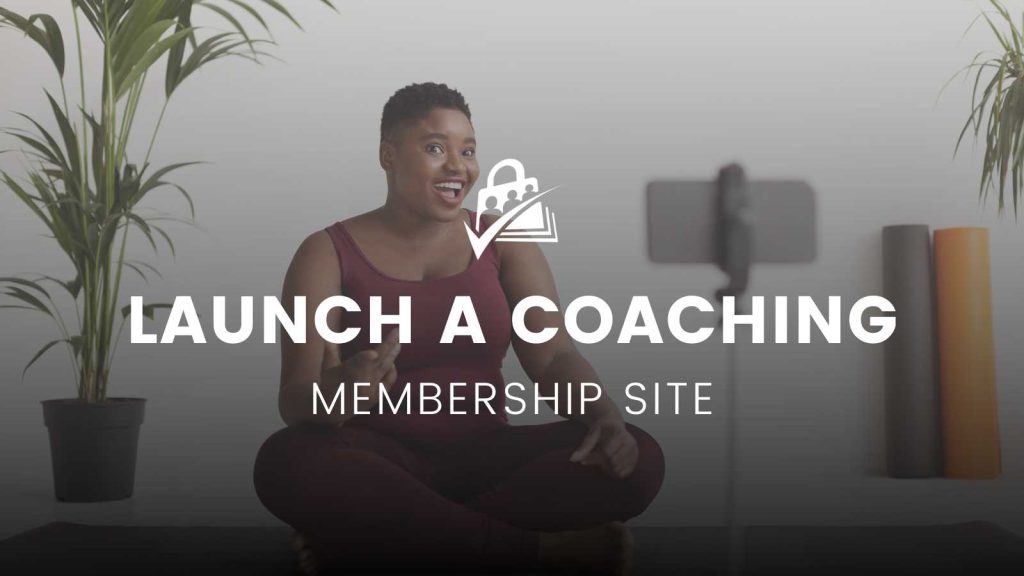 What is a Coaching Membership Site?
A coaching membership site is a tool to help you offer your coaching clients your expertise and services. Most coaching sites offer learning content and some form of community. And because it's a membership site, the client determines the membership duration. They pay their recurring subscription fee as long as they're interested in accessing the coaching membership services.
Unlike a standard e-course, a coaching site offers more than just the learning content. And because courses are generally a fixed set of curricula, the customer only pays once for access to the material. With a coaching membership site, online courses can be part of the membership, but coaching sites also offer unique value through efforts like:
One-on-one sessions with members
Group coaching calls
Monthly or quarterly community summits and multi-day workshops
Email sequences design to move the customer through your materials
Reasons to Launch a Coaching Membership Site
There are many reasons to launch a coaching membership site. Whether it's to help your bottom line or make it easier for you to offer your services to more clients, a coaching site can bring the following benefits to your business:
Recurring, reliable revenue. A membership model means you'll have consistent income with every payment cycle. You won't have to rely on one-off sales, and you'll be able to predict your income more reliably based on how many members you have.
Create a community. You create a community by creating a space for all your clients to interact in one place around your coaching materials.
Build your industry authority. Not only will you be sharing your learning materials and expertise, but you're also creating a community around this information. That allows you to build your authority, and members of your community effectively become endorsers of your brand.
Broader reach and audience. Your coaching members become an audience of warm leads for your other products and services. Plus, a coaching membership is more accessible than a higher-ticket product, which makes it easier for customers to invest in your brand.
Save time. With a coaching membership site, you don't have to handle all the administrative tasks of tracking down payments or sending client reminders. The software does that for you, which saves you hours every week.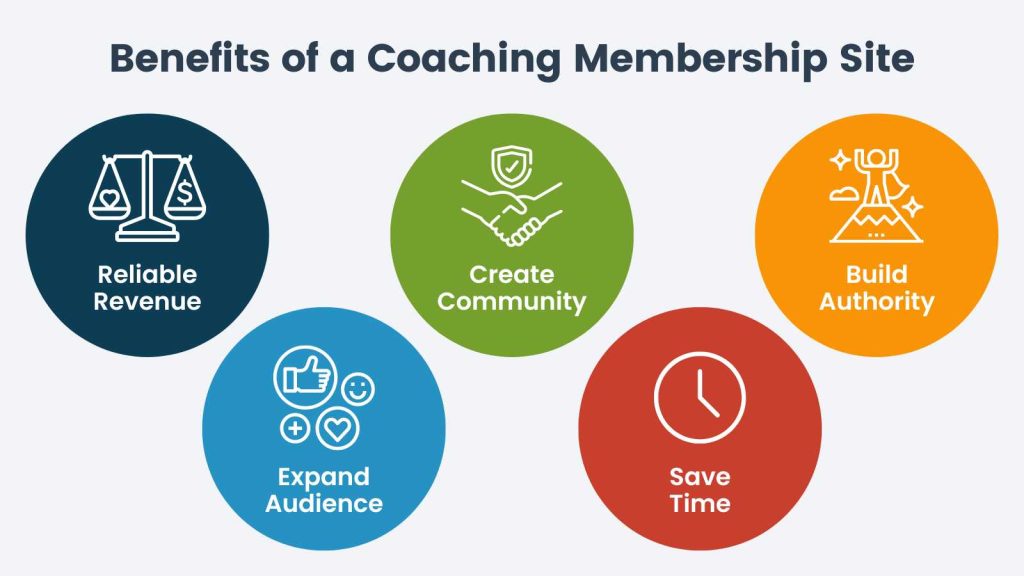 Coaching Site Models
If a coaching membership site sounds like a good idea for your business, then it's time to consider what coaching model will work best for you. There's no one-size-fits-all approach when it comes to your coaching business, so it's essential to consider what kind of coaching service you want to offer your clients.
One-on-One
The one-on-one coaching model allows your members to schedule private coaching sessions with you every month. In addition to the membership's learning content and community aspects, they also get personal access to you.
Depending on the size of your coaching membership program, you may only be able to offer one-on-one coaching to some. But you can always provide it to a higher-paying membership tier.
Private coaching is a great way to offer personalized support to your clients while building stronger relationships with them.
Cohort/Group
If one of your main goals for your membership is to create an engaged community, a cohort or group model is a great option.
Cohorts allow for a group experience, like a group coaching call every month and a forum where all members can interact.
The group structure helps build the feeling of community and camaraderie, and your clients will get to know one another and help each other as they progress through your program.
A cohort model may be a good fit if you'd like to still interact with your clients but don't have the time or capacity for a one-on-one program.
Content Bank
A content bank coaching membership site model might be a good fit for you if you've already created a lot of information like videos, podcasts, or e-books.
A content bank membership allows members to access your content at any time. It's a great option if your client base likes to learn at their own pace. Plus, different types of content benefit different learners, so people who learn best from video can watch video, or those who prefer to read can download the e-book.
If you know you're likely to continue creating content as your membership progresses, a content bank model will likely fit with your business.
Courses
Many clients and students love the structure of a course. Pre-recorded courses are perfect for helping students understand concepts. Plus, they require little maintenance once they're up and running. Once the course is live, students can access the content whenever it's convenient.
Courses are perfect for relaying structured ideas that build on one another as the student progresses.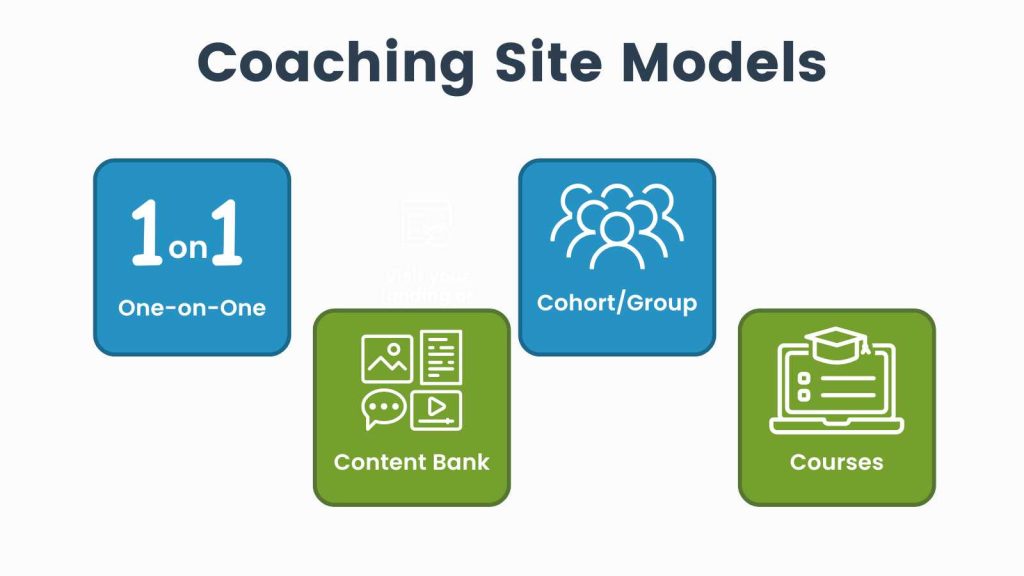 Steps to Launch a Coaching Membership Site
Before you jump into launching your membership, plan ahead. There are specific steps to follow to ensure your membership is beneficial to students and profitable to you.
To launch a coaching membership site:
Determine your niche. Think about your ideal client and how you serve them. What value does your coaching membership site bring to their life, and what transformation will they undergo from being behind a member?
Conduct research. What does your ideal client need from a coach, and what coaching membership model will work best for them?
Select a coaching model. Determine what you'll be offering in your membership and select the coaching model that will help your clients best engage with the material.
Establish membership levels. If you plan to offer different membership tiers to your coaching clients, determine what those levels are and what you'll offer each level.
When using Paid Memberships Pro, you can also use the Multiple Memberships Per User Add On so clients can purchase a membership as well as additional coaching packages on top of that.
Create site content. This step is the most labor-intensive, but it's crucial to adding value to your membership. Create the content that will be available to your members, whether it's blog posts, videos, e-books, a course, or podcasts.
Choose a membership plugin. Find a membership plugin that fits with the membership you've created.
Paid Memberships Pro allows you to create a coaching membership site with a community, an online course, and many other features through our free plugin.
Develop your website. Once you've selected your plugin, it's time to build your coaching membership site. Think about the site's structure and the user's experience navigating it.
Set up payment options. Giving your customers access to as many payment gateways as possible means that more people can join your coaching membership.
Implement marketing strategies. Share how your coaching membership differs from the other options out there. Provide this information in your newsletter and on social platforms.
Tips for Recruiting Members to Your Coaching Site
Once your coaching site is up and running, it's time to share it with the world. The following tips are great ways to recruit members.
Create valuable content. Introduce yourself to your potential members by sharing in your newsletter and creating video content. Video helps people get a taste of who you are and helps them see if they'd be a good fit for your program.
Build a quality user experience. Create a unique experience for every member.
The Paid Memberships Pro User Pages Add On allows you to create a page that you and a single member can access, so you can share notes about any one-on-one interactions.
Limit enrollment windows. Only allowing clients to enroll for short periods creates urgency and makes them more likely to join.
Offer a free trial. People like to know what they're getting into, and offering a free trial is an excellent way for customers to get a taste of your membership.
Extend a referral incentive. If some of your current members encourage their friends to join, offer them a referral bonus. That will make them feel valued, and they'll continue recommending your membership.
Get involved in complementary communities. Find where your potential members are online and go there. Join LinkedIn or Facebook groups where you can showcase your expertise and attract new members.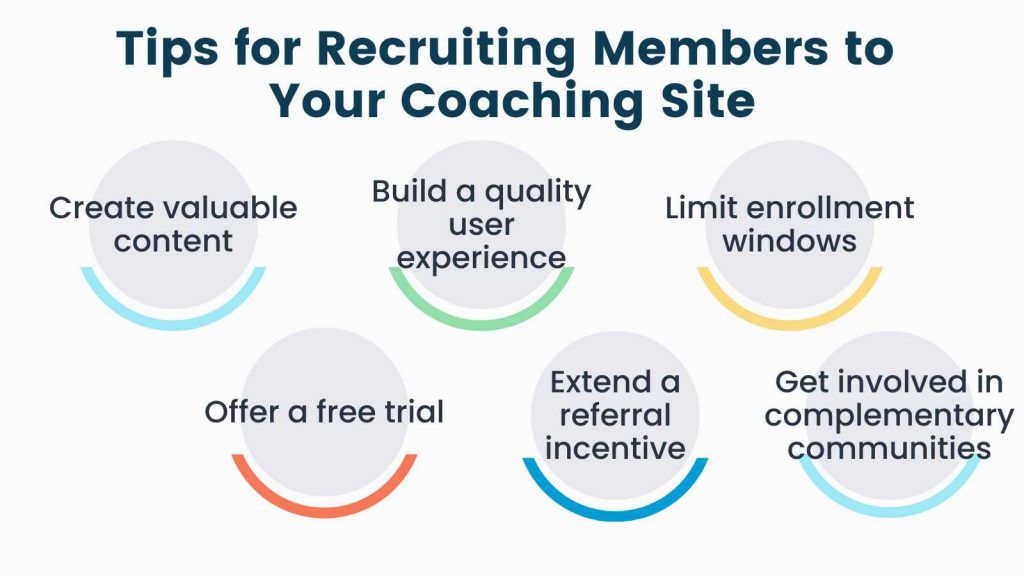 Are You Ready to Launch Your Coaching Membership Site?
This guide discussed how to launch a coaching membership site, the different coaching models available, and tips to help you recruit members. You learned the reasons to launch a coaching membership and all the benefits it could have for your business. If you're ready to launch your coaching membership site, sign up with Paid Memberships Pro for free, or check out our pricing plans to find the best options for your business.