Have you ever had a technical question you wanted to ask Jason Coleman? Ever wonder how Kim gets so much done? And, who is that guy on the left?
We're gearing up for our first AMA about PMPro and what it takes to run a successful membership business. So, what do you want to know?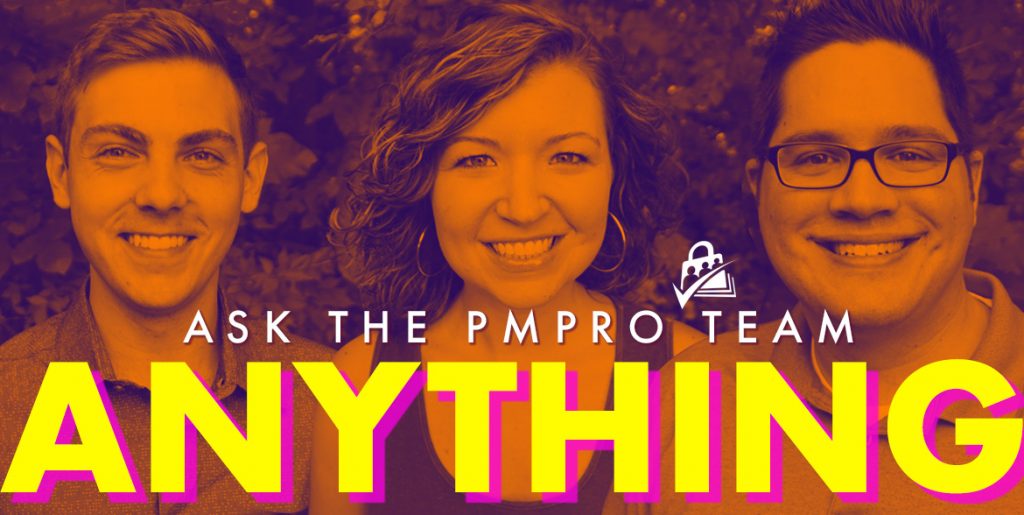 Update: Watch our first Ask Us Anything Session
Watch the first Paid Memberships Pro "Ask Us Anything" Session right here.
---
The PMPro "Ask Us Anything" Session
In early November, we are planning to host our first "Ask Us Anything" session. Our members, plugin users, and general community fans will have the opportunity to connect with us online and gain some insight into the minds behind Paid Memberships Pro. We will stream the "Ask Us Anything" session over on our YouTube channel for anyone to access—more details on this later.
View YouTube Channel
---
How will the "Ask Us Anything" session work?
Here is a quick run-through of what you can expect to see with the session:
Send in your questions

They say the only stupid question is the one that isn't asked. So ask us a question. You can ask your question by sending us a direct message on Twitter or Facebook.

You can direct your question at an individual ("Jason, how do you manage that fabulous hair style?" or "Travis, how did you cultivate your slick voiceover skillz?") or a general question for the team. We'll figure out who would be best to answer it.

Question selection

Once all the questions are in, we will go through them and select a few to answer – exciting.

Interview

The PMPro team will get together on a video call. Travis will act as the interviewer and pose your questions to the rest of the team. The interview will be recorded and edited before the live stream.

Notification

After the video has been edited, we'll be ready to stream. Expect to see the live stream date and time sent out via our newsletter and social media accounts.

Live Stream

The Ask Us Anything session will stream via our YouTube channel. The stream will be pre-recorded, but we'll be live in the stream chat to answer any follow up questions you may have.
We decided to make our first Ask Us Anything session pre-recorded to ensure a high-quality stream. We are a distributed team and sometimes connectivity issues, sound quality, and some less-than-desirable previous experiences with streaming were a challenge. You'll get our undivided attention in the stream chat for any follow-up questions you have. Remember, the team will be around to live chat with you during the stream.
---
What do you have to do now?
Ask us any questions you have and wait for more information on the live stream event.
You can ask your question by sending us a direct message on Twitter or Facebook. That's it!
We are looking forward to connecting with you and fielding your tough questions. If you are a Paid Memberships Pro Premium member and unable to make the live stream, we'll post a private recording of the stream here on our website.
---
Not sure what to ask?
Want to participate but not sure what to ask? Feel free to follow along with the live stream just for fun. Or maybe these sample questions will help get you thinking of your own question:
How many people work for Paid Memberships Pro?
How do I validate my membership idea?
What is the best price for my membership levels?
What is it like to work with a distributed team?
Where is the PMPro team based?
What is next on the development schedule for Paid Memberships Pro?
You can also ask a more personal question to team members such as their favorite hobby or football team. We will select some random, some interesting, and some generally helpful questions to tackle on the live stream.
I'm looking forward to see what you come up with.
Was this article helpful?