In June 2019, Lucca leveraged his 6 years of Martial Arts training experience to build an online training business using WordPress, Paid Memberships Pro, and a variety of other tools. His membership includes Martial Arts, well-being and fitness training through online courses, learning resources, and video tutorials.
In this showcase, we explore the business model Lucca chose for his membership and the technology that powers his successful online academy.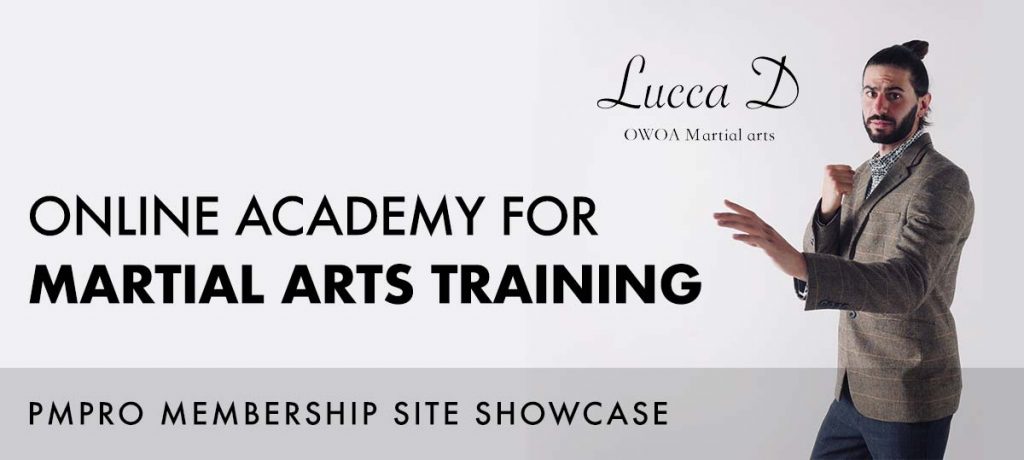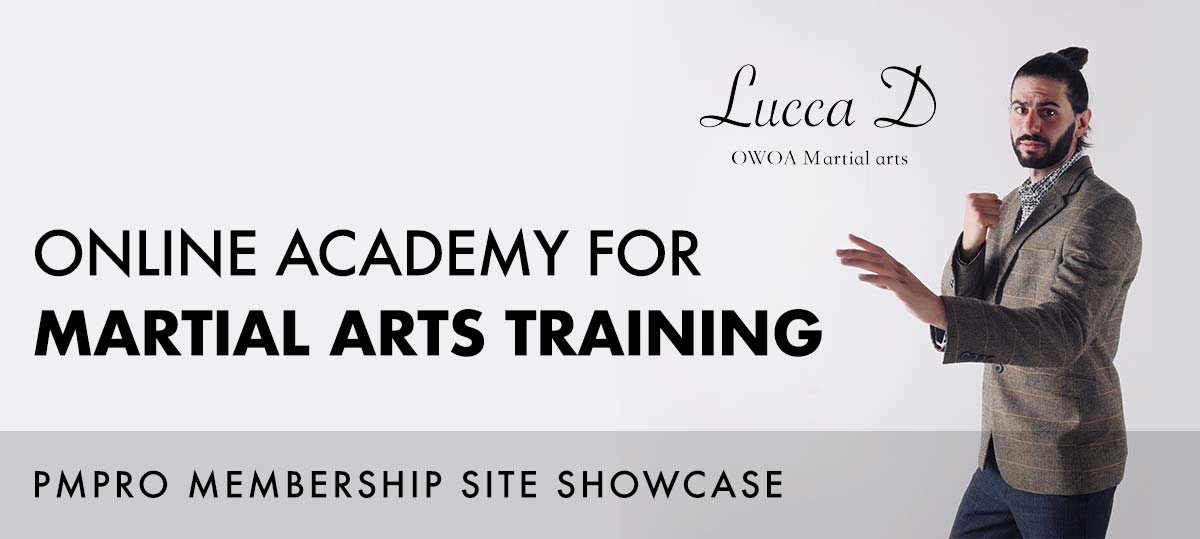 Martial Arts as an Online Business
One World One Art (OWOA) Martial Arts focuses on the key universal concepts used in all martial arts. The practice combines these concepts in a practical and functional manner for the practitioner to use in today's world. Beginning with mind, body and soul, OWOA approaches each aspect with equal importance and provides a complete framework to build upon.
The concept of online training is becoming increasingly popular. Using a physical location to offer training limits your time, maximum attendance and schedule. With online training, your members can access the content in the comfort of their own home, within their own schedules, and without your physical presence.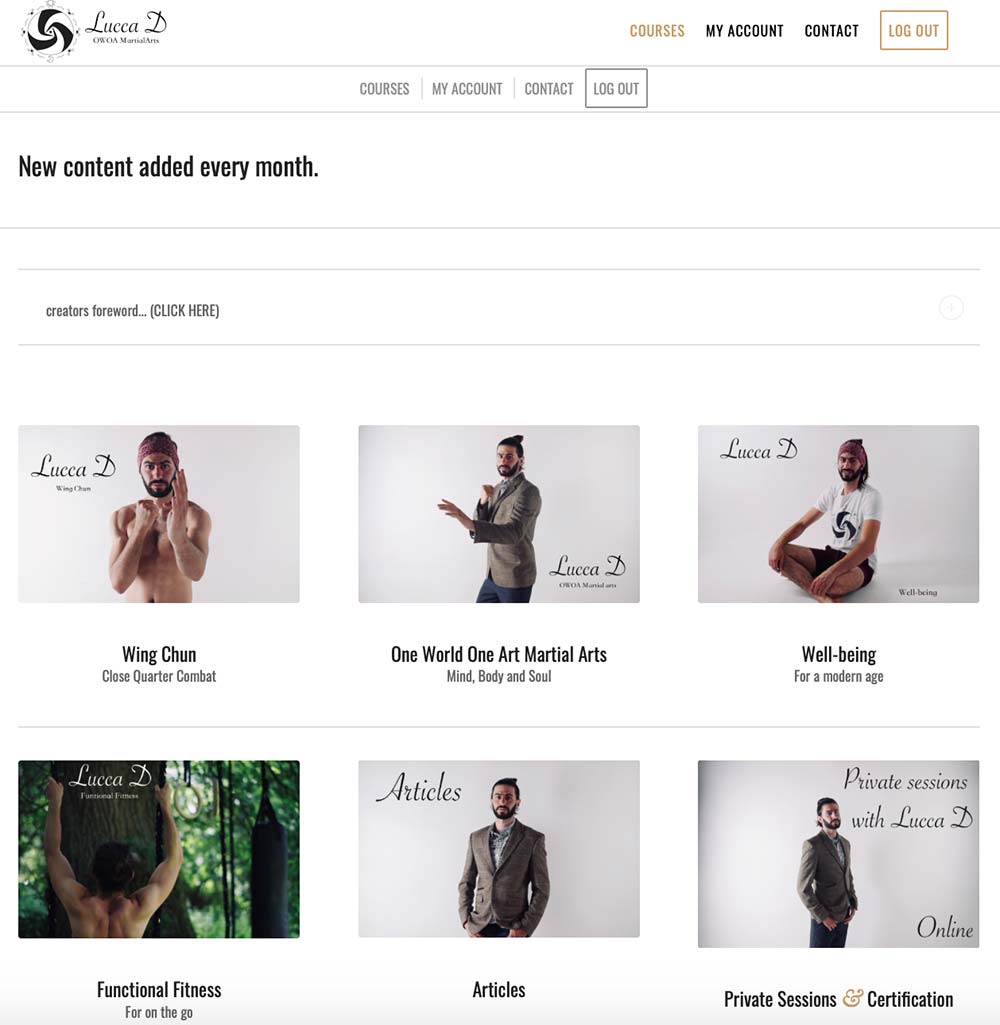 Running an online academy doesn't mean that you just sit back and watch the money roll in. On the contrary, this model demands that you continue to provide high quality written or visual content for members. You need to support them on their learning journey.
It's also important to focus on onboarding new members. These new or potential members are seeking your expertise to help them make an informed decision on what they will need for their training. At times, a new member may even need to reach out to you personally, whether by email, video conference, or phone. These personal touches give new and potential members the sense that you are invested in their journey, and that you want them to feel comfortable and welcome.
Lucca's online academy website does all of this: he has built a brand not solely focused on Martial Arts, but about the human being behind the program. His images and videos are all focused on giving his students the best online experience. He addresses the challenges and concerns his students and prospects have with learning Martial Arts in a virtual format. This up-front messaging lets students know what to expect and what they are paying for through a list of frequently asked questions on the website.
Lucca's Business Tips for Building an Online Training Site
Encourage your members that they can train alone. The online academy is a space for them to train with or without others. It does not require another person to physically be there. Also, online training can be a portion of a greater journey. Members can participate virtually, but also join up with like minded communities in their area. You can even include information on local training communities for your members.
​Give guidance if they have a current set-back like an injury. For example, inform your members to not use movements that can stress any underlying injuries. Invite members to contact you for specific advice on a past injury they are concerned about.
​Make sure your members know what they receive when they sign up. Communicate how often new content and training will be available.
​Alleviate concerns about the skill level your members need when they start their personal training journey with your program. Perhaps you have a beginner stage that moves on to more advanced lessons. Help your member assess where they can start based on their experience.
​Make it clear what certification or level of experience, if any, your members will receive after completing the training. For example, Lucca provides a certification under OWOA Martial Arts. Members must complete a specific set of courses to receive this certification.
​Give information on what your members would need to access the content. If it is ​video content, you can share how it can be viewed and what setup will be suit your member's technology requirements.
Lucca's Journey with Paid Memberships Pro
Lucca was looking for a membership platform that would enable him to create different levels with different access. For him, Paid Memberships Pro stood out in this area: the plugin's features truly enabled him to reach his goal.
Paid Membership Pro has allowed me to cater for a variety of people through being able to create different levels of membership. I can allow specific access to each level of membership so it makes it super easy to manage. I can also create areas where my students, who attend a physical class, can receive special discounts which they really appreciate.

—Lucca Daprato, OWOA Martial Arts
Designing Lucca's Membership Products
Lucca D's Martial Arts has 3 distinct membership levels which all include 4 training modules below:
Wing Chun – Close Quarter Combat
OWOA Martial Arts – A mind, body and soul approach
Well-being – For a modern age
Functional Fitness – When on the go
In this model, levels are not divided based on content tiers. Instead, membership tiers vary by the amount of personal feedback and certification a member receives.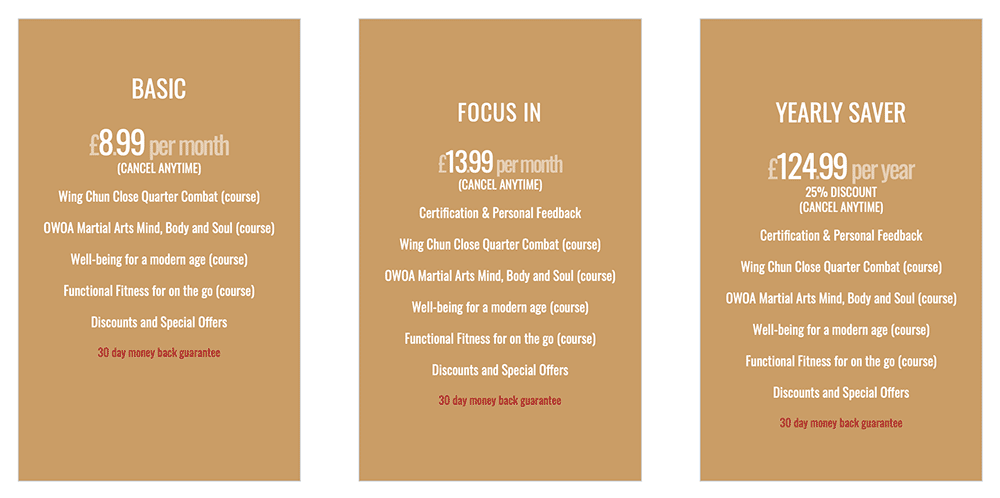 The "Basic" level includes just the 4 training modules. For the middle tier level, Lucca's "Focus In" level includes personal feedback and certification. These two levels are both billed monthly. Lucca also provides a "Yearly Saver" level. This level allows you to pay for the "Focus In" level at a discounted annual rate.
The Membership Levels page clearly describes what is included for the different levels, as well as a promise of quality. Lucca's page details how he handles cancellations and refunds.
A look inside the LuccaD.com Membership Site
Lucca D OWOA Martial Arts uses the PMPro plugin and Add Ons to create a membership site that fits their business and audience. Below is a list of the PMPro Add Ons being used in the site:
Other WordPress Plugins and Third Party Services
Lucca D OWOA Martial Arts academy is structured like a traditional eLearning program. But, Lucca did not choose to use an eLearning or courseware plugin to organize his content. Instead, the site has organized their courses through embedded Vimeo videos in a gallery created with Vimeography.
The site uses the CMS features of WordPress to create member sections. It includes a Member Profile area and a blog with supplemental articles for members. Lucca did work with a website developer to build the initial website but continues to maintain it on his own.
Below is a list of other software and services that help Lucca manage his WordPress membership site:
Vimeography: Presents your Vimeo videos in a gallery view to create a playlist of the courses.
MyCred: Gamifies participation in the platform. Members gain experience points (Lucca explains that members REALLY like this feature). Gamification gives members an extra interest in using the website and makes the courses more engaging.
Yoast SEO: For page content analysis and SEO.
WordPress.org Support Forums: These forums provide free support and help Lucca resolve issues or receive further guidance from plugin authors.
Some Closing Feedback
As with any software, we know that Paid Memberships Pro is not perfect for every membership business model. Here is what Lucca thinks about where PMPro can go in the future:
I like that the main focus is to continue to allow the administrator to manage members quickly and effectively. PMPro is great because it allows members ease of navigation and clear presentable instructions to give ease of mind. I look forward to seeing more integrations with other plugins and more in depth member reports. For example when they have logged in and how long until they logged out.

I give PMPro a 5 out 5 star rating for value for money and ease of use.

—Lucca Daprato, OWOA Martial Arts
The main goal of the Lucca D Online Martial Arts website is to limit access to content and navigate members around the site. This goal was reached by using Paid Memberships Pro.
Interview with Lucca D
Travis interviewed Lucca D on the work that he is passionate about and how he got his unique membership business online.
We want to showcase your WordPress Membership Site.
If you have an interesting business that uses Paid Memberships Pro as a component of its technology suite, please submit an application and we will get in touch about preparing an in-depth showcase of your application.
Was this article helpful?