Nexcess' Managed WordPress Hosting is a good managed hosting option for membership sites running Paid Memberships Pro. While a bit pricer than some alternatives like Pressable, we do recommend checking out Nexcess as you explore membership site hosting options.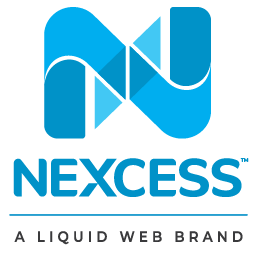 Choose The "Maker" Plan
The "Maker" plan (currently $79/mo) is the best option for a growing membership site. The "Spark" plan (currently $19/mo) will work for smaller sites. If you are unsure of which plan to use, it is very easy to upgrade your account at any point. Plans are backed by a 30 Day Money Back Guarantee.
Our Nexcess Hosting Test Results
Server
Servers: Nexcess servers are configured for ecommerce websites running WordPress. They offer server level caching to speed things up. However, you need to remember to avoid caching your members-only content and dynamic checkout process.
PHP: Nexcess hosting comes installed with a secure, supported version of PHP. If you want to run the very latest version of PHP like we did, changing the version on your plan is as easy as changing a single dropdown setting.
Database: Membership sites require fast read and write speeds. Nexcess gives your MySQL databases enough space and the right configuration to work well for your Paid Memberships Pro site.
SSL Support: Nexcess sites come with SSL certificates at no extra charge.
CURL, FTP, Command Line Access: Your Nexcess plan is preinstalled with the right server features for your membership site. But, if you require more developer-level access, they offer FTP access, shell access, and the ability to safely set up a staging environment for your site.
Our Experience With The Nexcess Team
When we spoke with the Nexcess engineers about their platform, it was obvious to us how well they understood both the technical requirements to run WordPress smoothly and the user requirements to make their platform easy to use.
When we took the Maker plan for a spin ourselves, we were really excited by how fast the site was and how few problems we had getting things set up.
We recommend Nexcess' managed WordPress hosting for Paid Memberships Pro sites. The have plans for any sized website and use case.
Sign Up for Nexcess Managed WordPress Hosting »
---
Note: The link above is an affiliate link, and Stranger Studios/Paid Memberships Pro will receive some money depending on the plan you sign up for. Rest assured that even if we were not getting paid for it, we would still recommend Nexcess' Managed WordPress hosting as highly as we do here. Thank you for supporting Paid Memberships Pro.