There are instances when a businesses might want customers to create a profile on their website before they can make purchases, or when organizations want their members to register for upcoming events. WordPress doesn't offer this functionality right out of the box, so what's the best way to do this?
With a WordPress user profile plugin, site visitors can create and manage their own profiles on your website quickly and easily. In this post, we talk about what a WordPress user profile plugin does, why you need one, what to look for, and more.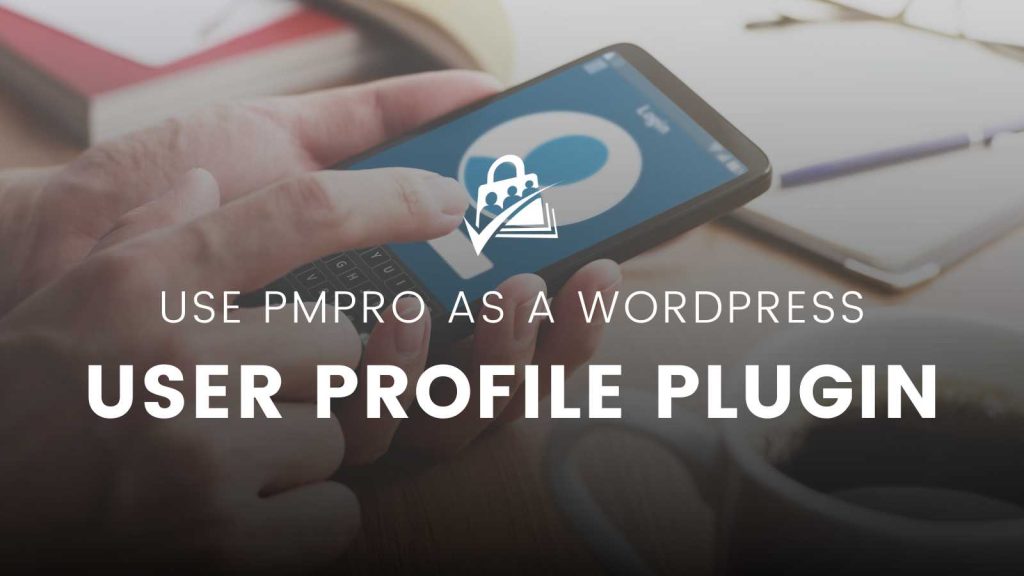 What Does a WordPress User Profile Plugin Do?
The primary function of a WordPress user profile plugin is to allow users to register on your website as members. Instead of having to log in to the website's back end, a user profile plugin creates a front-end, user-friendly login page. This page keeps users out of the back-end website dashboard and makes the process easier.
Because WordPress user profile plugins integrate with your existing site, you can create a truly branded login experience. When your members come to create a profile or log in to the site, they'll feel like they're logging into your website and not just some generic login screen.
And a good user profile plugin will elevate your site's overall functioning. Good plugins should help optimize your user login page for mobile. The plugin should also come with templates and customizable fields, so you can tailor the login form to your needs. Many plugins come with the ability to restrict content and drip new content to certain users. Plus, many plugins easily integrate with payment gateways, so you can accept payments from your users without issue.
Benefits of a WordPress User Profile Page for Members
A user profile plugin can help you build a better website, but is it worth all the work? It's easy to think that creating a Facebook group or Mighty Network might have the same benefits, but that's not the case.
Even though online group platforms can be simple to set up, they don't offer the same advantages as a dedicated user profile page for members on your website.
Benefits of creating member profiles:
Provides a Seamless User Experience. User profile plugins integrate and sync with email marketing software, payment gateways, and more, allowing you to serve your members from your site without redirecting them elsewhere.
Enables User Sign Ups. Members can sign up or cancel their membership simply from your website.
Allows User Password Resets. You don't have to reset passwords for your members. With a plugin, they have the power to do so themselves.
Gives Users Access to Update Custom Profile Fields. Set which custom fields you'd like your members to fill out when they sign up. If your users change their mailing address or they need to update their job title, they can do it from the site.
Allows Members to Connect. You can create groups and communities within your site so members with things in common can get to know one another and connect.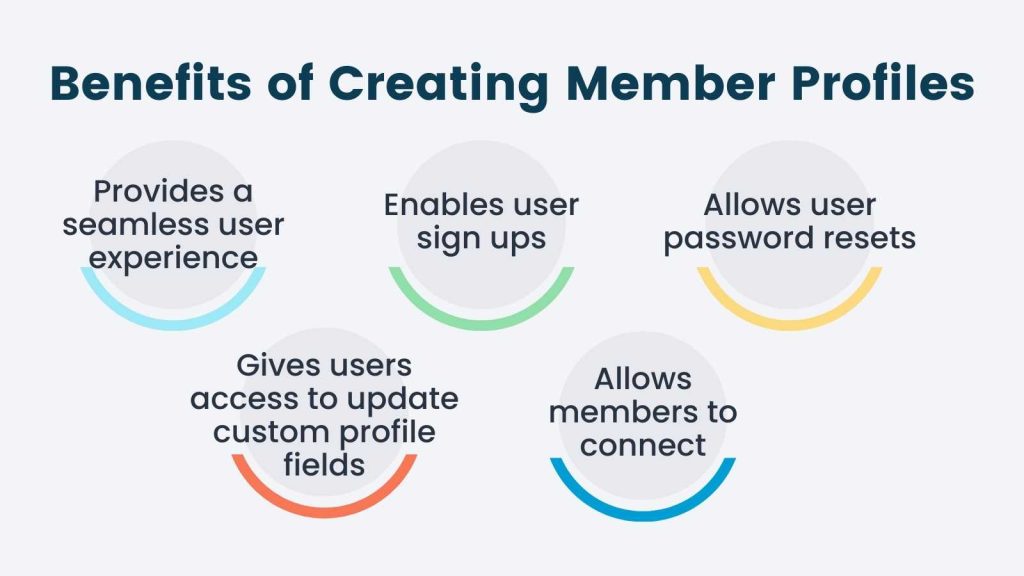 Logins and user profiles are part of the internet experience. Even though your users likely have a few social profiles and profiles on other sites, creating a login on your site lends credibility to your business. It keeps your members on your site and gives them the power to create a profile with your business.
Why You Need a WordPress User Profile Plugin
Creating user profiles on your website can be expensive and time-consuming without a plugin. But with a plugin, the benefits of user profiles are right at your fingertips.
A WordPress user profile plugin:
Makes Implementation Simple for Beginners. User profile plugins give you all the functionality of creating a user login without paying a developer to create it.
Eliminates the Need for Coding. Plugins give you the customizability you need to create a fully branded login page featuring your colors, fonts, and desired layout without knowing any code.
Saves Time Setting Up and Managing Users. Users can create their own profiles and reset their passwords if needed. This control means you won't have to answer their administrative support requests for small issues like these.
Offers Sitewide Personalization. Once your users set up their profile, they can access their personal login page and consume content tailored to their account.
Lets You Learn More About Members. Members provide information based on the custom fields you set for user profile creation. This approach helps you get to know them better and learn more about what they want.
Provides Customer Organization. Based on your users' information, you can segment them into lists of their needs, interests, stage of their customer journey, and so much more. It will help you keep your customers organized while also helping you serve them better.
A good user profile plugin can be a game changer for your website and customer relationships. Once you've allowed your members to create user profiles, you can understand them better and run your business more efficiently.
What to Look for in a WordPress User Profile Plugin
Every user profile plugin has different features, so consider what you need before choosing one. Here are some things to consider when you're looking for the perfect user profile plugin for your business:
WordPress Site Compatibility. Make sure the plugin you choose plays well with your page builder or theme and all your current plugins. You don't want to completely rebuild your site to install one plugin.
Mobile Responsiveness. Most of your customers access your website from their smartphones, so you need a plugin that allows you to create a mobile-friendly experience.
Social Login Connection. Your users have profiles and logins for a lot of websites. Make it easy for them to join your site by using an existing social profile to log in.
Customizable Registration Templates. You don't want to create everything from scratch. Choose a plugin that gives you templates you can customize for your needs.
Drag-and-Drop Visual Editors. See the changes you're making in real-time with a drag-and-drop visual editor and never worry about code.
Custom Fields. Your business is unique, and that's what your customers like about it. Find a plugin that allows you to create custom fields to make the user profiles relevant to your membership.
Extension Tools and Integrations. You already use tools and software for marketing and administrative tasks. You need a plugin that integrates with those tools easily.
User Role Assigning. If you want to give your users different abilities or designations within your site, you need to be able to assign them roles.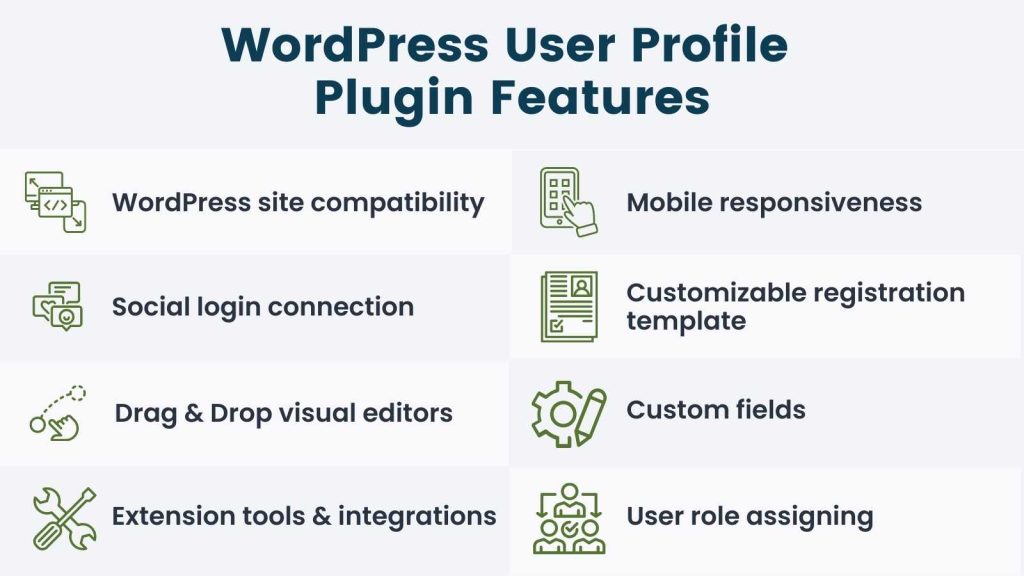 Wondering what's out there? This post compares Paid Memberships Pro vs. Ultimate Member and gives a good breakdown of what you need from a user profile plugin.
Using Paid Memberships Pro as a WordPress User Profile Plugin
PMPro has the features you need to start, manage, and grow a membership site, or you can use it as a user profile plugin.
PMPro lets you:
Use the Member Profile Edit Page. On the member profile edit page, users can update their information, like their name and email address, or any other custom fields you designate.
Create User Profile Custom Fields. Better understand your customers by creating user profile custom fields. Ask your users to provide information about their location, goals, demographics, and anything else you think is relevant.
Enable Avatars, Bios, and Social Links. Allow your members to personalize their profiles with a WordPress avatar, bio, and social links. PMPro also integrates with other plugins to further personalize profiles with social links.
Connect Extensions and Integrations. PMPro integrates with Add Ons, plugins, and extensions to help you personalize your site. No matter how much your site grows or the features you need for your user profiles, PMPro has you covered.
Get Started with Paid Memberships Pro
Adding user profiles to your site can create a more personalized experience for your users and help you better understand your customers. Paid Memberships Pro can help you add user profiles to your WordPress site and so much more. You can sign up today for free or check out one of our pricing plans that fits your needs.