Suppose you've just created your first online course. It contains carefully-curated content with easy-to-follow sections, helpful exercises, and additional videos that you produced using professional-grade tools.
You've got a high-quality product on your hands! Now what?
You need students who are going to buy your course—and to find them, you're going to need a marketing strategy.
If you've never sold online courses before, figuring out how to attract students to your course can be intimidating. After all, a receptive audience (or lack thereof) can make or break a business.
In fact, according to CB Insights, 14% of small businesses fail because of poor marketing.
But here's the good news: Creating a buzz around your online course isn't as complicated as it might seem. We've put together a three-step formula of tried-and-true methods that you can use to connect with your target audience, boost your course sales, and grow your business.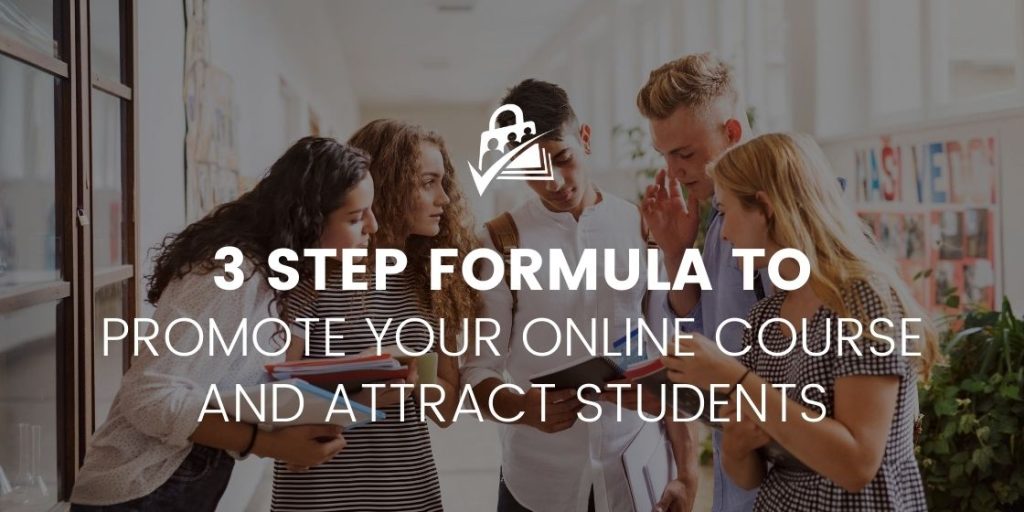 What We'll Cover:
How to Attract Students to Your Online Course in 3 Steps
1. Find the Right Audience for Your Online Course
The road to sales begins with knowing who your ideal customer is. Let's look at how to figure that out.
Perform Market Research
If you want to understand your target audience, market research is the first place to start. To begin, take a look at competitor offerings within your niche.
This doesn't have to be an exact side-by-side comparison with what you are offering. Instead, focus on who is responding to the competitor's course, and how they are responding.
See if you can answer questions like:
What are the demographics of their most engaged users online?
Where does their traffic seem to be coming from?
What interests and preferences do their users exhibit?
What kind of online behaviors do you observe among competitor audiences?
This can help you get an idea of the people you should market your own course to. You could even browse competitor reviews to find out more about what users like and dislike.
The people leaving good reviews are likely to fall within your target audience. The people leaving bad reviews can reveal your competitor's weaknesses.
This helps you identify things that you can leverage to create a competitive advantage. Be sure to take note of the elements that make your course unique.
For example, maybe your course:
Provides more comprehensive coverage of a topic
Includes bonus content that the competition doesn't
Offers superior assessment methods and course structure
If one or more of these things are lacking in your competitor's offerings, take advantage of this. Solving the problems of your competitor's users will boost your course's value proposition.
Do you already sell online courses? Or, do you have an audience that consumes your content in a different format?
There are useful insights that you can gain from your audience and existing customers.
If you're able to get a clear picture of what drove them to your content or course, or why they purchased from you, you can use this information to help you attract a similar audience.
For example, you could prompt students to complete a questionnaire or survey:
Immediately after purchasing your course
Upon completing your course
In a direct email or one-to-one interview
As part of a poll on social media
Create Buyer Personas to Represent Your Audience
Once you've gathered enough information about your target market, you can start developing buyer persona(s).
A buyer persona is your ideal customer profile—what they are like, what their needs are, and what they respond best to. You can create multiple personas to pinpoint different types of ideal customers within your audience, making your marketing efforts more targeted (and likely, more successful).
At a basic level, each buyer persona that you develop should include the following elements:
A persona group that places them within one of your market segments. For example, if you offer a SQL course, two different persona groups might be:

people studying to become programmers
people studying to become data analysts

A fictional name and a picture to identify the profile
General demographics such as age, education, and anything else relevant to your offerings
A job title and their key responsibilities. For the SQL course, it might be Junior Programmer at [Company Name].
Goals that the buyer persona is trying to achieve. For example, this could be passing a SQL assessment test or making a career advancement.
Common pain points faced by each persona. For our junior developer, it may be time, budget, or technology constraints.
You can modify these as you go. The idea is to understand your ideal customer as much as possible.
2. Connect with Your Audience and Cater to their Needs
You've figured out your audience. What's next?
In order to attract students to your course, think about how you can connect with the audience you've identified, and cater to their needs and desires.
Here are a few ways to do that:
Provide Relevant and Practical Course Material
Remember: Your students are your best marketers.
When students feel as if they are getting good value out of your course, they will be inspired to tell their family and friends by word of mouth. This ultimately helps you market your course and create more organic growth.
One of the best ways to satisfy your target audience is to provide them with a course that is relevant to their needs and desires. If it's practical and immediately actionable in some way, even better (depending on your topic).
You want to give your audience course content that solves their problems and/or enhances their lives in some way.
To test your course content for relevance and practicality, ask yourself:
Does my course directly address the topic at hand?
Is my course content evergreen? If not, is it up-to-date and mindful of the latest trends within my niche?
Does it meet current market demands?
Does my course have a user-friendly structure for beginners or non-tech savvy course-takers?
If you're unsure of the answers to these questions, review your course content to see where you can make adjustments. Your course should be as relevant, practical, and easily-consumable as possible.
Let's go back to the SQL course and the junior developer persona that we talked about. You could make this kind of course a more practical learning experience by:
Offering hands-on labs through virtual machines
Setting up quizzes at the end of each module
Providing interactive video lessons
Of course, how hands-on your course should be depends on your topic.
Courses with specific real-world outcomes like certification and skill mastery often rely heavily on practical methods. On the other hand, theoretical topics tend to require less practical application than how-to or DIY courses.
However, even students of knowledge-based courses can benefit from practical course design and scenario-based learning techniques.
Engage with Your Audience on Social Media
If you want to create a buzz around your course, consider sharing limited amounts of your content for free in social media groups and pages. This puts your name and content in front of a pre-qualified audience that may come to recognize you as an authority or helpful contributor to their niche community.
This trust and connection makes them much more likely to purchase your course.
You can further leverage social media by:
Creating short YouTube videos to promote and upsell your course
Recording webinars and podcasts that help your target audience
Writing informational blog posts as an inbound marketing strategy for your website
Hiring influencers to spread the word about your course and extend your marketing reach
Paid digital marketing campaigns through Google and Facebook ads are also viable, but they can get expensive quickly. You may even end up spending more for better reach, which can drive up ad costs considerably.
While ads can be effective, they should be done by someone who really knows what they're doing, whether that's you or an ad expert. If you don't have the budget to use ads effectively, it's wise to stick to search engine optimization (SEO) and organic content marketing techniques.
3. Attract Students to Your Course with Incentives
Let's say you've already created relevant and practical course material and you've been engaging with your audience on social media. Now it's time for some marketing strategies that will help you bring traffic to your course and incentivize students to purchase.
Create a Compelling Lead Magnet
One of the most effective ways to bring an audience to any kind of new product or business is to offer a compelling lead magnet. A lead magnet is typically something free or limited in scope that is designed to attract traffic and collect contact information.
This can be a useful downloadable like an eBook, PDF guide, or template. It can also be a free trial membership, or limited access to resources or an online community.
For example, you might decide to offer a free PDF guide or downloadable worksheet that is particularly helpful to your buyer persona. In exchange for signing up to your email list, a prospective student is able to download the lead magnet and receive the benefits.
This accomplishes two important things:
The prospective student associates receiving a benefit with you and your material, which:

Highlights you as an authority on the topic
Gives the student a taste of the quality of your material
Piques their interest in your other content (i.e. your course)

The contact information (usually an email address) that you receive helps you:

Build an audience before releasing your course, making your marketing efforts more effective
Market your course to a pre-qualified audience (You've already determined that your audience wants your content since they signed up for your email list in order to get it)
Offer Exclusive Rewards
Rewards are effective for recruitment because they give prospective students extra reasons to take your course—beyond the obvious benefits of consuming your content.
Consider offering things like:
Bonus downloads after completing content
Access to exclusive groups and communities with the purchase of your course
One-to-one coaching sessions
Early access to new courses
Discounts and coupons for subsequent purchases
Share Student Testimonials and Highlight Their Achievements
Testimonials are a powerful way to attract new students. Take advantage of this by encouraging students to write and share testimonials about your course.
Consider creating a dedicated testimonial page or section of your website, where students can leave feedback about your course. Remember that constructive criticism ultimately helps you improve course content—and boost your appeal to new students.
Don't worry about negative feedback. In the end, it makes your course look more legitimate, and makes the positive feedback appear more genuine as well.
Moreover, if any past students achieved impressive career milestones after taking your online course, highlight them. These successes are particularly effective when it comes to attracting students who want similar results.
Create a Community Around Your Course
Communities are particularly influential for students within niche audiences, as they create a sense of camaraderie, understanding, and belonging. Empowering students to interact with each other creates a positive experience for newcomers and current users alike.
It also gets people talking, sharing, and working with your content in a group setting, amplifying the buzz around your course even more.
Plus, your students are the best sources of feedback out there. You can use this feedback to improve your course over time.
Final Thoughts: How to Attract Students to Your Online Course in 3 Steps
Attracting new students to your course takes a bit of time and patience. But using the 3-step process outlined in this post, you can:
Identify the right audience to market your course to
Appeal to your target audience by offering relevant and practical course content
Connect with your audience and establish industry authority
Build a pre-qualified audience that is receptive and well-suited to your content
Attract students to your course and collect contact information with lead magnets
Incentivize people to buy your course with rewards and extras
Grow a community around your course, enriching the student experience and boosting your organic growth
Are you ready to start growing your online course business and attracting new students?
With Paid Memberships Pro, you can create free and paid subscriptions to your course content, benefit from a wide variety of Add Ons and integrations specifically designed for selling online courses, and manage your course on WordPress.
We know that a WordPress site has tons of moving parts. Choosing the right plugins, themes, hosting, third party services, design assets, and more can feel overwhelming.
Paid Memberships Pro is a comprehensive platform built for any kind of eLearning environment. Learn exactly what you'll get — the plugins, the support, and the training — when you build your online course with Paid Memberships Pro.
Was this article helpful?