Imagine making money while you sip lemonade, play with your dog, or watch the latest episode of Bridgerton. That's the allure of passive income. It's the holy grail of earning. 🏖️
But how do you open up that sweet, effortless revenue stream into your bank account?
One of the best ways to earn passive income is to create an online course. But don't start sipping that lemonade just yet. Tons of hard work goes into the front end of creating a successful course.
You have to:
Figure out what you'll teach
Write scripts
Record videos
Market your course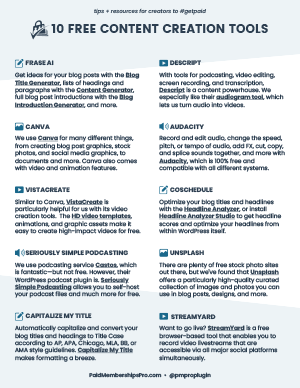 DOWNLOAD 10 FREE CONTENT CREATION TOOLS NOW
Looking to start creating graphics, videos, and voice content for your membership site? This cheatsheet shares the top 10 free tools we use to create rich media at PMPro. Use these tools to create rich media content like PDFs, commercials, audiograms, blogs, social graphics, and more.
And a whole lot more if you want to earn that lemonade-sipping money. 🍋
If you create an online course people want to take, the rewards of that hard work can pay off exponentially. And, lucky for you, we have just the webinar to help you get your online education money stream flowing.
PMPro hosted a webinar with Curtis McHale, WordPress developer and online course creator. Curtis covers his four-step process for planning, creating, publishing, and marketing an online course.
Ready to Build Your Course?
Are you ready to start growing your online course business and attracting new students?
With Paid Memberships Pro, you can create free and paid subscriptions to your course content, benefit from a wide variety of Add Ons and integrations specifically designed for selling online courses, and manage your course on WordPress.
We know that a WordPress site has tons of moving parts. Choosing the right plugins, themes, hosting, third party services, design assets, and more can feel overwhelming.
Paid Memberships Pro is a comprehensive platform built for any kind of eLearning environment. Learn exactly what you'll get — the plugins, the support, and the training — when you build your online course with Paid Memberships Pro.
Was this article helpful?