Black Friday and Cyber Monday (BFCM) are coming up. This post summarizes some of my thoughts on massive sales, as well as a few tips for running a successful BFCM campaign.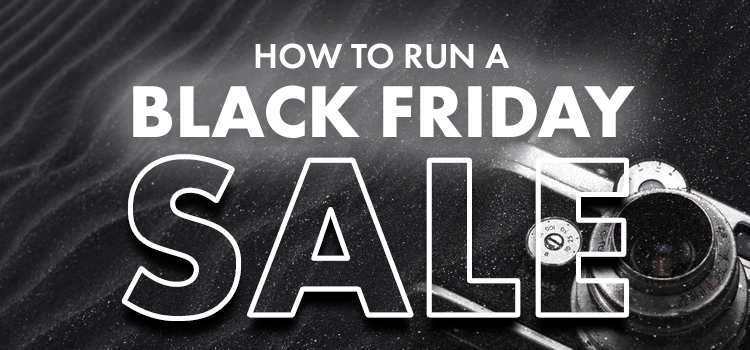 Don't Run too Many Sales
In the past, I've been pretty negative about running sales. I agree with Chris Lema that you risk training your customers to wait for a sale before buying. Worst of all, you confuse your customers by implying that your product is worth less than your list price. I've spent a lot of time thinking about the price of our service and defend our current price daily as the correct price for our customers and our business. Running a sale contradicts the reality that our price is correct.
On top of the psychological impact, managing a different discount every month can be difficult, time-consuming, and confusing.
Discounts require promo images, sales copy, emails, social media, and sometimes paid promotion. Each new price adds an additional factor to any custom logic you might have around renewals, upgrades, or cross promotions. Your support channels will be stressed with customers asking for last week's sale price, or next week's sale price, or a deal they found in an old email. How can you tell them a certain price was only available for a limited time when you're going to be running a similar deal in a month or two?
---
Is Black Friday/Cyber Monday an Exception?
Despite the above concerns, the occasional sale can be very lucrative.
Running a sale once or twice a year offers a means to include potential customers you've 'priced out' or who might have been on the fence to give your paid products a try. Scott Bolinger offers an analysis of this in his post: Lessons Learned From 3 Years of Black Friday / Cyber Monday Sales. He says his BFCM sales nearly double his revenue in November. I've heard similar things from others… that a well done BFCM sale is like an extra month of revenue.
Who doesn't want to cheat physics and get an extra month of revenue out of their business?
The BFCM weekend offers a unique opportunity if you're going to run just one or two sales a year.
Since sales are expected during this time, the pricing/branding impact is minimized.
Depending on your industry, sales are either weak or strong during the holidays. If sales are weak, a BFCM discount can offset this weakness. If sales are strong, a BFCM discount can make the most of the increased traffic during a competitive time.
Blogs and other marketing sites are going to be aggregating BFCM sales and sharing them with their readers, creating organic SEO opportunities and increasing traffic.
The downsides are minimized and the upsides are maximized. So, let's do this!
---
What to Offer
The easiest promotion you can run is a blanket percentage discount across all of your products. Anecdotally, 10% off feels lackluster, 25% off feels adequate, 50% off feels good, and anything more than that seems a little crazy but might be appropriate for products with low overhead.
Alternatively, you could bundle products together at a lower overall price. You could offer extra features, licenses, or an unlimited quantity of some part of your product that is usually limited. If you can't or don't want to lower the price on your product, you can still get creative to find ways to participate in BFCM.
No matter your offer, your BFCM sale should offer the best discount you give all year. It should be better than any ongoing affiliate deal or discount you offer through partners.
---
Other Pricing Considerations
Make sure you can afford the sale.
If it costs you $100 to deliver to each customer and support them, don't run your sale below $100. You might be tempted to price things lower just to get the inflow of customers, but unless you have a direct reason to believe that each new customer is going to lead to further sales or upsells, be careful.
If you don't know how much it costs to fulfill a customer order and support it, then you need to back up and figure that out. It's possible your list price needs to be adjusted to account for your true cost of doing business. Start here.
Consider the cost of running the sale.
Besides any time and money you spend promoting your sale you're also going to have a certain number of customers who would have paid full price for your product but ended up buying at the sale price. Requiring a discount code or a special URL will mitigate this a bit, but even so some number of customers will pay less than they would have. If you expect to average about 5 sales per day at $300 and you're going to be offering a 50% discount for 4 days, there is about (4x5x150) $3000 you're potentially leaving on the table. Your sale needs to make up for that. A good sale can make 1 month's revenue ($45k in our example), so it would still be worth it… just make sure you run a good sale.
Remember, you'll probably upset some current customers.
Some number of customers before and after the sale are also going to reach out to you asking to get the sale price. You can be as lenient (or as strict) as you want here. Our policy is to honor the request for the first X customers who ask. If it turns into a problem (it usually doesn't, even though we often say things like "we'll give you money if you just ask" in blog posts like this), then we'll say something like "Sorry, we are only able to honor the discounted price to customers who purchased during the promotional period." Be prepared to handle requests of this nature so they don't catch you off guard.
---
Promote Your Sale Through Email
Hopefully you've been using some method to collect email addresses from potential customers. If not, watch Kim's presentation here on how to setup an email capture landing page with PMPro. You'll want to send out a few emails promoting your sale. Maybe one teaser before it launches and then an email every day the sale is live. I wouldn't worry too much about sending 4, 5, or 6 emails in quick succession to your list. For sure, some people will unsubscribe, but someone who unsubscribes from your mailing list when you are offering your biggest discount of the year is unlikely to become a future customer.
Remember to exclude existing paying customers from your promotion emails. Most email marketing platforms offer a way to "segment" your email list.
If your existing members can take advantage of your promotion unless the promotion applies to them as well (i.e. lock-in special rates, added features to upgrade, etc.), consider sending them a different email specifically targeting them. The perfect message for existing customers is going to be different than the message you use for first time buyers.
Another segment you may want to consider is past customers who may have let their membership expire, only made one purchase from you, or other forms of single-engagement with your company and products. You can send a different email to this group that specifically addresses their unique case.
---
Promote the Sale on Your Site
Some sites choose to keep their BFCM deals a secret except for people who have gotten the discount code through other sources. I think if you're going to run a sale and want it to be as effective as possible, you'll want to promote the sale on your site. Visitors viewing a 50% discount on your site are going to be much more likely to purchase than normal and should make up for any lost revenue.
Some popular places to display a sale on your website include:
Page Banners and Boxes
You can use Memberlite's page bottom banners or a plugin like Holler Box to add a message with your discount code to the bottom of each page. We also like the plugin WPFront Notification Bar, which adds a bar across the top of your site with text and a button. Sitewide Sales offers three built-in banner locations you can leverage if you are using this plugin to create and manage your sale.
Popups and Popovers
You can use something like Optin Monster to show your discount in a pop up when users are about to leave.
Automatic Discounts
You can auto apply your discount code to all products on the site or simply drop the prices of your products with the normal price shown with a strikethrough.
---
Create a Landing Page
There are many ways to create a landing page, so focus on the simplest method for your customer to get to the offer. Black Friday and Cyber Monday create a sense of urgency to purchase, and more often then not the person making the purchase has already been eyeing up your products. Make it as quick as possible to close the sale.
We've streamlined the process outlined below in our Sitewide Sales Plugin. This plugin includes Landing Page features and templates that will automatically apply the associated discount at checkout. Read more about Sitewide Sales here.
Using a Discount Code

If you're using a discount code, you can link to your product's checkout page with the discount code set as a parameter in the URL. With Paid Memberships Pro, you can find these links in the "Levels" column of the Memberships > Discount Codes admin page or simply add &discount_code=blackfriday to the URL of your site's checkout page (assuming your code is blackfriday).

Redirect to Checkout via a Custom URL

Alternatively, if you are using PMPro, you can use code like this in a custom plugin to redirect /blackfriday/ to the checkout page for a level the code is for. This shortened URL will be easier to share in social media.

Customized Checkout Page

If you have time, consider creating a new page at /blackfriday/, /cybermonday/, or /bfcm/. You can customize that page to speak directly to BFCM shoppers. You can create a new theme template or use custom CSS to adjust the display of that page. Maybe make the background black instead of the default on your site.

If you use Paid Memberships Pro, you can create a separate checkout page for a specific product:

Go to Pages > Add New in the WordPress Dashboard
Paste the Membership Checkout page shortcode or block in the post editor along with any other custom sales copy or images
Add a new "Custom Field" named pmpro_default_level. The value of the custom field should be set to the Level ID you want to default to.
Save and publish your new custom checkout landing page!
---
Use Snappy Graphics
There is going to be a lot of competition for your customers' attention BFCM weekend. Get into the spirit of things and use some snappy graphics to make your emails, social media posts, and promotions stand out. If you aren't a graphic designer or don't have the time or budget to hire one, you can use an app like Canva to make a promotional graphic. If you're using MailChimp, the Mailchimp Mobile Apps offer some nifty, simple and attractive email campaign templates.
---
Promote the Sale Everywhere—Get Listed to Increase Traffic
Once you have your campaign in place, reach out to blogs and mailing lists in your industry to get your promotion listed.
You'll of course be promoting your sale through your own Facebook/Twitter/Instagram/Grandmother's knitting circle, but there are other ways to get the word out. Many blogs and mailing lists are designed to exclusively aggregate BFCM promotions. For example, you can find a list of sites that did Black Friday round ups for WordPress products last year by Googling black friday WordPress 2019.
You can do a similar search for your industry and find the aggregators that best fit your products. Reach out to these sites via their contact form, email address, or social profiles. Trust me, they want to hear from you. You can also reach out to leaders in your industry that would be willing to tweet your promotion to their followers.
See all of our tips on how to run your most profitable Black Friday promotion.