Nothing can ruin the internet experience quite like spam, from cluttering up inboxes to sabotaging website interactions. Everybody wants to stop spam, but the tactics are changing every day.
When it comes to membership sites, the user experience is paramount to foster loyalty and engagement. So, it's extra important to make efforts to stop spam before it can interfere with your membership business.
Luckily, if you're using Paid Memberships Pro, the battle against spam just got easier. As of PMPro 2.11, the plugin now tracks users that are created during the checkout process, but never complete the transaction or utilize the site. Then, admins can easily locate and delete these users.
In this post, we'll talk about 11 pivotal steps you can take to fortify your site's defenses and stop spam. These not only protect your site but also ensure your members enjoy a spam-free environment, improving their overall experience.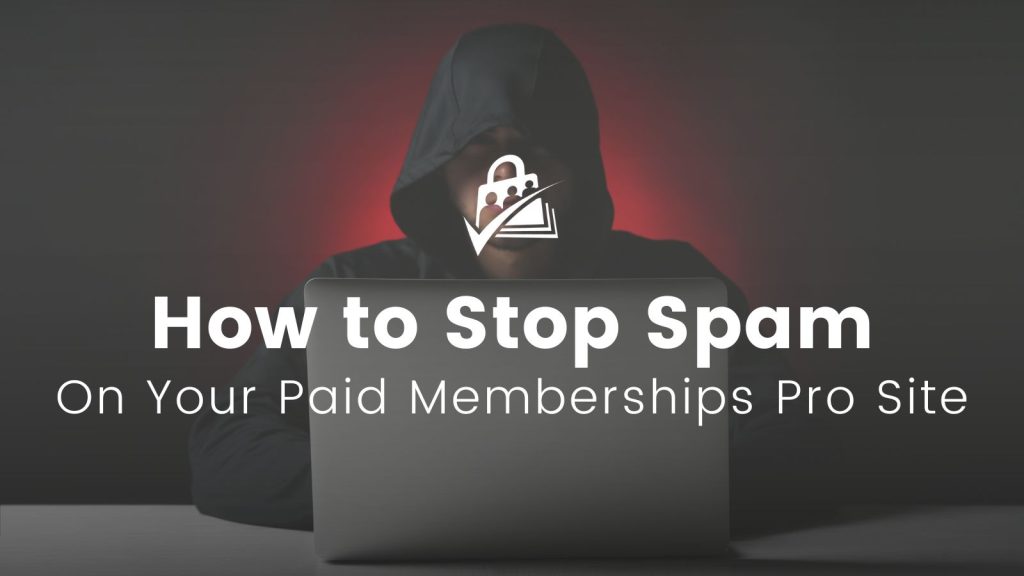 1. Set Up reCAPTCHA v3
reCAPTCHA v3 is an invaluable tool in the fight to stop spam. It serves as a shield, protecting your website from spam and abuse while letting your legitimate users pass through with ease.
In ReCAPTCHA v2, the user must click the famous "I'm not a robot" checkbox. Then, they may be presented with an image recognition task.
On the other hand, ReCAPTCHA v3 runs silently in the background to assesses the user's behavior, generating a score for how likely the user is to be human. You can use this score to set automatic thresholds for blocking or challenging a user.
Using reCAPTCHA v3 on your site helps to stop spam by deterring spammers and bots, ensuring that they cannot misuse or exploit your site.
Remember: Enabling reCAPTCHA v3 requires you to add your reCAPTCHA site key and secret key on the Paid Memberships Pro settings page. This will activate reCAPTCHA on your membership checkout page, safeguarding your site from potential spam threats.
To learn more about how to set up reCAPTCHA on your PMPro site, check out our post Protect Your Membership Site from Spam and Abuse Using reCAPTCHA.
2. Enable the Advanced Spam Protection Setting
Paid Memberships Pro features a dedicated spam protection setting in the Advanced Settings tab. By enabling this setting, you create an additional layer of security, making it even harder for spam to infiltrate your site.
To do this:
Navigate to Memberships > Settings Advanced in the WordPress admin.
Update the setting "Enable Spam Protection?" to "Yes – Enable Spam Protection".
With this setting enabled, the plugin will automatically block checkout for any IP address with more than 10 checkout failures within 15 minutes.
You can view the "Potential Spam Checkouts" by navigating to Users in the WordPress admin.

Note that this code doesn't differentiate between someone who just entered the wrong credit card number vs. someone who is testing fake credit cards. You can "tighten" the protection by setting a couple constants in your wp-config.php file:
Paid Memberships Pro now offers a new plugin: Akismet Integration for Spam Protection. This integration offers a potent additional line of defense to help you stop spam.
Akismet is a trusted spam filtering service that checks your site's comments and contact form submissions against its global database of spam.
With the Akismet Integration for Spam Protection, the same comment spam filters built into Akismet are used to detect checkout form abuse. The plugin checks the submitted email address against Akismet's world-class spam filters. If a checkout is flagged, membership registration is completely blocked.
This collaboration effectively ensures that only legitimate and relevant interactions make it to your site.
Paid Memberships Pro also provides a simple, yet effective method to stop spam checkouts in the Users section in the WordPress admin dashboard. If Paid Memberships Pro detects spam-like activity, a new filter titled Potential Spam Checkouts will appear here.
What Are Potential Spam Checkouts?
These are the users created during the Paid Memberships Pro checkout process who haven't completed checkout or performed any other site action.
To Keep Track of Potential Spam Checkouts:
Navigate to Users in the WordPress admin
Filter by "Potential Spam Checkouts"
Delete users from this list if their 'Registered' date is more than a few days old
4. Use the Email Confirmation Add On for Paid Memberships Pro
The Email Confirmation Add On for Paid Memberships Pro adds a validation link to the membership confirmation email sent to members when signing up for selected levels on your site. This is a great option for stopping spam accounts.
When a new user registers on your site, they are required to confirm their email address before they can access your content. This prevents bots and spammers from signing up with fake emails and helps to ensure that only legitimate users can gain access to your site.
5. Use the Approval Process for Membership Add On for Paid Memberships Pro
The Approval Process for Membership Add On for Paid Memberships Pro creates an extra layer of manual review to your membership process. Admins can manually approve or deny new members, providing further protection against spam and fake registrations.
This feature allows you to verify the legitimacy of each user before they become a member, stopping spam accounts before they can be created.
6. Use the Lock Membership Level Add On for Paid Memberships Pro
The Lock Membership Level Add On for Paid Memberships Pro allows you to lock a specific user from making changes to their membership level, as well as lock a membership level for a specific term.
This can help prevent misuse of your site by restricting the options available to spammers. With this Add On, only admins can change the membership level of users.
7. Add Required User Fields on Signup
You can add another hurdle for spammers by requiring additional user fields on signup. This can stop spam from automated bots by requiring information that can only be filled out by a real person.
If you've ever been required to complete a simple math equation when filling out an online signup form, you've seen this technique in action.
8. Keep Your Plugins Up to Date
Outdated plugins are a security risk, plain and simple. Spammers and hackers often exploit vulnerabilities in outdated plugins to gain access to websites.
Regularly updating your plugins ensures that you have the latest security patches, which can help to stop spam by reducing the risk.
9. Use a Security Plugin
Using a security plugin like WordFence or a service like Sucuri is a broader measure that can help protect your website from spam. These services offer a range of features including firewall protection, malware scanning, and brute force attack protection.
10. Use a Secure Hosting Provider
Choose a reliable hosting provider that prioritizes security, like Pressable. A reputable hosting provider will have robust security measures in place, such as firewalls and malware detection systems, to minimize the risk of spam and unauthorized access.
11. Enable SSL Encryption
Secure Sockets Layer (SSL) encryption adds an extra layer of protection to your membership site. It encrypts the data transmitted between your users' browsers and your website, making it more challenging for spammers to intercept sensitive information.
Enable SSL encryption to help stop spam on your membership site.
Embrace a Cleaner, Spam-Free Future for Your Membership Site
While spammers and fraudsters continue to plague the internet, taking these steps will significantly fortify your membership site against it. Stopping spam might not ever be 100% possible, but using these methods to reduce it will make running your membership business easier and less stressful.
At Paid Memberships Pro, we are continually working on other ways to keep your user tables and email lists clean of spam. Stay tuned for more updates on this front.
Remember: A clean and spam-free website helps you nurture a thriving and engaged membership community.
Want to get all of the Add Ons mentioned in this post for maximum spam protection? Get a PMPro Plus plan today and get immediate access to Email Confirmation, Approval Process for Membership, Lock Membership Level—plus 46 other premium Add Ons.
Was this article helpful?