If you have a membership site, you probably know that visually appealing graphics can significantly enhance the user experience. Canva is a powerful tool that can help you create quality graphics—without needing professional design skills.
In this post, we'll explore how to use Canva's features, discuss four ways to utilize Canva for your membership site, and share our favorite tips and tricks to upgrade your graphic design experience using Canva.
Canva offers many different features to streamline your graphics designing experience and team collaboration. This enhances your content marketing efforts and frees up your time for all kinds of other membership site tasks—like managing member engag.
Here are a few features we have found to help streamline our own process at PMPro.
Folders: When learning how to use Canva effectively, these are a great tool, especially when collaborating with a team. You can share and update projects in real time.
Brand Hub: This is where Canva allows you to store common images, logos, screenshots, brand colors, fonts, and user headshots for testimonials.
Brand Templates: When figuring out how to use Canva, you'll notice that it offers multiple templates as a starting point. You can also start from scratch and create your own standard templates for you or your team to use.
Brand Controls: Canva allows you to control color scheme, fonts and more to help with team collaboration.
Image Download Options: Download in JPEG, PNG, PDF formats, and control the size of the image as well.
4 Ways to Use Canva for Your Membership Site
1. Blog Posts
Graphics and featured images play a critical role in blog posts. They capture the reader's attention and provide context for the content.
Canva makes creating graphics for your blog post simple and easy. It's easy to learn how to use Canva to create your own templates. You can also use Canva's pre-made graphics and images to speed up the design process.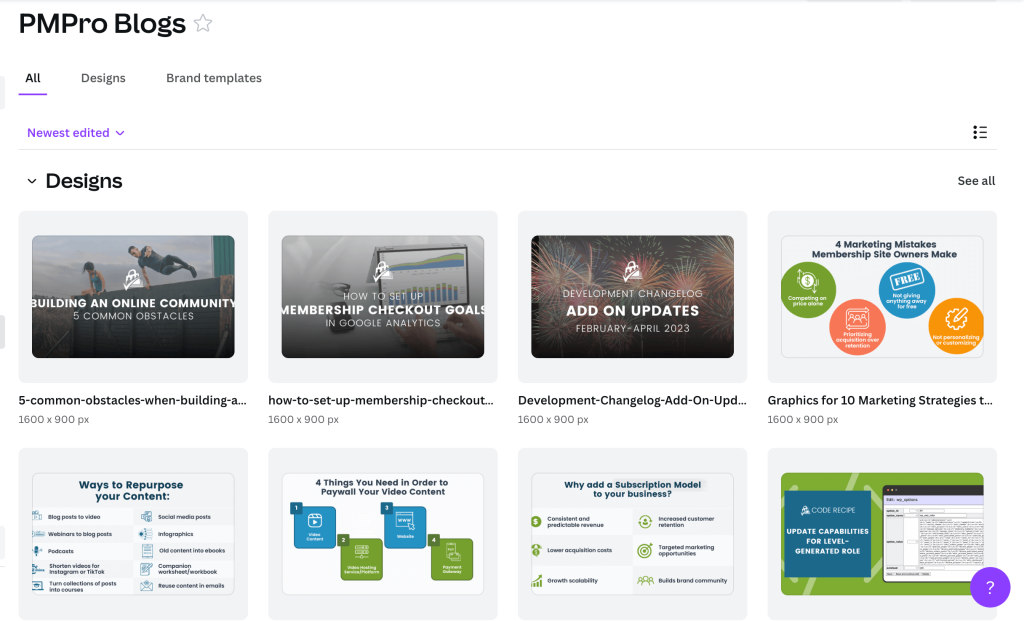 With Canva's team collaboration feature, you can work with your team members to create the perfect graphic for your blog post. There are also Brand Controls so you can lock down color palettes, fonts, and more to match your brand design.
Canva also allows you to control the type of file and size of the file for easy sizing—great news since image size is important for blog posts and site speed.
2. Social Media
Platforms like Pinterest, Twitter, and Facebook rely heavily on visual elements, and learning how to use Canva can help you create graphics that stand out from the crowd. With Canva, it's easy to create images with the right dimensions and specifications for each platform, for example.
Plus, you can download your graphics in various formats, so you can quickly share them on your social media channels.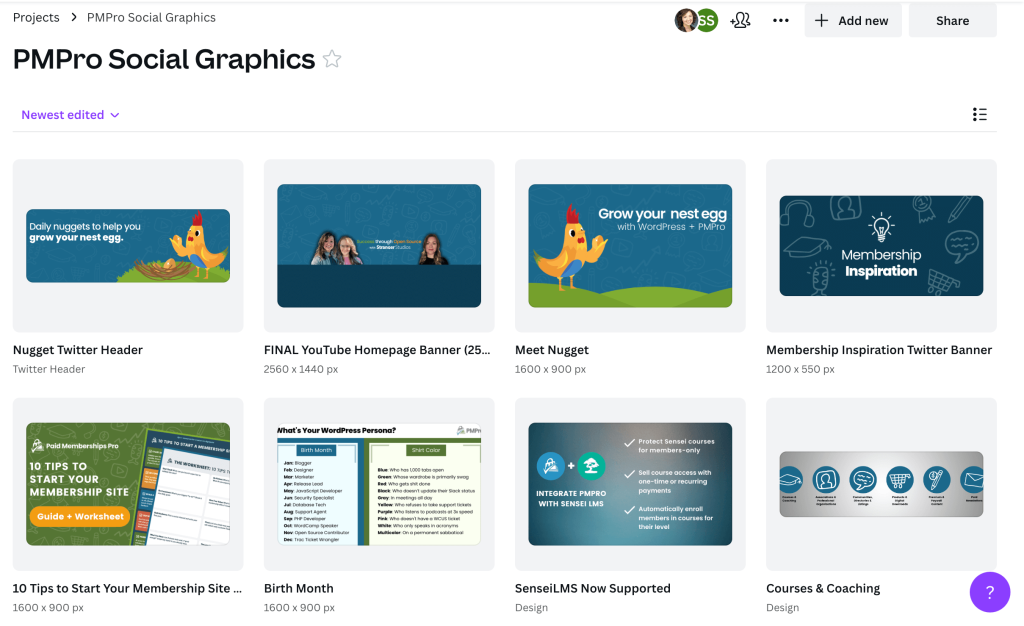 3. eBooks, Downloads, and Lead Magnets
Canva can also help you create all kinds of beautiful designs for things like eBook covers, PDF downloads, lead magnets, and in-person events. With Canva's drag-and-drop interface, you can easily create stunning visuals that grab your users' attention.
Additionally, you can learn how to use Canva's templates to ensure your design is consistent across all your materials.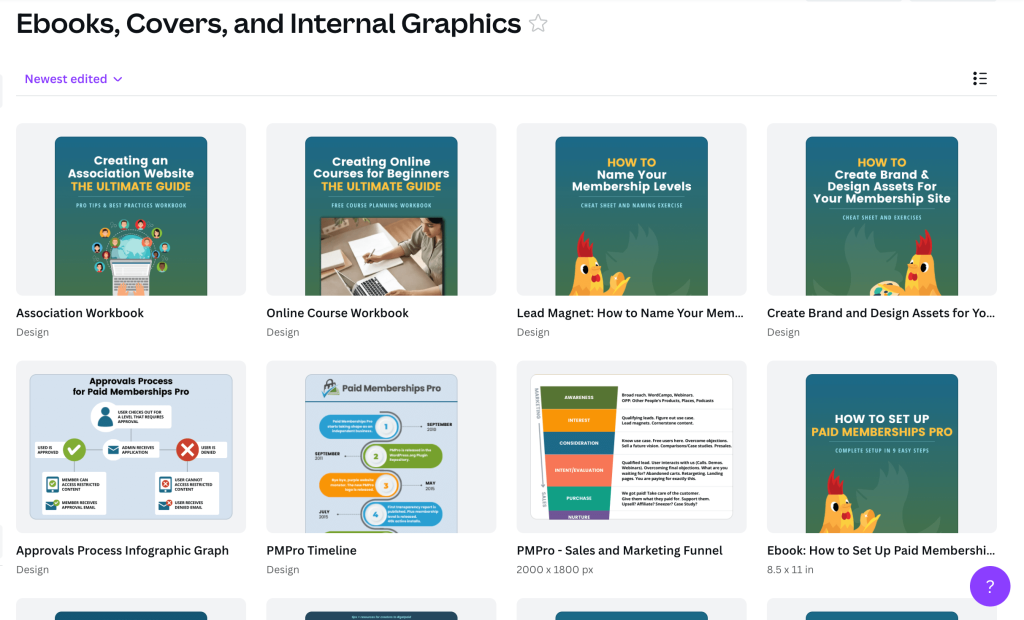 4. Repurposing Content
Repurposing content is an excellent way to make the most of your existing materials—and Canva makes it easy to repurpose your graphics and create new visuals that resonate with your audience. For example, you can turn lead magnets into animations with voice-overs or repurpose social media graphics for use in blog posts.
Check out our related webinar below:
Webinar: How to Repurpose Content For Your Membership Site
How to Use Canva to Improve Your Design Skills: 6 Key Tips
Explore the templates: Canva offers a wide range of templates that you can use as a starting point for your designs. Explore the various categories of templates available and choose one that matches your design requirements. This can save you a lot of time and effort.
Use high-quality images: Canva has an extensive library of high-quality images. Use these images to enhance your designs and make them more visually appealing.
Customize your designs: When learning how to use Canva, you'll notice it allows you to customize your designs by changing the colors, fonts, and layouts. Experiment with different combinations to find the one that works best for you.
Use grids and guides: Canva provides grids and guides that can help you align your designs perfectly. Use these tools to ensure that your designs are well-balanced and visually appealing.
Add animations and effects: One tip for how to use Canva to its fullest is to add animations and effects to your designs, making them more dynamic and engaging. Experiment with different animations and effects to add some flair to your designs.
Collaborate with others: Canva allows you to collaborate with others on projects, making it easier to work together and create something amazing. Share your designs with others and get feedback to improve your work.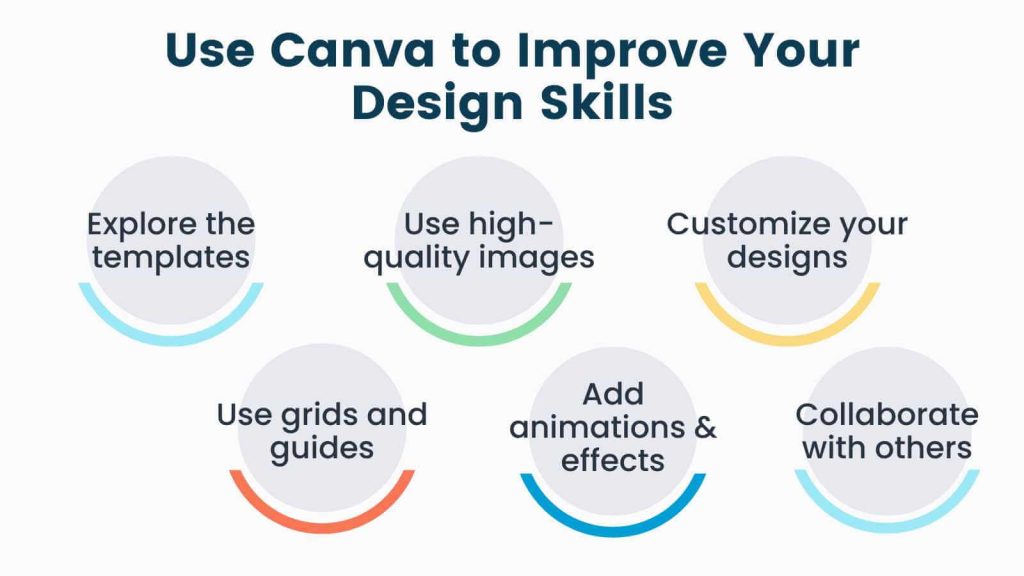 Webinar: Use Canva For Your WordPress Membership Site
Unlock Your Design Potential with Canva
Learning how to use Canva can significantly enhance your ability to create high-quality graphics for your membership site. With its rich features, including team collaboration, pre-made graphics and images, and templates, Canva can save you serious time and frustration.
Whether you're new to creating graphics or you're already a graphics pro, understanding how to use Canva is a valuable skill for your membership site. So, why not give it a try and take your graphics to the next level?
Related Resources
If you liked this post, here are a few more resources that you might find interesting:
Was this article helpful?