Membership sites have become incredibly popular when it comes to making money online, but how do you actually take your membership idea from zero to reality?
Learning how to launch a membership site can take your business and earning potential to the next level, no matter what type of clothes are in fashion. 🚀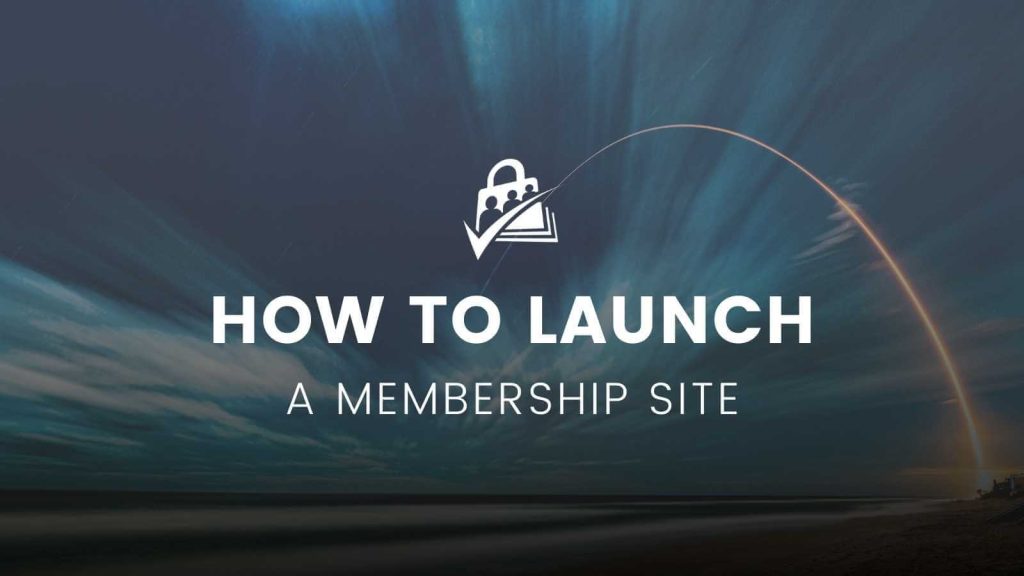 Benefits of a Membership Site
There are many benefits to running a membership site. Here are just a few of them:
Consistent revenue. Adding a membership as one of your offerings creates the potential for you to earn more. Plus, recurring membership dues mean that you can earn consistent income from your customers.
Trust and expertise. Memberships are a great way to showcase your expertise and give your customers exclusive content packed with the information and resources they seek. These offerings build trust with your customers, who count on you for good information.
Monetize your content. If you're already a content creator, you can add a membership to your business and give your audience access for an additional fee. This is a great way to expand your content creation revenue and share behind-the-scenes stuff or more in-depth content with your supporters.
No physical products. You can earn money without worrying about stocking inventory or shipping products with a membership. In fact, you can start a membership business with only minimal digital content—or even a future content production schedule or digital services package.
Increased marketability. Once you have a membership business up and running, you'll be able to market additional products or services to your member base. For example, you might give them an exclusive discount or early access to a new release.
Community. By creating a space where people who are interested in what you offer can meet and converse, you're helping bring together a community of people who can interact with others who share their interests. This is valuable to them, but it's also beneficial to you, as buzz increases around your content, and members are able to help and learn from each other.
Video: 5 Must-Have Elements for a Membership Site
What Should a Membership Site Include?
It's easy for you to see what your membership can offer, but you'll need to make this abundantly clear to potential members if you want to start making sales. Before you launch, make sure your membership has everything it needs to run smoothly—and inspire people to pay.
Here are some must-have elements for a membership site.
An Introduction to Your Brand
Make a clear and concise About page for your membership site. This will help people who stumble upon your site to determine if your membership is right for them.
Explicitly state who you are and what your business is all about if you want to attract your ideal client. Don't be afraid to be yourself; There are plenty of membership options out there, but what makes yours unique is you.
Distinct Membership Levels
Having a clear distinction between each membership level and its corresponding price makes it clear to customers what they should expect when they sign up. This not only helps to set expectations; It also reduces questions from potential customers if they know what each level offers.
Remember: An informed customer is always beneficial.
It reduces your support load, too. Don't be afraid to reiterate the main points of this information in the FAQ section of your membership website as well.
If you're looking for additional information, we have posts about how to price a membership site as well as using the benefits of tiered pricing to grow your membership site.
Members-Only Content
Members-only content is what entices customers to join your membership in the first place. Online courses, blogs, videos, podcasts, or other media are great options for paywalled content.
Once you know what kind of content you'd like to share, you can produce it and assign it to different membership levels. You might also offer more limited versions or previews of this content to attract customers to your membership.
Remember that once you've launched your membership site, you'll need to keep adding new members-only content on an ongoing basis. After all, members need a reason to keep coming back and paying you every month.
So, before you choose what you'll offer, make sure it's something you can continue to create over the long term.
Clear Calls to Action
The draw of a membership site isn't just the content or access to information alone. It's bigger than the product, and your calls to action should reflect that as well.
Using phrases like "join" or "enroll" are great ways to make customers feel like they are becoming part of something. The word "subscribe" is particularly effective because it helps people remember that they will be paying a recurring fee.
Don't be afraid to use calls to action like you're inviting potential customers to a party. Even though everything is online, they will be joining you and your members in an exclusive community for people who are all interested in the same thing.
Opportunities for Community
Building a community around your membership site is one of the best ways to strengthen your business. It's more than just a subscription fee—consider all the ways that your membership site can bring people together.
Whether you create a message board or host regular Zoom calls, you can transform your membership into a thriving community.
Community elements are also helpful when it comes to marketing.
When members have a great experience on your membership site, they tend to naturally promote your brand and encourage others to join. And who wouldn't want to have access to such a fun and valuable community?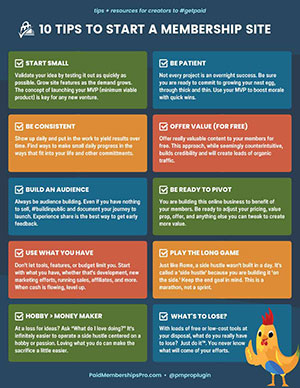 DOWNLOAD NOW
Get the 10 Tips to Start Your Membership Site guide + worksheet. Learn our simple process to refine ideas, avoid burnout, and deliver the right products to the right people.
Page two has a worksheet you should print (yes, actually print it!) and fill out this weekend. Keep the list handy when you work on your project.
Preparing to Launch a Membership Site
Knowing how to launch a membership site means understanding your business objectives, technical requirements, and strategies to make the launch as impactful as possible.
Before diving into launch mode, it's wise to take a look at the legal requirements for a membership site. In many cases, there's very little to worry about before you can launch your membership business, but it's always good to be as informed as possible.
You should also ensure you've narrowed your niche so that you can attract the right people. Every online content creator and digital entrepreneur has heard this phrase for a good reason.
If your offer is too broad, it can become less compelling, as you simply can't create the kind of content that everyone wants.
Once you've found a relatively narrow niche, validate your membership idea. Ask around and do some market research. Have some Zoom calls with potential customers and make sure your offer is something people want—and will pay for.
We wrote a whole post about testing your membership business idea with a minimum viable product (MVP).
From there, you can use the information you gained from validating your membership idea to create your content. Knowing exactly what people are looking for will make it so much easier to create and market the membership they need.
From there, you can choose your membership model. Think about which distinct levels you'd like to have, what you'll offer in those levels, and how often you'd like to be paid, for example.
Once that's all sorted, you can start to figure out a member onboarding process. Set up email drip campaigns that are triggered when someone joins, and create welcome content to let new members know where to find things, what to expect, and how to get the most out of your membership.
Then, it's time to build your brand. What makes your membership special? Think about what you have to offer and how you're different from your competitors. Then, showcase it all to your customers, so that it's obvious that your membership is unique and compelling.
Video: 6 Key Steps to Launch a Membership Site
How to Launch a Membership Site
Once you've prepped for your launch, it's time to dive in.
Steps for launching a membership site:
Select your member management software. To successfully run your membership site, you'll need a way to manage your members. Choose software with the features most relevant to the membership you'd like to create and with pricing options that work for you.

For more guidance, be sure to check out our post on selecting the best WordPress members-only plugin to grow your business.
Set up your site. Once you select your member management software, it's time to set up your site. Review some of the memberships you belong to, and see what works for those programs and what doesn't.
Provide diverse payment options. Remember, not everyone who wants to join your membership will be in the same country as you, so make sure you can support different currencies.

A plugins like Paid Memberships Pro is a great free option to help you take recurring payments via your WordPress site.
Test your membership idea. Gauge the potential success of your membership site with a minimum viable product, or MVP. You'll see if people are willing to engage with, and eventually pay for your membership—plus, you'll get feedback that you can use to strengthen your product.
Go live. Once the site is live, it's out there for the world. Make your membership information and sales page accessible, and share with your email subscribers and social media followers.
Support your subscribers. Once people subscribe, it's time to give them the value they're there for. Create a schedule for checking in with your members and posting new content. Stick to it.
Video: 10 Point Launch Checklist
Tips to Grow Your Membership
So, once you've launched, what's next? The name of the game is to attract new members.
To grow your membership site:
Use lead magnets. It's a good idea to start with a lead magnet to grow an audience to sell to and establish the value you can provide.
Consistent marketing. Branding, messaging, and imagery should all be consistent and tied to your site.
Offer a free trial. A trial allows potential customers who are on the fence to get an idea of what the membership is like before they buy.
Narrow enrollment windows. Creating a deadline will get customers to act rather than wait around.
Host contests or events. Contests and events are both great ways to publicize your membership.
Incentivize referrals. Let community members earn a commission when they recommend your membership to others.
Collaborate with other businesses. Use cross-promotion or exclusive deals to expand your reach and broaden your audience.
Ready to Launch a Membership Site?
If you're ready to launch your membership site, Paid Memberships Pro is here to help you every step of the way. Our core plugin is 100% free to use, with several premium plans designed for different needs. Download PMPro today and bring your membership idea to life.
Was this article helpful?