TLDR: We just released a free Pods Integration Add On for Paid Memberships Pro.
Sam and Frodo, Batman and Robin, Thelma and Louise—what do all of these characters have in common? They're best friends.
Paid Memberships Pro is excited to share that we have a new best friend: the Pods Framework.
If you haven't heard of Pods before, it allows an ordinary user or developer to easily create and most importantly extend custom post types, content types, taxonomies, users, media, or comments. And it's free to download and install on your WordPress site. It's the ultimate utility belt (watch out Batman!).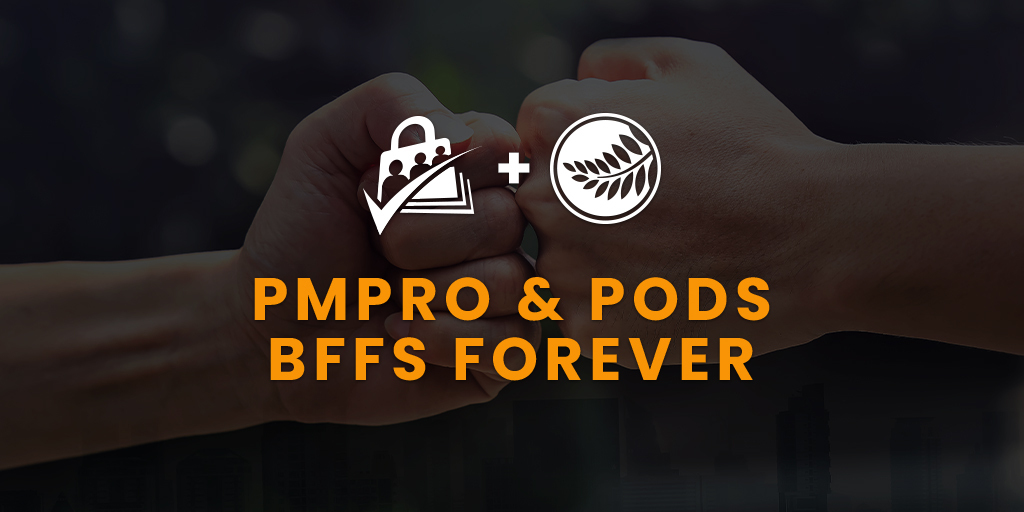 PMPro Pods Integration Add On
We just released a free Pods Integration Add On for Paid Memberships Pro. So anyone who has Paid Memberships Pro can add Pods to their site and customize your membership site without code.
So what can you customize? On a technical level you can customize these three things:
PMPro Member
PMPro Order
PMPro Membership Level
If you're a developer you may have an idea how powerful this is. But I'd love to show you what it can do.
One of the most common requests we get at Paid Memberships Pro is to customize our checkout fields. And we have a few ways to do that. Pods adds a new completely code-free solution.
Customize Membership Checkout
Watch our very own Scott Kingsley Clark who is the Product Manager at PMPro and lead developer of the Pods Framework show you how:
If you can't watch the video here's a summary:
In your WordPress admin under Pods click Add New
Click Extend Existing
Choose the content type – PMPro Member
Add whatever fields you want. We added a t-shirt size field so we can send our new customers a t-shirt.

Edit the Pods group.
Click on PMPro Options to adjust where it shows up in the checkout

Save the Group and save the Pod
Checkout and you should see the new fields in both the checkout and your user profile page.

Customizing the checkout is something most membership sites want to do at some point and this is just one of three PMPro content types supported by the integration. You can also customize the PMPro order (maybe to add tracking information) and the PMPro Membership level.
Get Started with PMPro & Pods
Once you start to get the hang of how content can be added to different post types and the different relationships you can configure, the options are nearly limitless.
Move over Sam and Frodo—PMPro and Pods are new best friends that can take you anywhere you can imagine.