How it Works
Once installed and activated, this Add On will allow you to configure a Sitewide Sale for your Membership Site. You can use this Add On to run a sale for a business announcement or set it up for a holiday event, such as Black Friday, Cyber Monday, or Giving Tuesday (for a charitable Membership program).
The sale allows you to configure a start and end date, discount (via a linked Discount Code), custom landing page and sitewide advertisement banners. You'll also get a report of detailed sale performance while the sale is active and once the sale has ended for further analysis.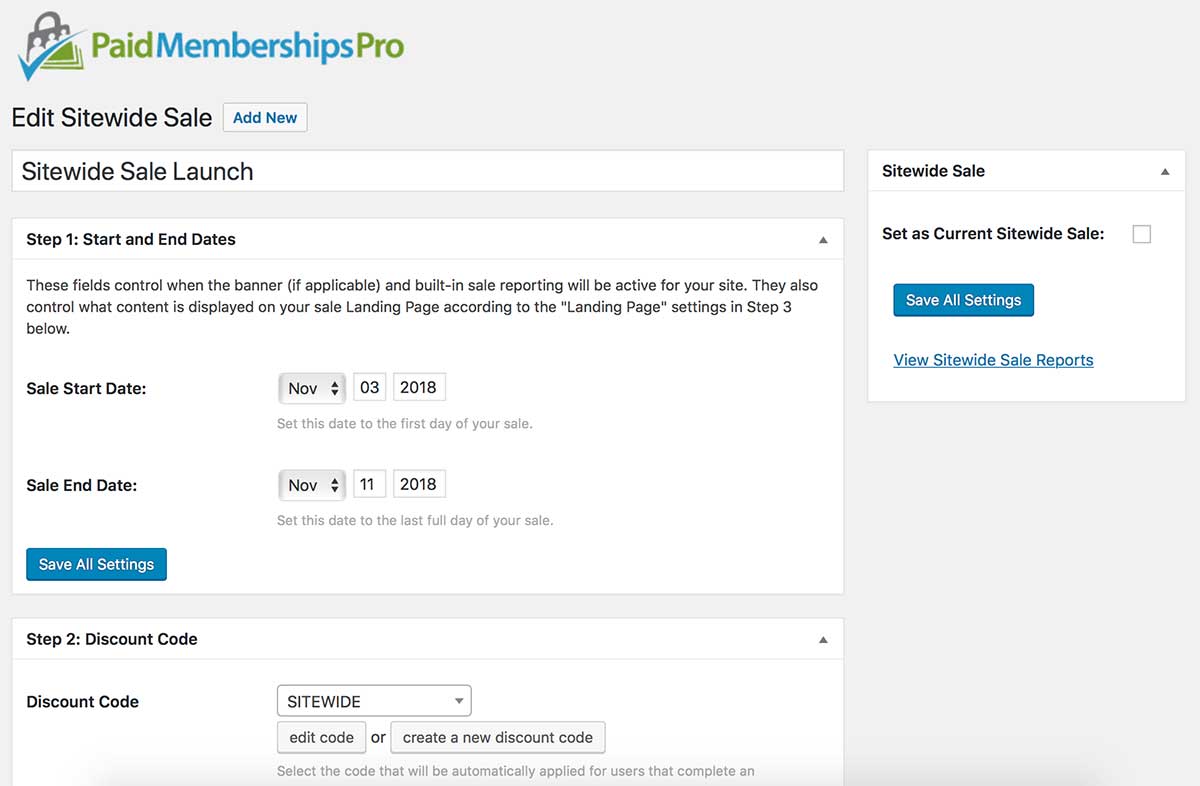 The Add On creates a new menu in the admin dashboard under Memberships called "Sitewide Sales". From this page, can create create and track different sales over time. Note that only one sale can be active at any given time.
---
Sale Tracking for Auto-Discounts and Reporting
A cookie is created for each site visitor when a sale is active. The cookie will track whether the visitor views the banner, visits your landing page, or completes checkout. This allows the site owner to see reports on sale performance based on the conversion rate of your banner, landing page, and checkout process.
Continue reading for installation and setup instructions to make your sale a success.
---
Video Demo
---
Installation
PMPro Plus and Unlimited members can install the add on via the Memberships > Add Ons admin page.
Or, download the plugin file and upload the pmpro-sitewide-sales directory to the /wp-content/plugins/ directory of your site.
Activate the plugin through the 'Plugins' menu in WordPress.
Navigate to the Memberships > Sitewide Sales page and continue with the Setup steps below.
---
Setup
There are a variety of settings and options available to help you craft your sale.
The instructions below take your through necessary steps to create and activate a sale. At a high level, the steps include:
After activating the Add On, navigate to the Memberships > Sitewide Sale page in the WordPress Dashboard and click "Add New" to get started.
Enter a title to be used for internal tracking purposes. This title will not be displayed to your visitors or members.
---
Step 1: Sale Start and End Date
Enter a Start Date and End Date for your sale.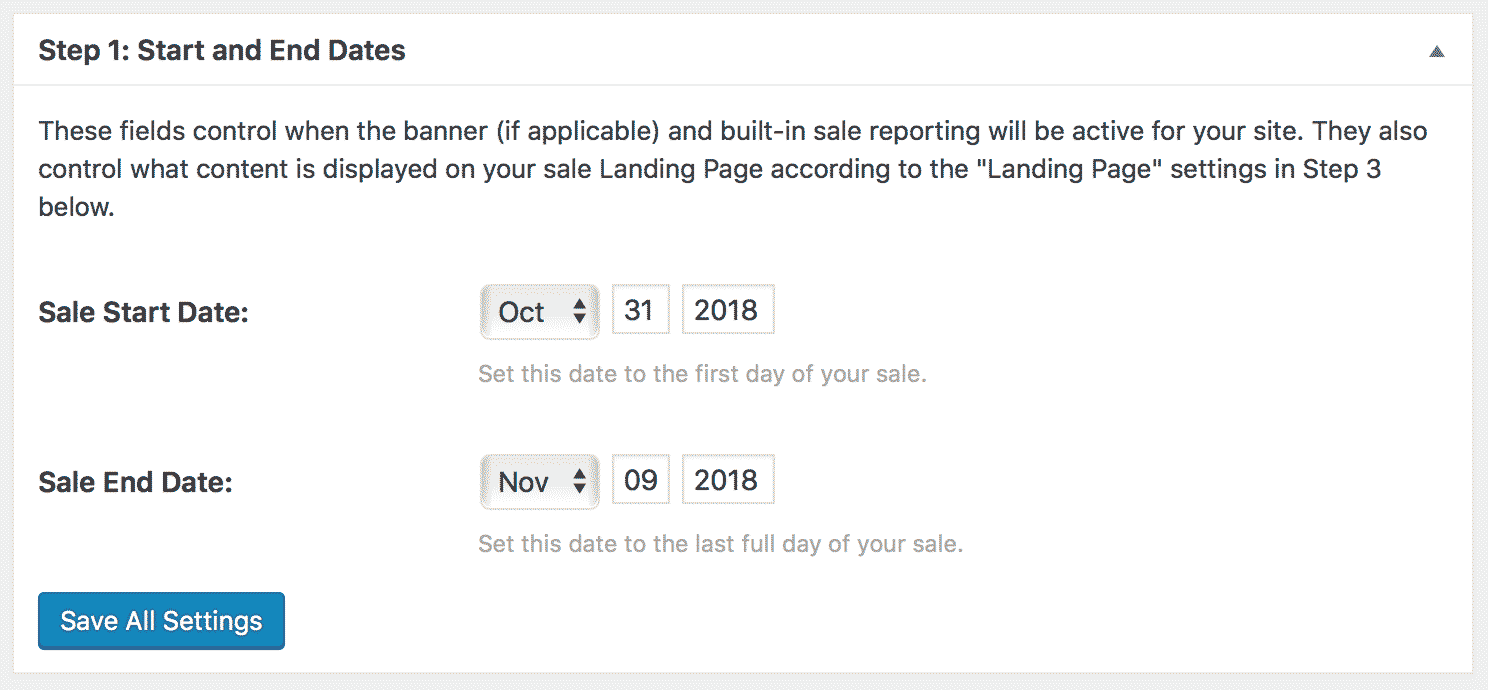 These fields control when the chosen banner and built-in sale reporting will be active for your site.
---
Step 2: Discount Code
Select a code from the dropdown list or create a new discount code.

When a site visitor sees your sale's banner or visits the sale landing page, the Add On will create a cookie and begin tracking their activity for reporting purposes.
If a cookie is present for the user, they will automatically receive the sale price for membership as if they had entered the associated Discount Code in the Membership Checkout form. This is true for the checkout form on your Landing Page (if displayed) or via your site's primary Membership Checkout page.
---
Step 3: Landing Page
Select an existing page on your site or create a new page for the sale.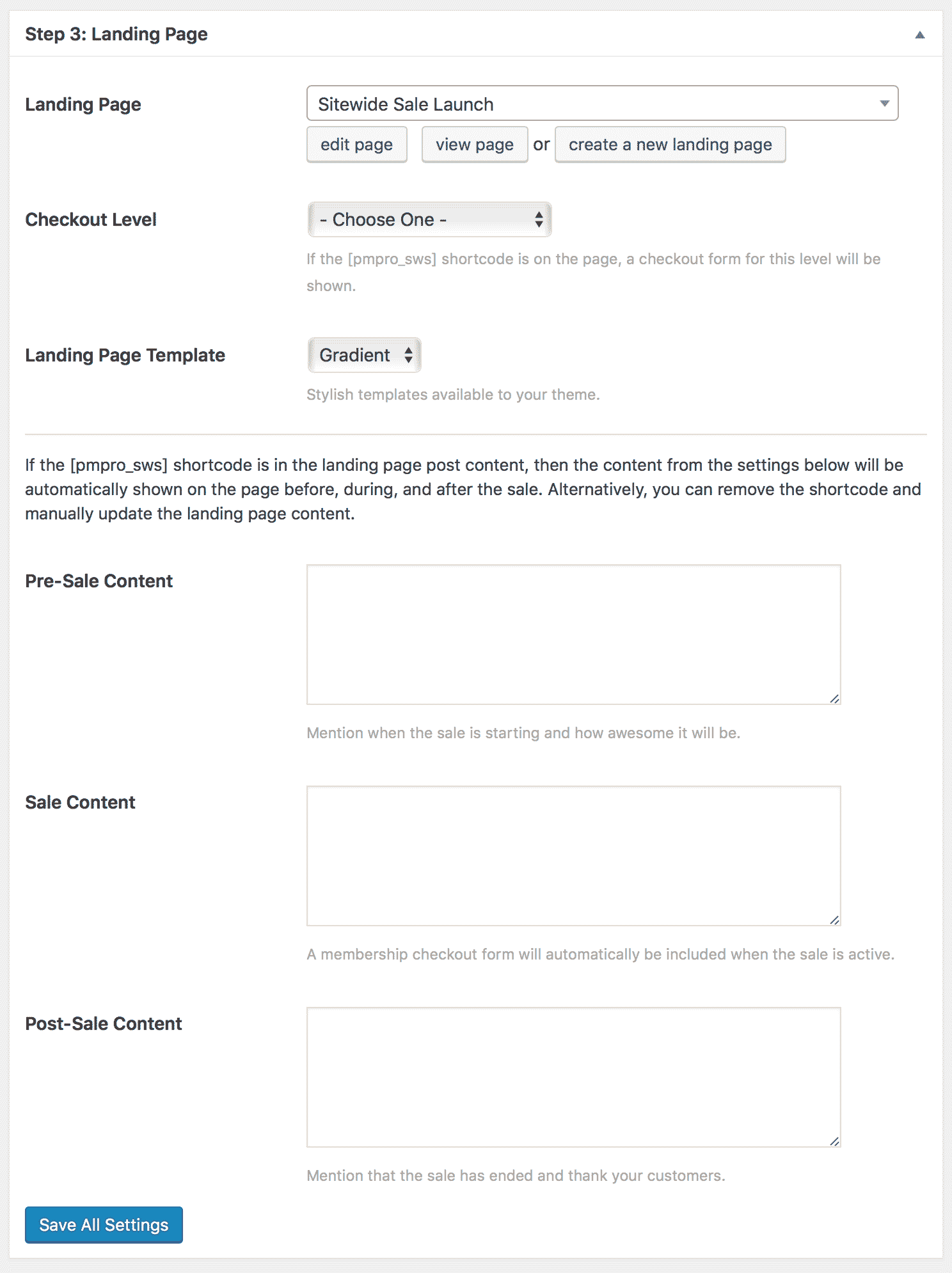 Your sale's Landing Page is the page that will track the key component of your sale's performance. You can share direct links to the page in any marketing efforts, such as an email blast, via social networks like Twitter or Facebook, as well as additional banners or advertisements throughout your site.
This is also the page that your sale's banner links to, if you have chosen to display one of the built-in banners for your sale.
---
Designing Your Landing Page
The Add On includes a shortcode [pmpro_sws] that can be used to load dynamic content on the page, controlled by the sale's start and end date. Using this shortcode, you can manage the content to display before, during, and after the sale. The following settings are available for your Landing Page:
Landing Page

Select the page to use for your sale's "Landing Page". You can generate a new page that will automatically insert the recommended [pmpro_sws] or create the page on your own.

Checkout Level

If the [pmpro_sws] shortcode is present, a checkout form for this level will be shown.

Landing Page Template

Stylish templates are available for sites on the Memberlite Theme. You can enable the use of Templates for other themes if you modify the Memberships > Advanced Setting labeled "Allow Sitewide Sale Custom Templates". view a demo of each template on the Memberlite Demo Site or read more about template setup in this article.

Pre-Sale Content

Displayed before the "Sale Start Date". You can use this field to mention when the sale is starting and how awesome it will be.

Sale Content

Displayed above the checkout form during the Sale. A membership checkout form will automatically be included when the sale is active and the [pmpro_sws] is used.

Post-Sale Content

Displayed after the "Sale End Date". You can use this field to mention that the sale has ended and thank your customers.
---
Step 4: Banner
Select a banner to advertise your sale throughout your site.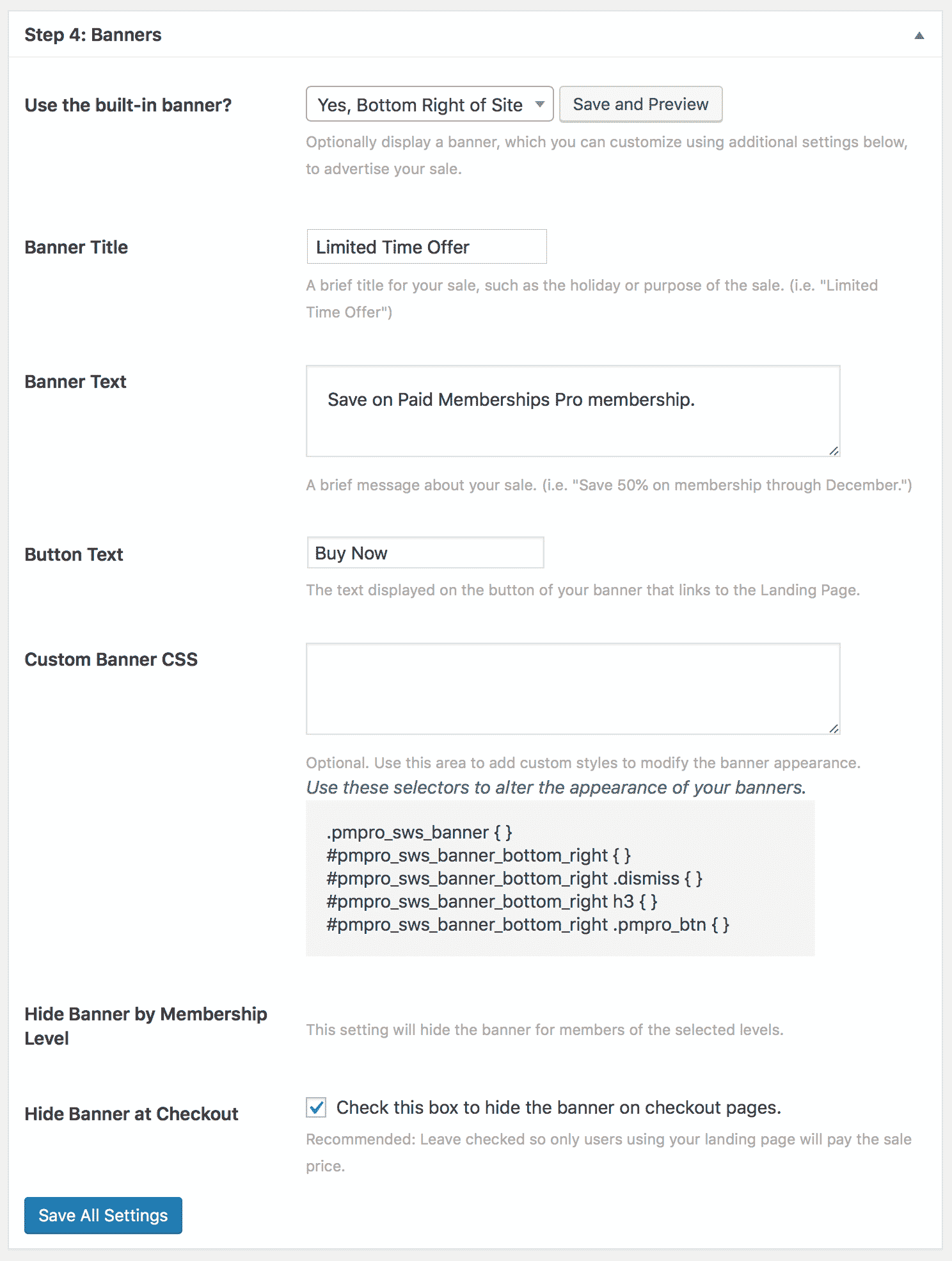 The Add On includes three banner positions you can choose to add a basic banner to advertise your sale. The banner can be customized with the following settings:
Use the built-in banner?

Select whether to load one of the included banners and where you would like it to be positioned: Top of Site, Bottom of Site, or Bottom Right of Site.

Banner Title

A brief title for your sale, such as the holiday or purpose of the sale. (i.e. "Limited Time Offer")

Banner Template

A set of templates matching those for your Landing Page are available for sites on the Memberlite Theme. You can enable the use of Templates for other themes if you modify the Memberships > Advanced Setting labeled "Allow Sitewide Sale Custom Templates".

Banner Text

A brief message about your sale. (i.e. "Save 50% on membership through December.")

Button Text

The text displayed on the button of your banner that links to the Landing Page.

Custom Banner CSS

Optional. Use this area to add custom styles to modify the banner appearance.

Hide Banner by Membership Level

This setting will hide the banner for members of the selected levels.

Hide Banner at Checkout

Check this box to hide the banner on checkout pages. We recommend leaving this checked so only users using your landing page will pay the sale price.
---
Step 5: Reports
View reports on sale performance, including banner and landing page reach
The screenshot below demonstrates the reporting data available during your sale and after the sale has ended. This will allow you to see how the banner or landing page converted for your promotion and compare sales totals using your discount vs. regular sales in the period.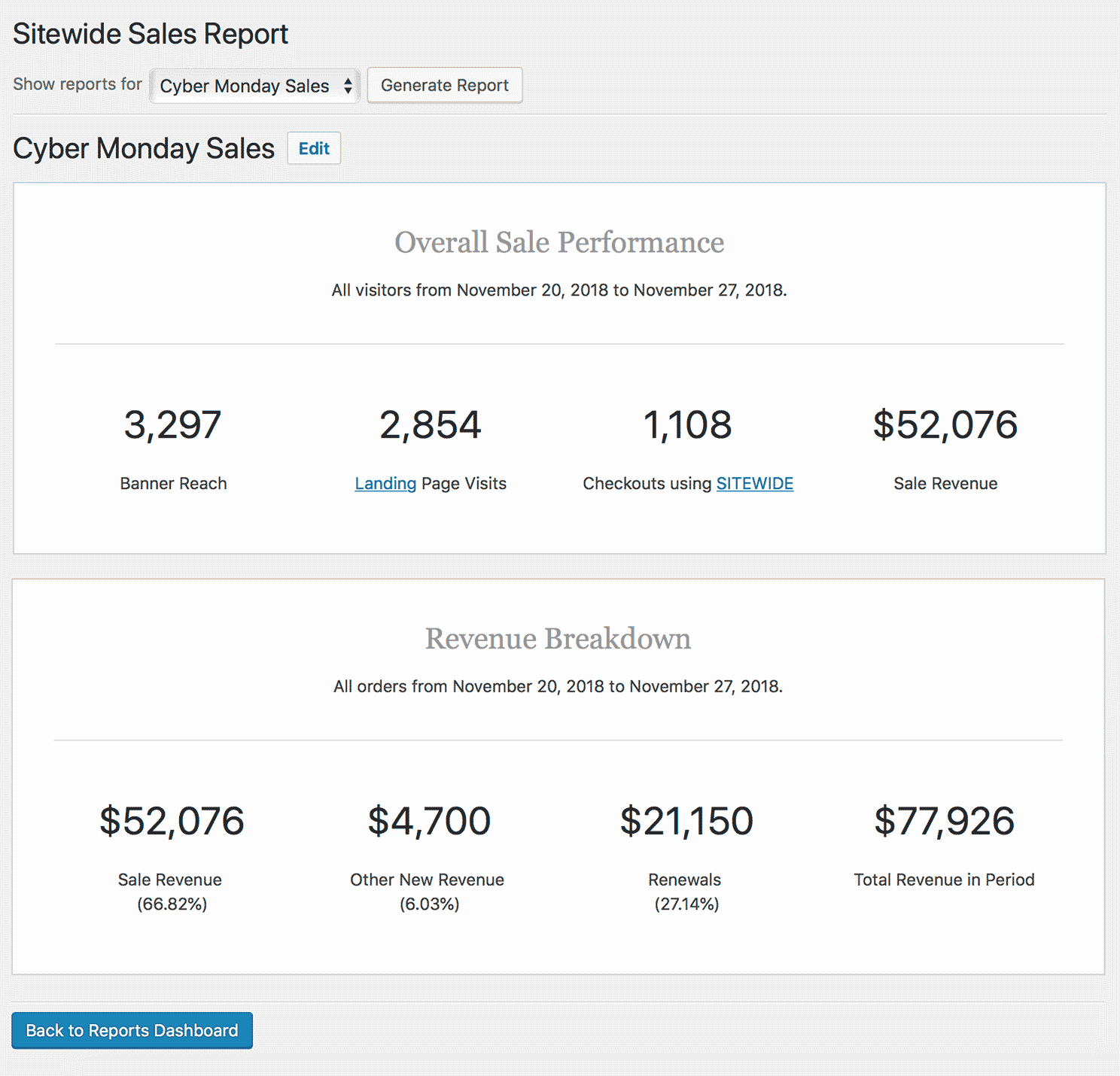 ---