Courses can be a meaningful addition to your membership site. Your audience may readily welcome (hint: pay for) content that helps them improve their skills and deepen their knowledge. This guide covers some of the most popular eLearning software options that can be used with your membership business.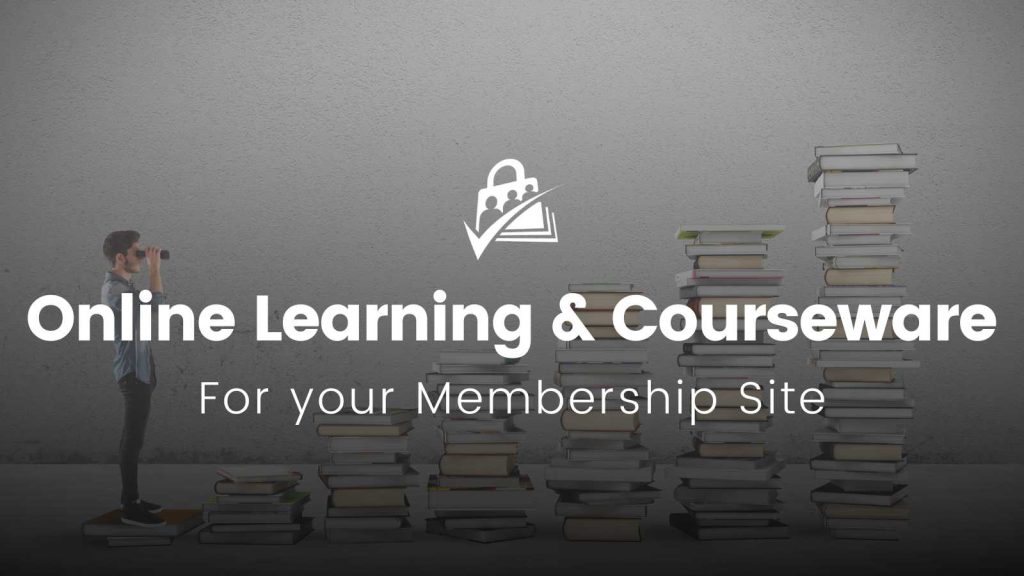 Webinar: How to Manage Courses with PMPro
---
Develop Your Course Content First
We highly recommend developing your course content, even just in a rough outline, before you begin evaluating platforms to deliver it. Most platforms include a common list of features: a basic course content page, progress metrics, quizzes, and even awards and certificates. But how do you know what features your course will need before you even write it?
Identify what will be included in your course in the early course planning stages. Then identify what will not be included in your course. If you build a strong outline up front you will know what to focus on and won't get sidetracked as you develop the content.
If you would like expert guidance as you develop your course, check out this course for creating courses by Joe Casabona.
It can be tempting to build a course that fills up all the exciting features of your chosen platform. Your course should actually be designed around your content. If you take a content-first approach to course development, you're more likely to create a program that makes sense to your members.
Remember: A functional course is far more useful than a flashy one.
---
Wait, do you really need an eLearning plugin?
In its most basic form, a course is a well organized series of content. Your course content can include text, images, downloads and videos. Here are some thoughts to consider before you make the leap to use a courseware plugin:
---
Just courses or a membership site that includes courses?
There are many ways to sell the courses you create. Some popular models include:
One-time fee to purchase a course.
Subscriptions that unlock access to multiple courses.
Membership that includes courses alongside other community features.
Most elearning plugins include e-commerce features to sell the courses you create. Ask yourself: am I building an online store that sells courses or am I building a membership?
While this may seem like a subtle distinction,my experience supporting membership site creators has shown me that the difference is very important. How you answer this question will help you decide on the right platform to power your online business.
Don't overcomplicate how you sell things too early. If you're starting with one course, just sell that one course for a one-time payment. This will get your content in front of customers faster, allowing you to refine and respond to their feedback before you spend time on course #2 or any accompanying content and features.
If you're planning to offer a membership, use Paid Memberships Pro.
---
Courseware Platforms for Paid Memberships Pro
Paid Memberships Pro (PMPro) is a complete membership solution for your WordPress site.
These courseware plugins integrate with PMPro so that users who purchase a membership get enrolled in certain courses. This route provides you with the flexibility to set your recurring membership pricing and offer supplemental course content like blog posts and downloads as well as course-enriching features like member chat and forums.
You can set up a single membership level includes one or more courses, or you can set up distinct membership levels that offer specific courses per interest group.
Courses for Memberships

Use the Courses for Membership PMPro Add On to organize course content, protect access by membership level, and track lesson completion by user. Or, use Add On alongside one of our integrated LMS plugins to restrict course access by membership level.

LifterLMS

LifterLMS

is an e-learning plugin for WordPress that is available for free

in the WordPress.org plugin repository

. The software includes courses, lessons, quizzes, achievement badges, and more.

Sensei LMS

Sensei is an e-learning WordPress plugin by the makers of WooCommerce and Jetpack. The software includes courses, lessons, quizzes, and more.
If you are doing your own research, you may have found a few other popular LMS plugins for WordPress. There are loads of them. The list above is aimed at highlighting the plugins that offer some form of PMPro integration.
Using another courseware plugin that doesn't integrate with PMPro? Reach out to us on the contact form. There are some courseware plugins that we can help you restrict using our Custom Post Type Membership Access Add On.
---
Additional Resources for Course Creators
This guide has covered many high-level topics to get you started. Here are a few supplemental articles that will help you as you begin the next stages of course development:
Are you ready to start growing your online course business and attracting new students?
With Paid Memberships Pro, you can create free and paid subscriptions to your course content, benefit from a wide variety of Add Ons and integrations specifically designed for selling online courses, and manage your course on WordPress.
We know that a WordPress site has tons of moving parts. Choosing the right plugins, themes, hosting, third party services, design assets, and more can feel overwhelming.
Paid Memberships Pro is a comprehensive platform built for any kind of eLearning environment. Learn exactly what you'll get — the plugins, the support, and the training — when you build your online course with Paid Memberships Pro.
---
Webinar Slide Presentation
Was this article helpful?