A membership is a great business model that empowers you to create recurring revenue. But if you want to increase that revenue, you need more members. If your first thought is that you need to double down on your marketing efforts to make that happen, stop right there.
You don't have to add more to your plate and sacrifice time that would be better spent on engaging with your existing members. That is even more true when considering that customer acquisition costs (CAC) can be very high. It can cost five times as much to acquire a new customer rather than keep an existing one.
As such, it's a better idea to see if your existing customers are interested in buying a gift for someone else before trying to find new customers. To assist with this, you can use gift memberships to let people give the gift of membership to their friends and family members.
Memberships are growing in popularity as gifts for your loved ones. However, not all software makes it easy to gift memberships to others.
In this post, we'll explain gift memberships, talk about the best practices for gifting a membership and share practical tips for converting gift recipients to regular subscribers.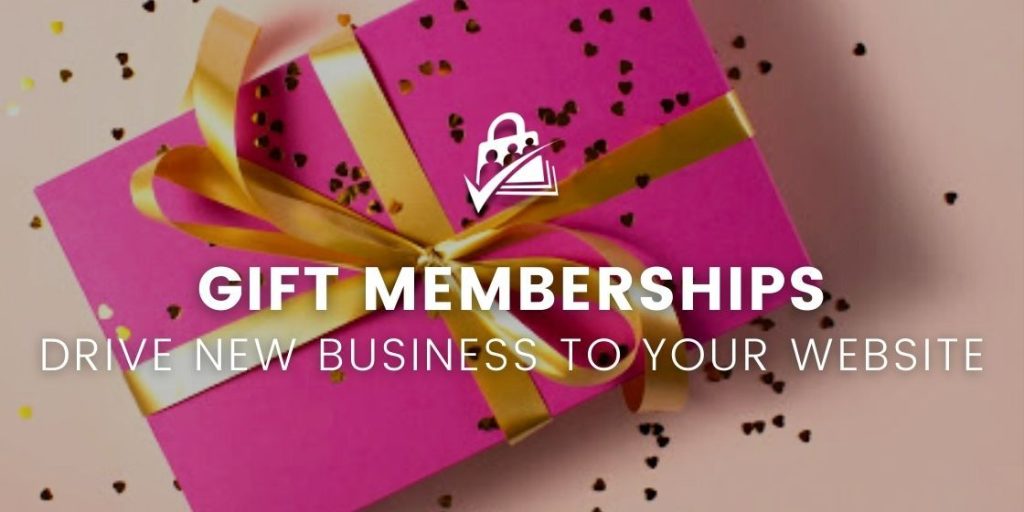 Defining Gift Membership
A gift membership is when someone gives a subscription gift to another person.
That lets the gift recipient experience what your membership has to offer in a risk-free way and allows them to continue paying for it once the duration of the online gift subscription ends.
The gift-giver can be one of your members or customers and clients that worked with you in the past. They don't necessarily have to have invested in your membership themselves.
How to Set up Gift Memberships on Your Membership Site
You can easily set up gift memberships on your membership site with the Gift Membership Add On for Paid Memberships Pro.
When a customer checks out with a gift the Add On will generate a unique gift code for the recipient that allows them to claim their membership account. You can also set an expiration date for the level selected as the gift.

It's worth mentioning that users who purchase gift certificates will not be given a membership level on your site, but they can see a history of gift purchases, and they can purchase as many gift codes as they want.
The Best Time to Offer Membership or Subscription Gifts
While no rule states that gift memberships have to be gifted at a specific time, pairing it with a theme often yields positive results. For example, the holidays are a great time to gift a subscription.
Another opportunity to provide a gift card membership is any special occasion for the person on the receiving end. That can be their anniversary, a birthday, or any other day with special meaning.
Why You Should Offer Gifting for Memberships
Gift memberships can work well if you want to grow your membership site. Promoting gifting allows you to get new members in without doing all of the promotion to find new customers yourself.
Subscriptions and memberships also make excellent gifts as they can offer great value for the cost. They are easy to organize and make the perfect gift for people who seem to have everything. They also are easy to fulfill, so you don't have to worry about your gifts getting delayed.
Another perk of gifting a membership is that the excitement associated with a membership can last longer than the initial excitement of opening a physical gift.
Compare getting your favorite box of chocolates only on your birthday versus getting your favorite chocolates at the beginning of each month. The same applies to myriad other membership benefits.
Best Practices for Offering a Membership Gift
Now that we've covered what gift membership is and why you should promote them, let's discuss best practices for offering a membership gift and how to relay the membership benefits you offer.
Offer various subscription levels as gift options — Don't limit gift memberships to only one membership tier. Instead, give your members more options to choose from. 
Create a gift code — This allows the recipient to set up their account and enter their billing information. They can easily continue their membership when the gifted membership expires. 
Allow users to buy multiple gifts — Keep in mind that some holiday shoppers like to buy the same present for everyone. While multiple gift codes cannot be purchased in a single checkout session at this time, you can check out multiple times to purchase additional gift codes.
Be clear what happens when the gift expires — Let the gift recipients know what they can expect when the subscription ends. Will their membership automatically renew? If your membership revolves around digital products, do they keep access to lessons and materials shared? How can they renew their membership with their payment details?
Make the gifting process easy — don't make your members and visitors jump through hoops to buy and gift the membership. 
Our Gift Membership Add On can help you set up gift memberships on your website easily. Note that you will need a Plus plan to activate the Add On by going to the Memberships > Add Ons page in the WordPress admin.

Then, go to Memberships > Settings > Levels to create and manage gift membership levels. Create a membership level like usual and then scroll down and check the box to allow guests to purchase as a gift.

When you finish creating membership levels, make sure to modify the default messages sent by the system by going to Memberships > Settings > Email Templates.
How to Convert Gift Recipients to Regular Members
Gift memberships are a great way to get new members, but they aren't guaranteed to convert to regular subscribers.
Here are a few ideas to help you achieve that:
Add them to drip-email campaigns that share useful information about the membership — how to get started, a tour of the membership portal/account area, and what's included in the membership.
Send a personalized thank you membership card or a welcome gift to their physical address.
Send gift recipients notices as their membership expiration date approaches. Remind them that if they want to continue to have access, they'll need to enter their payment information to pay a one-time fee. Don't forget to also remind them of what they'll lose once the membership expires.
Offer an exclusive discount code for the first month to remove the price objection and compel them to continue with the membership.
Lastly, give them the same VIP treatment as you do for regular members.
Final Thoughts: Gift Memberships Drive New Business to Your Website
Offering Gift memberships is an excellent way to get new members for your site and generate more revenue without investing a ton of time into new marketing efforts. Convert your existing membership levels into gifts easily with the Gift Membership Add On for Paid Memberships Pro.
Was this article helpful?