When COVID-19 first reached the U.S., businesses both large and small were forced to entirely reevaluate the way they operated.
People had to get creative when it came to transforming their in-person businesses into entirely digital experiences. For small-business owners, failing to innovate and adapt to a now-virtual world meant risking having to permanently close their doors. Gold Country Yoga, a studio located in the small city of East Sonora, California, was no exception. However, husband and wife team Mark Holmes and Ellen Cremer rose to the challenge.
By joining together their unique professional backgrounds and Stranger Studios' plugin, Paid Memberships Pro, Mark and Ellen were able to reinvent a physical yoga studio as a successful online business.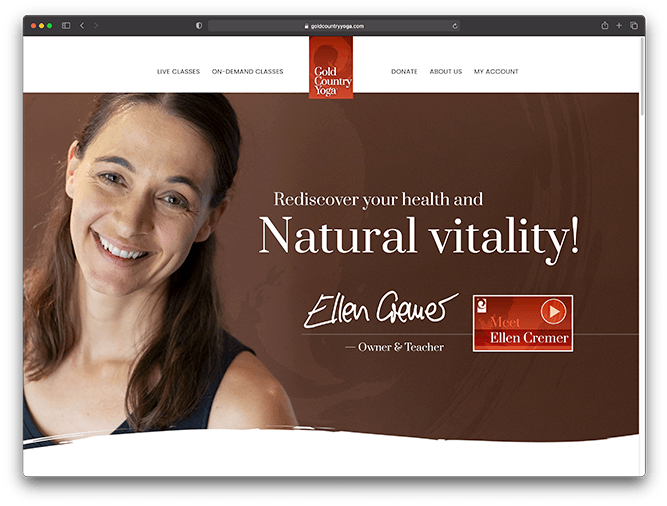 About Gold Country Yoga
Yoga instructor Ellen Cremer opened her yoga studio, Gold Country Yoga, over five years ago.
Prior to 2020, the local business was run entirely in-person. As a professional modern dancer with almost 20 years of teaching experience, Ellen's unique style allowed her to connect with countless students as she emphasized mindfulness and introspection in her lessons.
When she had to close Gold Country Yoga's doors last year as a result of the global pandemic, Ellen brought her studio online. As a teacher who prides herself on creating a warm and engaging environment, Ellen fully admits that the virtual experience was not immediately an appealing format for her.
However, she and husband Mark knew that this was their "sink or swim" moment.
This is where the unique combination of the duo's experience truly shines. Mark, an Emmy award-winning film and video professional, has 10 years of experience producing instructional yoga DVDs. And Ellen, with her professional background in dance, naturally understood how to translate her in-person presence into an equally engaging virtual one.
As Ellen began to teach her original students via video sessions, Mark simultaneously recorded with his high-quality equipment. From there, the two began to quickly build a library of premium content in just a few weeks' time.
While both were excited by the prospect of Ellen being able to reach a wider community of students than ever before, they knew they needed to find the right tools to help them develop their successful membership website.
---
The Challenge: How to Develop a Membership Website
Thanks to the professional nature of Ellen's teachings and Mark's recordings, the content they were creating stood out among the massive amount of exercise videos that were already online.
"Reinventing Ellen's studio as a member-driven, on-demand business was a no brainer for us," said Mark. "We had the right combination of skills to make it work quickly and professionally."
What makes the membership website design different is its gated pages, as they provide gated content that can only be accessed by specific members. By offering different tiers of subscriptions, Ellen and Mark were able to create a pricing structure based on the varied membership features that students could unlock.
As Mark began using WordPress, he quickly realized the challenge in selecting from the millions of available plugins and then testing, configuring, and launching them on their website.
As a membership site, Gold Country Yoga needed a platform that not only allowed Mark to limit access to content, but also to easily manage a variety of billing schedules and recurring payments based on the options selected by members.
---
The Solution: Paid Memberships Pro Content Restrictions and Add Ons
Once you've begun to amass a library of premium content, such as Ellen's lessons, the most important element in building a membership site is finding an effective membership subscription tool.
Mark and Ellen privately host their videos on Vimeo, and then, using PMPro, they're able to embed the files as needed across their website, granting access based on user credentials.
In addition to PMPro, the Gold Country Yoga site also uses several Add Ons, including Content Views Pro. This feature enables them to curate their content library, allowing members to sort the lessons they're looking for by various filters.
When selecting the right membership software for your page, it's important to look for one that can solve more than just one of your needs. As Mark discovered, when you begin to layer plugins across your website, they can quickly add up and make integration on the site overly complex.
Using a customizable variety of subscription website Add Ons, PMPro clients like Gold Country Yoga are able to add different features, functions, and integration with third-party services to build the best virtual experience possible for their own customers.
---
The Results: A Successful Membership Website and Virtual Studio
With over 200 lessons available to members, the Gold Country Yoga website offers quality, convenience, and exclusivity through special workshops, series, and online classes.
While Ellen misses her in-person classes, she and Mark have successfully built a fully operational virtual studio and membership site in the meantime.
Powered by PMPro, the Gold Country Yoga website offers four different membership levels with varied pricing and access so that students can get the most out of Ellen's teachings. As Ellen says, there's never been a more necessary time for yoga, as it gives students a chance to step back and take a breath.
As Gold Country Yoga expands its membership offerings and begins to work with local businesses on corporate memberships, Mark and Ellen are excited to see what the future has in store for them.
---
Building a Virtual Business
As businesses are beginning to reopen, many have found that they can generate even more success through managing a virtual presence with a membership model.
At Stranger Studios, we offer the most complete WordPress website membership plugin available to businesses that need an easy way to restrict content and manage subscriptions. Through our Add Ons, you can further customize your subscription website as needed to create the exact experience you hope to deliver to your users.
If you are interested in creating a membership website or have any additional questions about Paid Memberships Pro, contact our team today.