Are you having trouble updating your PMPro license key in the WordPress dashboard? This post will share the most common issues and how you can resolve them.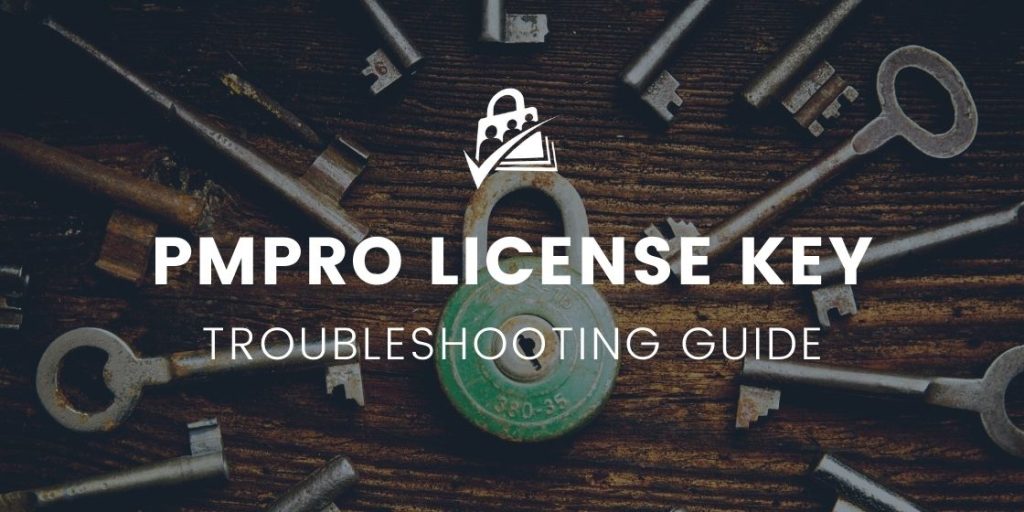 Why do I need a license key?
First, note that our support license keys are primary used to serve automatic updates of our premium add ons. The core Paid Memberships Pro plugin or any other plugin hosted at wordpress.org can be updated without a valid license key.
You can also update our premium add ons by downloading the ZIP files from our site here and then uploading them to your site.
If your license key is not validating, you will want to read on to figure out how to fix that, but we want you to know that you can continue to use and update your site even if your key is not validating.
Your license is invalid or expired.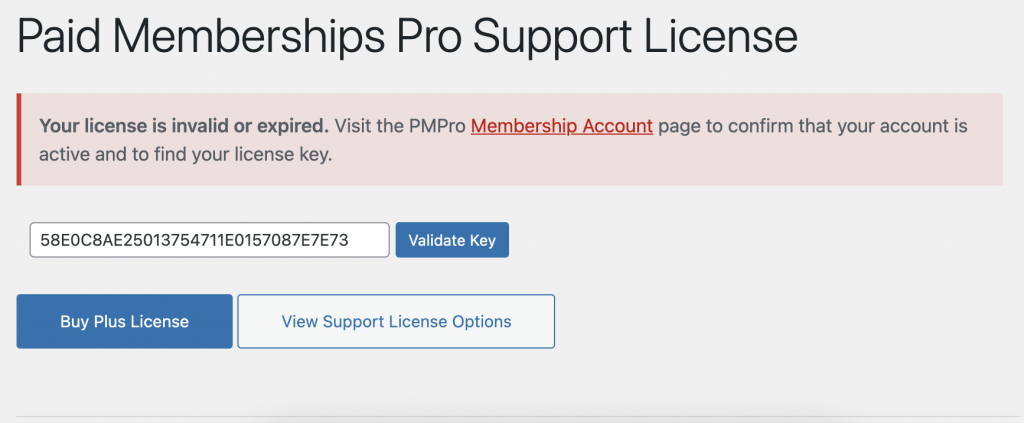 If you see an error message on the license settings page, here are some things to try.
Double check that you copied and pasted the license key correctly. Make sure there are no extra characters or spaces at the beginning or end of the key. Try to validate again. You can find your license key on your membership account page here.
Double check that your PMPro membership is active. If your membership expired or a subscription payment failed, your membership would be cancelled and the key would be marked inactive. If your membership is not active, but you think it should be, contact us to look into it.
If you try the above, see no other error messages, and are certain you are using the correct key and certain your membership is active, then please open a ticket so we can look into the situation. Sometimes, a user's license key may not have sync'd properly to our license server. We can resync your key for you and test that everything should be working.
Connection Issues
If you see an error message related to timeouts, HTTP status codes, or other connection issues, then your web host is having trouble communicating with the PMPro license server.
To see if our server is online, you can visit license.paidmembershipspro.com and look for the words "Server status: online." If this page doesn't load or you see a different message, our server may be offline. Reach out to us to let us know.
If our server is online, and you are still having connection issues, try the following. You can share this list with your host or server administrator.
Make sure that your web server has up-to-date versions of openssl and curl.
Make sure that your web server is not blocking outgoing traffic to license.paidmembershipspro.com.
Something Else?
If you have tried all of the above and are having issues validating or otherwise using your license key, please open a ticket with us so we can figure out what is happening.
Was this article helpful?