The plugin is available via the WordPress.org Plugin repository. Installation instructions for your WordPress admin are outlined below (or download it directly via WordPress.org).
Sign Up for ConvertKit
---
---
Installation and Setup
Navigate to Plugins > Add New in your site's WordPress admin
Search for "ConvertKit Paid Memberships Pro Integration"
Click "Install Now" (enter FTP information if needed), then "Activate"
Go to Settings > ConvertKit PMP
Enter your ConvertKit API key (found here); click "Save Settings".
After saving your API settings you can now "Assign Tags".

---
Assign a Tag to a Membership Level
Go to Settings > ConvertKit PMP.
For each membership level, select a tag from the dropdown list.
Click "Save Settings".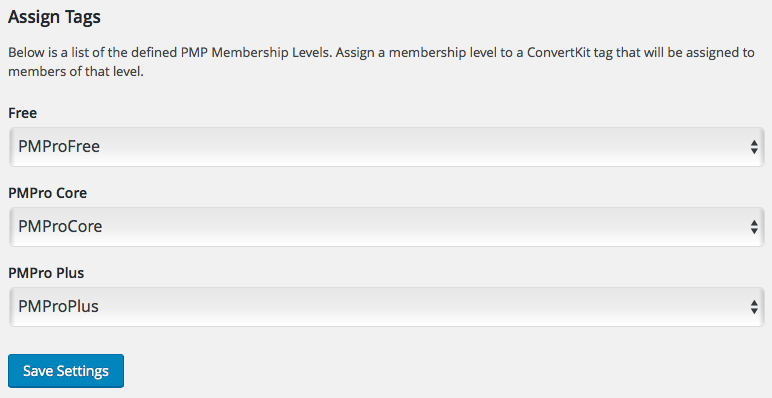 As new members join your site, the tag will be assigned to that subscriber in your ConvertKit account.
---
How to Import Existing Members and Tag them in ConvertKit
Export your members list under Memberships > Members > Export to CSV.
Remove all columns EXCEPT the first name, email and membership_level columns.
Then, add a new column Tags and adjust the data for each subscriber to be imported. For example, if you want to tag "Bronze" membership with the ConvertKit tag "pmpro-bronze", add that single tag value to your Tags column. You can add multiple tags per subscriber, just separate them with a comma.
Remove the membership_level column.
Export the data to a CSV then proceed to the Subscribers page in your ConvertKit dashboard to proceed with an import.
If you have any problems with your import, please refer to the ConvertKit documentation on How to Import a Subscriber List for further instructions.
---