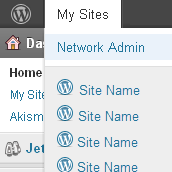 PMPro Network/Multisite Membership
Plugin to set up a Network Site for a Member at checkout.
View on GitHub
Download .zip
New Members will be able to choose a site name and title at checkout and a site will be created for them after registering. If they cancel their membership or have it removed, the site will be deactivated. If they sign up for a membership again, the site will be reactivated.
Installation
Make sure you have the Paid Memberships Pro plugin installed and activated.
Make sure you have properly configured Network Sites on your WP install.
Upload the 'pmpro-network' directory to the '/wp-content/plugins/' directory of your site.
Activate the plugin through the 'Plugins' menu in WordPress.