The world can't stop talking about recurring revenue—but what does it really take to start a membership site that stands out? How do you build a site that helps you get paid?
In this article, we explore what it means to build a nest egg and how you can achieve financial goals with a membership site. We'll finish with our top 10 tips to get started—including an interactive micro course video and downloadable worksheets.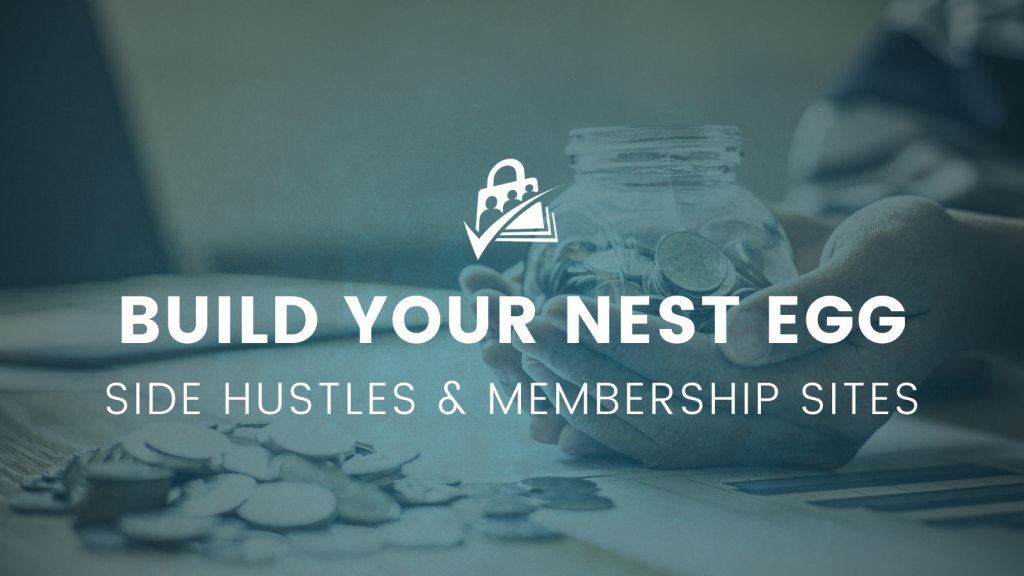 What is a nest egg?
The term nest egg often refers to a sum of invested or saved money that is reserved for your retirement, an unexpected emergency, or to help you get through a rainy day. I like to think of a nest egg as something that is larger than just a bit (or a lot) of money stashed away in the bank.
To me, a nest egg can also be described as anything that provides you with secondary income.
A nest egg helps you reach your financial goals at a faster rate.
A nest egg opens up more options for you in your life.
A nest egg maybe even help you retire earlier than most.
I found this great explanation of a nest egg over on Investopedia:
"A nest egg is a substantial sum of money or other assets that have been saved or invested for a specific purpose. Such assets are generally earmarked for longer-term objectives, the most common being retirement, buying a home and education."

—Investopedia
The Environment for Building a Nest Egg Is Hot
If you have been following popular online influencers, chances are you have heard about the "side hustle" movement. Everyone is talking about the pain of being financially dependent on a single income.
For this reason, the "side hustle" wave is sweeping the internet—driven by important four goals:
Personal desire to share something important and interesting with the world.
Making the jump to become your own boss and pave your own path.
Finally getting to a place where you feel (some) financial freedom.
Building up your passive income or MRR (monthly recurring revenue).
Why this movement, now?
Never before in the history of mankind has there been a better, simpler, or more opportunity-rich time to start a business, diversify your income, and Build Your Nest Egg 🥚.
* Note – I didn't use the word "easier" in my last sentence deliberately. Let's face it, building anything valuable, be it a business or something else, is never 'easy'.
How do you build and grow your nest egg?
It's awesome to get paid. Who could disagree? But I'm talking about a deeper, more valuable concept: building a sustainable core business or side hustle that continually feeds your nest egg.
My expertise lies in online marketing and membership sites, so I'm going to cover how to use an online environment to grow yours. These are some of the top ways you can build a nest egg online:
Make money with your hobby by creating and selling physical products online.
Sell your skill by educating others who want to learn what you know.
Write about your experiences and share the knowledge you have as an opinion leader.
Help others by offering a service they need and want. The productize that service.
Build a private online community that collects recurring revenue.
In truth, your side hustle or nest-egg-growing business will be a rich combination of all these methods. And that is perfectly OK.
Build Your Nest Egg With a Membership Site
In my job, I interact with thousands of people building their nest egg through a membership platform to collect recurring revenue.
The people I support are using Paid Memberships Pro to build their nest egg (if you haven't tried PMPro, go ahead—it's free).
Paid Memberships Pro (PMPro) is an open source WordPress plugin that has the necessary features to turn any WordPress website into a Membership Site.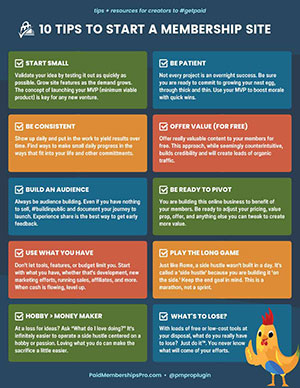 DOWNLOAD NOW
Get the 10 Tips to Start Your Membership Site guide + worksheet. Learn our simple process to refine ideas, avoid burnout, and deliver the right products to the right people.
Page two has a worksheet you should print (yes, actually print it!) and fill out this weekend. Keep the list handy when you work on your project.
What exactly is a Membership Site?
Membership sites are all around us.
Courses, associations and organizations, social networks, news and information sites, and educational institutions all use a membership model. Even online streaming services like Netflix use a membership model.
Today, entrepreneurs are also using a membership model to build their businesses online.
They're selling members-only access to all kinds of stuff: services, physical or digital products, business secrets, content and downloads, life hacks, fitness tutorials, professional training, graphic design tips, beauty recommendations…
And for the price of a subscription you can access this valuable content.
What does a membership site include?
Allow you to register and collect recurring payments from members,
Restrict access to members-only content or features,
View and manage reports on your financial or membership statistics.
In order to access restricted content, a visitor must become a "member". Your membership may offer a free option, a paid option, or both.
I like to focus on content restriction because while most membership platforms offer tons more, the two main features that turn your WordPress website into a WordPress Membership Site is:
Interactive Micro Course: 10 Tips to Start Your Membership Site
Getting started is tough. If you're inspired to grow your nest egg, you may be asking yourself "What can I offer through a membership site that other people will value?"
There is a lot of competition out there. You may feel like you just aren't unique enough, that you have nothing to offer. And sometimes these feelings of uncertainty will leave you feeling panicked and overwhelmed.
I never said starting a business is easy, but I know that it is possible. You have something of value to share with others and maybe you can even get paid for it.
Here are 10 tops tips to help you get started with your membership site:
Start Small: Validate your idea by testing it out as quickly as possible. Grow your site and your features as the demand grows. The concept of launching your MVP (minimum viable product) is key for any new venture.
Be Patient: Not every project is an overnight success. Paid Memberships Pro is the product of over 8 years of dedication and hard work. Be sure you are ready to commit to growing your nest egg, through thick and thin.
Be Consistent: Some say that showing up daily and putting the work in will yield results over time. I agree.
Offer value (for free): Consider offering really valuable content to your members for free. This approach, while seemingly counterintuitive, builds credibility and will create loads of organic traffic.
Build an Audience: The earlier you can start building an audience, the better. Even if you have nothing ready for what your future membership content will be, you can start by documenting your journey to launch. If you begin to share your experiences with the world today, you'll start creating an audience and will maybe even get some early feedback.
Be Ready to Pivot: You are building an online business for the benefit of your members. If you find that one aspect of your membership business is more interesting to your members, double down on that feature. Always be ready to adjust your pricing model, value proposition, and anything else that you can tweak to create more value.
Use What You Already Have: Don't let yourself be hindered by the tools, features, equipment or budget you don't have. PMPro was completely bootstrapped since day one. When the cash flow was there to support leveling up a part of the business, we did it. This applies to new development, new marketing efforts, running sales, affiliates and more.
Play the Long Game: It takes time to build anything worthwhile, especially if it is your side hustle. It's a side hustle because are you actually maintaining it "on the side." You haven't decided to spend all your time or all your money on the project. Keep the end goal in mind. This is a marathon, not a sprint.
What have you got to lose? With loads of free and inexpensive online tools at your disposal, what do you really have to lose? Just do it™. You never know what will come of your efforts.
Turn your Hobby into a Money Maker: If you're really lost for ideas, ask yourself "What do I love doing?" It's infinitely easier to operate a side hustle centered on a hobby or passion. Since this is your side business, you will likely be building it over weekends and in the wee hours of the night or morning. Loving what you do can make this sacrifice a little easier.
Was this article helpful?