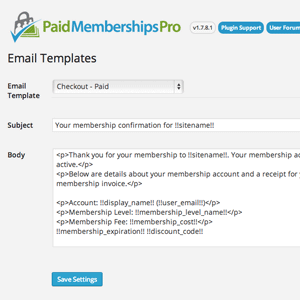 This plugin adds a new admin page under Memberships > Email Templates. From this page you can select a template to edit from any system email included in Paid Memberships Pro. Once selected, each template's subject line and body text can be modified to your needs. A list of included variables (i.e. !!name!! or !!user_email!!) is provided for easy templating.
View in the WordPress Repository
Installation
Upload the 'pmpro-email-templates-addon' directory to the '/wp-content/plugins/' directory of your site.
Activate the plugin through the 'Plugins' menu in WordPress.
Navigate to the 'Email Templates' admin page in the WordPress dashboard Menberships Menu to modify your templates.