Owning a vintage BMW motorcycle is a big deal. That's exactly the case of Vintage BMW Motorcycle Owners (VBMWMO), who run a membership site where they publish bespoke articles and magazines to inspire and preserve their old-school culture.
In this showcase, we explore how VBMWMO Club is using Paid Membership Pro to manage memberships, forums, and magazine subscriptions.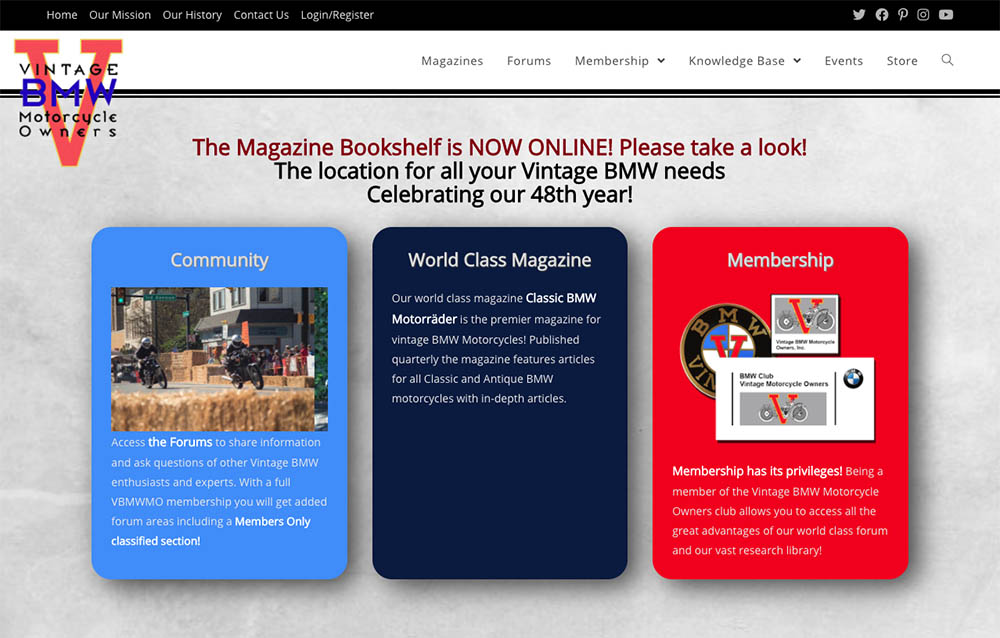 About Vintage BMW Motorcycle Owners (VBMWMO) Club
Vintage BMW Motorcycle Owners was founded in 1972 by a group of 17 individuals to preserve the history and heritage of classic antique BMW motorcycles. By then, the club published a Vintage BMW Bulletin as a way of keeping the club members together and sharing important information about vintage BMW motorcycles. The initial emphasis was on BMW Motorcycles built before 1955.
In the early 2000s, the club created its first website, expanding its reach to an international audience. In 2011, Vintage BMW Motorcycle Owners changed the name of their magazine to Classic BMW Motorräder, accommodating BMW Motorcycle models that are 25 years old and older.
Today, the club is approaching its 49th year with members all across the world and needed a powerful membership solution and plugin for their website.
Visit VBMWMO Website
---
VBMWMO's Membership Journey
Managing an international club with thousands of members can be challenging. Vintage BMW Motorcycle Owners Club was among the early adopters of technology – it published a four-page bulletin in the 1970s, and created their first website page in the early 2000s. With the growing demand for a more robust membership management system, Paid Membership Pro was their go-to option, and they welcomed the transition ad hoc.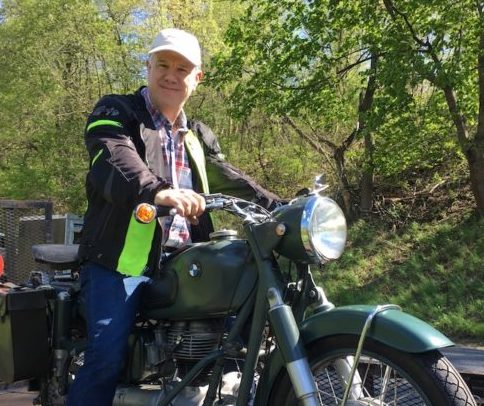 "Paid Memberships Pro was key in helping us make the transition from the previous technology platform to a WordPress based solution. We have a very active forum that needed to be converted to PHP Bulletin Board (phpBB). We needed a full membership management system and the data needed to be transferred from our old bespoke design what was in Drupal. Our world-class magazine "Classic BMW Motorräder" needed to have all the users migrated and ensure that we do not miss a single shipping address."

— James Wonder, Vintage BMW Motorcycle Owners
James Wonder is the volunteer behind the design and development of their new website. See his testimonial here.
---
VBMWMO Membership Model
Vintage BMW Motorcycle Owners is an organization seeking to grow, educate, and entertain its members with an interesting history of vintage culture. They accomplish this while celebrating a community that's stood together for more than four decades. The club has structured its membership model around their magazine and to accommodate all the different members and their needs.
The Membership Options:
The VBMWMO site's Membership Levels are mainly based around their magazine and different locations.
Free membership level: Choosing this option gives members an opportunity to engage in the non-member forum area. However, no access to the magazine or members-only forum.
The two membership options are divided according to the paper magazine and digital magazine. The two options are then divided into different payment details.
Two paid membership levels: Each of the paid levels has four subscription models and based on three different locations it covers the shipping costs.

Standard membership: $30, $40 or $50 to choose from depending on shipping with an expiring after 1 year. The 4th option is $90 and includes domestic shipping and only expires after 3 years.
Full membership – Includes the Online Archive: $45, $55 or $65 to choose from depending on shipping with an expiring after 1 year. The 4th option here is $120 and includes domestic shipping and only expires after 3 years.
For effective management of the VBMWMO membership page, the various membership levels are well named and structured. We covered how to name and structure membership levels in this article.
The Membership offering:
With the paid membership levels, members find access to:
The Vintage scene, history of BMW and its motorcycles.
Fun personal travel and restoration stories.
Technical information regarding repair and renewal of the various bike's parts and system.
Troubleshooting help.
News and reviews of the rally scene.
While a full membership subscription allows users to access online archives (forum posts or magazines), a standard subscription plan only gives access to current member-only forums or magazines.
By purchasing a subscription to the magazine and signing up with any of the premium levels, their members support the running of the club website and publication of in-depth articles and magazines.
The Paid Memberships Pro Technology
The Vintage BMW Motorcycle Owners site accomplished their unique membership needs with the Paid Memberships Pro Plugin and a variety of other PMPro Add On's. These Add Ons and customizations include:
Shipping Address Add On: Adds shipping address fields to the membership checkout pages. In this case, the Add On has been customized to display a "Shipping Address" section for paid membership levels – standard and Full Membership levels.
Custom User Fields: Capture additional information about your members. This feature collects custom form fields at membership checkout, and on the user profile.
State Drop Down Add On: Adds a country and state dropdown menu field to the Billing Address section at checkout. VBMWMO uses this Add On to accurately identify a member by country and the respective state.
Require Strong Passwords Add On: Add a layer of security to the member's account by ensuring a special combination of characters has been submitted as the password when signing up. The WordPress strength Meter Calculator has also been included – so members can see how strong their password is, and make changes where needed.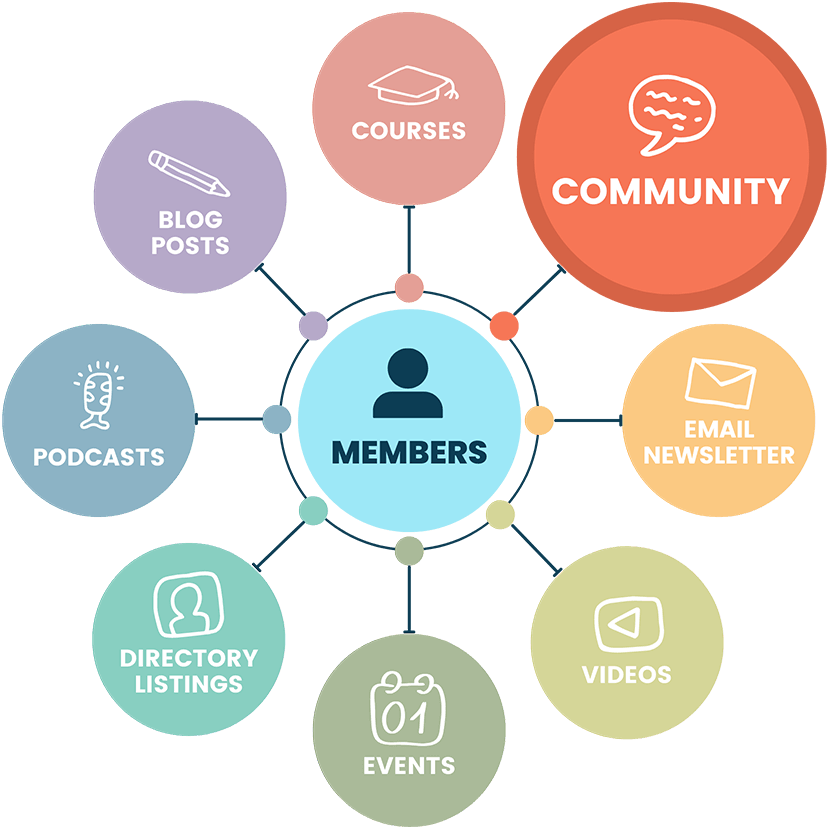 Run Your Online Community with WordPress and PMPro
Paid Memberships Pro is the most robust membership plugin to sell access to your online community on WordPress.
We always say, "Own the land your business is built on," and with an online community, this could not be more relevant. With some other hosted solutions, you don't have the same ownership.
Bring together like minds and niche groups of people while earning a reliable income through a fully customizable online business. With open source, free tools like WordPress and PMPro, you can build and grow an online community that you control.
Other Plugins and Themes Powering VBMWMO
Paid Memberships Pro is not the only resource that was needed to build VBMWMO. Below is a list of other plugins and resources that were used to build Matthew's online music membership business.
Theme: OceanWP is a favorite choice of thousands of developers and hobby-users.
Ajax Search Lite: A responsive live search plugin for WordPress. It's an excellent replacement for the default WordPress search with better filters and keyword suggestions.
Gutentor: This plugin contains Gutenberg blocks collections with unlimited possibilities to design a webpage.
Gutenberg: is the most recent WordPress block editor used for editing posts, blogs, and products on a WordPress site.
Directorist: This is a business directory plugin for WordPress that's compatible with most themes. With this plugin, VBMWMO has listed site resources, such as BMW model information, on their Knowledgebase page.
Page Links To: The plugin redirects members from an old URL to a new URL of your choosing. VBMWMO uses this plugin to make WordPress page links to a custom URL for easy navigation.
All-in-One Video Gallery: This is a video posts plugin that helps add videos as posts. It also builds searchable, and SEO optimized video galleries that boost user experience. VBMWMO uses this plugin to create a gallery of video resources.
Event Post: Used to track and communicate events, dates, and even locations on a WordPress website.
Magazine: James Wonder created their own interface for the magazines.
Summary
Paid Memberships Pro has allowed the Vintage BMW Motorcylce Owners club to create membership classes as well as provide free forum access via a "Free membership" level. For more information on how to do this see how to set up a membership site for free members only in this article.
The PMPro custom Add Ons has sped up the implementation of their premium magazine, Classic BMW Motorräder, online payment, and billing needs.
To further customize the plugin, James found that hooks and filters made it possible to customize the WordPress Member, Billing, and self-service interfaces. This way made it fast and convenient – with very little help from our wonderful staff.
"When we did need help from the PMPro staff, they responded to all my tickets quickly and with clear and concise answers; many times with code snippets that helped get me on the way to the solution I needed. This is the first time I am using PMPro, and if I am ever looking to build a membership site for any future development, I know the first plugin that I will be downloading. Thank you very much!"

— James Wonder, Vintage BMW Motorcycle Owners
We want to showcase your membership site.
Do you run a successful membership site that uses Paid Memberships Pro? Your case study helps thousands of fellow entrepreneurs, while also giving your business loads of exposure through multiple marketing channels.
We also feature testimonials with your business name, URL, and comments throughout our website. Submit your testimonial here.
Start Your Own Community Like VBMWMO
Are you ready to build and grow an online community that you completely control?
With Paid Memberships Pro, you can sell free and paid subscriptions to your community, benefit from a wide variety of Add Ons and integrations specifically designed for community websites.
We know that a WordPress site has tons of moving parts. Choosing the right plugins, themes, hosting, third party services, design assets, and more can feel overwhelming.
Paid Memberships Pro is the most robust membership plugin to sell access to your online community on WordPress. Learn exactly what you'll get — the plugins, the support, and the training — when you run your online community with Paid Memberships Pro.
Was this article helpful?