The member login process is perhaps the most fundamental element of a membership site. But did you know that you can use it to enhance the member experience—and even boost your sales?
Redirecting members to specific pages on login can have a huge impact on your site's UX and sales conversions.
In this post, we talk about why you should redirect members on login, as well as some different ways to do it using WordPress and Paid Memberships Pro.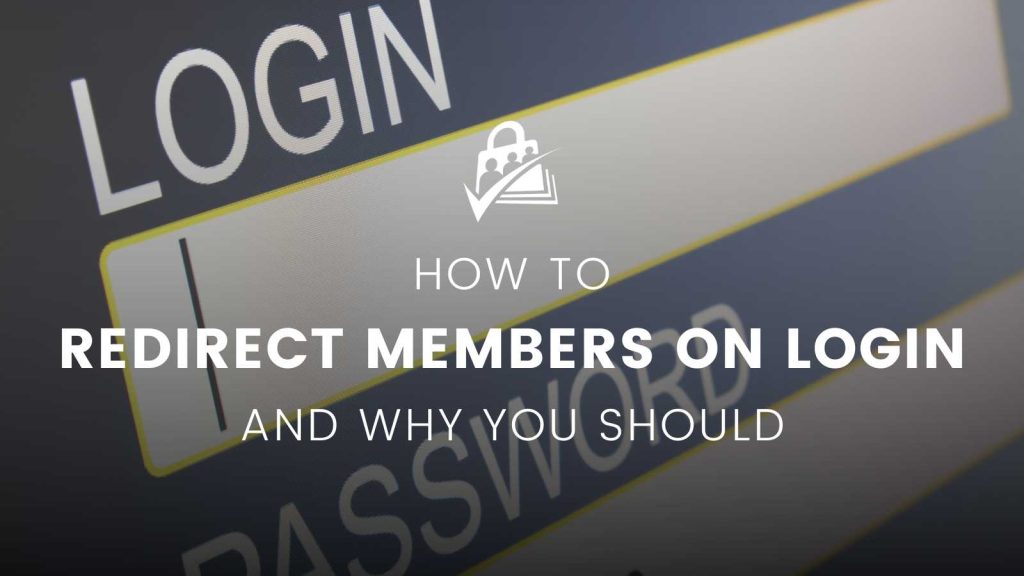 How Login Redirects Work
A redirect is just the process of sending the user's browser from one URL to another URL.
You can use this process to automatically redirect members to another URL as soon as they complete the login process on your membership site.
Why Redirect Members to a Specific Page?
The Member Experience is #1
Giving your members an enjoyable experience is one of the best ways to keep them coming back to your membership site. Plus, engaged members are more receptive to upsells, cross-sells, and other offerings.
So, enhancing the member experience and helping members get the most out of your membership is a worthwhile investment.
Redirecting members on login might seem like a small change, but it can actually make a big difference by quickly bringing members to where they want to go. It not only saves them time; it also reduces potential confusion and makes it clear what they should do next.
For example, you might want to:
Send members to your content library, community forum, or other members-only area
Give different members at different levels unique experiences
Make an impact on new members by sending them to a welcome page
Prevent members from accessing your site backend
Reduce interruptions for members by sending them to the page they were already on before logging in
Direct Members Where You Want them to Go
While redirecting members benefits them by streamlining their experience on your site, it also helps you direct them where you want them to go. This gives you the opportunity to control the flow through your website, sending members to pages you want them to land on.
For example, you might direct members to:
Your pricing page, where they can upgrade their membership
Sales pages where you can upsell or cross-sell other products or services
Pages with new features that you want them to use
Make Your Membership Site More Mobile-Friendly
In another post, we talk about how to create a mobile-friendly website for your membership business. This has become especially important since Google's rollout of mobile-first indexing in 2018.
How is this relevant to the member login? Well, for a membership site to be mobile friendly, it should be fast-loading, easy to use, and minimal in design and navigation.
Redirecting members on login reduces obstacles when it comes to getting them from the login to the content they seek. This helps to streamline the experience, no matter the device, but it's even more important for members who are using your website on mobile devices.
Where to Redirect Members Based on Use Case
In WordPress, you can redirect users based on things like role, capability, or username. But let's talk about some membership-based scenarios where you'd want to redirect members after they log in.
Here are some examples of how you can redirect members with different membership use cases:
Courses. Redirect members to the member dashboard area, where they can see the course(s) they have access to, manage their course materials, and communicate with other students.
Communities. Redirect members to things like your main discussion forum, a community activity feed, or a page with news and updates.
Email newsletters. Redirect members to their account or profile page.
Videos. Redirect members to your video library, or a page that shows your latest video releases, their favorite content, recently watched content, or watch list.
Events. Redirect members to your main event page or a page with event-related news and updates.
Directory listings. Redirect members to your main directory or a page with the member's saved listings.
Podcasts. Redirect members to the latest episode, an episode library, or a feed of news and updates.
Blog posts. Redirect members to your blog, a collection of your most recent posts, or your most popular posts.
How Redirection Logic Works in the Core PMPro Plugin
When users attempt to access protected content or other pages that require login, PMPro will redirect them to certain pages by default.
Non-members will be redirected to the Membership Levels page, where they can see pricing options and can sign up for a membership level.
Members will be able to log in using the Log In page, after which they will be redirected to their Membership Account page.
If you want to send members to a specific page after login, PMPro's login code supports a hidden redirect field or URL-encoded parameter. For example, you can pass the ?redirect_to=URL_ENCODED_STRING_HERE attribute to the log in page. If you have the redirect_to parameter set, PMPro will redirect all members to the specified page after login, regardless of level.
Each frontend page in Paid Memberships Pro has specific redirect rules, and you can customize these rules by using filters. Check out our Frontend Login Page documentation and Redirections documentation for more information.
4 Methods for Redirecting Members on Login
There's no way to change the login redirect page natively in WordPress. So, to redirect members on login, you'll need to use one of the following methods:
1. Redirect Members: The Code Method
There are a few different ways you can redirect members after login by adding code to your membership site. We cover two methods in our code recipe on login redirection here:
Send all of your members to the same place.
Redirect members based on level.
That post is currently behind our paywall, and the recipes included are specifically for sites using Paid Memberships Pro. If you'd just like to see an example of some code that overwrites the login_redirect, no matter what plugins or theme you have installed on your WordPress site, this code gist here should work.
2. Redirect Members: The No-Code Method (the Member Homepages Add On)
Many membership site owners want to redirect members to a unique homepage or landing page after login based on their membership, but they don't want to deal with code.
Fortunately, the Member Homepages Add On for Paid Memberships Pro lets you assign a homepage for each membership level (or specific levels only).
This allows you to use your site's homepage as a true "sales" page for your membership offerings, and design an alternate landing page or "member dashboard" page for each membership level.
3. Redirect Members: The !!referrer!! Attribute Method
Want to send members back to the content they were viewing before logging in? This code recipe allows you to do that using the !!referrer!! attribute: Redirect Members to Referrer on Login
4. Bonus: Redirect Members with Links from External Sites
If you want to link from an external site, you can also use our URL Builder Tool to generate formatted login URLs with the encoded redirect_to parameter. This is particularly helpful if you want to link to protected content from an email newsletter or separate community channel like Slack or Discord.
For example, let's say you want people to visit a protected topic on a members-only bbPress site. If you send them a link via email and you don't include the login with redirect, PMPro will bounce them to the levels page (if not logged in) and they can lose track of where they should go.
However, if you give them both a login and redirect URL, they can easily log in and get to where you want them to go. If they log in and aren't a member, the fallback logic still boots them to the pricing page.
Create a Personalized Login Experience
Ready to start personalizing the login experience for your members by redirecting them to the most appropriate pages for their needs?
Upgrade to a PMPro Plus plan today and get instant access to Member Homepages and 48 other premium Add Ons to take your membership site to the next level.