Are you an artist, musician, or writer driven by the passion to create? Are you supporting a charitable project or cause, driven to achieve your mission and purpose?
For some time, you've been using a platform like Patreon, Deviant Art, Dribble, Medium, YouTube, or Soundcloud. All of your followers are watching you and the new content you create. Why not publish some exclusive content to your own website, and get paid for it?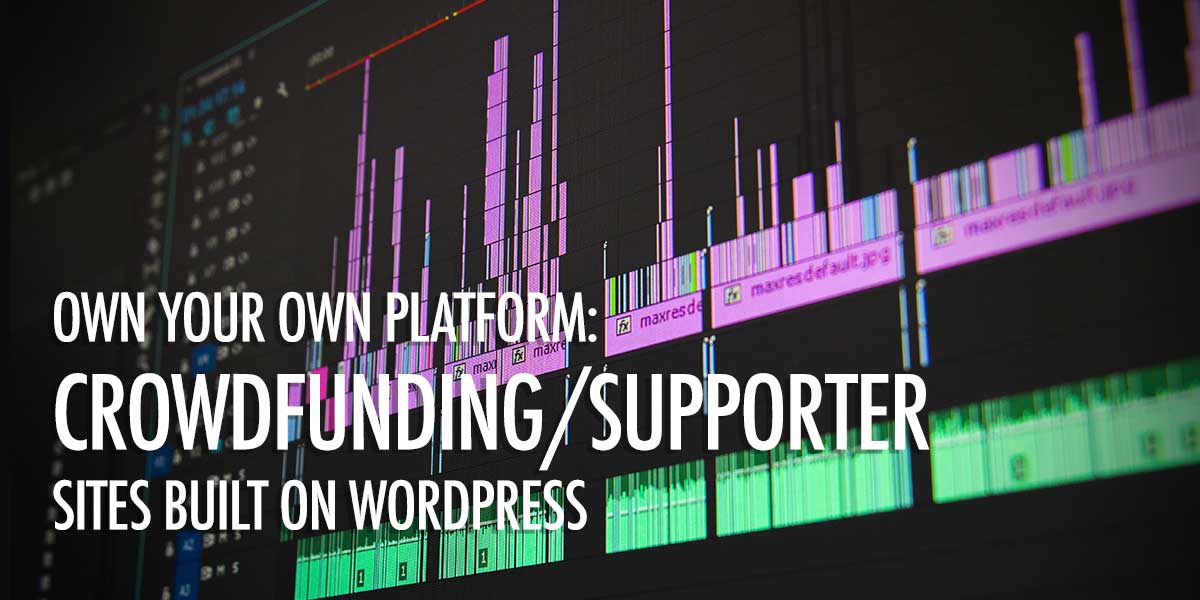 ---
We've supported many types of cause-centric membership sites and through these exchanges have found a model for success outside of any hosted platform alternative. Here are a few factors that people looking to create crowdfunded or supporter-driven membership sites specifically should keep in mind.
Your passion sustains you. But don't you also need money?

If you're deeply passionate about your creative efforts, chances are you will keep doing what you're doing regardless of how much you are getting paid for it. Guess what? Your followers are ready and willing to reward you for what you have given them. They just need a way to do it.

By creating a membership site, you solve two major needs: (1) a permanent hub for your content and (2) a way for followers to support you.

---

Creating a Hub

Travis just published an extensive article that makes a case for owning your own platform. In it, he equates building your empire on a third party platform to building your home on land you do not own. It's a great analogy that shows what creatives are doing when they exclusively use third party tools like Patreon, Indiegogo, Kickstarter, Art Station, Bandcamp and more.

When you choose to create a personal website as your hub, you make a permanent place to archives everything you create or every effort you are taking to achieve your mission. When you go the self-hosted route, there is no third party that can cancel your site, change an algorithm and make you obsolete, or raise their cut of your earnings.

Just remember to keep paying your domain registration and hosting fees.

---

Followers want to support YOU.

Not every person who enjoys your content or shares in the mission of your cause is going to translate to a paying supporter. But some percentage will. Your followers need to know how much money you need to continue to do what you do. If you can closely tie a monetary value to something you create, supporters will be more likely to give. Consider this:

What does it actually cost you, in effort or materials, to deliver what you create?
How much money does your mission need to carry on, month-to-month?
If you're juggling a day job and your side hustle, what would it take to allow you to commit fully to your passion?

One of the best ways to encourage followers to give you their money is to set a public goal or run a fundraising drive. Most third party crowdfunding tools offer a way for you to set goals, whether it is a gross financial goal to raise $15,000, or a goal to reach 50 supporters paying you $25 per week.

PMPro recently launched a Goals Progress Bar Add On to do just this—on a self-hosted platform. Now sites using WordPress + PMPro can display a customized progress bar anywhere on their site—in a post, page, widget, footer and more. This type of "progress bar" provides a visual representation of just how much support you need to achieve your mission.

Your goal should be attached to a clear effort, such as "I want to raise $150 per episode of my podcast," or "We need $10,000 to buy the equipment needed for our research project on South Pacific sea life." Supporters get excited when they see their how their contribution has advanced your effort.

---

What do you owe your supporters?

Once someone has become your supporter, all that's required from you is that you continue to please them with your content or efforts. They signed up because they love your music, art, writing, and more. So just keep making your stuff.

The same is true of cause-centric supporter sites. If you have proven to your supporters that you are truly working to achieve your cause's mission, all they want you to do is continue moving forward, sharing your progress, roadblocks, and successes along the way.

If you're a musician publishing new tracks or samples, keep publishing them. If you're a digital artist, continue to create and publish your work. If your mission is to educate and support backyard beekeepers, post regular updates on the actions you are taking to combat the use of pesticides, plant pollinator-friendly gardens, and educate the community.

Your membership site, then, can provide something exclusive that general followers cannot get access to. For example, maybe supporters will get your content delivered in a special format (eBook, print) that is only available to them. Or, supporters may get to share some stake in your mission, perhaps through votes or private forums. Better yet, you could send supporters paying $20/month a custom t-shirt featuring your most popular work.

A membership site structure allows you to offer something MORE to supporters, whether you have a single tier of membership or multiple tiers that include better features based on contribution.

---

Are you limiting how much supporters can give?

If you are setting up a membership-style site for supporters, make sure there is a way for them to give a custom amount, even if it is less than your main level or, better yet, more.

If you're using PMPro as the membership plugin for your site, you can give supporters the freedom to decide how much they would like to pay for their membership. You could even sell "extras" at checkout using this recipe to modify the level price at checkout based on user-selections. If you want to allow one-time donations, check out the Donations Add On to accept donations from your members.
---
About the Fees
Some people may wonder how much it costs to own your own platform. This is not a 100% total cost analysis on hosted vs. self-hosted. At a broad level, how does a third party platform compare price-wise to your own self-hosted membership site?
When you make the choice to move to your own hosted platform, you are eliminating any fee other then the set transaction fees of your chosen gateway. Patreon, for example, currently charges a 5% fee on top of the transaction fee, which they report as an additional 5% on average. These fees can quickly add up to a hefty sum.
Let's consider a membership site built on all GPLv2 code (WordPress + PMPro + a Theme from the WP.org repo), you'll use Stripe or PayPal for payment processing ($0.30 + 2.9%/transaction), and sign up for basic web hosting and domain registration (about $30/month). How does this fee structure compare to a site built on Patreon, earning $10/month from 500 supporters?
| | Patreon | Own Your Platform |
| --- | --- | --- |
| Annual Revenue | $60,000 | $60,000 |
| Platform Fees | $3,000 | $0 |
| Gateway Fees | $3,540 | $3,540 |
| Hosting Fees | $0 | $360 |
| Your Cut | $53,460 | $56,460 |
There's actually not a huge difference in your total take-home when comparing a third-party hosted platform to owning your own. But, there is a hidden value in knowing you own your platform forever. You just can't put a price on having full access to your site's direction, can directly communicate with your supporters, and have no fear that your efforts will be deleted, overlooked, or severely affected by hiked fees.
Platforms like Medium and Soundcloud have repeatedly changed their business models and threatened to close up shop. That uncertainty adds a level of stress to operating your business, and it would be smart to get in front of a major shift rather than hurrying to pivot when the landscape changes.
---
Technology Recommendations
Here's a list of some of the technology we recommend for a Crowdfunding or Supporter Driven WordPress site. This article was focused on helping you understand the most important features of launching a membership site for your followers, but you will certainly need to make choices about what platform you use to create your site. If you reach out to us via the contact form we can provide more specific solutions that fit your site's model.