How it Works
This add on allows you to specify the level or levels that allow payment by check. In most sites, the level is set up with the same pricing information as a level with online payment, but with an expiration date (i.e. your online payment level may be $37/year recurring and your check payment level is $37 for 1 year – non-recurring).
When a member completes checkout for the level, they will see the "Pay by Check" payment instructions on the checkout, confirmation page and confirmation email. Once check payment is received, the admin can update the user to the full membership level with appropriate expiration date.
Most sites do not give any members-only content access to the check payment level. It is simply used as a holding level until the actual payment is received.
An additional application of this add on is to allow bank transfer (direct debit) as a payment method. You can specify the instructions for how you will contact the member to receive payment, whether this is a mailing address to submit check or that you will email them privately to set up a bank transfer.
---
Installation
PMPro Plus members can download and activate the "Check Levels" Add On via the Memberships > Add Ons admin page.
or, Upload 'pmpro-check-levels' to the '/wp-content/plugins/' directory.
Activate the plugin through the 'Plugins' menu in WordPress.
---
Setup
Navigate to Memberships > Payment Settings and select the "Pay by Check" gateway.
Specify your "Instructions" for how to pay by check. Save Settings.
Change the Payment Settings back to your online payment gateway of choice. The system stores your Pay by Check instructions in the background.
Navigate to Memberships > Membership Levels > Add New to create a new level for your "Pay by Check" option.
Set the $pmpro_check_levels array to include the ID(s) of your check payment levels. The global can be defined theme's functions.php file or a helper PMPro Customizations plugin (our recommended method).
When a member's payment is physically received, locate the member in the "Members List" and change their level to the full membership level with appropriate expiration date based on payment.
---
Screenshot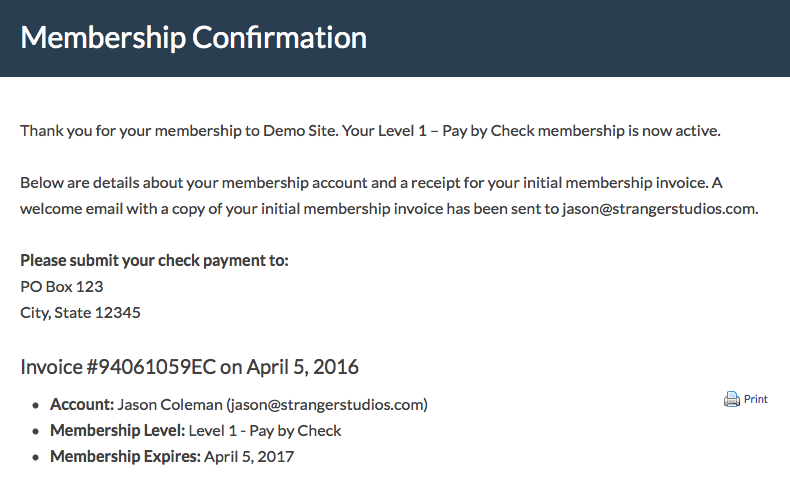 ---
Notes
Users checking out for the check level won't have access to any of your regular paid level's restricted content unless you set it up this way.
Users will see instructions for how to mail a check/etc. on the checkout and level confirmation pages as well as in the membership confirmation email.
After check payment is received, the site admin can change their level to the full/paid membership level by editing the user in the admin dashboard.
---