Running a membership website is incredibly rewarding, but it can also be very demanding. There's a lot of behind-the-scenes admin work that goes into making sure your site runs smoothly.
This admin work often includes various tasks such as adding new members to your email list as part of your email marketing strategy or to your CRM to keep them updated about their membership.
Other times, it's about making sure your payment gateway is syncing with the appropriate accounting software and ensuring members get access to materials, communities, and customer support channels.
Although keeping track of these things can be draining, it doesn't have to be that way.
By learning how to automate your business processes with Zapier, you can avoid being overwhelmed with tasks. That way, you can focus on nurturing and growing your membership business.
If you've never heard of Zapier, don't worry. We'll explain everything you need to know about Zapier, how it integrates with Paid Memberships Pro, and how to automate all of those tedious tasks to make running your membership site a joy instead of a headache.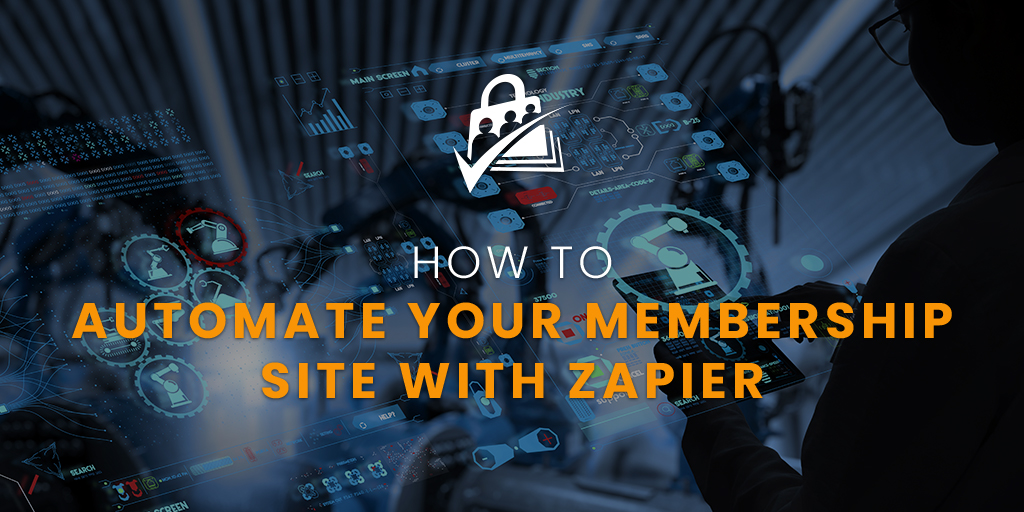 Understanding Zapier
Zapier is an online platform that empowers you to connect more than 2,000 apps to automate your business and develop workflow automation processes for small business owners.
It uses triggers and actions to create "zaps" — an automated workflow that connects your apps and services together
You can create simple, one-step zaps that connect two applications, or you can get creative and connect three or more applications for multi-step zaps.
Zapier offers a free plan with five zaps, so you can sign up for it and give it a test run. Paid plans start at $19.99/month when billed annually. The pricing depends on the number of active zaps you have running.
Editor's note: 🙋‍♂️ I've had a free Zapier account for years and it's incredible valuable. I recommend starting on the free Zapier account and when you want to create lots of automation or complex multi-step zaps then upgrade to a paid subscription.
Paid Memberships Pro Zapier Integration — Automate Your Online Business
Paid Memberships Pro includes a (completely free) Zapier integration, allowing you to send information to Zapier and connect your membership platform with third-party integration apps.
Once you've connected your membership website with Zapier, it will receive data from your triggers. Available triggers include a change in membership level as well as an added or updated order.
In other words, every time a change is made in a membership level or a new order has been added or updated, the zap will send the information you've specified to your favorite app.
Similarly, Zapier can also send data to your membership website using actions. Available actions include:
Change a User's Membership Level
Cancel a User's Membership Level
Create a Membership Level Object
So, for example, if someone joins your email list, you can have Zapier run an automated process on your membership site by creating an account for them.
Video Demo: Connect PMPro to HubSpot via Zapier
How To Automate Your Business With Zapier and Paid Memberships Pro
To begin learning how to automate your business using Zapier with Paid Memberships Pro, you'll need to authenticate your Paid Memberships Pro site with Zapier. Start by going to Users > Edit User for the user account you will use to authenticate Zapier.
Scroll down until you see the "Application Passwords" section. Create a new application password named "Zapier" and copy the generated key somewhere safe.
You'll need it to connect your website with Zapier. Remember that you won't be able to see the key once you leave this screen.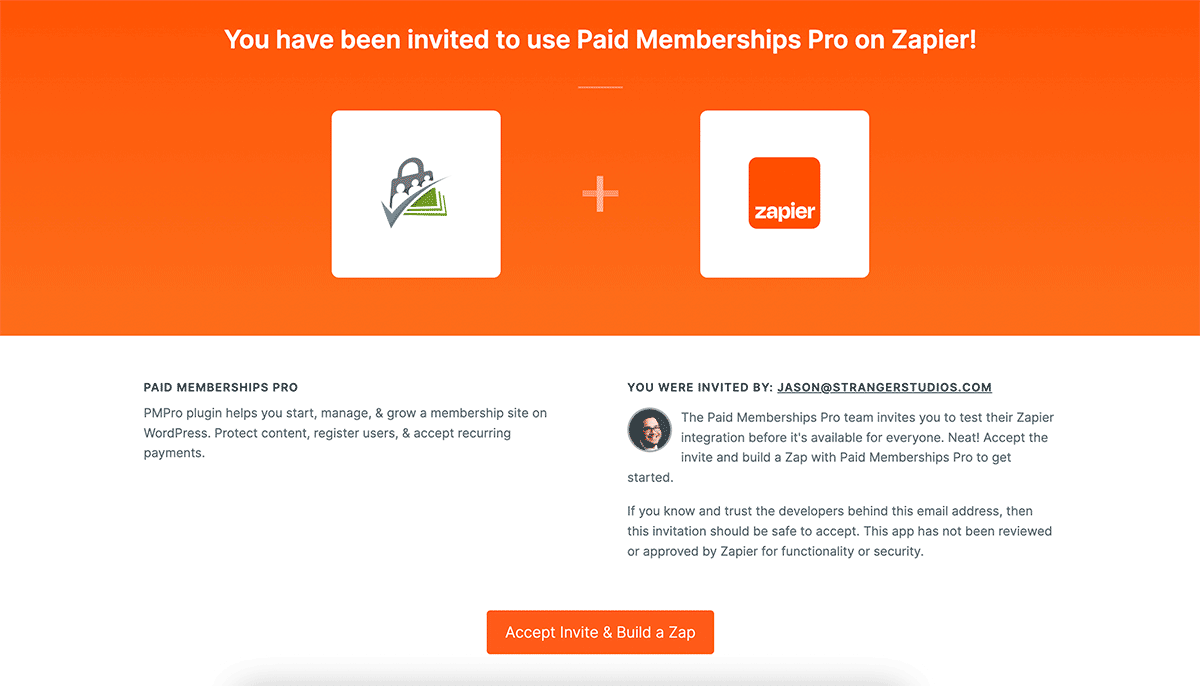 To start using the Paid Memberships Pro app in Zapier, browse the available zaps or create a new one here. Once you've added Paid Memberships Pro to your Zapier account, you'll need to enter the following credentials when you create a zap with it:
Site URL
Admin Username
Application Password you generated above.
How To Create a Zap in Zapier
So now that you know what Zapier is and how it integrates with Paid Memberships Pro let's look at how you can create a basic zap for your membership website.
In this example, we want to create a new subscriber in our MailChimp account when someone signs up for a membership plan.
To get started, create an account with Zapier and then click on Create a Zap. On the next screen, select Create a custom Zap.

Under Trigger, search for Paid Memberships Pro. For the actual Trigger, select New Order Added or Updated. Then, click Continue.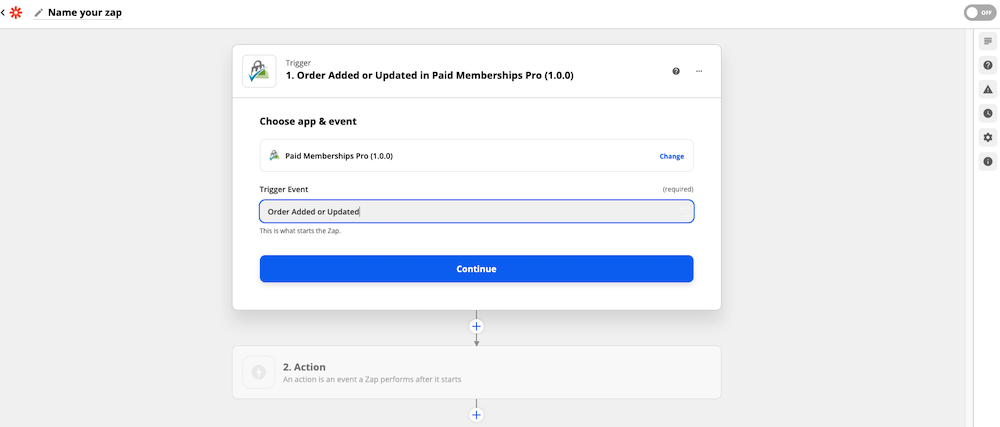 Next, you'll need to enter the URL of your WordPress website and the username you use to log in to your website. You'll then need to enter the application-specific password for Zapier you generated earlier. Note that this will only have to be done once.
After creating your first zap and authenticating your membership site with Zapier, you'll only need to select your Paid Memberships Pro account from the drop-down menu when it asks you to choose an application for the Trigger or the action.
Click Continue one more time, and Zapier will then test the Trigger to make sure everything works. Be sure to have at least one member active on your membership website; otherwise, the test will show you a warning that the Trigger might not work correctly.

Now, search for MailChimp (or any other email marketing automation platform you're using). For the action, choose Add/Update Subscriber. At this point, you'll need to connect your MailChimp account to Zapier, so follow the prompts on the screen to do so.
Once you've connected your MailChimp account, select the correct audience from the drop-down menu.

After that, use the information Zapier pulled from your membership website to pass it on to MailChimp. You don't have to fill out all of the fields, only those required.
For the Subscriber email, use the drop-down menu and locate User Email. You can also enable Double Opt-in, add them to a group, assign tags, and more. Once you've passed all the data that you want, click on Test and Continue.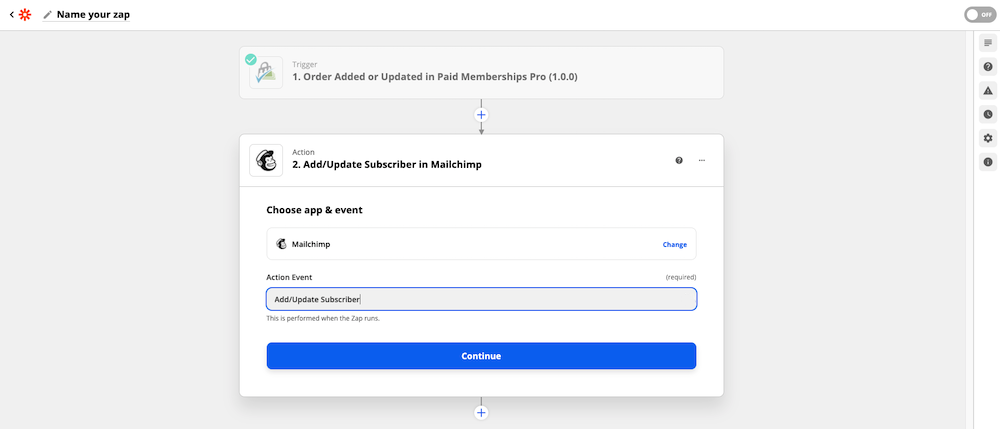 Zapier will then create a new subscriber in your chosen audience using the information you've submitted. You'll see a success notification, and Zapier will then prompt you to Turn on your zap.

11 Ways You Can Automate a Membership Site With Zapier
As mentioned earlier, running a membership website comes with repetitive admin tasks and can get out of hand once you start growing. Zapier solves that problem in similar ways to other tools like IFTTT.
Here are 11 ways to simplify the process of using membership management software while also making it possible to automate a membership website with Zapier:
First up, you can automate a membership site by creating new subscribers in the email marketing platform when a new member joins a specific membership plan.
You can also populate a Google spreadsheet with new members by creating a new row in the specified spreadsheet whenever a new member joins one of your membership plans. That is also useful if you ever need to export a list of your members in a CSV format to upload it to other applications. It also works with Google Calendar.
Another way you can automate a membership site is by invoicing in QuickBooks from membership orders. That way, you can make accounting and bookkeeping easier and reduce the number of repetitive tasks you have to manage.
Moreover, you can add subscribers to a specific sequence in your email process automation platform. Use this to make onboarding new members easier. You can send them a series of emails that make it easy to get started with the membership.
In addition, you can send a personal email from Gmail to each new member to welcome them to your membership.
Or, you may wish to automate your online business by syncing new member information with a CRM program. That way, you can follow up with them in a timely fashion and invite them to explore your other offers.
You can also automate new Slack messages for each new membership order. You can use this to notify other team members to complete any related and relevant tasks to their department. Alternatively, if you're using Slack as a part of your membership, you can use this zap to alert other members and welcome your newest member to the channel.
Another way to enact business automation systems is to create new members when a user completes a purchase on a third-party shopping cart like Thrive Cart. If you're selling online courses or digital products connected with your membership, you can use this zap to add those buyers to your membership website.
Similarly, suppose you host your courses on a third-party platform. In that case, you can create a zap to automatically enroll new members in a course on Teachable or another course platform whenever someone joins the appropriate membership level.
You can also create a new order in your WooCommerce e-commerce store when a new membership order is placed on your website so you can send gifts or membership swag to your new members.
As mentioned earlier, you can also use Zapier to automate your online business by adding new members as users to your community Slack channel. That also works for Discord or any other platform such as Circle, Mighty Networks, and others.
Video Demo: Connect PMPro to Google Sheets via Zapier
Final Thoughts: How To Automate Your Business Membership Website With Zapier
As you can see, membership sites have plenty of uses for Zapier. In this guide, we've shown you how to automate your membership site and integrate Paid Memberships Pro with Zapier and walked you through the steps of creating a simple zap.
We also shared practical examples of how you can use Zapier to streamline and automate a membership site. The only thing left to do now is to implement these tips and play with Zapier.
If you have any other questions or need assistance with your website's automation, contact us.
Was this article helpful?