The landing page for your levels is the primary place your site will attract and sell its membership products. Our plugin includes a few options to design this page, including the default membership levels page shortcode or block and the enhanced options when using the Advanced Levels Page Shortcode Add On.
What if you need more control over this page and would like to design a completely custom page for your levels? In this article, I will take you through the process of building a new membership levels page using the Elementor Page Builder, an open source plugin available in the WordPress plugin repository.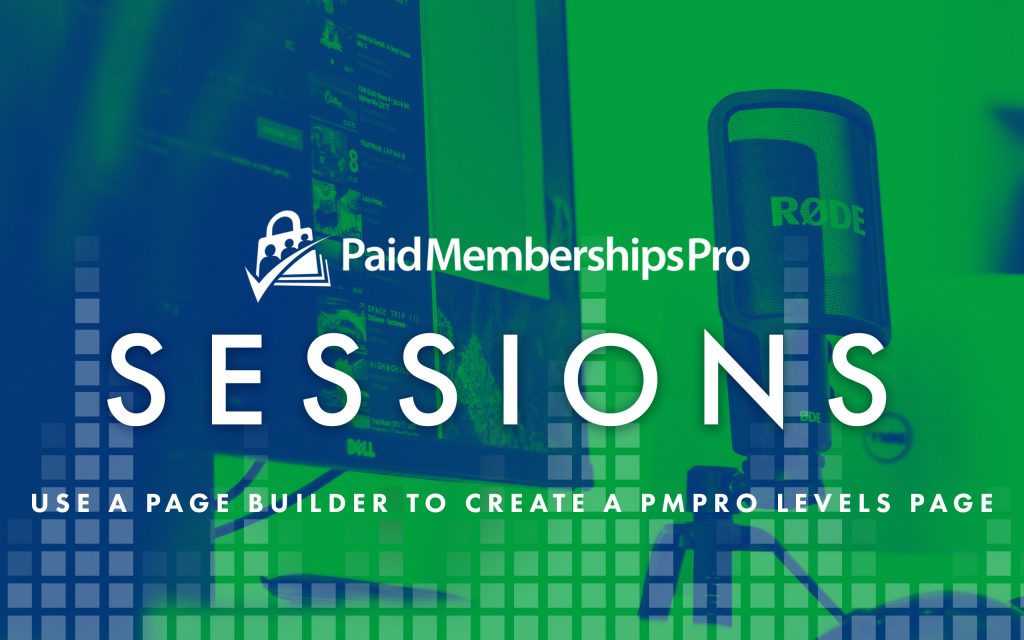 Did you know…
You do not need to use the default plugin-generated Membership Level page for your membership site. In step 2 of the plugin setup process, a page named "Membership Levels" is automatically created with the recommended shortcode. You can customize this page depending on your preferences, skill level, and the needs of your membership site.
A few ways you can customize the levels page include:
Use Custom CSS to adjust the default layout.
Create your own custom Page Templates for the levels page layout.
Replace the default shortcode with the options included in the Advanced Levels Page Shortcode Add On which includes column-based or comparison-type options.
Use a Page Builder or your theme's included "pricing page" layouts to craft a totally custom page.
In this article, I'm focusing on the last option above and will demo how to use the Elementor Page Builder to create a Membership Levels page.
Video Demo
1. Choose the method that works for you.
Your skillset and goals will generally determine the method that you choose to build your membership levels page.
You do not have to use a Page Builder and might find that using your theme's included layouts or theme's shortcodes to create your membership level page will be easier. Chances are, you already have an idea of what will work for you. I chose to use Elementor in this article because it is a popular page builder plugin that many of our support customers are using.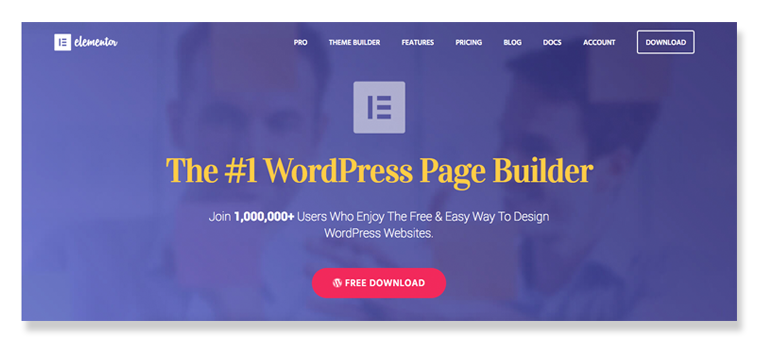 2. Develop your membership levels page.
Now that you have chosen the tools needed to create your levels page, it is time to start building.
Navigate to your Dashboard > Pages > Add New.
Enter a title for your new membership levels page (mine is "My Level Page").
Start creating the layout exactly as you need it. Feel free to get creative here. Enhance the page with images, comparison tables, testimonials and more. This is the primary page your potential customers will visit to explore your product and, hopefully, convert to members. It's important to make the page as compelling, clear and attractive as possible.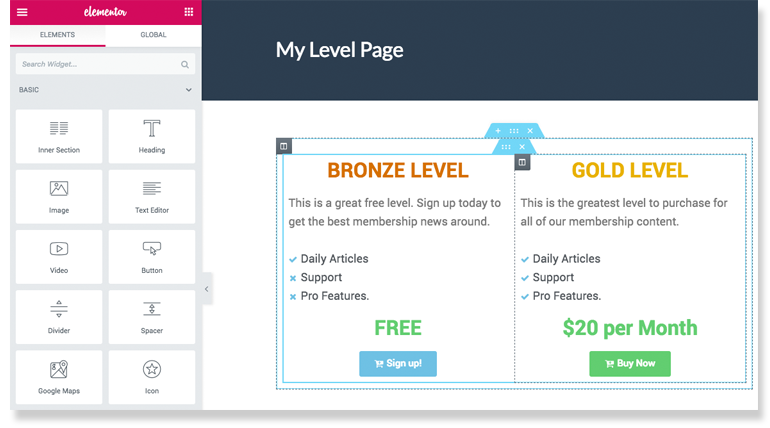 3. Link "buttons" to the level-specific membership checkout page.
As you can see from my screenshots, I created a membership level page that gives a little more information on the two membership levels that I want my users to sign up to. One level is free; the other is a premium membership.
I will now need to link up my membership checkout page to each of my "Sign Up" and "Buy Now" buttons in the layout.
In most cases, the URL for membership checkout will be something like this:
https://SITEDOMAIN.com/membership-account/membership-checkout/?level=1
This URL is primarily the same for each level checkout page—you just need to update the last attribute of the URL with the appropriate level's ID.
Navigate to the default Membership Levels Page and click the button to membership level that you want to link.


---

Copy the URL of the checkout page. Notice that each URL will include the membership level's ID. In my case, I am linking my "Gold" Membership Level (which has a level ID of "18"). You should see something similar to /membership-account/membership-checkout/?level=18

---

Add the copied URL to the appropriate button/link that you created on your custom membership levels page. Repeat steps 1-3 for each Membership Level you have added to your custom page.
4. Last Step: Set your newly created Membership Level page as the default.
This last step will ensure that every generated link to your membership levels page will direct users to your new/custom page instead of the plugin-generated page. If you have inserted a link to the membership levels page within your post content, you will need to manually update those links to this new page.
Navigate to your WP Dashboard > Memberships > Page Settings > Level Page > Select your new membership level page.


---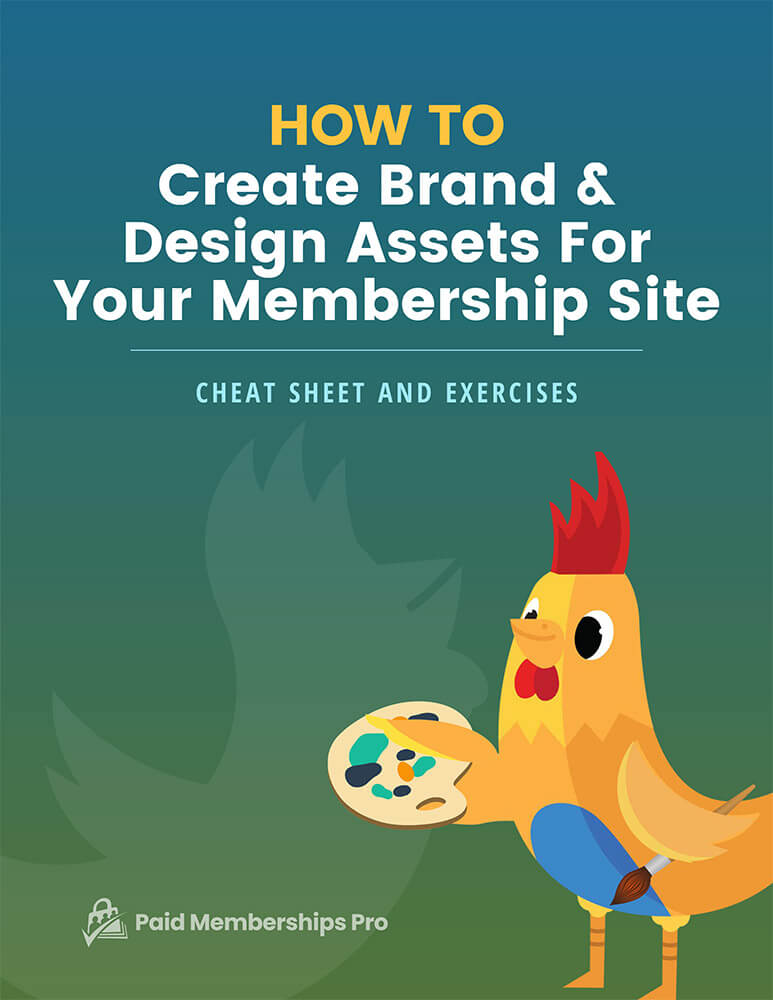 DOWNLOAD NOW
Grab the free cheat sheet and exercises for help designing your membership site brand guide, website graphics, and pricing page. This guide will help you create a cohesive look and feel that tells your membership's story across everything you publish.
That's it – and that's alot.
Now that you've created your new membership levels page with Elementor, you're ready to put your upgraded sales process to the test.
Hopefully this tutorial helps you make the most of your membership pricing levels page – and convert more sales.
Once you're done designing your pages you can also:
Optimize your page for SEO
Create plans that match price & value
Create fun plan names
Think about the user experience and make any necessary adjustments
Check your CTAs to ensure they are clear and compelling
Looking for a complete membership plugin for WordPress? We've got you covered at Paid Memberships Pro. Try it risk-free today.
Related Reading: How to Customize the Frontend Pages
We have a few articles in our blog on how to adjust the appearance of your frontend membership pages. Check the links below to explore the guides:
Was this article helpful?