Pricing changes are a normal part of doing business, and membership sites are no different. However, raising prices for membership sites the right way is an art of its own.
Making these changes without being mindful of things like trust, confidence, and communication has the potential to turn both new and existing customers away—and can lead to skepticism around your brand and business practices.
There are a variety of reasons why you might decide to raise your membership prices over time. Here are just a few examples:
The state of your niche market or your competition
Global pandemics and other world events
Inflation and the changing cost of materials
Increased operating costs as your membership site grows
Plus, the more content you release, the more the value of your membership increases. Perhaps your business has grown from a small membership MVP into a full-featured membership site. In this case, you'd need to start charging accordingly.
Or, maybe your costs have increased—and even though you don't want to raise prices on your members, you simply have to.
Whatever the case, there are some important tips and strategies to keep in mind if you want to make your pricing increase easier for your members to digest, and less intimidating for you as well.
In this post, we talk about the "dos and don'ts" of raising prices for membership sites.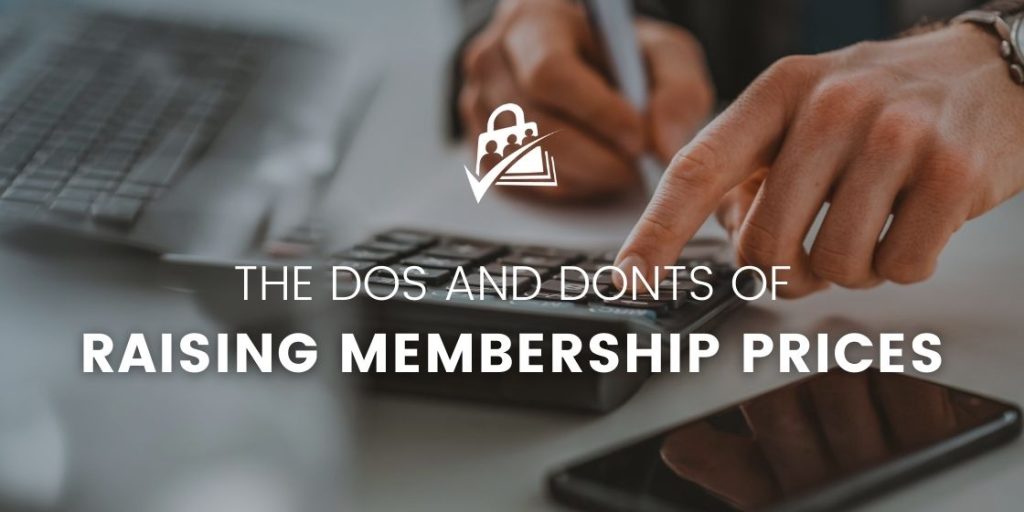 The Dos and Don'ts of Raising Prices for Membership Sites
Do Be Upfront and Honest
It's no secret that transparency is essential if you want to establish trust between you and your customer—and with raising prices, this is even more important.
If you've worked hard to create solid relationships with your current customers, the last thing you want to do is shake that up. So, remind them that you're still a reliable and trustworthy company by being upfront and honest with them about your pricing increase.
For example, customers should not have to go to your pricing page to find out the new price of your membership if you are informing them by email. All essential information should be immediately clear within the email itself.
Instead of subtly upping prices and hoping consumers wouldn't notice, however—long the industry standard for consumer goods—many brands are finding that it pays to tell their consumers what's going on in advance, as a way to gain trust.

Time
Remember to keep your pricing change email concise and straight-to-the-point. Over-explaining makes your email laborious to read, and prolongs any discomfort customers may experience from receiving the news.
Don't Be Apologetic
While it's tempting to do, you don't need to apologize for increasing your prices. It's a normal part of doing business, and explaining the reasons behind your decision is enough justification.
Plus, if you show your members an apologetic attitude, it can end up making them second-guess the value of your offering, or the legitimacy of your reasons for the price change.
Remember: It's normal to have some complaints when you raise your membership prices.
This doesn't mean that you should apologize or cave to every customer who asks for a lower price. Be firm and stand by your decision.
"No matter how well you communicate this change, your customer service team should expect at least a few negative reactions. If you aren't seeing anyone complain about higher prices, then they're still probably too low." –Hubspot
Do Offer Legacy Pricing to Existing Members
One surefire way to receive a lot of complaints during a pricing change is to force existing members to pay more than they're already paying. On the other hand, offering legacy pricing (or, letting customers keep their current price) helps to immediately quell any anxieties these members may have about the change.
One way to phrase this is to encourage existing members to "lock in their membership at the current price," or similar.
Consider this scenario:
You only have 10 members, and you realize you're charging too little. So, you let your members know they are "locked into" the best deal and focus on making more from your new customers.
If your site is early in its journey it can be better to keep your fewer existing members happy at the old price, and focus on the increased revenue from the many new customers you are going to have.
Mention Legacy Pricing in Your Email Subject Line
We recommend telling existing members that they're getting legacy pricing in the first paragraph and the subject line of your email. You want this particular detail to reach your members, even if they don't actually open your email.
Sometimes, you might need to raise prices on all of your members. Although plenty of products and services do raise their prices for new and existing customers alike, you should have a very strong reason to justify this kind of approach with your loyal members.
Do not violate the agreement you've already made with the customers you already have — whether that agreement is written or unwritten.

Amy Hoy, Stacking the Bricks
With some advanced planning, you might even be able to create a new membership level with access to the new features at the higher price, and keep your old plan with reduced features at the old price. This keeps the old price as an option, while incentivizing people to purchase the new, higher-priced option.
For example, when we first launched our Paid Memberships Pro Plus membership, we let people keep their Core membership at the old price, but they had to purchase Plus if they wanted to get updates for our Plus Add Ons.
If you decide not to give existing members ongoing legacy pricing, you could let them pay their current price for at least another month. Or, you could offer them some other kind of member loyalty reward like bonus content (podcasts, videos, downloads, etc.), access to an advanced feature, or points and credits toward a future purchase.
Before your pricing change goes live, you might also decide to let new customers purchase a membership at the current price. This gives them the chance to grab a deal, and puts a positive spin on what they otherwise might view as something negative.
Don't Surprise Your Audience
Let's face it: Nobody likes it when prices increase. In fact, being faced with paying a new, higher price can be disappointing and difficult to accept.
However, we can usually come to terms with these kinds of changes if given enough time and consideration.
Telling your audience about your price increase well in advance gives them time to:
Digest the new information
Think about their budget and requirements
Decide what's best for them
Make other arrangements, if necessary
Take advantage of any time-sensitive offers you propose
In short: Giving your customers plenty of notice before a price increase shows them that you care about them.
Furthermore, if the increase in price will affect different audience segments in different ways, be sure to account for this in your communications. For example, your pricing change may only apply to a certain membership level, or it may not apply at all to existing customers.
Address different audience groups accordingly by segmenting your pricing change emails.
Do Inform Affiliates and Partners First
A week or two before you publicly announce your pricing change, you'll want to inform your affiliates, partners, and anyone else in your sales network. This gives them enough time to review the new information and update their marketing materials, for example.
It also ensures that your entire network is on the same page. After all, you don't want to confuse affiliate customers who may expect a certain price, only to be shown something totally different once they land on your website.
Clear and consistent communication is key.
Do Keep the Focus on Value (and Benefits)
Remember: People tend to associate higher prices with a higher-value product. This is why a pricing change is most effective when framed from the perspective of maintaining a valuable, high-quality product.
"We want to continue to provide you with the best content," or "We are committed to maintaining a high level of development and support," are examples of this. These statements also support the idea that you already offer a high-quality product—and you want to keep it that way.
Also be sure to highlight any additional benefits that are included. For example, will the change in price result in an overall product improvement? Will you be able to add new, long-awaited features? Or provide premium support?
Show your customer that they have more to gain from your membership than they have to lose by paying more.
Don't Neglect Customer Questions
Part of transparency and building trust with your audience is being available to answer any questions they may have. Personally responding to their concerns shows customers that you have nothing to hide, that they aren't left in the dark, and that you're listening to them.
Here are a few ways to do this:
Anticipate and proactively address common customer concerns with a Frequently Asked Questions section
Encourage email recipients to get in touch with you via a link to your contact form or website chat widget
Tell your audience to respond to the email if they want to ask you a question directly
Host a live video Q&A session
Do Thank Your Members for their Loyalty
It's always important to make your members feel valued and appreciated, but this is especially true when you're asking them for more money. Even if you apply legacy pricing to all of your existing members, it's still worth expressing your gratitude.
Final Thoughts: It's All About Communication and Transparency
Because membership sites thrive on long-term relationships, communication and transparency are particularly important. With raising prices for membership sites, this applies even more.
Remember:
It's ok to be authentic, upfront, and unapologetic in your approach
Don't surprise your audience with a sudden pricing change that they weren't expecting
Affiliates and partners should be informed first, so your whole network is on the same page
Consider extending legacy pricing to existing customers
Focus on the positive aspects of your offering like the value and benefits it provides
Make yourself available if your audience has any questions
Thank your members for their support
With a current annual inflation rates as high as they are, you are likely due for an increase if you haven't raised your membership prices in the past few years. We talk more about this in our post about membership site price inflation.
We recently increased our prices here at Paid Memberships Pro. Here's what our email looked like:
When we increased our prices, we wanted to be as upfront and direct about it as possible—and remove any extra information or explanations that would make our audience doubt us for any reason. We also wanted to stay true to our brand.
There's a lot to be said for just being authentic.
Raising your membership prices doesn't have to be intimidating, but it shouldn't scare off your potential members, either. Get it right and you can help your membership business grow—retaining a loyal member base in the process.
Do you want to start or grow your own membership business? Get Paid Memberships Pro today and start using the best membership plugin for WordPress, plus a unique variety of Add Ons and integrations designed to help you build and customize a robust membership site.
Was this article helpful?